What You Need To Know When Planning For Your New Custom Home
Thinking about building a new custom home? As you begin the planning phase, you will want to research what's new in custom home design. From the latest in high tech systems to outdoor living spaces, here are 10 new trends that we are seeing in the Washington, DC area.
1. Living Less Large
Smaller homes are more desirable now than grand McMansions. When weighing overall design and construction costs, many homeowners are considering higher-quality, luxury finishes in their new homes to be more important than having extra square footage. In addition, smaller homes will cost less to heat, cool and maintain over time.
In the Washington, DC area it is difficult to find an empty lot, so many custom homes are built where an old house once stood. Architectural style, size and proportion are crucial considerations when designing a custom home that will be built in an established neighborhood. For aesthetic reasons, you don't want to "over-build" and have your new home stick out like a sore thumb; that could make it difficult to resell someday, too.
Want to speak to an expert custom homebuilder about building a home with a smaller footprint? Click here to contact us.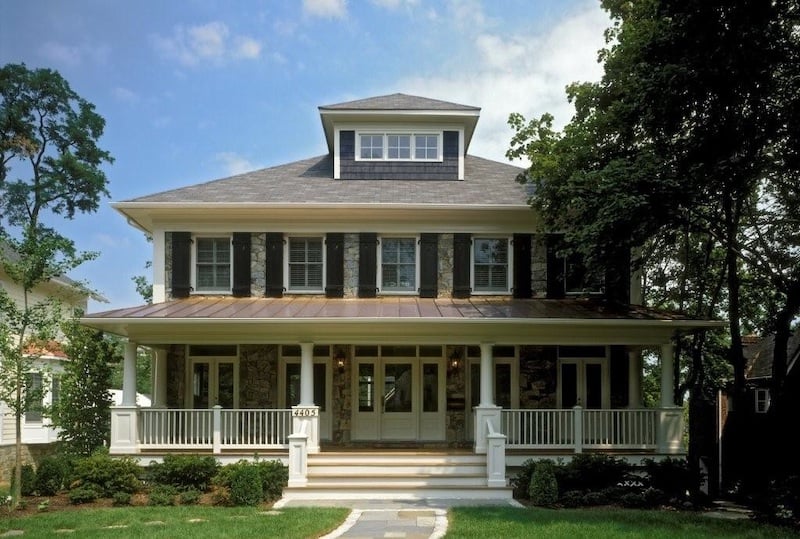 2. Cutting-edge Home Technology
These days, clients expect the latest technology to be incorporated into the design of their new custom homes. Some wiring infrastructure will be necessary because streaming services may be slow throughout your home without it. Integrative, smart home products that control home security, lighting, heating & air conditioning and audio/visual devices can be controlled from an iPad, Smartphone or laptop through a wireless system. And, these wireless systems have become less expensive as the technology has evolved, making home automation much more affordable than you may think. Before construction even begins, home technology should be factored into your plans, and your budget, so that you have the infrastructure that you will need over time.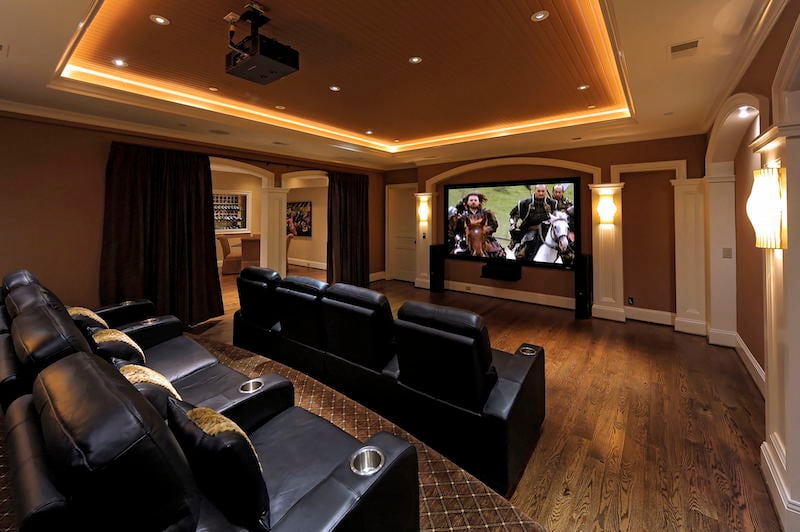 3. Green and Eco-Friendly
How do you make your new home green and eco-friendly? It's important to keep a whole-house approach in mind from the initial stages of planning and design. For example, select appliances that are designed for maximum energy efficiency. Pick heating and cooling systems that are not only highly energy-efficient but sized correctly for your home, too. Water-efficient fixtures and irrigation systems are designed to use less water, so make sure you look for the best ratings when making your selections. New windows and doors are manufactured to be energy efficient but they need to be installed and sealed properly so that there is no unwanted air penetration. Proper insulation throughout a home will keep it cool in the summer and warm in the winter. You can choose low VOC paints and flooring materials to provide better indoor air quality. Use sustainable materials that have a low impact on the environment such as bamboo or reclaimed wood. Opt for kitchen countertops made from recycled components. Not only does this whole-house approach to being green and eco-friendly save you money in the long run, it will create a more comfortable living environment in your home.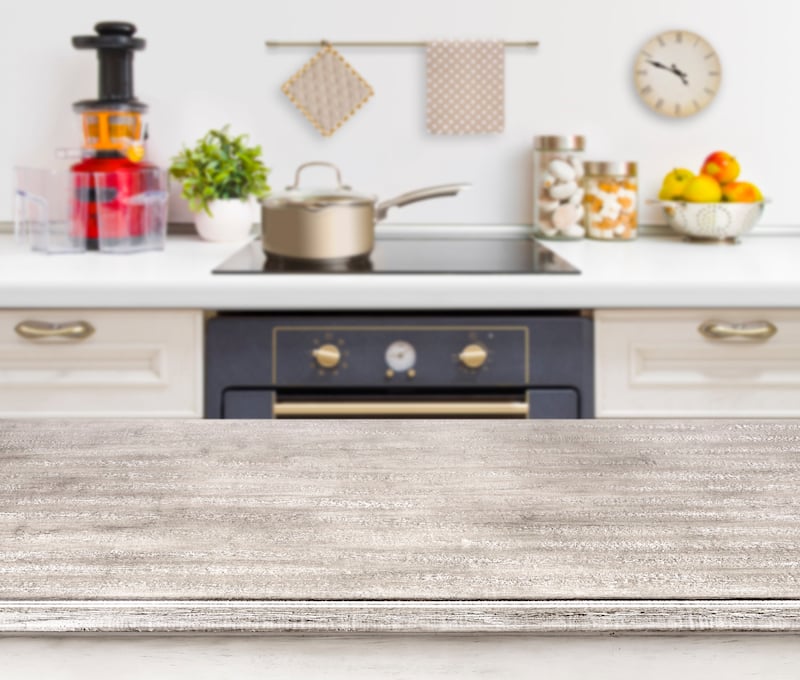 4. Outdoor Living Spaces
Outdoor living spaces are seen as less of a luxury and more of a necessity these days. Large patios, decks or screened-in porches extend your entertaining space from the indoors to the outdoors. Outdoor kitchen areas with grills, refrigerators and sinks allow you to cook while entertaining guests. Swimming pools and sport courts are the ultimate in luxury in any backyard and a great way to keep everyone occupied all summer long. And, fireplaces make a cozy gathering area for your family when the weather turns cooler but you still want to enjoy spending time outside.
Interested in adding outdoor living space to your home? Click here to contact us.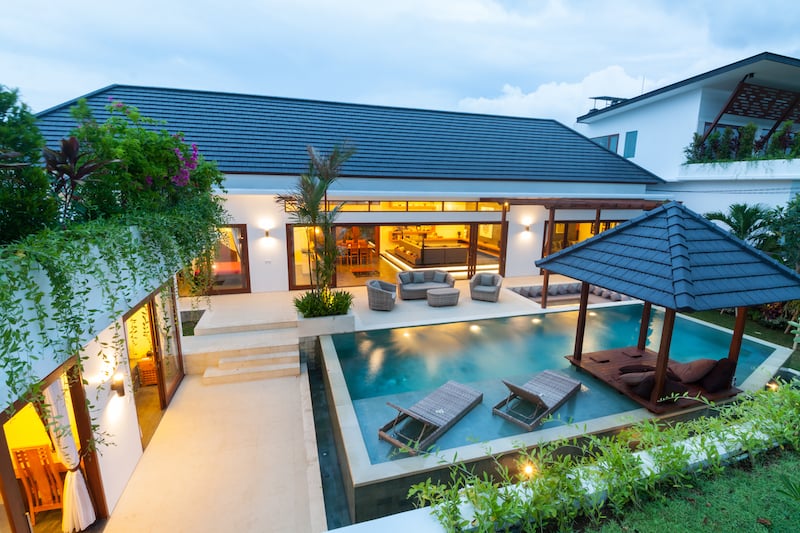 5. Modern Farmhouse Style
The modern farmhouse style is becoming more and more popular. It combines sleek, clean lines with a cozy, homey look and can be customized to suit your needs and desires. Typically, the exterior is white or light-colored and it is covered in vinyl siding with either horizontal or vertical planks. A front porch and a gray or black roof complete the modern farmhouse look.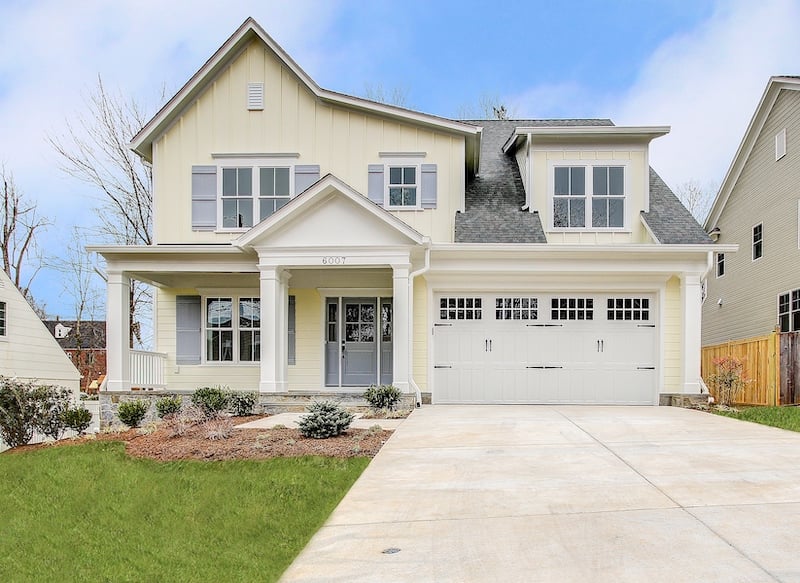 6. Connected And Flexible Spaces
Open floor plans are commonplace now. Most homeowners want a "kitchen-breakfast-family-room" type of space that is conducive to everyday living and entertaining. More and more often, formal spaces, such as living rooms, are not part of the design of a new custom home. Instead, homeowners would rather have a flexible space that can be used as a kids' playroom, a home office or a TV room.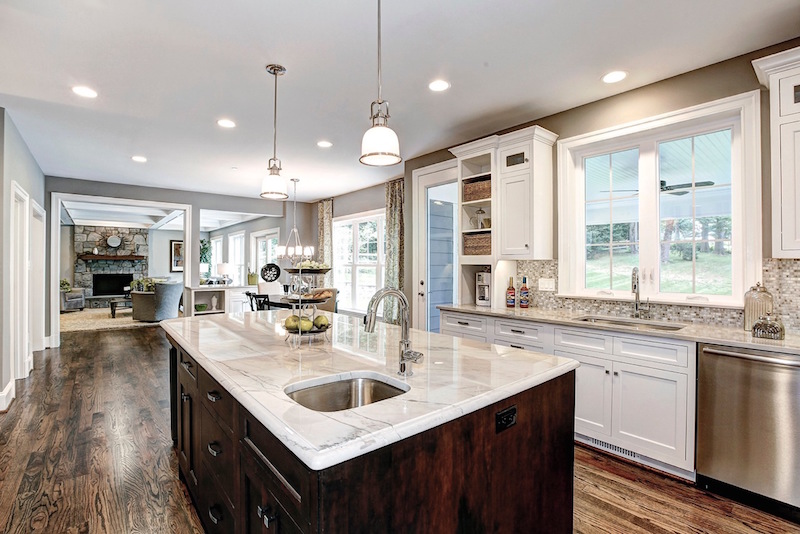 7. Spa-Like Bathrooms
These days, a master bathroom in a custom home is designed to be a luxurious retreat. That doesn't mean it must be a huge space - just a lovely place where you can escape the pressures of the day. Pairing white countertops and painted cabinetry is a new design trend. Installing a freestanding soaking tub and a separate shower is another. Whatever you choose, make sure you create a zen-like space that will make you feel relaxed.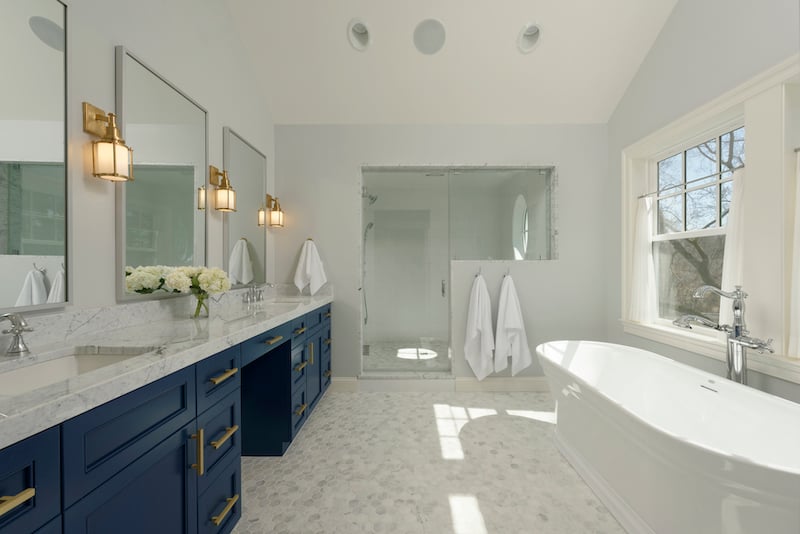 8. Highly Functional Kitchens
The functionality of your kitchen when designing your new custom home is a huge consideration. Think about how you will use your kitchen. If more than one family member will cook at the same time, you may want to have workstations instead of a traditional layout. If you have the space, a large pantry can be the perfect place for storing and organizing food items and extra cookware. Oversized kitchen islands can house a microwave, beverage center or even an extra dishwasher. Make sure you consult with a professional builder or an interior designer so that no detail is overlooked in the execution of your ideal plan.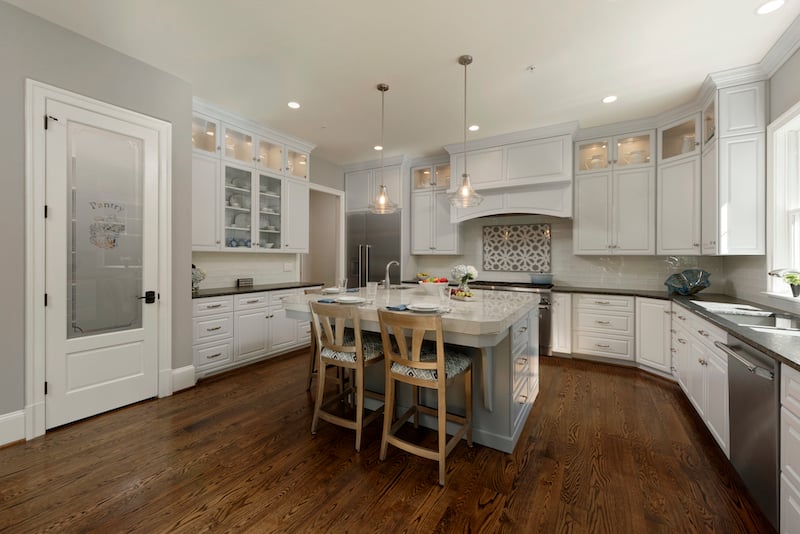 9. Room Dividers
Barn doors add visual interest to a room and require less space than traditional doors because they slide along horizontal hardware that is mounted above the door frame. They are customizable, go with any decor, come in a variety of wood and glass options and can have a rustic, transitional or very modern look. Barn doors can function as a room divider for privacy or noise control in a large space, or they can hide a small laundry room.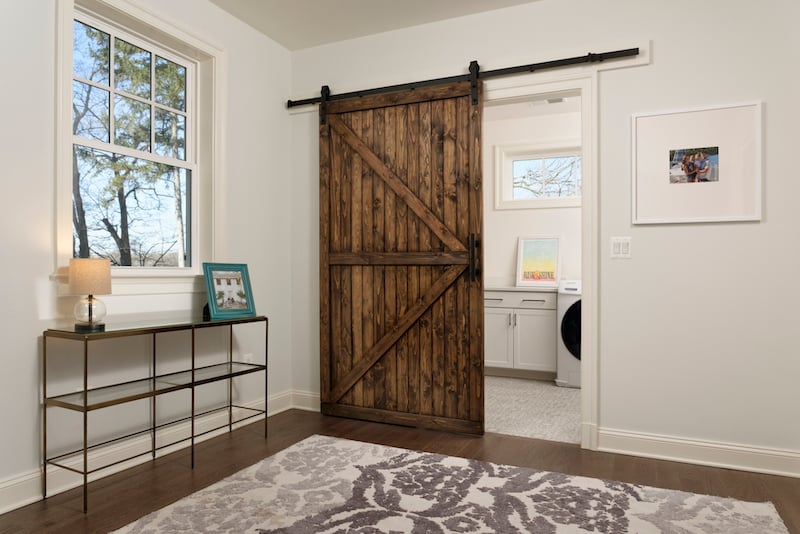 Glass and metal room dividers are gaining in popularity. They can separate a large area and cut down on noise while allowing light to flow through the entire space. Glass and metal dividers can slide or pivot open and closed.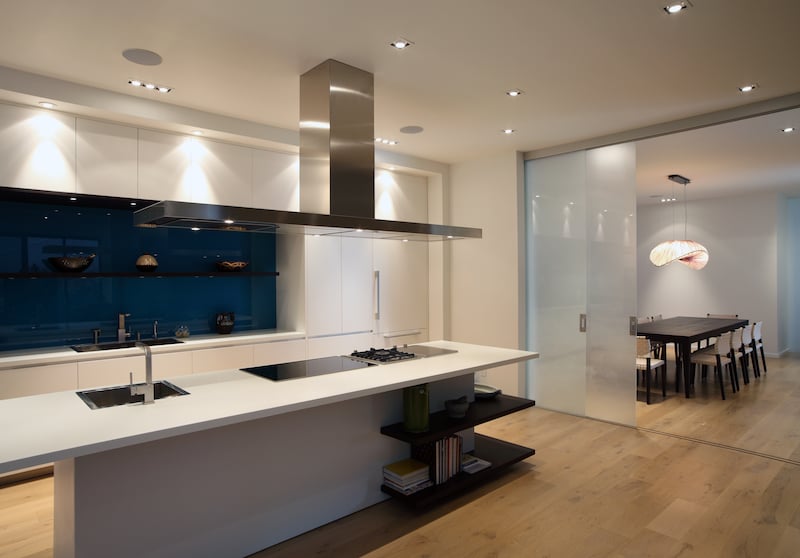 10. Neutral Colors Abound
Transitional colors are in. Look for blue-grays and complementary neutral yellows, along with the traditional whites, beiges and creams, to abound in home design. Also very "in" are metals, such as copper, gold and brass, and metals mixed with natural elements such as wood.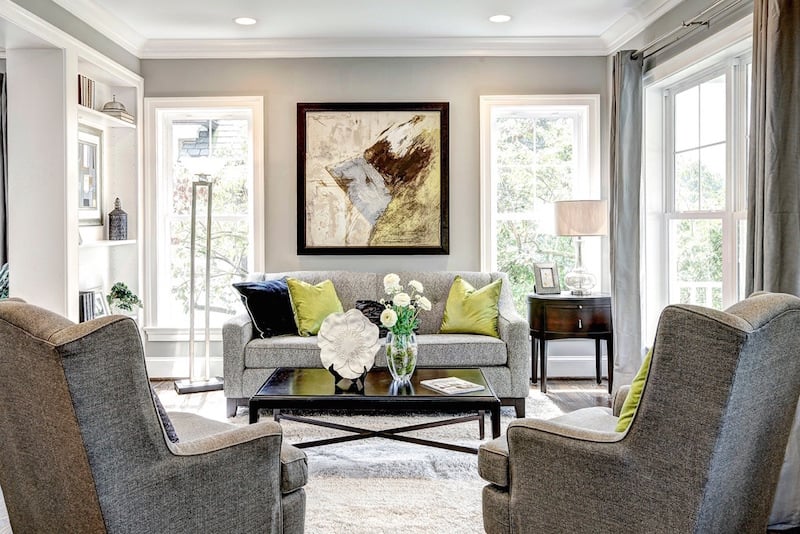 Planning for your new custom home is exciting! Doing plenty of research up front and hiring an experienced, knowledgeable homebuilder will ensure that your new home will be exactly what you hoped it would be.
Here are two next steps to take:
Download a complimentary copy of our Custom Home Guide by clicking here.
Schedule a quick call with our team to learn more about the process of building your dream home by clicking here.