Discover The Look That Works For You
The 10 hottest trends in bathroom design range from daring to sedate, and from colorful to monochromatic. Whether your style is modern, transitional, or traditional, there is something for everyone. Personalization is driving bathroom design choices now, so if you are remodeling or building a new custom home, create a space that not only functions efficiently, but fits your lifestyle and suits your taste.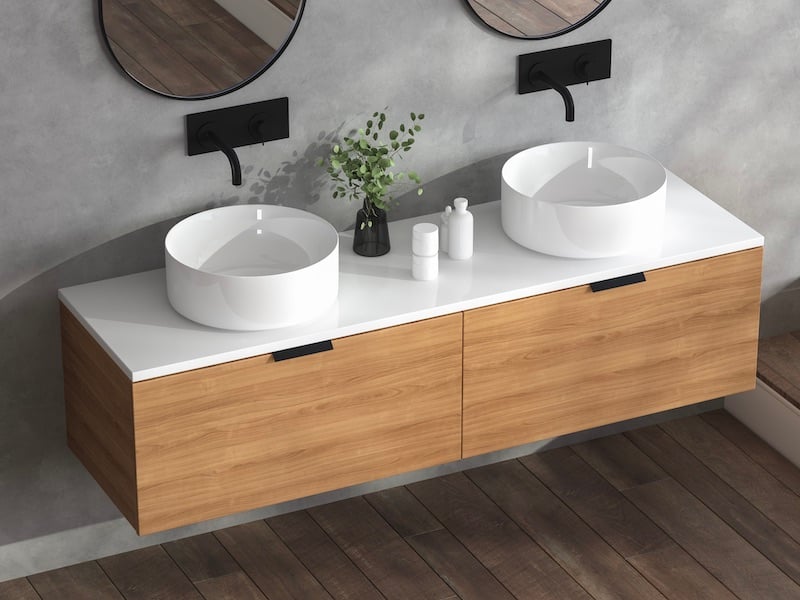 1. Coastal Retreat Style
The key to designing a bathroom in the coastal retreat style is subtlety. Choose soothing colors like linen, white, or sand, and incorporate some pale blue and muted green. Use materials like shiplap for the walls or distressed, light-colored wood for the floors to create an understated, beachy vibe. Add a freestanding, sculptural bathtub and you have the perfect place to relax in your bathroom that is inspired by the seaside.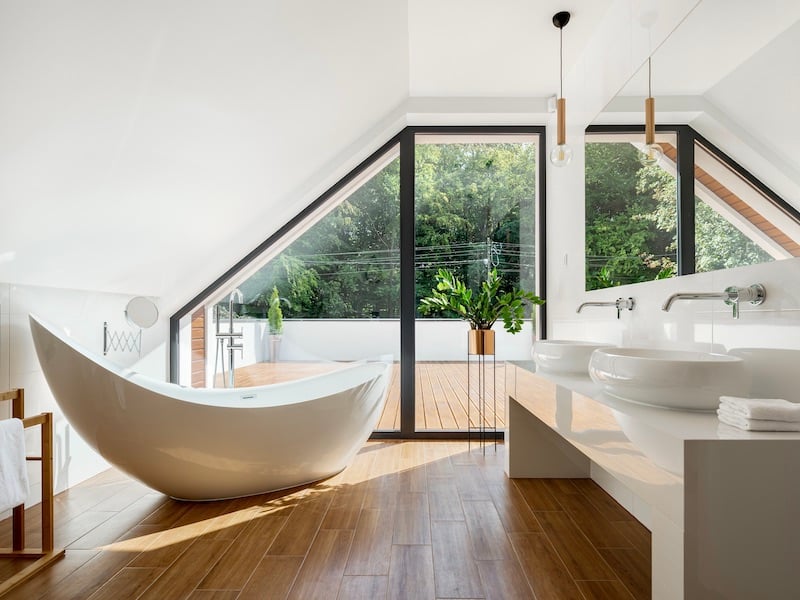 2. Time-Worn Finishes
For many years, chrome and stainless-steel were considered to be staples in well-appointed bathrooms. Now the trend is moving toward warmer, time-worn finishes such as aged brass, gunmetal, bronze, copper, and brushed gold for plumbing fixtures, lighting fixtures, and accessories. You can have fun and mix metals but be sure that the finishes throughout your bathroom all work together in harmony.
What You Need To Know When Choosing Faucets For Your Bathroom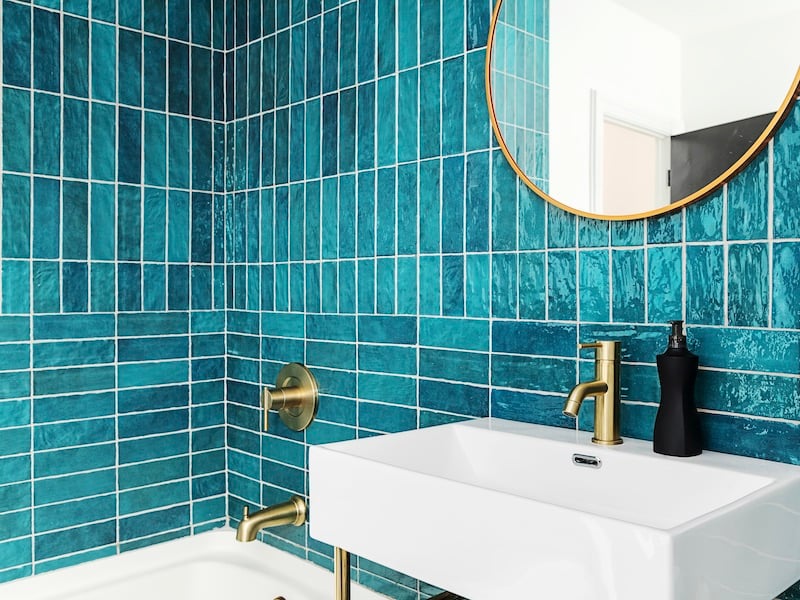 3. Dark Color Palettes
To make a statement, embrace the trend of using dark colors to create a space that feels moody and daring. If your decor is modern, pair matte black with white for a bold look in your bathroom. For a more transitional style, combine navy blue with light-colored natural stone or wood. When designing with a dark color palette, be sure to have balance and contrast, and don't overdo the dark color in a small space.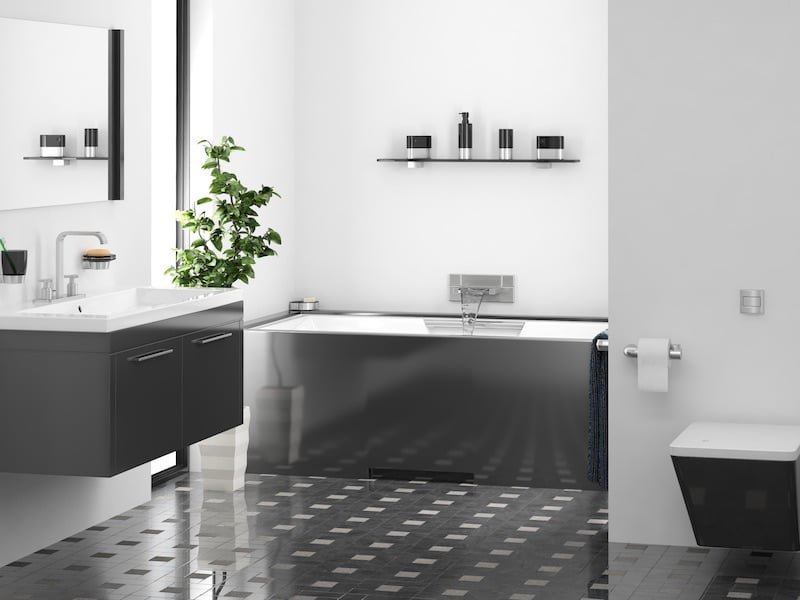 4. Monochromatic Neutral Color Scheme
If you want versatility, refinement, and a look that never goes out of style, choose a monochromatic neutral color scheme in all-white, linen, beige, or light gray for your bathroom. Incorporate some texture, rather than color, for visual interest in your space. For instance, use pebble tile, hammered glass, or plaster-like finishes in your shower or on your floor, and neutral-color patterned or textured wallpaper to create a bespoke aesthetic.
10 New Trends In Bathroom Tile Design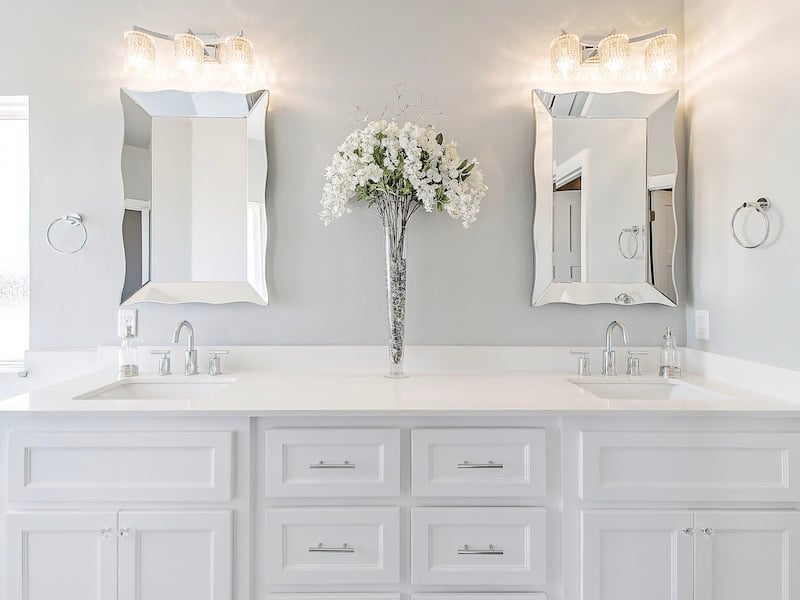 5. Warm And Welcoming Colors
Showcase your personality by using warm and welcoming colors like moss green, soft blue, clay-colored red, plum, or mustard in your bathroom. These muted colors work with any decor, from modern to traditional. Complete the look by incorporating plumbing and lighting fixtures in finishes like aged brass, gunmetal, and bronze that pair well with colored cabinetry.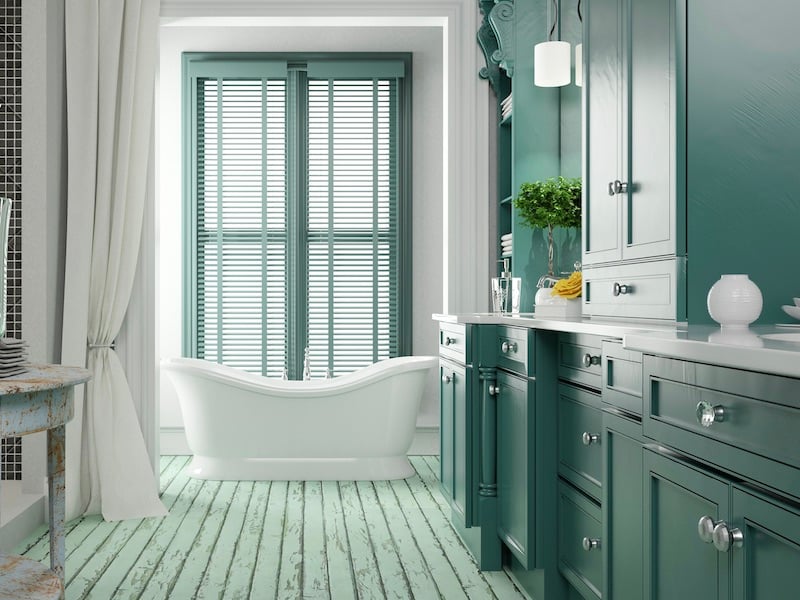 6. Natural Stone
For an upscale, luxurious look in a bathroom, opt for premium stone like marble, granite, slate, limestone, or travertine. These organic materials are available in a wide variety of colors and with different amounts of movement and veining, so each slab or tile is unique. Natural stone can be used on bathroom walls and floors, in a shower, or even on the front of a vanity.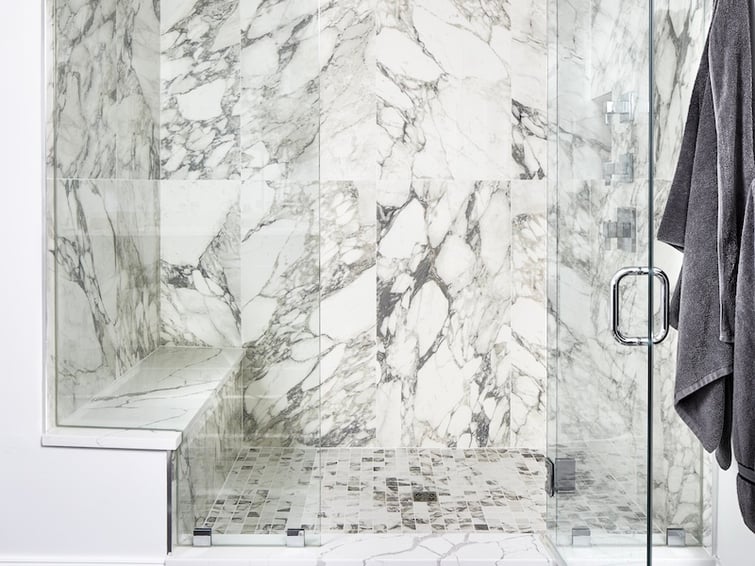 7. Wood-grain Look
Wood has a natural aesthetic and works with almost any decor, but it can be a pain to maintain. Fortunately, engineered materials like porcelain tile for walls and floors and veneers for vanities emulate the texture and appearance of wood, but they have a much higher level of durability than the real thing. A popular trend in bathroom design is combining the warm feel of wood-grain with the sleekness of stone to achieve a look that is minimalistic yet inviting.
Demystifying The Process Of Remodeling Your Bathroom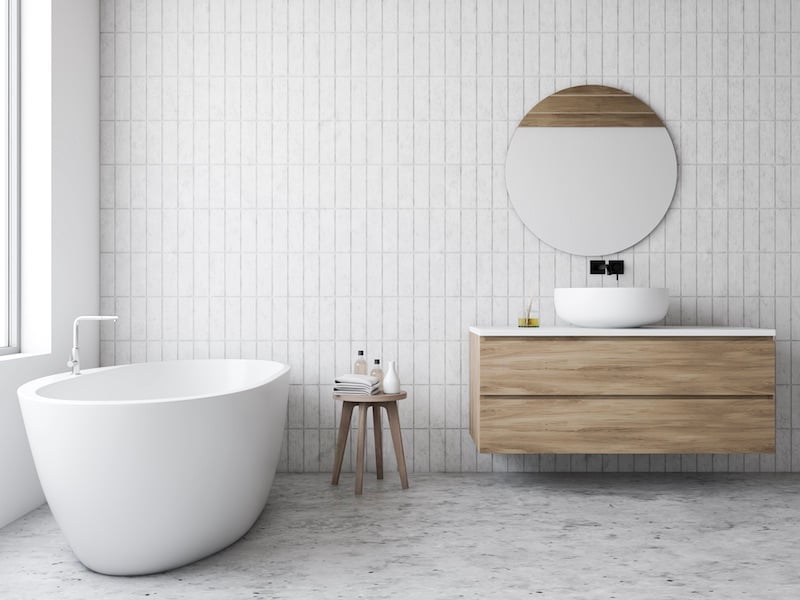 8. Textured Tile
Incorporate textured tile to add dimension to your new bathroom. Hand-crafted or geometric tile can catch shadows or reflect light in a way that sets an overall tone and creates visual interest, especially in a small space. You can use the same color tile in different textures on the walls and floor for a truly custom look. An added benefit of using textured floor tile is that it not only feels soothing underfoot, it is safer than smooth, flat tile that can be very slippery when wet.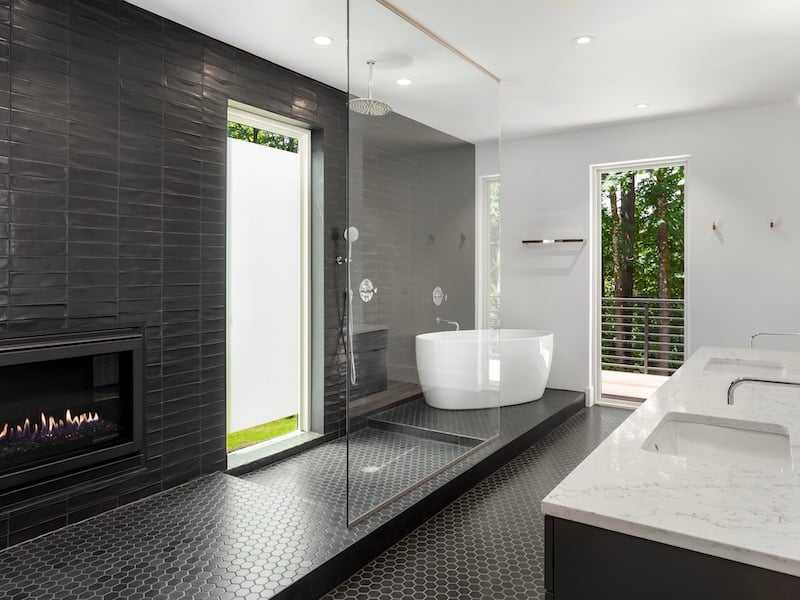 9. Decorative Lighting
Bathrooms have become the perfect place to showcase lighting fixtures that are beautiful and functional. From pendants to sconces to ornate ceiling lights, there are many styles and finishes to choose from to complement every type of decor and provide the layers of lighting you need in a bathroom. Installing dimmers will allow you to control the brightness for each of your lighting fixtures so you can have the level of visibility you need during the day and at night.
The Basics Of Lighting Design For Your Home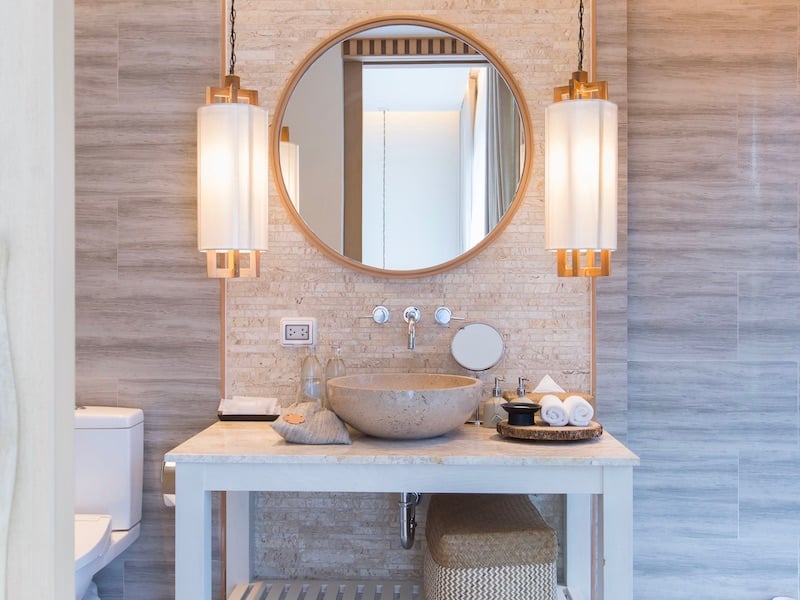 10. Universal Design
Universal Design is based on the idea that everyone, regardless of age, physical ability, or stature, can safely and effectively use a space. Curbless or walk-in showers have become very popular because they allow for easy entry. Install grab bars, a bench, and a shower system with a flexible, long-reaching hose so that all members of your family can use the shower safely. Choose an extra-tall toilet that is higher than a normal one so that it's easier to sit down and get back up. Select levers instead of harder-to-turn knobs for the sink, shower, and tub. Alternatively, you can purchase a touchless faucet for your sink if you wish.
Home Remodeling Design Tips For Better Accessibility When Aging In Place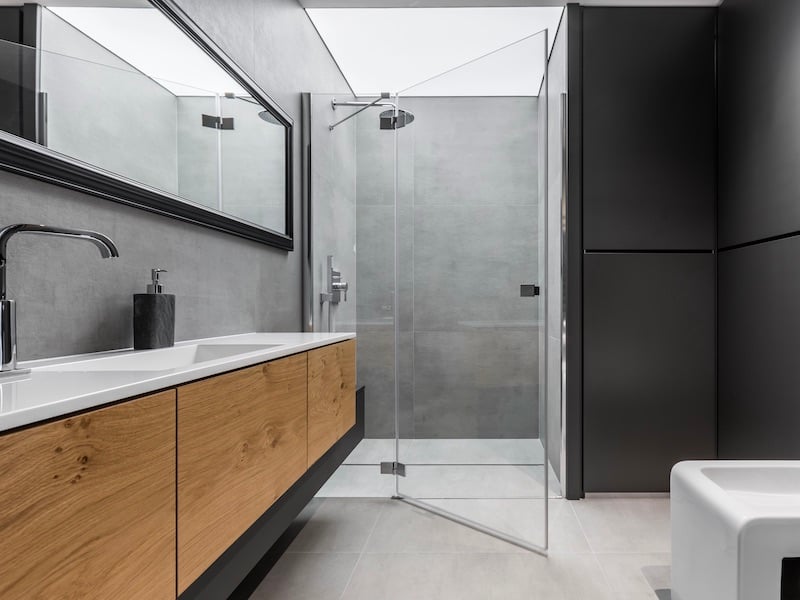 At Meridian Homes, we specialize in luxury remodeling and custom home building in the Washington, DC area. Our mission is to create exceptional residences that exceed expectations. Our highly personalized design process and careful management of every project have earned us a reputation over many years for outstanding client service and solid, beautiful craftsmanship. Contact us today to begin your custom home or remodeling project.