Demystifying The Process Of Remodeling Your Bathroom
The bathroom may be one of the smallest rooms in your home, but it certainly is one of the most important. It's a place that should be up-to-date, aesthetically pleasing, comfortable and highly functional. If your bathroom is unattractive, the fixtures are outdated and the cramped space just does not work for your family any longer, it's probably time to renovate.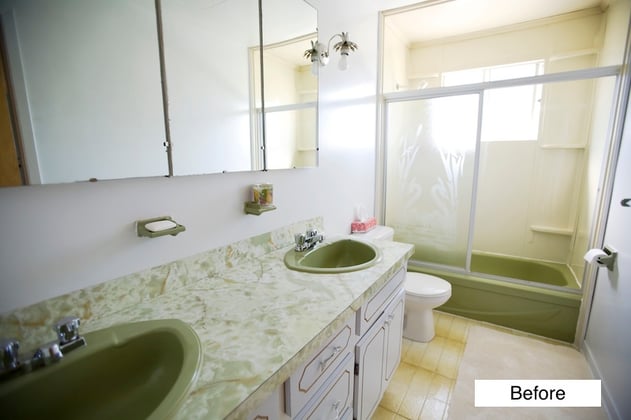 You really crave a beautiful and functional new bathroom that will make you feel like you are entering a spa in your own home, but you're afraid that undertaking a project of that scope will be overwhelming. It doesn't have to be if you are well prepared. We're here to help by demystifying the process of remodeling your bathroom.
1. Think About What You Want From The Space
Do you want to simply update your bathroom fixtures and tile, or do you want to completely redesign the space? Are you looking to double the size of your bathroom so that it can accommodate your growing family? Consider what you want to achieve from the renovation and how the new bathroom will best serve your needs well into the future. Check out websites that specialize in home remodeling ideas and start collecting photos of what you find appealing. Click here to see 7 bathroom remodeling ideas for a start.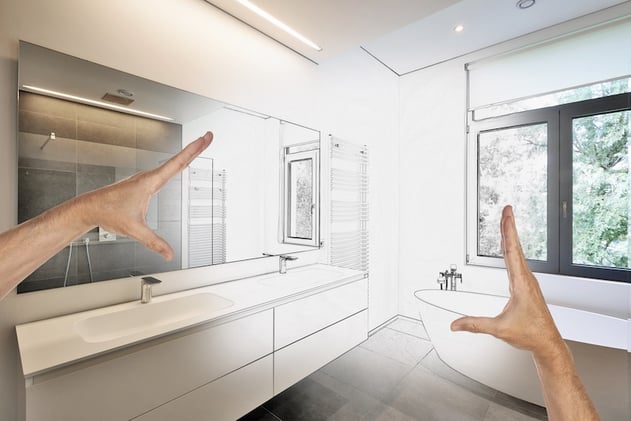 2. Choose Your Remodeling Expert
Choosing a trustworthy, skilled and licensed professional to handle your bathroom renovation is essential. Often, word of mouth is the best way to find a reputable remodeling expert, so ask your friends and work colleagues for references. Then, make sure you research and interview several contractors before hiring one. Check out their websites and project portfolio photos to see the quality of their work. For more detailed information about selecting the right remodeler or homebuilder, click here.
3. Establish Your Budget
Establish your budget and share that information with your contractor up front. Make an initial wish list for your remodeling project with the understanding that your list may change once your plans and selections are finalized. Want to learn more about budgeting for your home remodeling project? Just click here.
4. Evaluate What's Already There
The remodeling professional that you hire will need to check out your existing bathroom. Measurements will be taken. Drains, water supplies, electrical outlets and HVAC system components will be located and evaluated. Your contractor should document if any plumbing, electrical or HVAC system components need to be moved or added. If you are planning to expand the size of the bathroom, the adjacent areas will be checked out to see how these spaces will be impacted.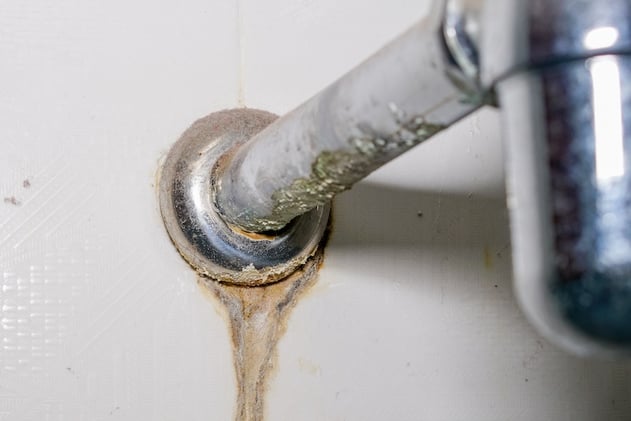 5. Determine The Scope Of Work
At this point, your wish list should be reviewed to determine what is realistic and what will potentially bust your budget. Your contractor will tell you if moving the shower to the other side of the bathroom is doable or if you have room for two separate vanities. Do you want heated floors or special audio/visual equipment in your new bathroom? Let your contractor know so that all of that is factored in from the start. The entire scope of work should be put in writing so that your contractor and you are on the same page in terms of expectations and budgetary implications.
6. Craft A Plan
Your remodeler should provide you with a layout of your new bathroom based on the scope of work. The plan should show where the cabinetry, shower, tub, vanities and new fixtures will be located.
7. Make Your Selections
It's time to make your selections. The choices you make will greatly impact costs, so work with your contractor or an interior designer to pick items that will keep you within your budgetary parameters. Then, choose your cabinetry, tile, shower doors, flooring, countertop materials, plumbing fixtures, electrical fixtures and accessories such as towel bars, hooks and toilet paper holders. Ask all suppliers about delivery times for the items you chose to make sure that any backorders will not negatively affect the construction timeline. Finally, pick paint colors too, but make sure you select paint with a sheen that will resist damage from moisture.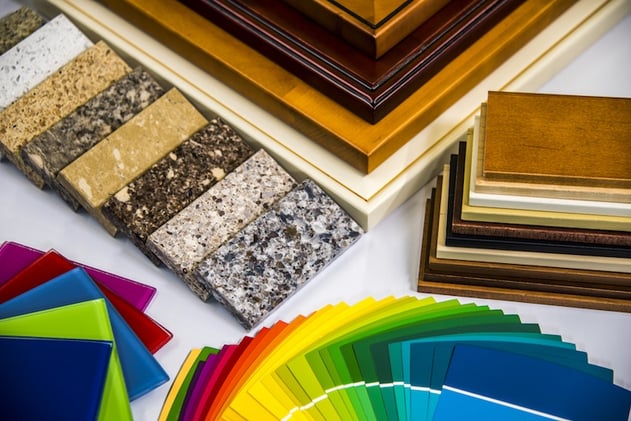 8. Finalize Your Costs
Once your selections are made, your contractor can give you a final cost for your renovation. Now you can truly see if you have stayed within your budget or if you need to make modifications to your selections or plans. A final, written contract should be provided to you and all costs should be transparent and detailed. Once the contract is signed, your remodeler will order the items that you have selected.
9. Begin Demolition
You will need to move all of your belongings out of the construction zone and the surrounding areas. Once demolition begins, you will not be able to utilize your bathroom until your project is complete. Don't forget to ask your remodeler when workers will arrive and leave each day so that you know what to expect.
10. Frame It Up
Framing begins and the shape of the new bathroom becomes apparent.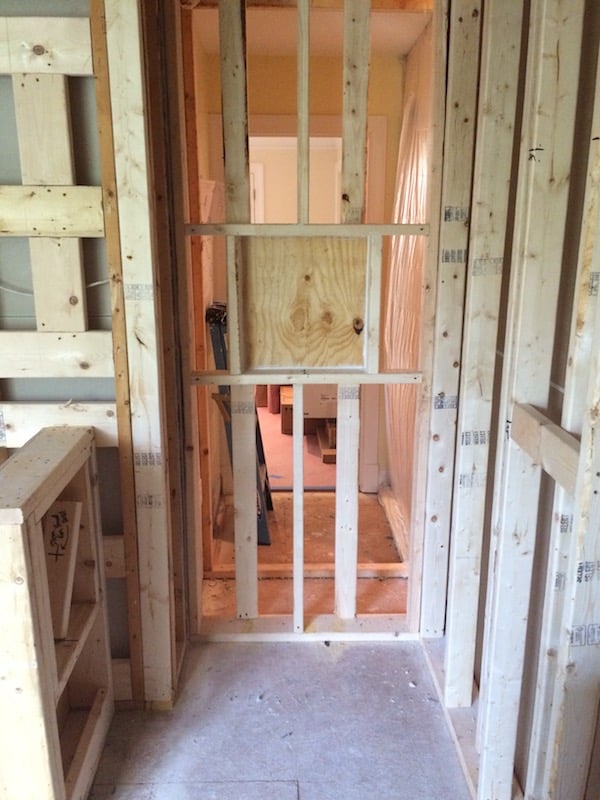 11. Modify The Systems
Plumbing, electrical and HVAC systems will be modified per your finalized plan.
12. Put Up The Drywall
Moisture resistant drywall will be put in place and the space is now clearly defined.
13. Install The Flooring And Tile
The beautiful tile and flooring materials that you chose go in at this point.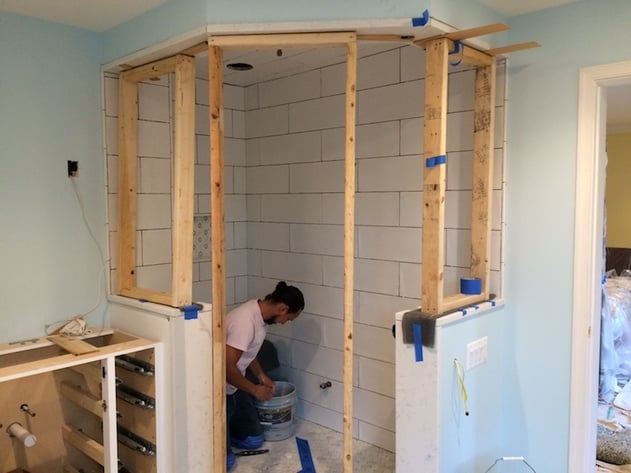 14. Add The Cabinetry And Fixtures
Next, the cabinetry, trim, shelving, plumbing fixtures and shower doors are installed. This step is exciting because your new bathroom is really taking shape!
15. Paint And Accessorize
The room is painted and all accessories are put in place. The details make the room come together and your vision is realized!
16. Inspect For Quality Control
Required inspections are completed now. Your contractor should make sure a final cleaning is done so that your bathroom is sparkling and that any fixes or repairs are completed.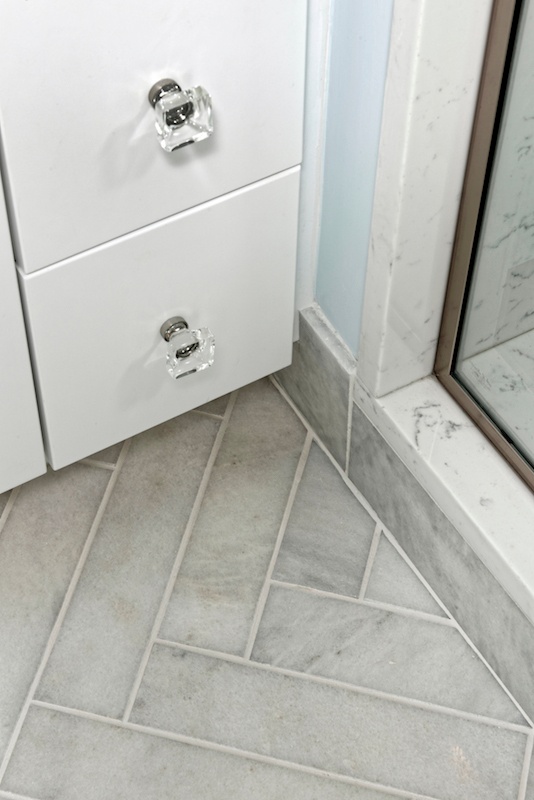 17. Walk-Through And Quality Control
You will do a final walk-through with your remodeler to make sure that everything is to your satisfaction. If there are any outstanding items, a punch list should be made that includes a date when all repairs will be completed.
18. Enjoy Your New Bathroom
That's it! It's time to enjoy your newly remodeled bathroom for years to come!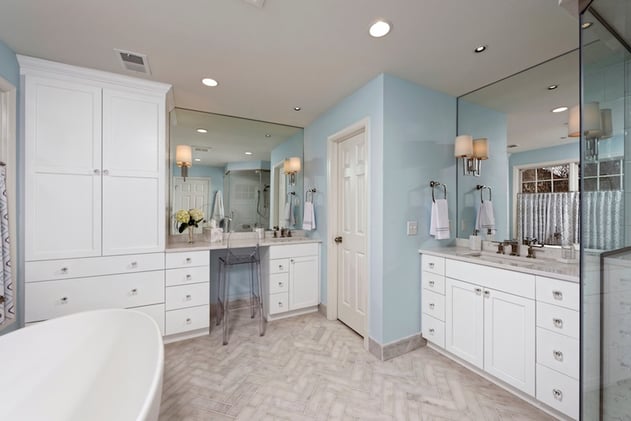 5 Tips On How To Design The Perfect Kid's Bathroom