Elevate The Look Of Your Bathroom
Bathroom tile has a utilitarian purpose - it needs to be moisture-resistant, easy to maintain and durable. At the same time, the tile you choose should be visually pleasing and reflect your personal style. With so many colors, styles and materials to choose from, you are no longer stuck with plain white squares. The newest trends are all about mixing color, size, pattern and texture to create a look that is uniquely yours.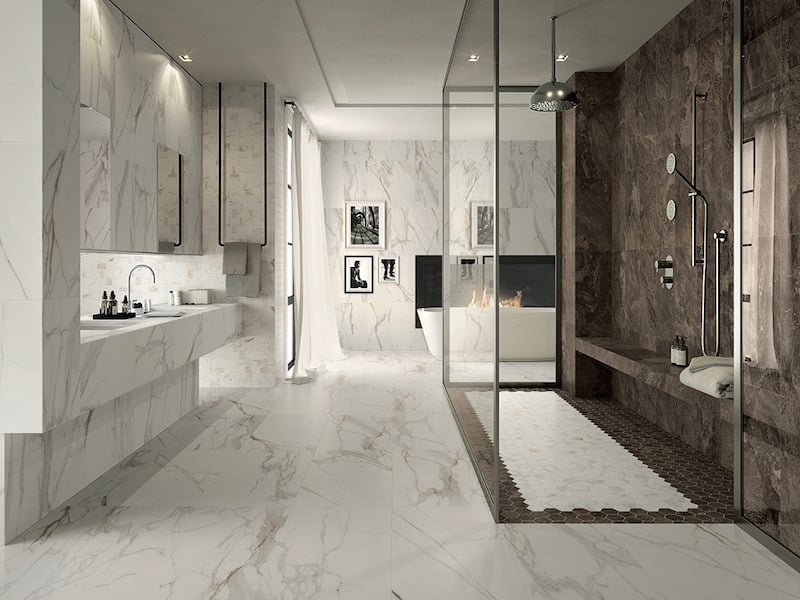 Photo Courtesy of Architessa
1. Geometric Shaped Tile
Forget boring. Make a statement by using geometric shapes for a custom look in your bathroom. Especially popular now is hexagonal tile which is available in a wide variety of materials and colors. Geometric tiles can be used for flooring, as a strategically placed accent or on an entire wall. Choose neutral colors if you plan to use geometric shapes in a large area so that the pattern does not overwhelm the space.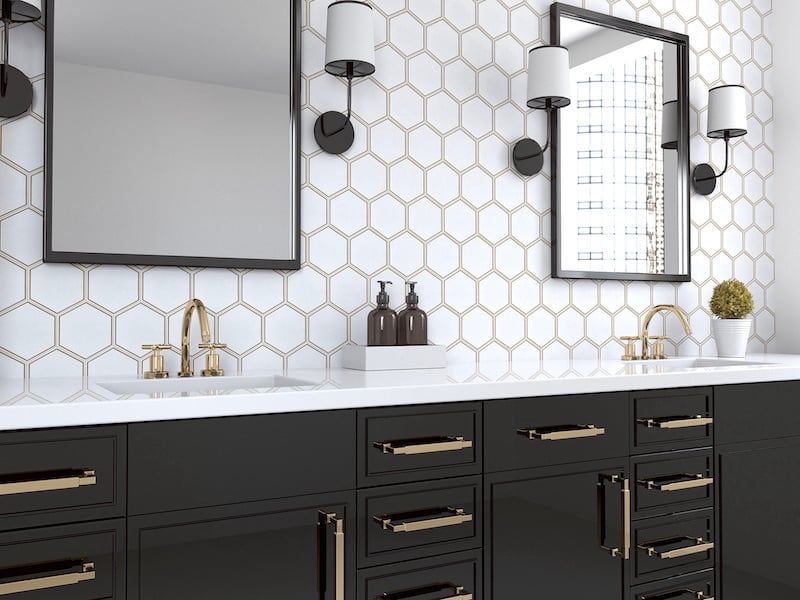 Photo Courtesy of Architessa
2. Large Format Porcelain Tile
Large format porcelain tile is very on-trend. Slabs can be used as a tub surround, in a shower, on the floor or to cover an entire wall for a seamless, ultra-contemporary look. Not only does it offer understated elegance, this type of tile needs minimal maintenance, requires fewer grout lines and is easy to keep clean.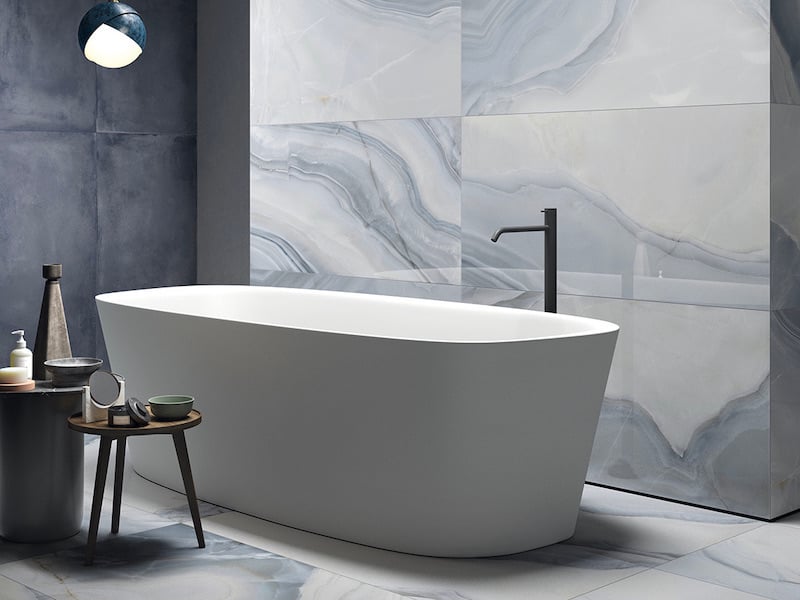 Photo Courtesy of Architessa
3. Wood-Look Tile
Wood-look tile, available in ceramic or porcelain, comes in a wide array of styles from rustic to contemporary. Tiles with a wood-like grain are available in long planks or in a variety of shapes to fit almost any application in a bathroom. Porcelain and ceramic tile is easy to clean, and unlike real wood, it requires very little maintenance.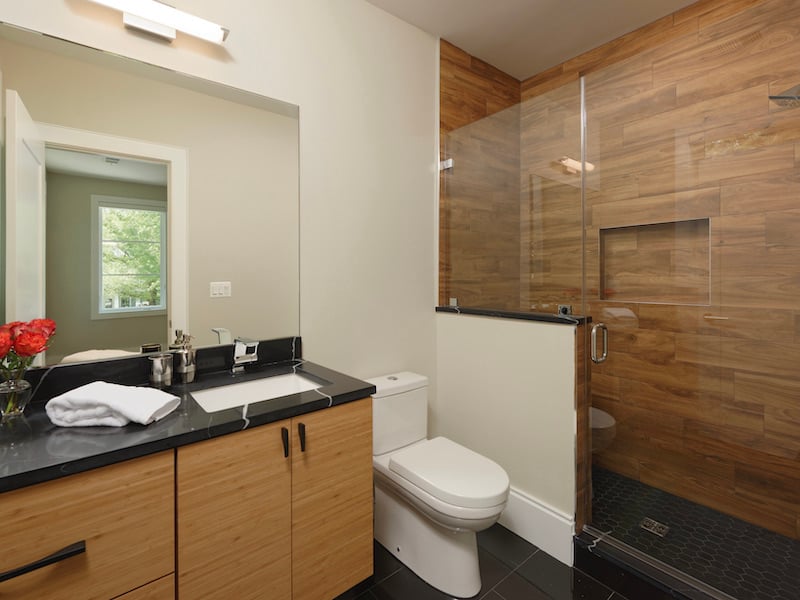 4. Subway Tile
Subway tile is a classic, known for its versatility and durability. These days it can be found in many different colors, sizes, finishes and styles. Stack subway tiles vertically or horizontally, or use them in a herringbone pattern. With subway tile, the options are endless!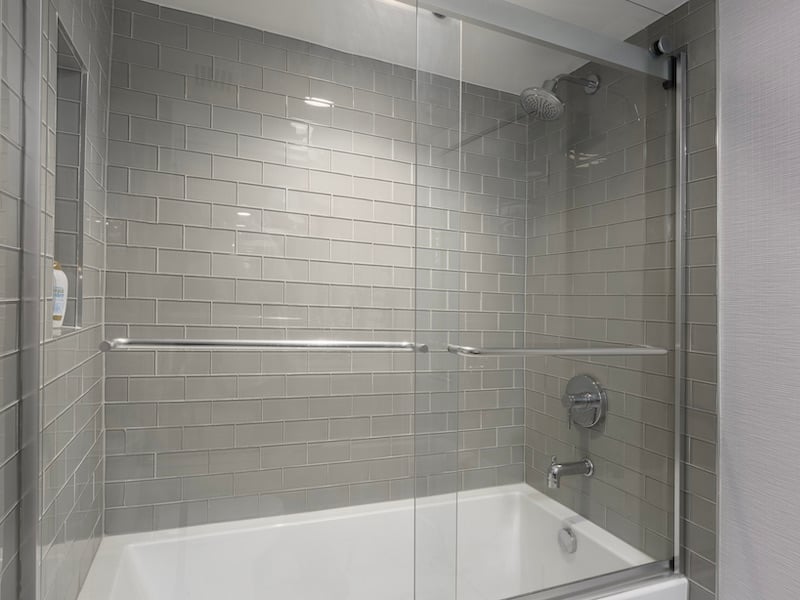 5. Picket Tile
Picket fence-shaped tile is a modern alternative to subway tile. It comes in glossy or matte finishes and is available in many colors. Picket tile can be installed horizontally or vertically, depending on the size and shape of the space.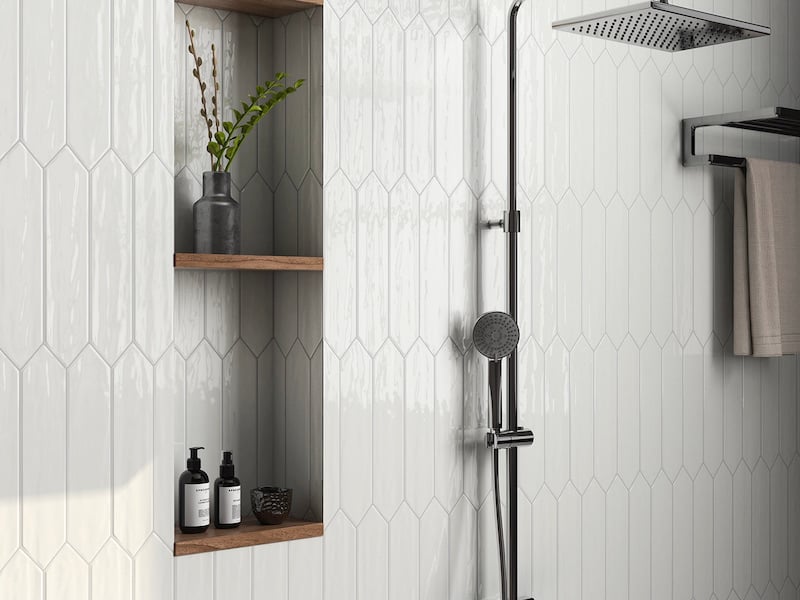 Photo Courtesy of Architessa
6. Square Tile: Printed Design
Square tile is back in style but with some updated touches! For a unique look, choose tiles with a subtly printed design for an accent wall or tub surround.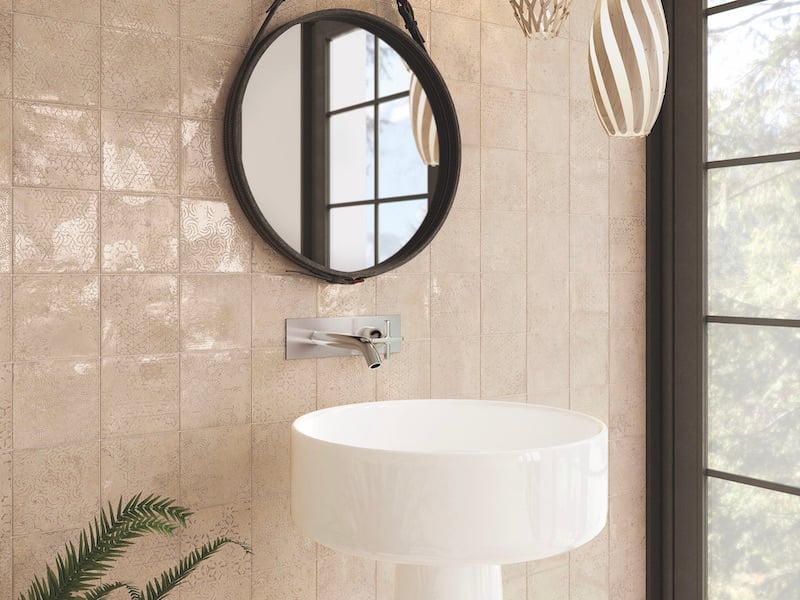 Photo Courtesy of Architessa
7. Square Tile: Corrugated
A corrugated, matte finish transforms a plain, square tile into something really special. Pick a deep, saturated color to create a dramatic look that speaks to your sense of style and create an accent wall that becomes a focal point in your bathroom.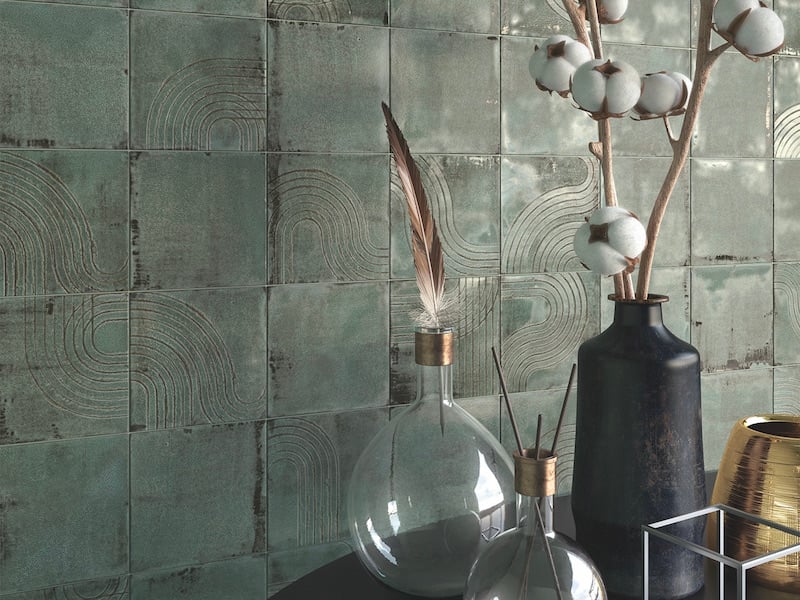 Photo Courtesy of Architessa
8. Distressed-Look Tile
Want the feeling of living in an Italian farmhouse? Choose distressed-look natural stone tiles that add a rustic vibe to your space.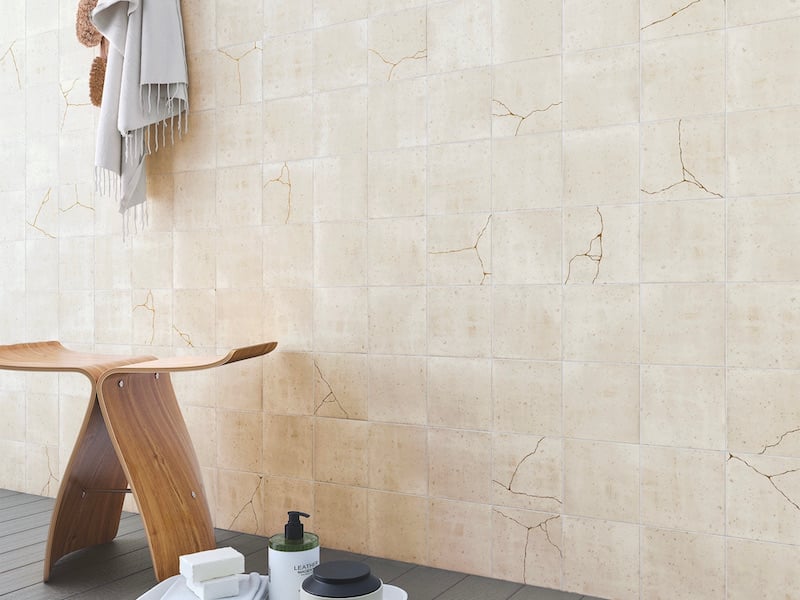 Photo Courtesy of Architessa
9. Penny Round Tile
Penny round tile can be used on shower walls or floors for visual impact. It comes in many colors and finishes, and is even available in metallics. Pairing black penny round tile and white square tile looks retro and contemporary all at the same time!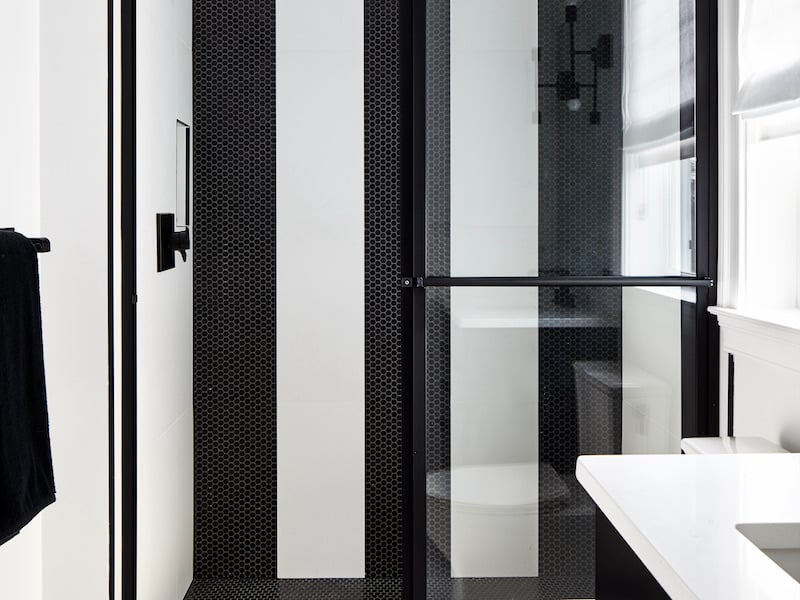 10. Contrasting Grout And Tile
Traditionally, grout matched the color of the tile. However, selecting grout that is lighter or darker than the tile can completely change the look of a bathroom. Contrasting grout reveals the pattern of the tile and makes the colors pop. The newest trend is matching the grout to the color of the plumbing fixtures or bathroom hardware to achieve a truly custom look.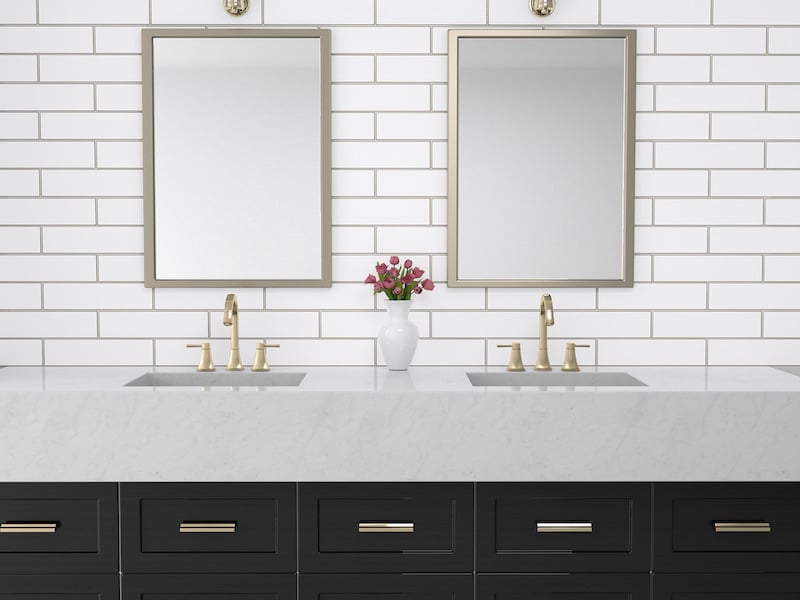 Photo Courtesy of Architessa
At Meridian Homes, we specialize in luxury renovations and custom home building in the Washington, DC area. Our mission is to create exceptional residences that exceed expectations. Our highly personalized design process and careful management of every project have earned us a reputation over many years for outstanding client service and solid, beautiful craftsmanship. Contact us today to begin your custom home or remodeling project.