Extend Your Indoor Living Area To The Outdoors
Your outdoor living space should be an extension of your home, giving you the perfect place to entertain, barbeque, garden, exercise, or simply relax during the warmer months of the year. Whether your backyard is large or small, you can turn it into a comfortable, beautiful, and functional private oasis that is an escape from daily life. From kitchens, to decks, to pergolas, and more, these 10 ideas will give you inspiration as you design an outdoor living space that is just right for you.

1. Outdoor Fireplace
An outdoor fireplace can be a visually impactful focal point in your backyard. Add some comfortable furniture and it's the perfect place for family and friends to gather on a chilly night. Materials such as stone, concrete, or brick can be used to build fireplaces of any style, from rustic to ultra-modern.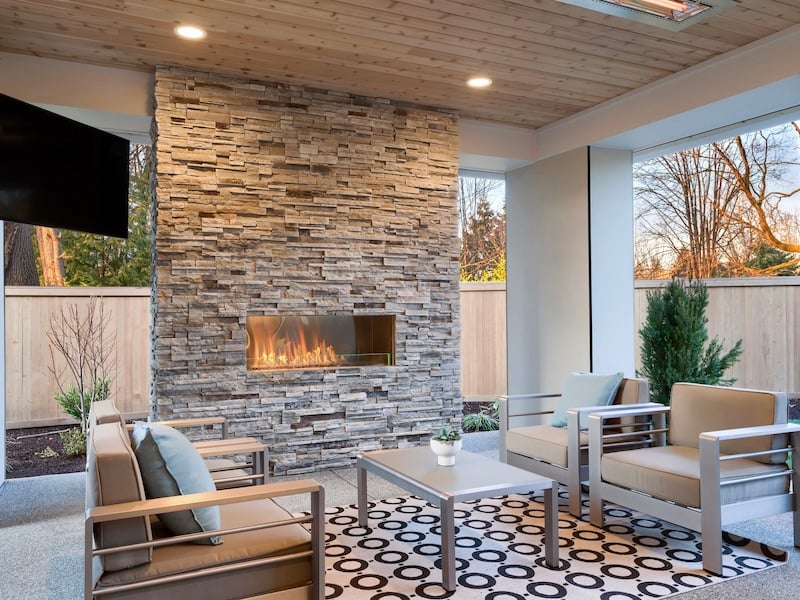 2. Outdoor Kitchen
Many homeowners now want to add a full kitchen to their outdoor living area. If this is something that you are considering, discuss it with your homebuilder during the initial planning phase of your project because arrangements for water lines, natural gas lines, and electricity need to be made. The design of your new space should allow for easy access between your indoor and outdoor kitchens. Don't forget to protect the chef (you!) and your guests from the elements with a canopy or other type of over-head covering, if your budget allows, and select appliances and countertops that are made to withstand all types of weather.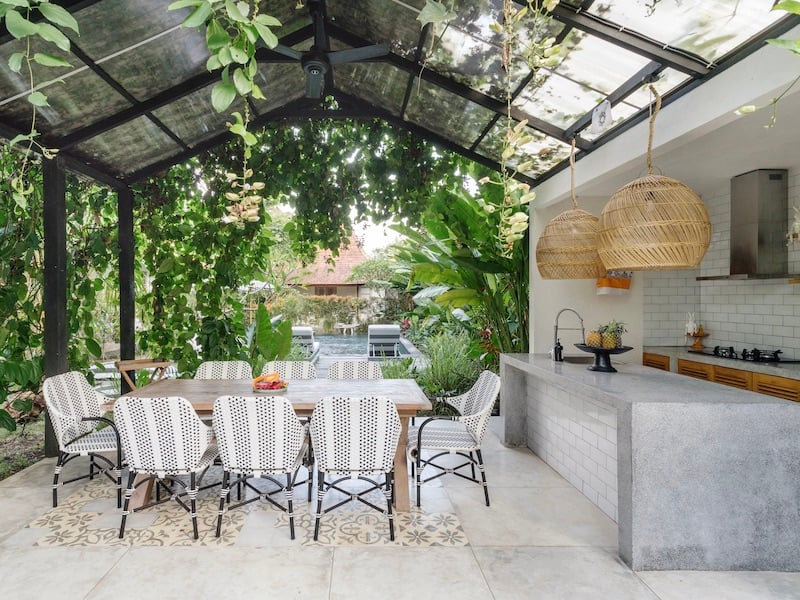 3. Gazebo Or Pergola
A gazebo or a pergola can be a lovely addition to a backyard. Each type of structure offers a delineated seating area and some shelter, but there are differences between the two. A gazebo is open on the sides and covered by a roof which provides full coverage from the sun. A pergola consists of columns that support a grid of beams overhead that allow sunlight to filter through the space. Either a gazebo or a pergola can be the ideal place to entertain or relax in your new outdoor living area.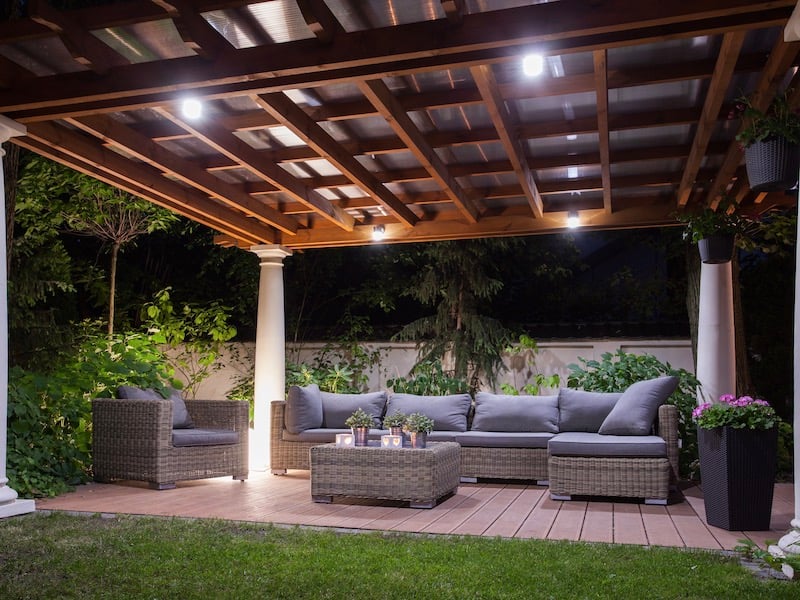 4. Deck
A deck is elevated by supports and is usually constructed off the main floor of the rear of a home. This allows the deck to act as a seamless extension of the indoor entertaining space, and depending upon the size of the backyard, it can be built in almost any shape or size. Whether you have a traditional rectangle or a free-form design, make your deck large enough to hold a dining table and a seating area, while still having plenty of room for guests to move around comfortably. Decks can be made from pressure-treated lumber, redwood, cedar, or composite materials. Talk to your homebuilder about the maintenance required for each type of material before you choose one so that you understand how to properly care for your deck in the years to come.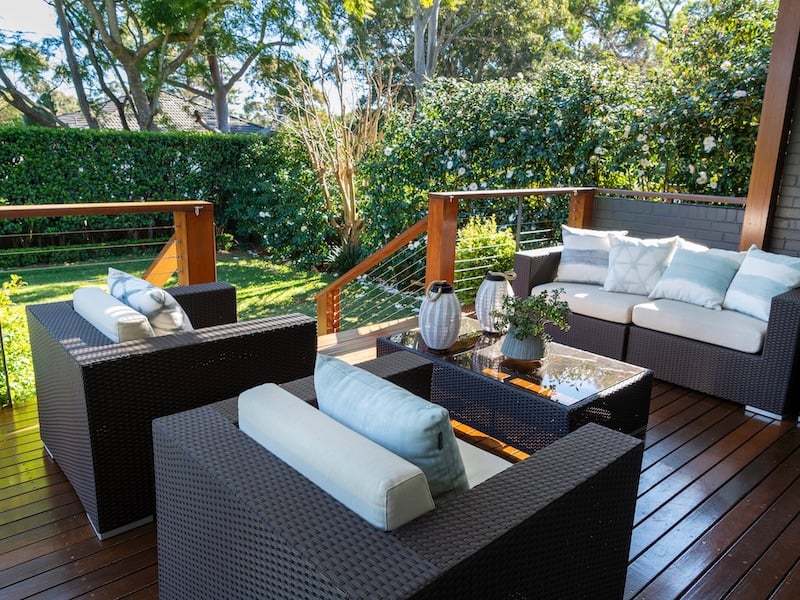 5. Patio
Patios are built to be flush with the ground and typically require less maintenance than decks. They can be designed in any shape or size and can be made from a variety of materials. Concrete is a highly durable material that can be colored, stained, or texturized. For a more natural look, choose flagstone, bluestone, slate, or limestone. Brick has a traditional appearance that works well with a colonial-style home. Pavers come in many shapes, colors, and patterns and are easy to maintain. Take aesthetics and maintenance into account when you decide which material is best for your new patio.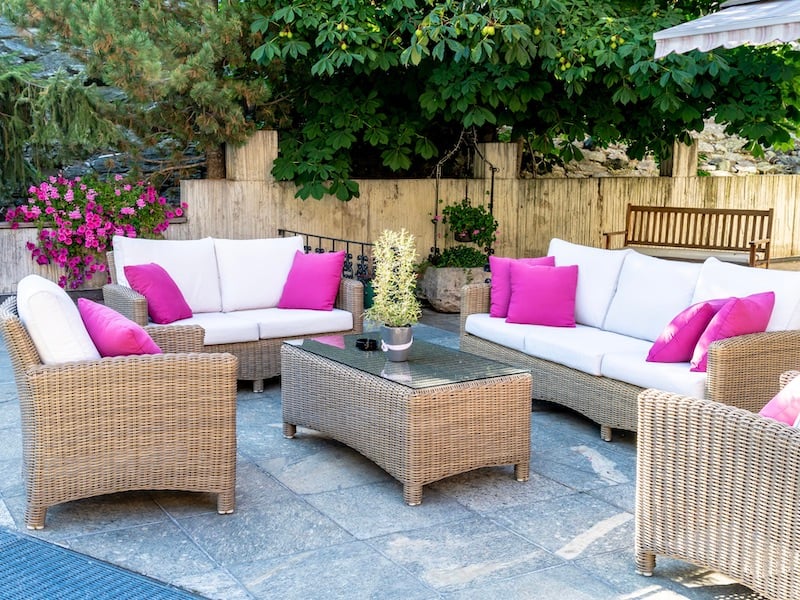 6. Indoor/Outdoor Room
Today's homes often feature transitional spaces, such as screened or glassed-in porches that lead to a patio, an outdoor kitchen, or a swimming pool. These indoor/outdoor rooms can have ceiling fans that provide a cool breeze in the summertime and space heaters for some warmth in the cooler months of the year. Consider adding extra wiring during construction for a television and speakers so your family can lounge and entertain in your new three-season, flexible-use space.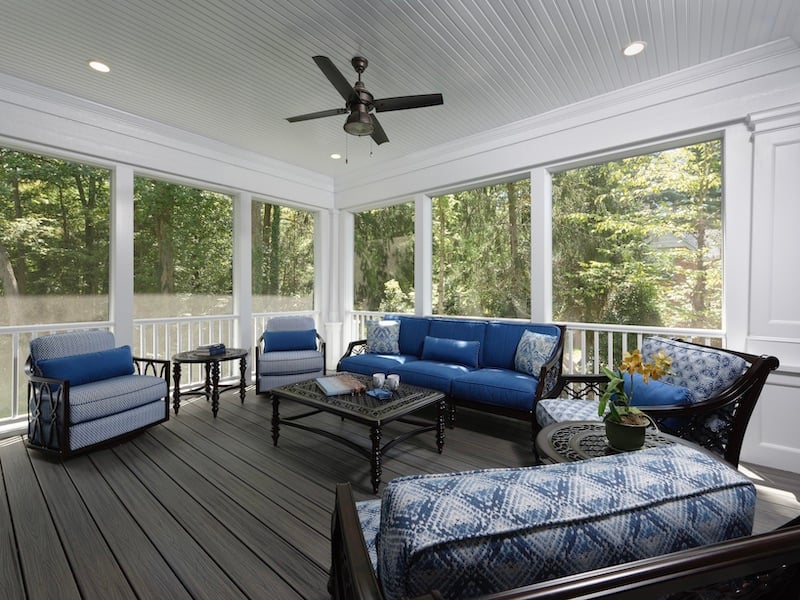 7. Swimming Pool
Swimming pools are the ultimate in luxury in any backyard. In-ground pools can be designed to be any shape or size to fit the space you have available. And, depending upon your budget, you can choose from a variety of finishes for your pool and the surrounding hardscape materials for a truly custom look. Yes, installing a pool is an expensive proposition, but it can increase the value of your home, and your family will enjoy it for years to come.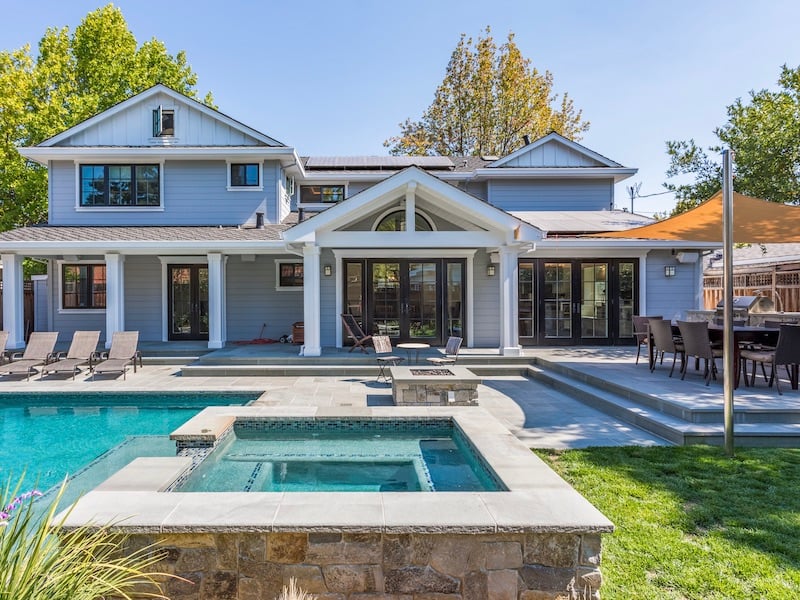 8. Sport Court
Sport courts are a great way to help your kids, their friends, and you get exercise and keep everyone occupied in a healthy way. From basketball to skateboarding to tennis, you can indulge your kids or yourself in a favorite pastime right in your own backyard.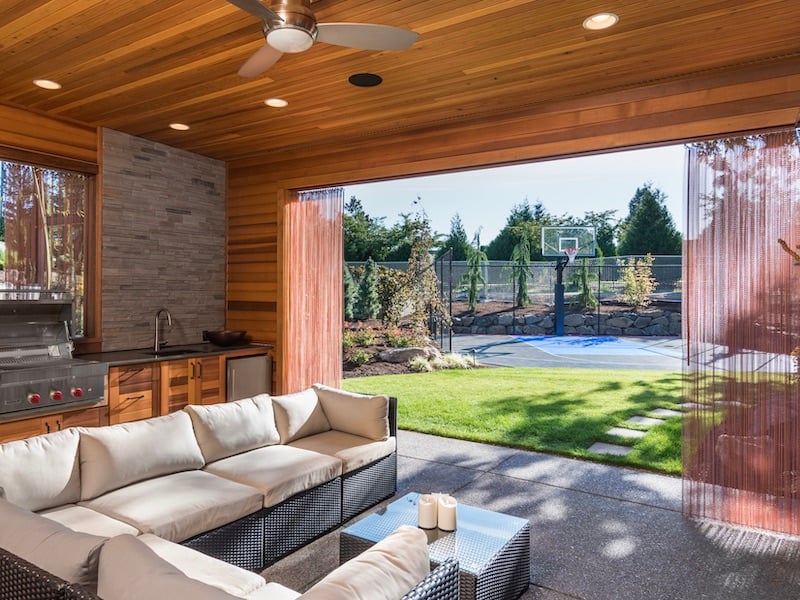 9. Folding Or Retractable Glass Doors
There are many different styles of glass doors that provide access to the backyard, from inexpensive sliders to those that pivot, fold, or lift-up. Work with your homebuilder or remodeling expert to select doors that will complement the architectural style of your home and work with your budget.
There are two types of glass doors that offer completely unobstructed views and easy access to the outdoors: telescoping doors which consist of three or more panels that fold like an accordion, and lift-up doors that roll out of sight like garage doors. These glass doors allow you to seamlessly integrate your indoor living area with your outdoor living space, but they can be very expensive. French doors are a more classic option and offer an elegant look; the double doors swing open and have either a full-length single pane of glass or panes that are divided by mullions. There are also variations on the traditional sliding door that can fit any type of decor, and they are available in many sizes and price points. Whatever you choose, glass doors can provide a feeling of connectedness from an indoor space to the outdoors.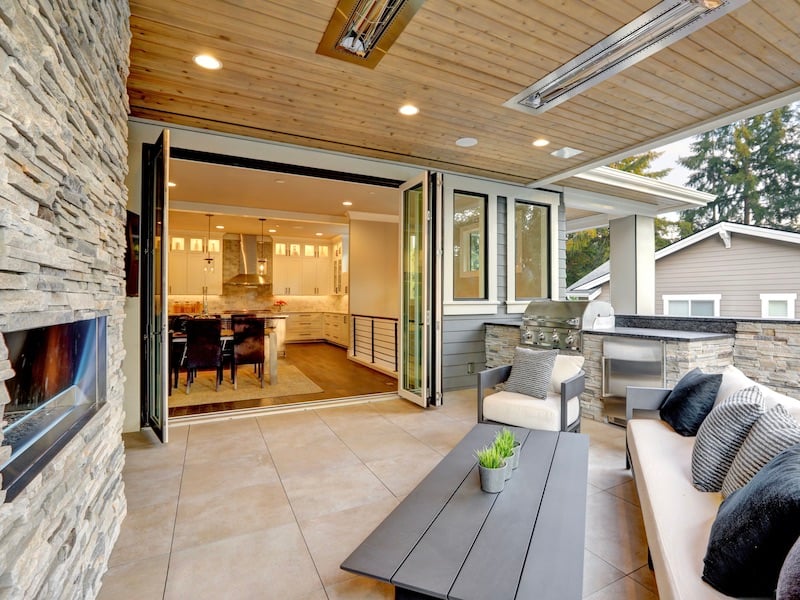 10. Outdoor Lighting
Consult with your homebuilder or landscape architect when developing a lighting plan for your new outdoor living space. Create the ambiance you desire by placing spotlights and uplights in strategic locations. Establish a safe environment for your family and guests by brightening large swaths of your yard with floodlights so that people can move about freely. Install low voltage lights under steps, railings, and benches, and use in-ground lights to illuminate walkways and driveways. Make sure you have sufficient task lighting for prep and cooking areas in your outdoor kitchen. Invest in underwater lighting that not only gives your pool a soothing glow, but also allows for safer nighttime swimming.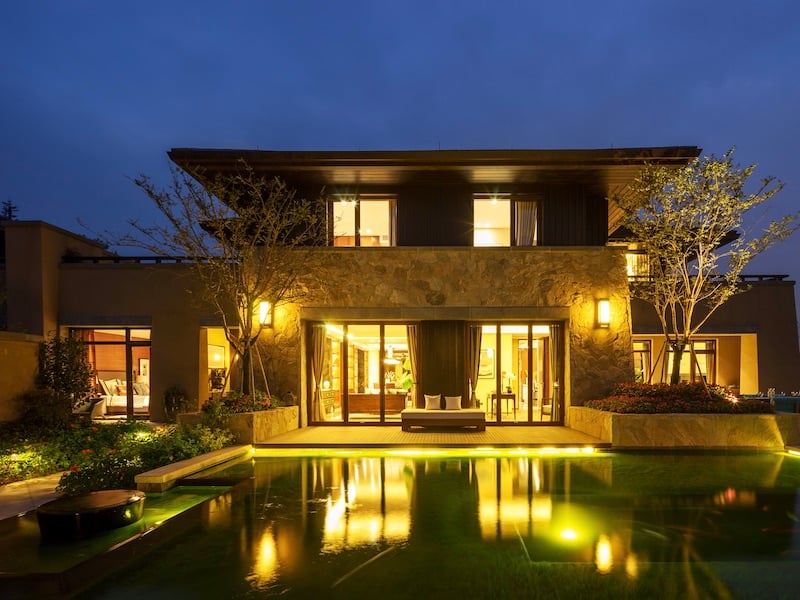 At Meridian Homes, we specialize in luxury remodeling and custom home building in the Washington, DC area. Our mission is to create exceptional residences that exceed expectations. Our highly personalized design process and careful management of every project have earned us a reputation over many years for outstanding client service and solid, beautiful craftsmanship. Contact us today to begin your custom home or remodeling project.