How To Select A Dryer With The Features You Need
Dryers have come a long way. The newest models are energy efficient and highly functional. They have settings that allow you to dry your delicates with cool air or bulky items with high heat, all for the perfect amount of time, and all at the touch of a button. You can even find dryers that have smartphone-compatible technology. With all of the models that are now on the market, how do you know what to buy? Here's a guide to choosing the best dryer for you.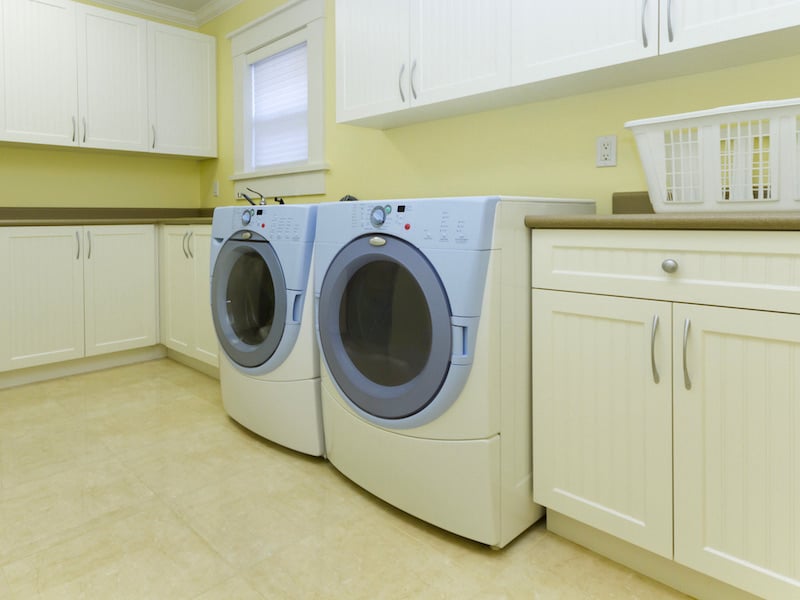 1. Determine Your Budget
New dryers cost anywhere from $400 to over $2,000; don't forget to factor in delivery and installation fees, too. Figure out how much you want to spend then research models that are within your budget.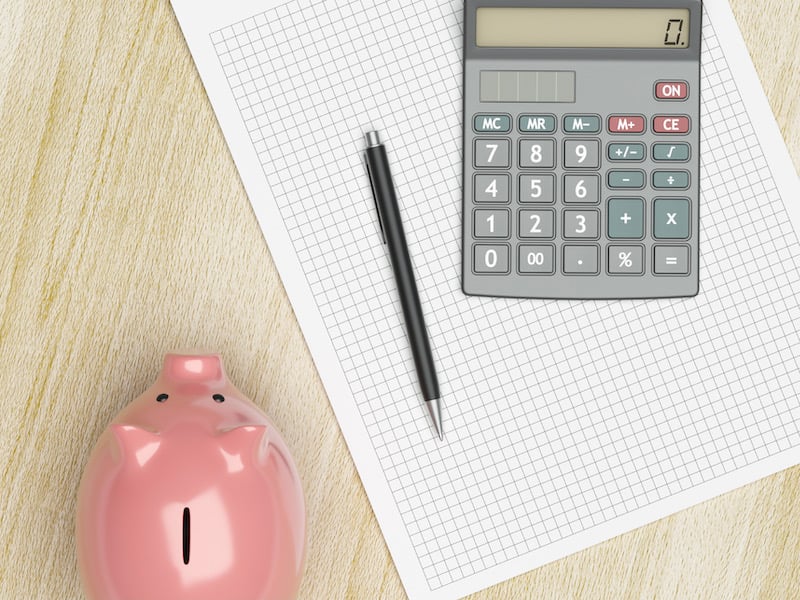 2. Measure Your Space
Before making a purchase, carefully measure the area where your new dryer and washer will be installed. Keep in mind that standard dryers are about 27 inches wide and 35 inches deep, but high capacity models can be larger.
Begin by measuring the height of the area: measure from the floor to the ceiling, or from the floor to underneath the cabinet or counter above where the new machines will be installed. The next step is to measure the width and depth of the space. Then you will need to measure the width of the door frames, hallways and stairwells that the machines must pass through to get to the laundry area. It may be necessary to remove doors and hinges, handrails or other obstacles before you move a new washer and dryer into your home.
The layout of your space will determine if you will need side-by-side or stackable machines. Top-loading washers and dryers must be placed side-by-side. Front loading washers and dryers can be installed side-by-side or stacked, if your space is more vertical than horizontal. Here are some guidelines to keep in mind as you consider which style of washer and dryer will fit properly:
Front-Loader:

allow for 21 - 25 inches front clearance for the door to swing open and make sure you will have room to walk around the open door; allow at least 1 inch above the machines so you can slide them out if necessary; account for the height of pedestals if you plan to raise the machines; account for the combined height of the machines if you plan to stack them
Top-Loader:

allow for at least 20 inches above the washer for the door to fully open; make sure there is sufficient space in front of the dryer for the door to swing open
Dryer Hinge: place the dryer hinge on the opposite side from the washer, so that the doors open away from each other; that way, you can easily move clothes from one machine to the other.
Space-Saving Washer/Dryer:

measure height and width of machines and make sure there is enough room to slide the units into the closet or space where they will be housed; check to see that the closet door will close
Water Hook-Up:

allow 6 inches behind the washer to accommodate the water hook-up and 6 inches behind the dryer for the gas or electric hook-up
Air Circulation:

leave 1 inch on the outer side of the washer and on the outer side of the dryer as well as 1 inch between the units for proper air circulation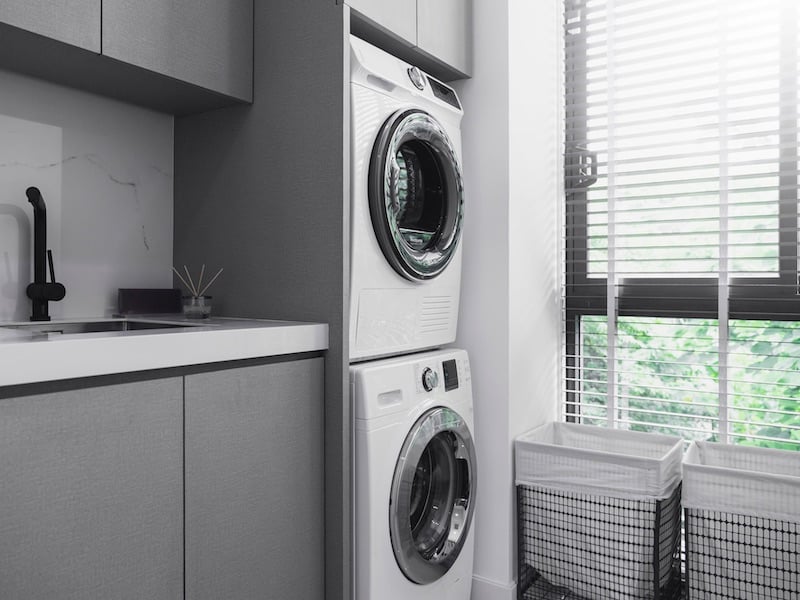 3. Gas or Electric
A natural gas dryer will require a gas connection for heat and a 110-volt electric outlet for power. Before purchasing a dryer, you must determine if you have a natural gas hookup where you want to install your new machine. A natural gas dryer heats up and dries clothes faster than an electric model, and that can save you time and money.
If you do not have a natural gas supply, you should purchase an electric dryer. This type of dryer requires a dedicated 240-volt outlet.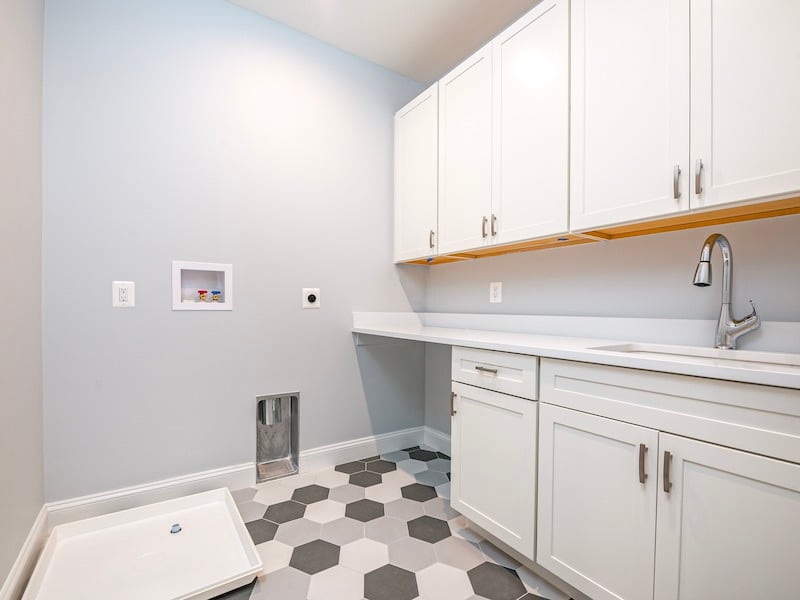 4. Venting
Exhaust from gas dryers must be vented to the outside because it contains carbon monoxide. External venting is needed for most electric dryers, too. Moist air from the dryer moves through a flexible or rigid metal tube that attaches to a hole that is cut in the side of a house. The exterior hole is covered by a vent cap.
To prevent a fire in your home, clean your dryer vent regularly. Unplug the dryer, detach the tube behind it and clear it out with a vacuum. If there are holes in the tube be sure to replace it. Then vacuum the vent leading out of the dryer and the vent cap assembly that is attached to the exterior of the house. It's also important to clean the lint filter in the dryer after each load to keep air flowing freely and to prevent dangerous lint build-up.
In some spaces, you may not be able to vent to the outside. In that case, consider purchasing a condensation dryer. Heat and moisture collect in a condensation chamber that must be frequently drained. This type of dryer can be expensive, and will have significantly longer drying times than vented machines. But, if venting to the outside is simply not an option, a condensation dryer may be a good alternative for you.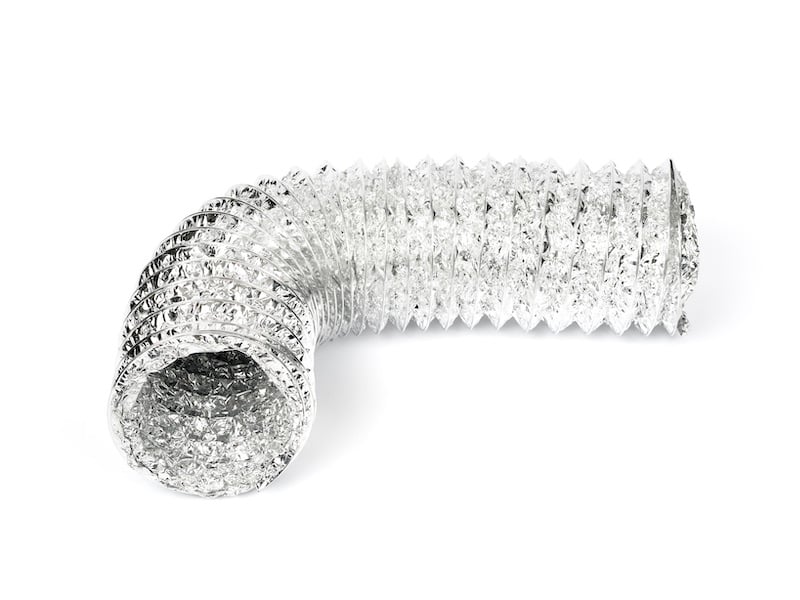 5. Capacity
Full-size dryers range from 5.8 cubic feet to 9.0 cubic feet in capacity. Purchase a large capacity dryer if you do a lot of laundry or often wash bulky items. As a rule of thumb, your dryer should have about double the capacity of your washing machine. Having enough capacity will allow heated air in the dryer to circulate through and around your full load of wet laundry properly.
If you are buying a washer and dryer set, then they are made to work efficiently together. If you are simply replacing your dryer, make sure that the capacity of the model you are choosing is compatible with your existing washer. For instance, if your washing machine has a capacity of 3.5 cubic feet, then choose a dryer with a capacity of 7.0 cubic feet or more.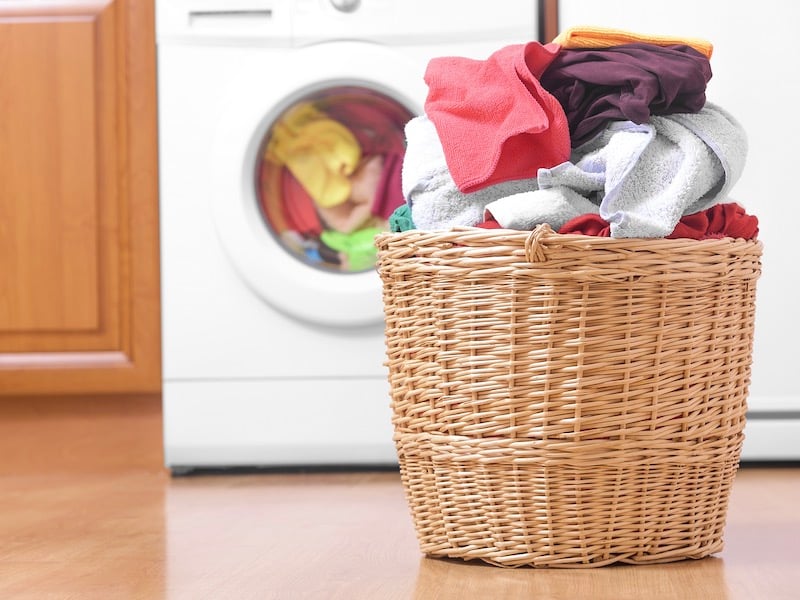 6. Energy Efficiency
Whether you purchase an electric dryer or one that runs on natural gas, make sure you purchase a machine that is ENERGY STAR certified. Running a clothes dryer uses a lot of energy. An ENERGY STAR certified dryer will use 20 percent less energy than a conventional model.
The Department of Energy has created the Combined Energy Factor (CEF) so that you can compare the energy use of various certified dryers. The higher the CEF, the greater the energy efficiency of the machine. Remember, higher energy savings directly translates into lower utility bills for you.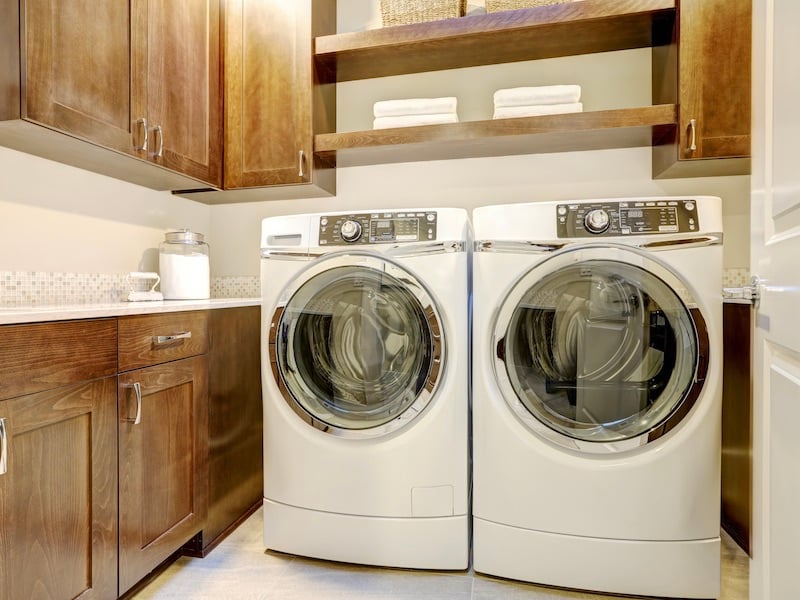 7. Space Saving Ideas
If you are purchasing a front-loading washer and a dryer, consider buying pedestals to put underneath the machines. Not only will the pedestals raise the machines and make it easier to load and unload the contents of the washer and dryer, but they will also offer space-saving drawers for laundry detergent, bleach and dryer sheets.
Keep in mind that a full size dryer with a compatible front-loading washer can be stacked if there is not enough room to place them side-by-side in the area where the machines will be installed. You will simply need to purchase an accessory kit that will allow you to bracket them together to make sure they are secure and will not topple over.
If you live in an apartment and space is at a premium, then consider a compact washer and dryer. These smaller machines can be placed side-by-side or they are available as a stacked vertical tower or laundry center. Most of these smaller washers and dryers are 24 inches wide or less.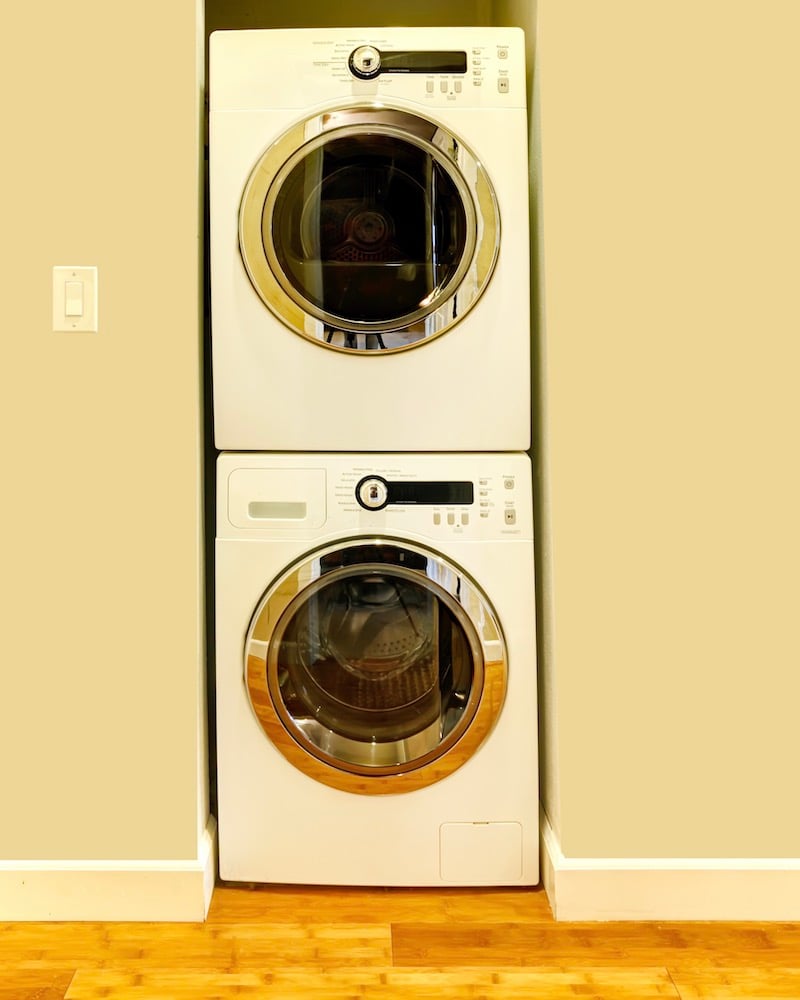 8. Features And Options
Manufacturers offer dryers at different price points. The more features you choose, the higher the price of the dryer. Decide which options are the most important to you, and purchase a model that meets your needs. Here are some features to consider:
Moisture Sensors
Moisture sensors detect dampness and will end the cycle when the contents of the machine are dry. This prevents over-drying that can ruin your clothes, and it saves energy by running the machine only when it's necessary.
Specialized Cycles and Settings
Auto Dry: for delicate items, bulky items, active wear, bedding and more; allows you to customize your drying cycles
Extended-Tumble Settings: also known as wrinkle-care or extra-care, these settings reduce wrinkling of your clothes by intermittently tumbling them without heat for up to 3 hours if you can't get to the dryer as soon as the cycle is finished
Reverse Tumbling: will keep bedding and other large items from tangling as the drum periodically changes direction
Steam Settings: remove wrinkles without damaging your clothing
Sanitizing Cycle: NSF-certification means that the sanitizing cycle will kill 99.9 percent of germs


Timer/Delayed Start
A timer allows you to delay the start of the drying cycle for extra convenience.
Dual Doors
Dual doors allow you to open one door on the top of the dryer to load in wet clothes, then swing open the front door to unload the dry items.
Drying Racks
Drying racks fit horizontally in your machine and allow you to dry items, like shoes, without tumbling them.
Stainless-Steel Drum
Stainless steel drums are highly durable and they won't absorb odors or crack like plastic can.
Safety Lock
A safety locking feature can help prevent a child from climbing inside the dryer.
Signal Options
Signals that alert you to the end of a cycle are helpful, but choose a machine that allows you to turn off the sound if you don't want to be disturbed.
Vibration and Noise Control
Vibration or noise dampening features will help your dryer to operate quietly. Consider purchasing a dryer with this option, especially if your laundry room is on the upper level of your home.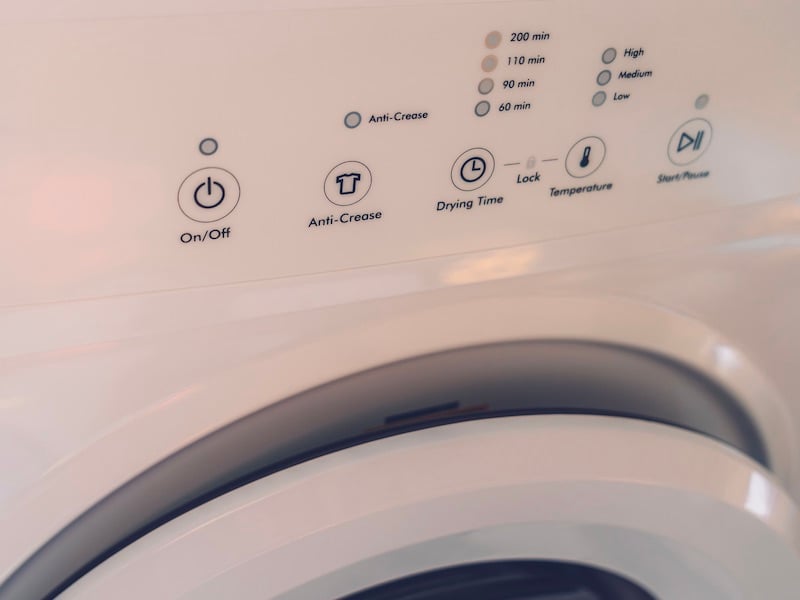 9. Dryer Colors And Finishes
In addition to classic white, silver, and black, manufacturers now offer washers and dryers in an array of colors. Complement your home's decor with a champagne, slate, or black-stainless steel washer and dryer. Want a pop of color in your laundry room? You can choose a kelly green, sapphire blue, or cherry red finish for your washer and dryer for a bold, unique look.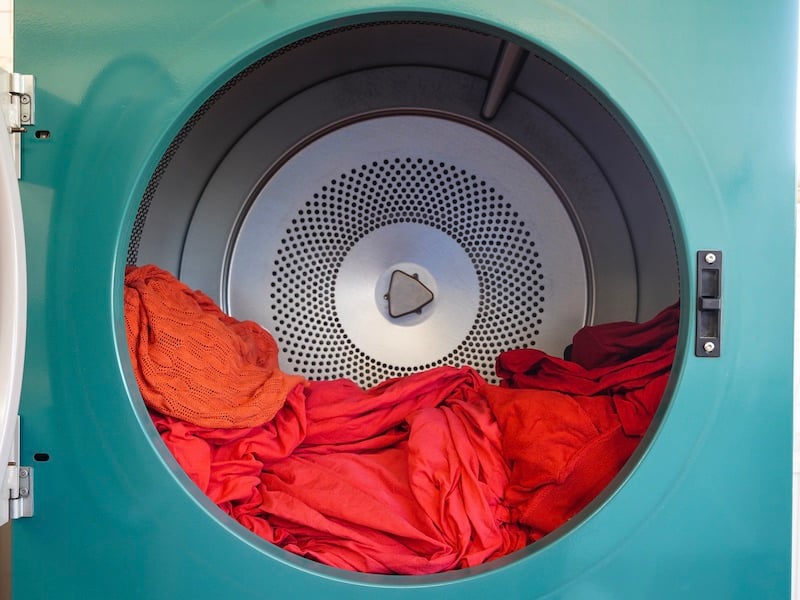 10. Smart Technology
A smart dryer connects to the internet via the WiFi in your home. This technology gives you access to a variety of functions from an app on your smartphone or tablet. Remotely start, stop or monitor your dryer and receive notifications when a cycle is finished. Get alerts when repairs are needed or troubleshoot error messages. You can even connect to your in-home digital assistant to give voice commands and to download new cycles.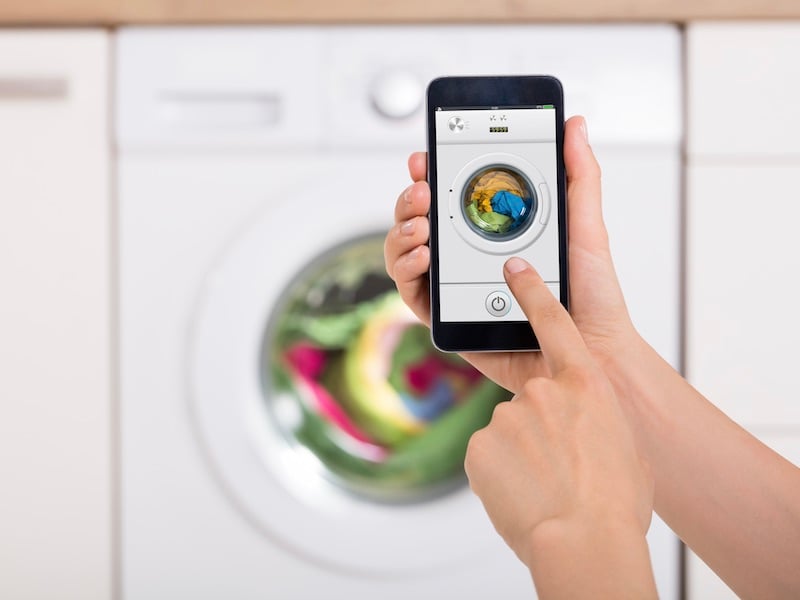 11. Do Research
Dryers are available at various price points, with different capacities and with a wide range of features. Carefully consider the dryer capacity you actually need and the options that you will truly use. Check out websites that regularly review and rate the newest models from each manufacturer, and take some time to read about the dryers that you are thinking about buying before you go to a store to make a purchase.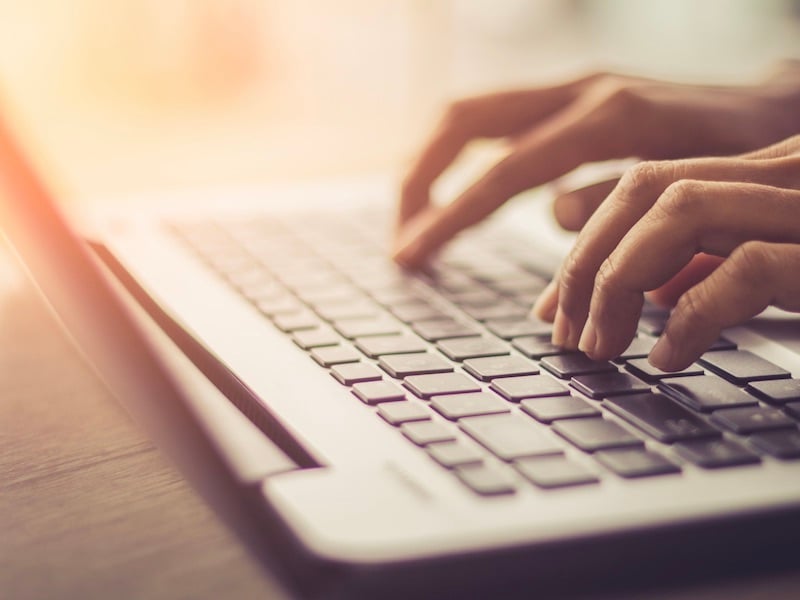 At Meridian Homes, we specialize in luxury renovations and custom home building in the Washington, DC area. Our mission is to create exceptional residences that exceed expectations. Our highly personalized design process and careful management of every project have earned us a reputation over many years for outstanding client service and solid, beautiful craftsmanship. Contact us today to begin your custom home or remodeling project.
Related Articles:
A Guide To Choosing The Best Washing Machine For You
A Guide To Choosing The Best Cooktop Or Range For You
A Guide To Choosing The Best Refrigerator For You
A Guide To Choosing The Best Dishwasher For You