How To Make A Time Consuming Daily Chore Quicker And Easier
Dirty laundry is a fact of life. Some days the piles of clothing, linens and towels can feel overwhelming. A new washing machine would make doing your laundry quicker and easier, but with so many models on the market, it can be difficult to find the best one. So, where do you start? Our guide offers advice and information to help you choose the right type of washing machine that has all of the features you need.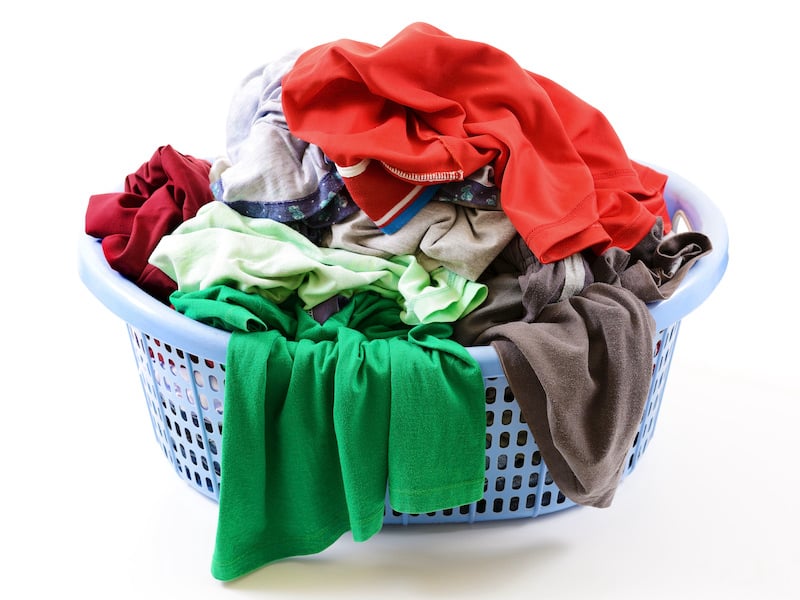 1. Establish Your Budget
First, establish your budget. New washers cost anywhere from $400 to over $3,000, and you'll need to factor in delivery and installation fees, too. Determine how much you want to spend and then only look at models that are within your budget.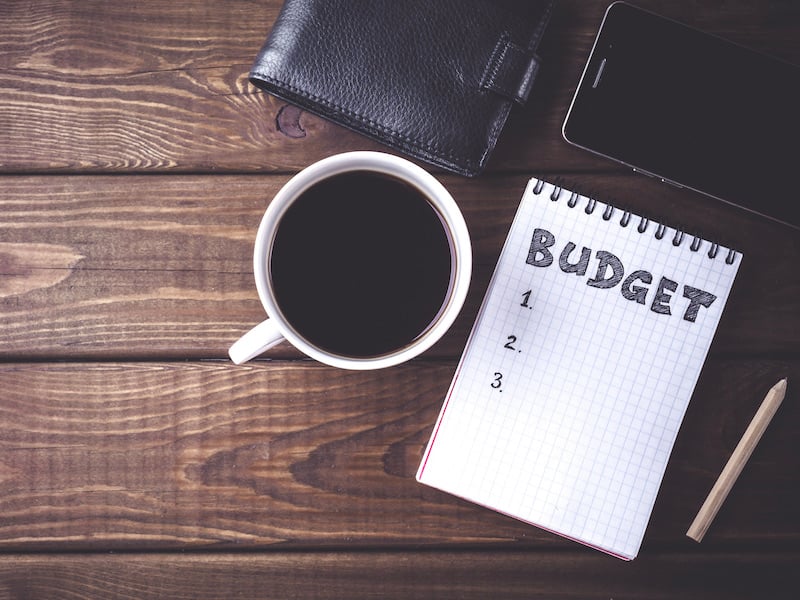 2. Measure Your Space
The amount of space you have will dictate the size and style of washer and dryer you can choose. Begin by measuring the height of the area: measure from the floor to the ceiling, or from the floor to underneath the cabinet or counter above where the machines will be installed. The next step is to measure the width and depth of the space. Then you will need to measure the width of the door frames, hallways and stairwells that the machines must pass through to get to the laundry area. It may be necessary to remove doors and hinges, handrails or other obstacles before you move the washer and dryer into your home.
If you are considering a top-loading washer and dryer, make sure that the layout of your laundry area will accommodate side-by-side units. Front loading washers and dryers can be installed side-by-side or stacked if your space is more vertical than horizontal. Here are some guidelines to keep in mind as you consider which style of washer and dryer will fit properly:
Front-Loader: allow for 21 - 25 inches front clearance for the door to swing open and make sure you will have room to walk around the open door; allow at least 1 inch above the machines so you can slide them out if necessary; account for the height of pedestals if you plan to raise the machines; account for the combined height of the machines if you plan to stack them
Top-Loader: allow for at least 20 inches above the washer for the door to fully open; make sure there is sufficient space in front of the dryer for the door to swing open
Space-Saving Washer/Dryer: measure height and width of machines and make sure there is enough room to slide the units into the closet or space where they will be housed; check to see that the closet door will close
Water Hook-Up: allow 6 inches behind the washer to accommodate the water hook-up and 6 inches behind the dryer for the gas or electric hook-up
Air Circulation: leave 1 inch on the outer side of the washer and on the outer side of the dryer as well as 1 inch between the units for proper air circulation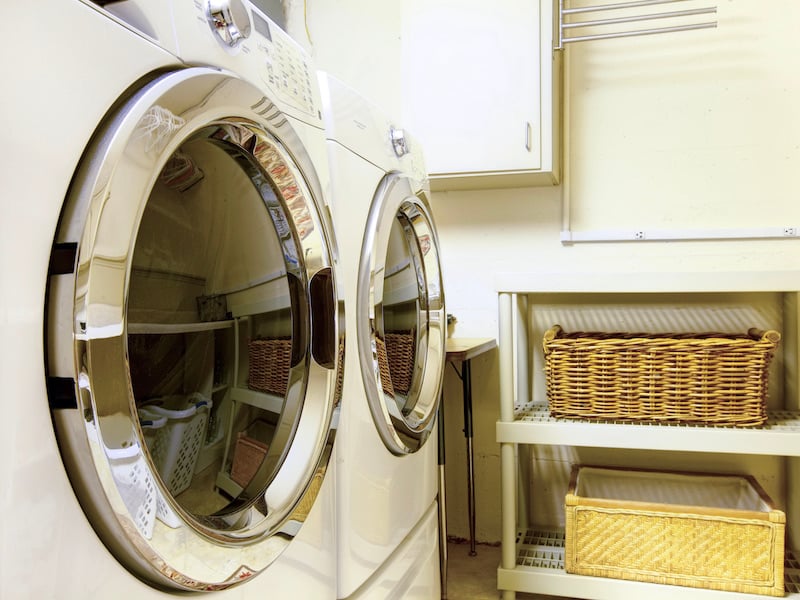 3. Do Some Research
Before you go into an appliance store or make a purchase online, do some research. There are a range of available features on washing machines at various price points, so think about which options you really need and will actually use. Check out websites and publications that regularly review and rate the newest washing machines from each manufacturer, and read about the pros and cons for models that interest you.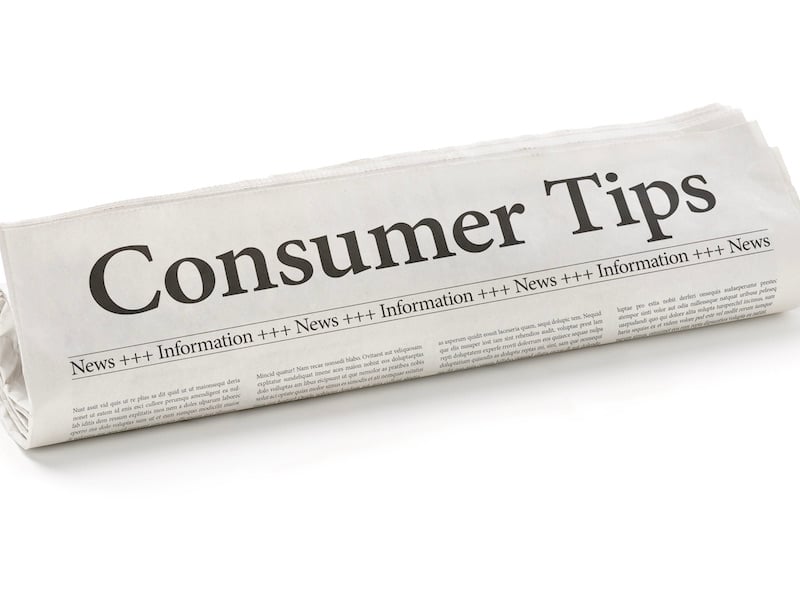 4. Do A Utility Check
Washing machines require a cold water hookup and the line should be within 3 feet of where your new unit will be installed. Be aware that some washers also require a hot water supply. When replacing your washing machine with a new model, it's a good idea to replace the old water supply hoses with new ones at the same time.
Drain pans are an inexpensive way to protect your home from water damage. A drain pan under the washing machine will collect water overflow if there is a leak or broken supply line. It can keep your floor from accumulating mold and mildew if condensation builds up under the washing machine, too.
Check to see that there is an electrical outlet within close proximity of your new washer. If you are also purchasing a dryer, you will need an electrical outlet for that machine too, unless you have a natural gas hookup.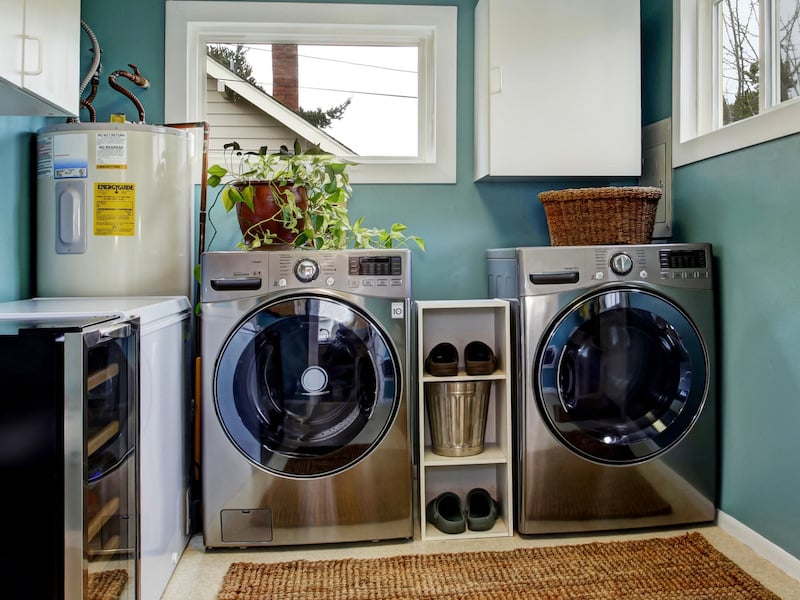 5. Consider Capacity
Capacity is one of the most important factors to consider when purchasing a new washing machine. Look for a washer that will work for the size of your family and the amount of laundry you do on a regular basis. For instance, if you have a big family that generates lots of dirty laundry you should look for a large capacity washing machine. But if you only do a few loads of laundry each week, a regular or small capacity unit may suit your needs.
Tub capacity is measured in cubic feet. A compact washer offers 2.30 - 2.45 cubic feet of capacity, allowing you to wash about 10 pounds of laundry in one load. A regular washer offers 3.1 - 4.0 cubic feet of capacity, which means you can wash 12 - 16 pounds of laundry in a load. A large washer offers 4.2 to 5.2 cubic feet of capacity so you can wash up to 20 pounds of laundry or bulky items like queen or king-size comforters.
Clothes and other items need to tumble freely to get clean, so choose a washing machine with the proper capacity for your lifestyle so you can avoid packing the tub too tightly with each load. The more you can safely fit into the washer, the less frequently you will need to do laundry. That saves time, energy, water and money.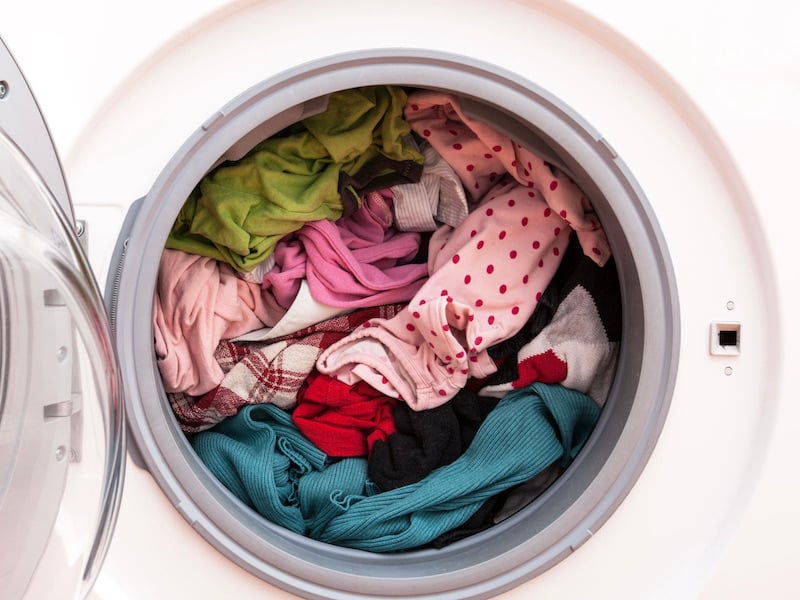 6. Types of Washing Machines
High Efficiency Front-Loading Washers
Front-loading washers are known for cleaning well, being gentle on clothing, and offering the greatest capacity when compared to other types of machines. They are also highly energy efficient which can save you money on utility costs in the long run. Front-loaders use less water than other types of machines because they have sensors that determine exactly how much water is needed for each load at the beginning of every cycle.
High-efficiency washing machines that use less water require high-efficiency (HE) detergents because they are low-sudsing and disperse quickly in the rinse cycle. Look for the HE label to be sure that you are using the correct kind of detergent in your new washer.
Front-loaders have drums that spin at high speeds, extracting more water from the items inside than top-loading machines. The high spin speed shortens the time your clothes will need to be in the dryer and that translates to energy savings. However, the spin cycle can cause some front-loaders to vibrate and shake, so look for a model with a vibration/noise reduction option and consider placing this type of washer on a reinforced or concrete floor.
Front-loaders are available with many customized cycle settings, from hand-wash to heavy duty. One of the best options found on some higher-end models is the steam feature that has two different functions: use it on the refresh setting to soften fabric and reduce wrinkles, or try the steam-sanitizing cycle when you need some extra-hot water to get rid of bacteria and allergens. Some front-loaders have a dual washing function that allows you to do two loads using different cycles at once: tackle a large load on the normal setting in the main washer, and wash a small load on a delicate setting in the mini-auxiliary compartment.
One drawback of front-loading machines is that mold can sometimes accumulate in the door gasket, so you may need to leave the door ajar after a load is done. Look for a model with a self-cleaning option that can help keep your washing machine sanitized and fresh.
Front-loading washers and dryers can be placed side-by-side or stacked if space is at a premium in your laundry area. You can purchase pedestals to raise your machines so that you do not have to bend over to retrieve clothing from inside. Some pedestals even give you the added value of having a storage drawer to hold your detergent, bleach and fabric softeners.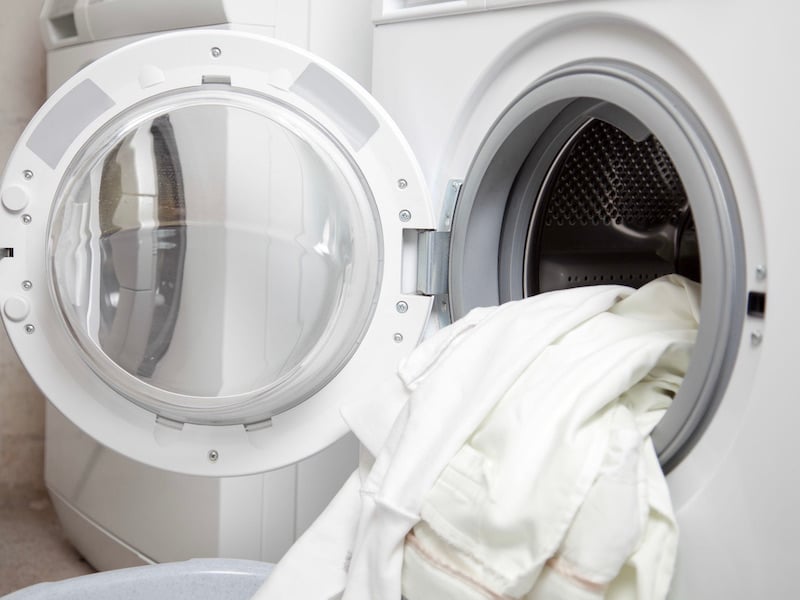 High-Efficiency Top-Loading Washers
High-efficiency top-loading washing machines have an impeller instead of a central agitator. An impeller moves the water around so that the clothes rub against each other to get clean. The absence of an agitator means that there is more room in the tub for large items and clothing is not subjected to as much twisting and wringing. The high capacity tubs are extra deep so you can fit more inside and do fewer loads, but it can be difficult to reach down for items at the bottom.
High-efficiency top-loaders are significantly more energy efficient than standard top-loaders. They spin faster so that more water is removed from your clothes before you transfer them to the dryer. The result is faster drying times, requiring less energy.
HE top-loaders are known to clean better and use less water than standard top-loaders because sensors inside automatically determine how much water is needed for each load and then adjust levels accordingly. High-efficiency top-loaders do require the use of lower-sudsing HE detergents.
HE top-loading washers are more expensive to buy than standard top-loading washers, but they will save you money on your utility bills in the long run.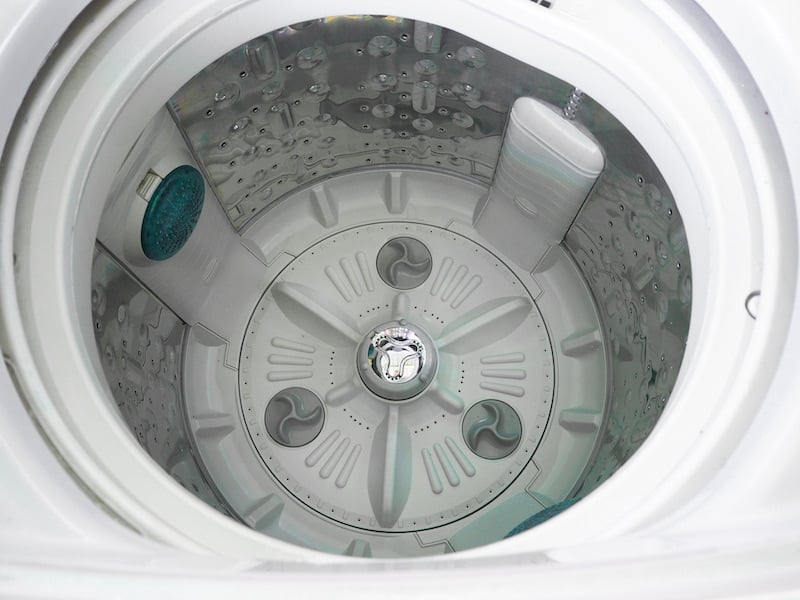 Standard Top-Loading Washers
There are pros and cons with standard top-loading washing machines. They have been around for decades and are the least expensive type of washer on the market. They are designed to have a central post inside with rubber fins called an agitator which can be harsh on clothes because it twists them around throughout the washing cycle. Standard top-loaders have quick cycle times, are easy to keep clean and will not require you to bend over to load and unload the clothes. They also allow you to add items after a cycle has started.
However, standard top-loaders have smaller capacity tubs and offer fewer cycle options than high-efficiency models. In addition, standard top-loaders are not energy efficient and that will be reflected in higher utility bills for you. During each load, the tub fills completely with water twice: once during the wash cycle and again during the rinse cycle. Even after the spin cycle is complete clothes may retain water, and that means more dryer time and more energy usage to get the moisture out.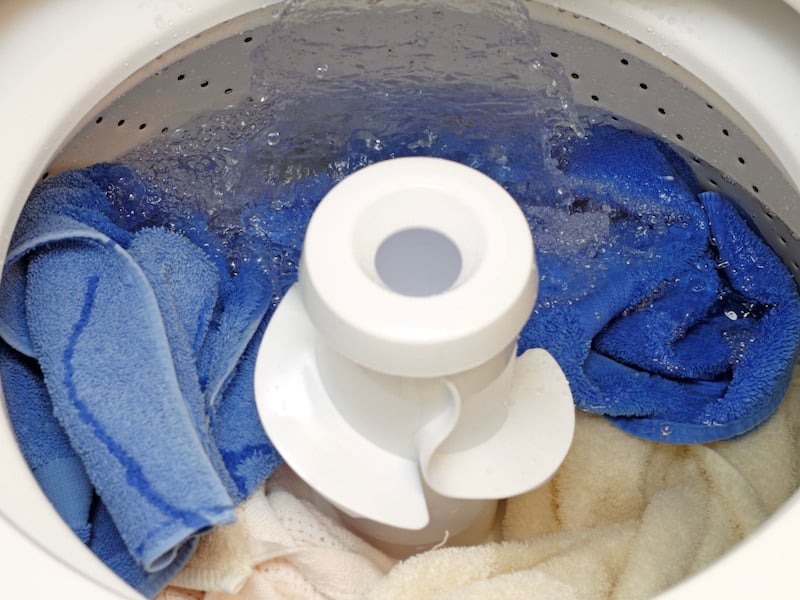 Space Saving Washers
Maybe you live in a condominium and you don't have room for a full-size washer and dryer. Or, perhaps you want to have a small, auxiliary washer/dryer unit on the bedroom level of your home because your larger machines are located in the basement. A space-saving washer and dryer may be the perfect solution.
There are two types of space-saving washer/dryer units. The first is a laundry center, which has a small-capacity washer on the bottom that is connected to a small-capacity dryer on top. These tall, narrow, single units are made to fit into tight, vertical spaces.
Your second option is to purchase a compact washer and a separate compact dryer. Depending upon the space you have in your home, they can be placed side-by-side or arranged vertically. Most compact washing machines are 24 inches wide, 34 inches tall and 24 inches deep, which is about the size of a dishwasher.
Expect longer cycle times and more vibration with space-saving machines than with full-size models. Since there is a relatively limited market for these smaller machines, be prepared to pay about the same as you would for a full-size washer and dryer.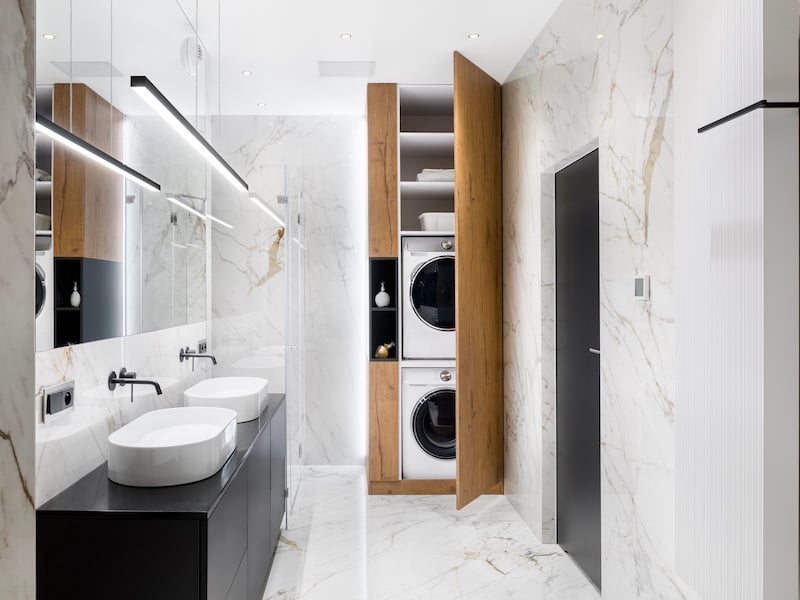 7. Features And Options
As you add features, the price of a washing machine goes up. Here are some options that you will see on various brands of washers; consider what would be most useful to you and forgo the rest to stay within your budget.
Automatic Dispensers
If you don't want to measure and pour laundry detergent every time you do a load, choose a model with an automatic dispenser. A reservoir holds multiple loads' worth of detergent and releases the correct amount at the right time during a cycle. The rest of the detergent remains in the dispenser for the next load.
Automatic Temperature Controls
An internal thermostat checks the water coming into the washer and adjusts the valves to ensure that the temperature of the water is optimal for the selected cycle. Some models have a built-in heater to allow your washing machine to achieve the high temperatures needed for settings like "extra-hot" or "sanitize."
Automatic Load Sensing
Sensors in the washing machine determine the size of each load and fill the tub with the appropriate amount of water. This feature will save you money by limiting water usage.
Specialized Cycles and Settings
High-end washing machines can have a dozen or more customized washing cycles. Each cycle adjusts water temperature, cycle length, and spin speed for specific soil levels and types of items such as heavy towels, delicate lingerie, bulky bedding, lightweight athletic clothing and more. The quick wash setting can be used for small loads or lightly soiled items when you need your laundry to be done fast.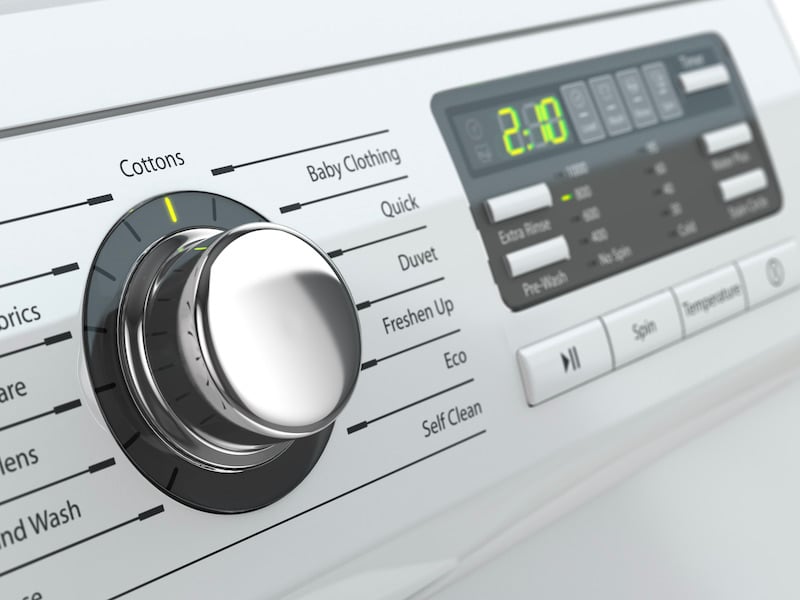 Steam Functions
Steam functions are used to sanitize or refresh. The steam-sanitize cycle uses very high temperatures to kill bacteria and allergens. Steam-refresh uses lower temperatures remove odors and wrinkles without damaging your clothing.
Built-In Sink
Certain washers offer a built-in sink with a scrubbing board and water jet so you can pretreat and hand wash your laundry.
Delayed Start
A delayed start function allows you to begin a cycle when it's convenient for you so that wet clothes won't sit in your washer for hours.
Pause/Interrupt Option
High-efficiency front-loading and top-loading washers lock once a cycle starts. The pause/interrupt option allows you to unlock the door and add an item to the washer after the cycle has begun. Some front-loaders will drain the water when you open the door so there is no overflow onto your floor.
Stainless Steel Drums
Stainless steel drums are very durable and won't chip or rust like porcelain-coated drums, and they won't absorb odor, discolor or crack like plastic tubs can. Stainless steel drums are made to withstand the faster spin speeds that extract more water from the contents of the washer in high-efficiency washing machines.

8. Washing Machine Colors and Finishes
In addition to classic white, silver, and black, manufacturers now offer washers and dryers in an array of colors. Complement your home's decor with a champagne, slate, or black-stainless steel washer and dryer. Want a pop of color in your laundry room? You can choose a kelly green, sapphire blue, or cherry red finish for your washer and dryer for a bold, unique look.

9. Smart Technology
A smart washer connects to the internet via the WiFi in your home. This technology gives you access to a variety of functions from an app on your smartphone or tablet. Remotely start, stop or monitor your washing machine and receive notifications when a cycle is finished. Get alerts when repairs are needed or when it's time for a self-cleaning cycle. You can even connect to your in-home digital assistant to give voice commands and to download new wash cycles.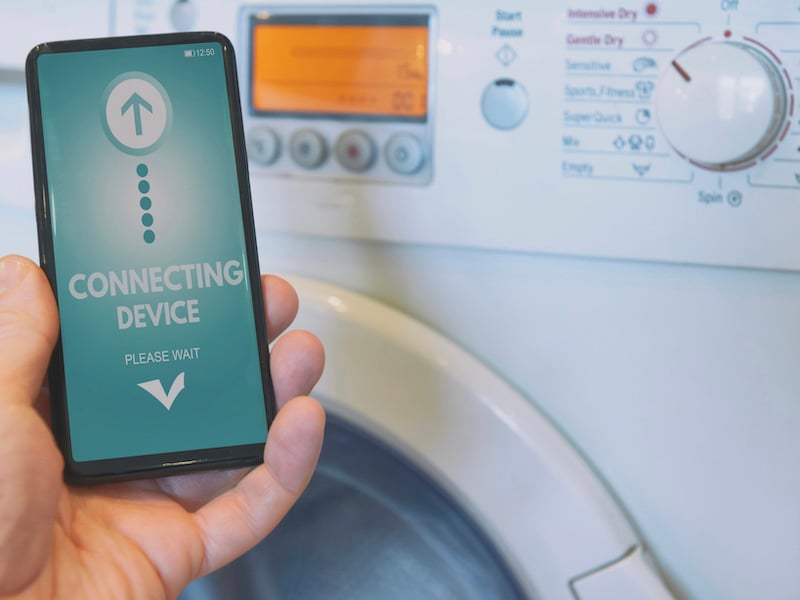 10. Save Energy And Water
All appliances have an energy label guide so you can compare estimated annual operating costs across brands. Look for a washing machine that is labeled "high-efficiency" (HE) and is ENERGY STAR certified. Why? High-efficiency, ENERGY STAR certified washers use about 25% less energy and 40% less water than washers that meet the minimum federal standards and that can save you about $40 or more per year on your utility bills.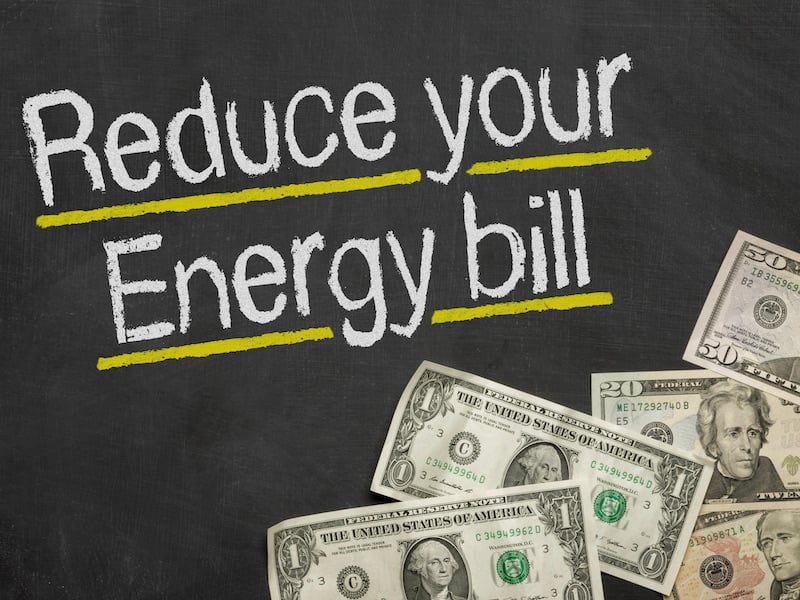 At Meridian Homes, we specialize in luxury renovations and custom home building in the Washington, DC area. Our mission is to create exceptional residences that exceed expectations. Our highly personalized design process and careful management of every project have earned us a reputation over many years for outstanding client service and solid, beautiful craftsmanship. Contact us today to begin your custom home or remodeling project.
Related articles:
A Guide To Choosing The Best Cooktop Or Range For You
A Guide To Choosing The Best Dishwasher For You
A Guide To Choosing The Best Refrigerator For You