Everything You Need To Know Before Purchasing One Of The Most Important Appliances For Your Home
Whether you are remodeling or building a custom home, selecting the right refrigerator is one of the most important decisions you will make when designing your new kitchen. If you haven't shopped for a refrigerator in a while, you may be surprised by the many styles, colors, finishes and features that are available. This guide will help you make an informed decision so you can choose the best refrigerator for you.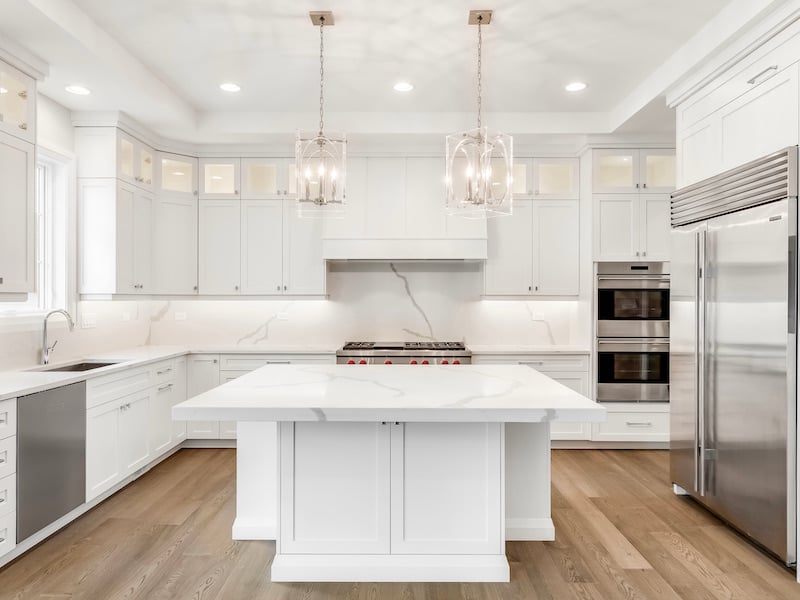 1. Types Of Refrigerators
To begin, consider the layout of your new kitchen, the placement of your appliances in relation to each other and the amount of space you will have for a refrigerator. Before making a purchase, measure the height, width, and depth of the refrigerator you like best. Factor in the clearance needed when the doors and drawers of the unit are fully opened, especially if the island is directly across from the refrigerator. Make sure you understand how the door swing will affect the traffic pattern in your new kitchen - this alone may dictate the style of refrigerator you pick.
Next, review your budget to determine exactly how much you have to spend. You may crave the high-end look of a refrigerator that is built-in to your cabinetry, but that type of fridge comes with a hefty price tag. Is a less expensive freestanding model a better option for you?
Then, find a refrigerator that has enough cubic feet inside to store everything your family needs. For example, a typical family of four will require a minimum of 20 cubic feet of usable storage. But if you buy in bulk or have a larger family, you may need a refrigerator with more capacity.
Built-In Refrigerators
Built-in refrigerators are designed to fit inside an opening in the cabinetry and are affixed to a rear wall. They don't sit completely flush in the space; the doors and handles protrude about 1 to 2 inches beyond the enclosure and countertops. Built-in refrigerators are taller than freestanding models because the motor and vent are at the top of the units. This type of refrigerator is available in widths up to 48 inches and offers lots of room inside.
Built-in refrigerators are available in side-by-side, French door, and bottom-freezer styles with stainless steel, glass-panel or cabinetry-panel-ready options. If you have the space and the budget, you can get all-refrigerator and all-freezer column units that can be installed next to each other or apart, with cabinetry in between.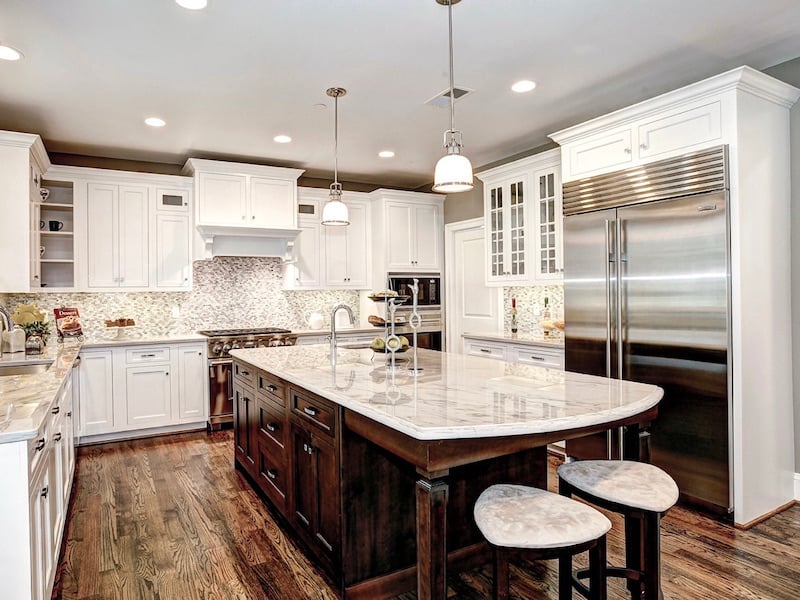 Fully-Integrated Refrigerators
Fully-integrated refrigerators are built into an enclosure and are completely flush with the surrounding cabinetry and countertops. The vent is not visible. You can easily customize a fully-integrated refrigerator by choosing a paneled-front model with inset doors that will blend seamlessly with the rest of the cabinetry in your kitchen. Select handles that match those on your cabinets or opt for hidden handles for a super-sleek look. Fully-integrated refrigerators are also available with stainless steel fronts.
Fully-integrated refrigerators are available in various configurations: side-by-side, French door, bottom freezer or column units. When you open the door to a fully-integrated refrigerator, the shelves may seem higher than those in a traditional built-in model. That is because the motor is at the bottom of the unit instead of at the top.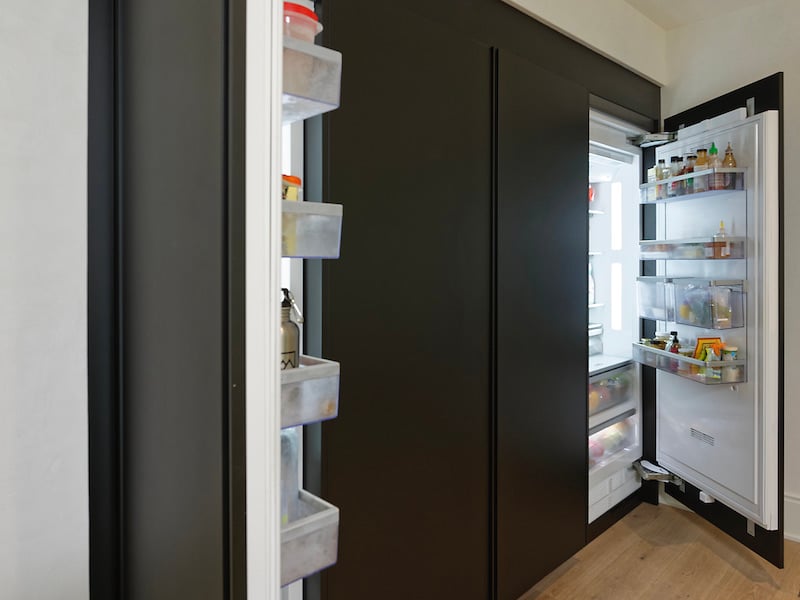 Under-Counter Refrigerator And Freezer Drawers
Refrigerator and freezer drawers are installed underneath kitchen countertops and are fully integrated into the cabinetry. They offer customizable refrigerator or freezer space because you can stack them, place them side-by-side or arrange them in different areas of the kitchen. Since you access them from above, these drawers make it easy to organize and find items. Create different refrigerated zones by placing fruits and vegetables in one drawer and juice boxes and sodas in another. Under-counter refrigerator or freezer drawers are available in stainless steel or custom-panel-ready fronts. Refrigerator and freezer drawers are expensive, but they are a convenient way to supplement your main refrigerator and make it simple for all of your family members to find what they need.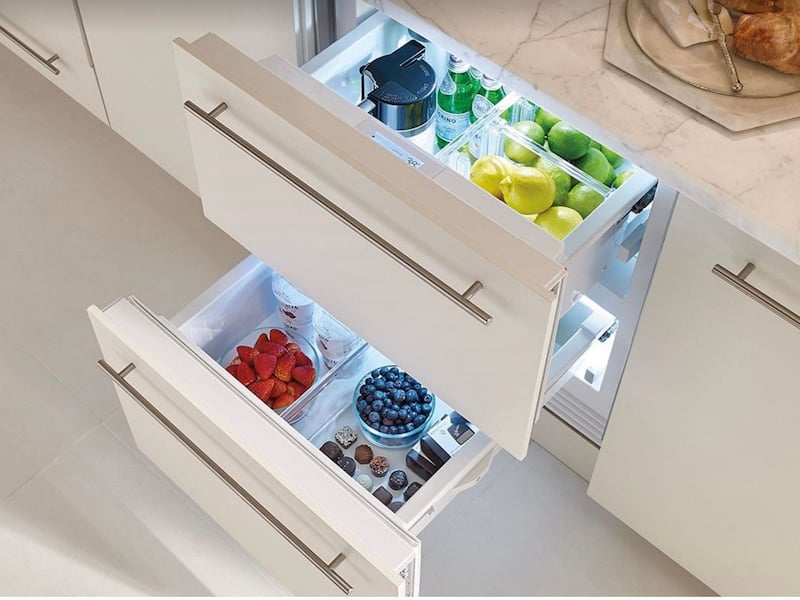 Standard Or Full-Depth Refrigerators
There are pros and cons to standard or full-depth refrigerators. They are freestanding so you can take them with you when you move, but they do not offer a high-end, built-in look. Standard refrigerators measure 30 to 36 inches deep, which means they have a considerable amount of room inside. However, the extra depth makes the box of the refrigerator protrude past the end of the cabinets which are typically 24 inches deep, and countertops which are about 25 inches deep, and this can be visually unappealing. Before you purchase a standard or full-depth refrigerator, check to see that you have enough clearance when the door is open so that it will not impede traffic flow or knock into an island that may be across from it.
Standard-depth refrigerators are available in side-by-side, French door, top-freezer, and bottom-freezer styles and come in a variety of finishes and colors. The best thing about standard refrigerators is the price tag: they usually cost a lot less than counter-depth or built-in models, so they are a perfect choice if you need an auxiliary refrigerator in a mudroom, garage, or basement.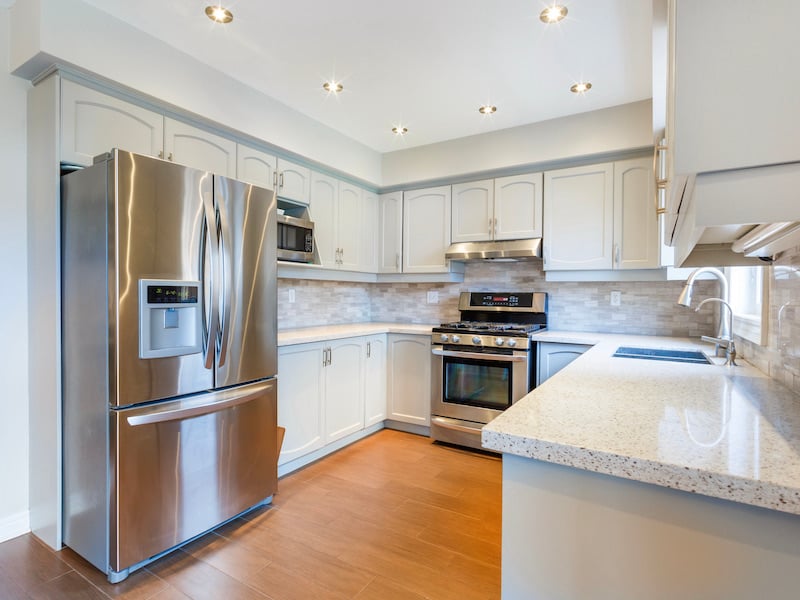 Counter-Depth Refrigerators
Counter-depth refrigerators are freestanding but designed to sit as flush as possible with your kitchen countertops and cabinets for a cleaner look than full-depth refrigerators offer. It's important to note that counter-depth refrigerators will stick out a few inches past your countertops because the doors must be able to swing open without impediment. In other words, the box of the refrigerator may sit flush with your countertops, but the closed doors will protrude slightly so they don't rub against the countertops when opened.
Counter-depth refrigerators are available in many styles, colors, and finishes to work with any decor. If you want a streamlined look in your kitchen but don't have a big budget, a counter-depth model is a good choice as it can cost much less than a built-in refrigerator.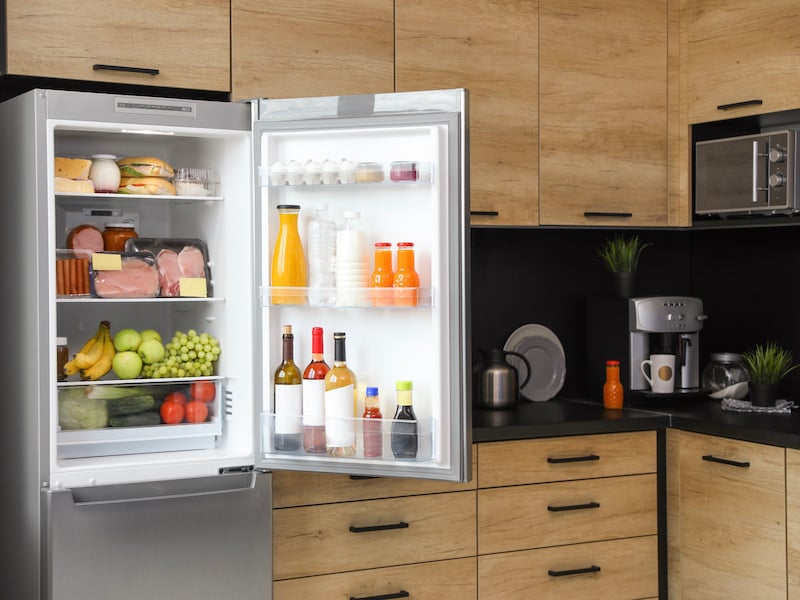 2. Styles Of Refrigerators
There are benefits to each style of refrigerator, so it is really a matter of preference. If you typically buy more fresh food than frozen, a French door model with plenty of refrigerated space may be for you. But, if you have lots of frozen foods that need to be organized and at your fingertips, a side-by-side may be the right choice. Most importantly, make sure that you choose a refrigerator that will fit within the allotted space in your kitchen and that the doors will have enough clearance when they swing open.
Side-By-Side Refrigerators
In a side-by-side, the refrigerator is on the right and the freezer is on the left, giving you two tall, narrow compartments. The side-by-side's vertical configuration offers multiple shelves on both sides, allowing you to put the items you use most often in the center for easy access and the items you use less often up high or down low.
There is often more freezer capacity in a side-by-side than in a French door refrigerator. Side-by-side refrigerators also feature narrow double doors that do not need much clearance when you open them, making them a good fit for tight spaces. With a side-by-side model, you can choose from options like an in-door water and ice dispenser or caddies that organize cans and tall bottles.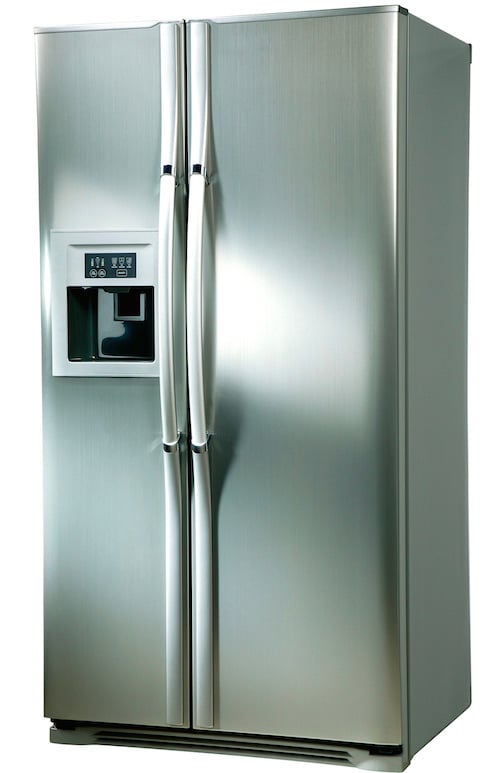 French Door Refrigerators
The French door style has one continuous refrigerated space on top, accessed by two side-by-side doors that can open individually or together. The refrigerated section is spacious and you can store large items with ease. Some models offer a separate pull-out snack bin or crisper drawer.
The freezer section is a deep drawer at the bottom which will need plenty of clearance when fully extended. It can be difficult to organize and find your frozen items in a single-section freezer drawer, so consider purchasing dividers or baskets that are offered by certain manufacturers. Some French door models will allow you to switch the bottom section from freezer to refrigerator for maximum flexibility when you need it.
French door refrigerators tend to be pricey because they offer many features, including in-door ice and water dispensers.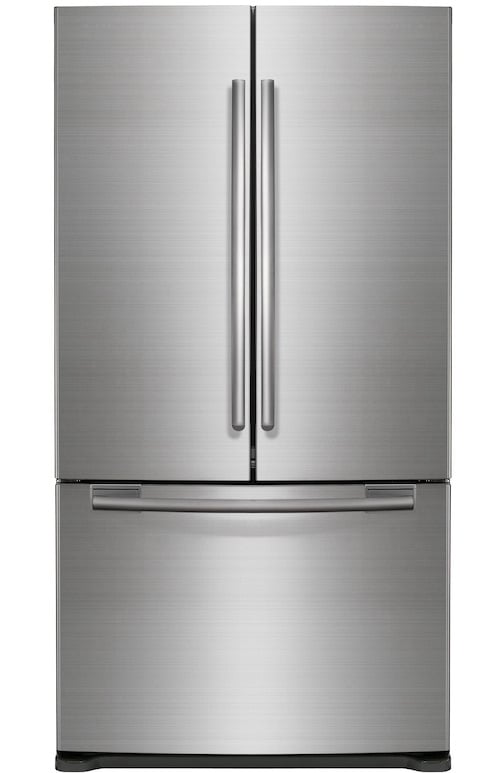 Top-Freezer Refrigerators
Top-freezer models are reasonably priced and energy efficient, but they are not as visually appealing as some other styles of refrigerators. They have one wide, single refrigerator door and one wide, single freezer door, and both will need a good deal of clearance as they swing open.
There is plenty of storage in the refrigerator compartment, but you will have to bend over to remove the items on the lower shelves. The freezer compartment is at eye-level so frozen items are easy to access. The ice maker is in the top freezer section and typically there is no option for an in-door ice/water dispenser. However, if you need a secondary refrigerator in a mudroom, garage, or basement, having lots of extra features may not be a priority, so a top-freezer model can be an affordable choice to suit your needs.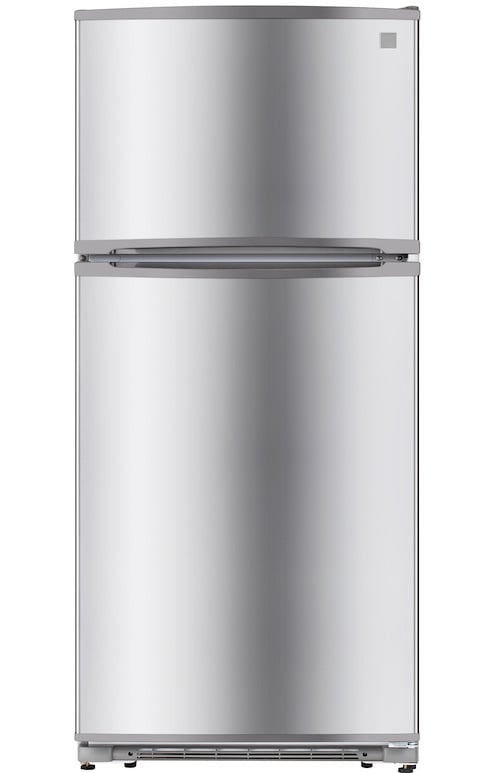 Bottom-Freezer Refrigerators
Most people access their refrigerators more often than their freezers. Having the refrigerator compartment on top puts fresh items higher up so they are easy to reach. Most traditional bottom-freezer models have a full-size refrigerator door that is wide and will require extra clearance to swing open.
The freezer on the bottom has a slide-out drawer where there is plenty of room to store large items. To access the freezer on the bottom you will have to bend over and then lift up heavy items; that may be a safety concern for seniors or anyone who has back trouble. In-door water and ice dispensers are not usually offered on bottom-freezer style refrigerators. Some manufacturers offer column refrigerators with a freezer on the bottom for skinny spaces, so keep that in mind if space is tight in your kitchen.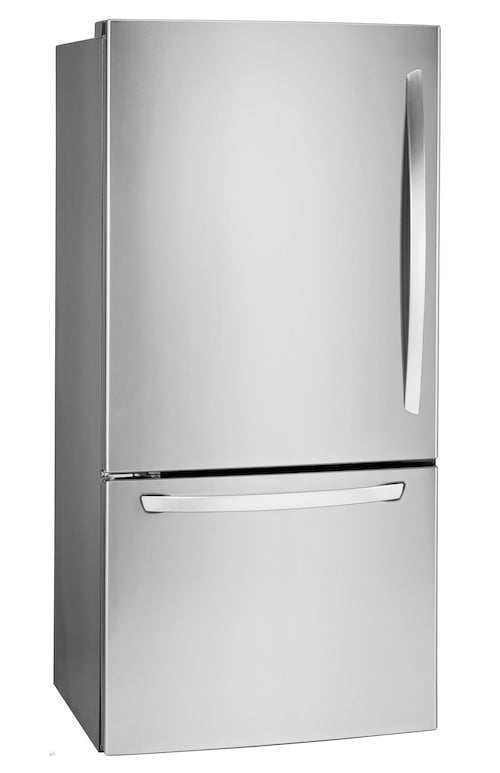 All-Refrigerator and All-Freezer Column Units
Column refrigerators and freezers are single-purpose units that either cool or freeze. Some are freestanding, but most are built-in or integrated into the cabinetry. If you have enough space in your kitchen, consider buying separate all-refrigerator and all-freezer units to give you the greatest storage capacity available. They can be placed next to each other to look like one unit or kept apart if you prefer.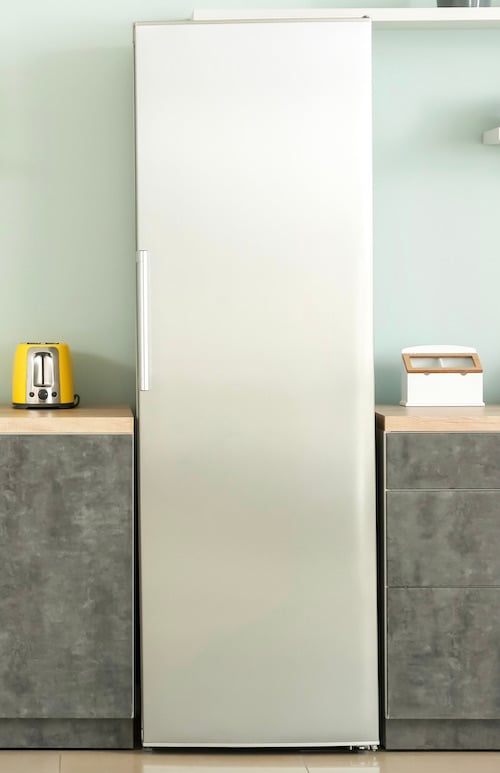 Temperature Controlled Wine And Beverage Centers
Specialty units that are made to hold cold beverages offer extra storage in a kitchen island or butler's pantry. They house cans and bottles that take up space in your main refrigerator and allow you to regulate the temperature in separate zones.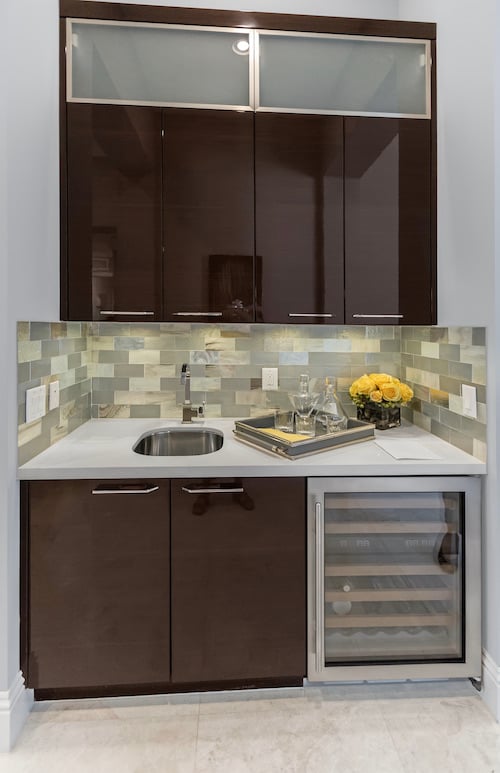 3. Refrigerator Colors And Finishes
When choosing a color or finish for your new refrigerator, make sure it coordinates with your other appliances. In other words, if you have a stainless steel dishwasher and range, then your refrigerator should be in a stainless steel finish too. If you have appliances that are black or white, then your refrigerator should be in the same color. If you want your refrigerator to be unobtrusive, select a model with a panel-ready front so that it blends seamlessly with the cabinetry.
The color or finish you select for your new refrigerator must also complement your decor. Stainless steel works well in a modern kitchen, but it may be out of place in a farmhouse-style kitchen where either a paneled-front or a neutral white would be a better choice. Pairing a high-gloss, black-stainless steel finish on the refrigerator with bright white cabinets creates an elegant look in a transitional-style kitchen. Matte finishes in slate or black are sophisticated and subdued, they work with almost any decor, and they have the advantage of being more fingerprint-resistant than glossy finishes. The options are endless! Whatever you choose, just be sure that the overall look in your kitchen is cohesive and unified.
Some manufacturers are offering specialty colors like muted blue-grey or smoky graphite, but expect to pay more to have a unique looking refrigerator in your kitchen. For a fun and funky look, certain boutique brands offer brightly colored appliances that are designed to be focal points in retro-style kitchens.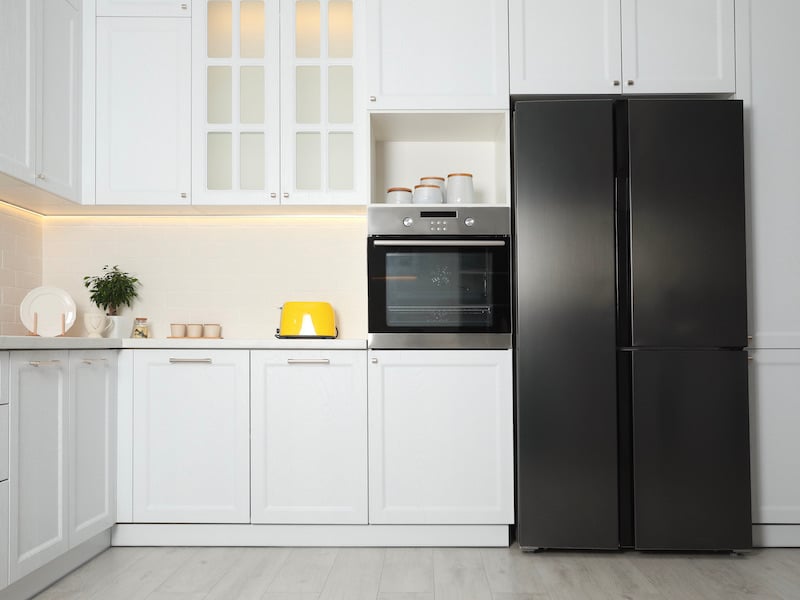 5 Tips For Designing A Highly Functional Kitchen
4. Refrigerators With Smart TEchnology
Some manufacturers offer refrigerators with "smart" technology. These refrigerators have built-in WiFi that connects to the internet so you can use your phone or tablet to see what is inside the fridge, get alerts if the door is left open, and much more. Some smart refrigerators have a screen on the front door where you can keep electronic grocery lists or view your daily calendar. Certain models connect to digital assistants so you can listen to music through Bluetooth speakers that are built right into the refrigerator.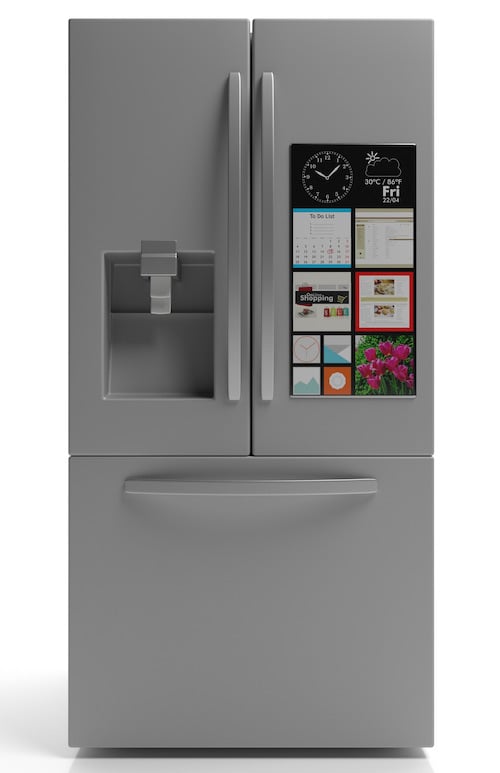 5. Refrigerator Features And Options
Expect to pay more for a refrigerator with lots of bells and whistles. Focus on the features and options that are most important to you so you keep within your budget.
Ice Makers and Dispensers
There are 3 types of ice maker options on the market. You can choose from:
In-Freezer Dispenser: contained within the freezer compartment; has more ice capacity than in-door units offer, but takes up valuable space in the freezer; requires you to open the freezer door to access the ice unit; most cost-effective option

In-Door Dispenser: unit is built into the door of the refrigerator; you press a lever and ice comes out without opening the freezer door; not available on every style of refrigerator

Dual Ice Maker: offers both an in-freezer unit and an in-door unit for extra convenience and more ice capacity
Water Dispensers
You can choose from 3 types of water dispensers, such as:
In-Door Water Dispenser: unit is built into the door of the refrigerator; offers easy access to water without opening the refrigerator; you press a lever and water comes out; not available on every style of refrigerator

Internal Water Dispenser: you must open the door to access the dispenser; more cost effective than the in-door dispenser; takes up space inside the refrigerator

Hot or Sparkling Water Dispenser: allows you dispense piping hot or sparkling water directly from the in-door unit
In-Door Coffee Makers
In-door coffee makers are available on certain refrigerators, but these models come with a hefty price tag. How does it work? A stainless tank is fed directly from the water line that enters the refrigerator; that tank is separate from the chilled water reservoir. The hot water is fed to the coffee maker in the door that uses a pod to brew one cup of coffee at a time. The water in the tank can take up to 5 minutes to heat up, but some manufacturers offer an app for your smartphone or tablet to start the process so you don't have to wait, or you can simply schedule the water to begin heating up at a specific time each day.
Filtration Systems
Refrigerators with ice makers, water dispensers or coffee makers have built-in filters. The filters must be changed regularly to keep the water and ice clean.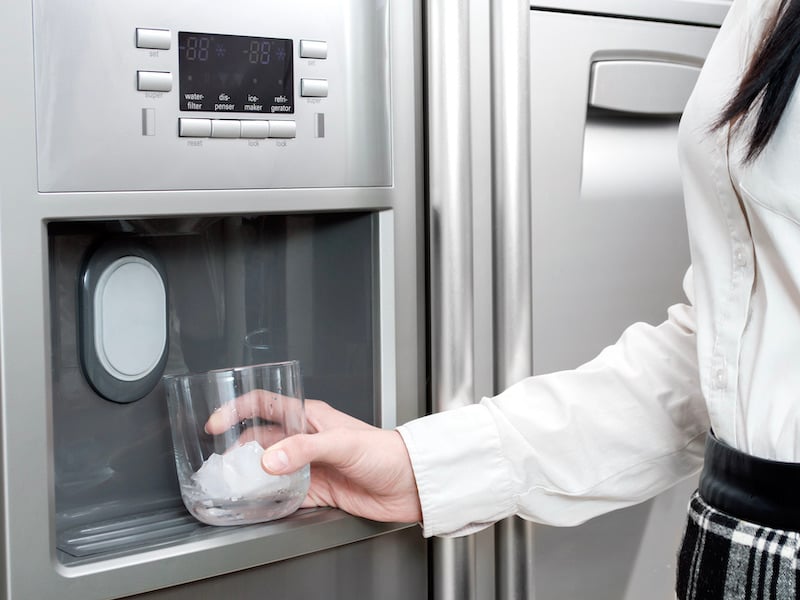 Door-In-Door Refrigerator Access
Some refrigerators have a small, shallow door on the front of the refrigerator that allows you to grab frequently used items without opening the larger main door. This feature leads to less cold air loss which can save on energy costs in the long run.
Humidity and Freshness Controls
If you regularly purchase lots of fresh fruits and vegetables, choose a refrigerator that has dual evaporation technology. This allows you to control the humidity in the freezer and refrigerator separately with the touch of a button.
Some refrigerators have air filtration systems that keep the different compartments smelling fresh and clean. These filters usually need to be replaced every 6 months.
Temperature Controls
With zone controls you can adjust the amount of cold air allowed into certain areas of your refrigerator. For instance, the temperature in a specified zone can be lowered to an optimal setting for keeping meat, fish or other items colder and fresher longer.
Convertible Refrigerator/Freezer Compartments
Maybe you need additional room for your Thanksgiving turkey in the refrigerator. Or, you may want more freezer space to hold bags of ice for a party. Some refrigerators give you the flexibility to change a drawer or compartment from freezer to refrigerator and back again. Pretty cool!
Organizational Features
Adjustable shelves and bins offer maximum storage flexibility. Split shelves can be raised to accommodate tall pitchers, while sliding shelves make it easy to find what you need way in the back of the refrigerator. Deep bins on the door can hold gallons of milk and bottles of soda without taking up valuable shelf space. Full-width drawers can hold large platters, which is useful if you entertain often. Think about how you use your refrigerator in your daily life and choose the features that you will use most often.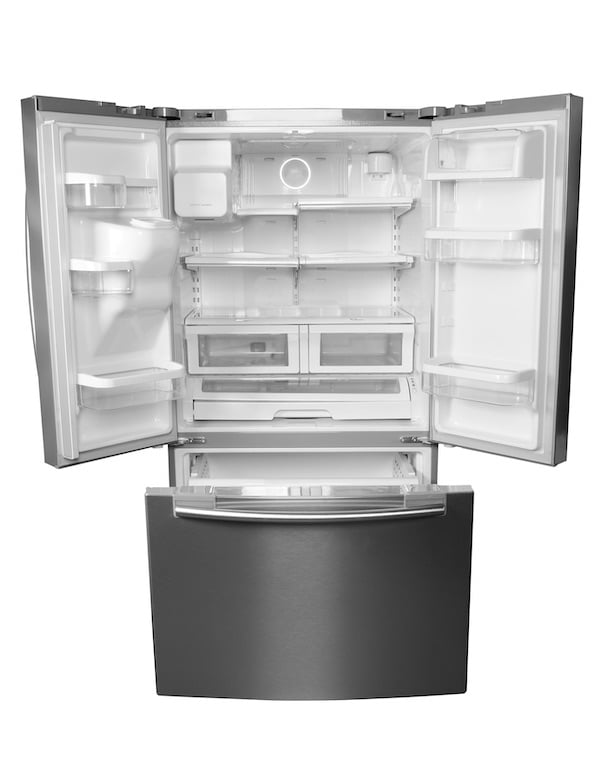 6. ENERGY STAR Ratings
Be sure to choose a refrigerator with an ENERGY STAR label. The idea behind the ENERGY STAR label is to make it easier for consumers to shop for appliances that conserve energy, reduce greenhouse gas emissions, and save homeowners money over time. Refrigerators with an ENERGY STAR rating are about 9% more energy efficient than models that simply meet the federal minimum standards. Click here to learn more about the ratings before you purchase a new refrigerator.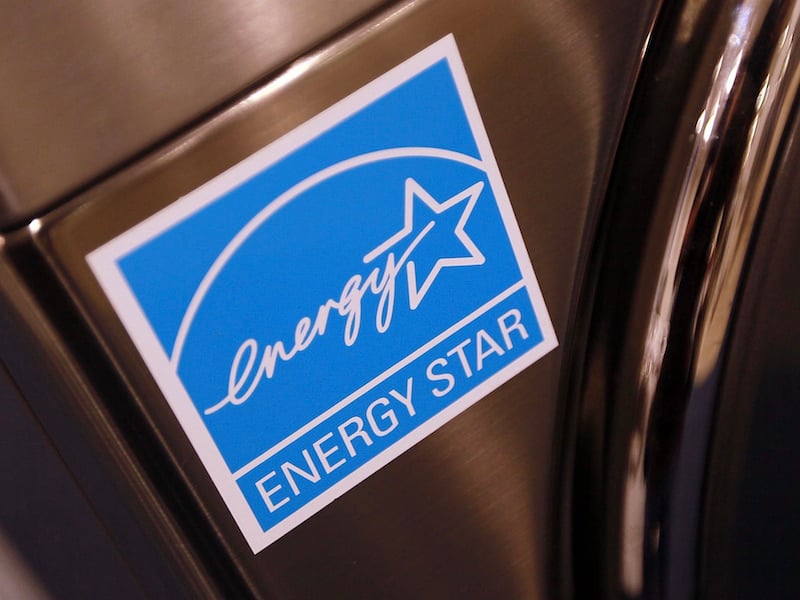 At Meridian Homes, we specialize in luxury renovations and custom home building in the Washington, DC area. Our mission is to create exceptional residences that exceed expectations. Our highly personalized design process and careful management of every project have earned us a reputation over many years for outstanding client service and solid, beautiful craftsmanship. Contact us today to begin your custom home or remodeling project.