Learn About The Many Options You Have Before Selecting A Major Cooking Appliance
This article gives you insight about the pros and cons of the various types of cooktops and ranges on the market so you can make an educated decision about what is best for your lifestyle. As you design your new kitchen - whether you're remodeling or building a custom home - consider these questions before choosing your major cooking appliances:
What are the space constraints that you need to take into account?
How will the cost of the appliances that you want impact the overall budget for your project?
What's your style? How do you want your new kitchen to look?
How do you want your kitchen to function so it works optimally in your daily life?

1. Range Versus Cooktop
The first step in the process is to decide whether you want a range or a cooktop, but what's the difference between the two? A range combines a cooktop and oven into a single appliance which is convenient if the footprint of your kitchen is limited.
The alternative is to have a stand-alone cooktop and separate wall ovens. This configuration offers more flexibility if you regularly have several cooks in the kitchen at the same time, but you will need an adequate amount of space and the budget to accommodate purchasing multiple cooking appliances. For those that entertain often, a range-and-double-wall-oven combination offers the greatest cooking capacity. There are many options, and we're here to help you determine what's best for you.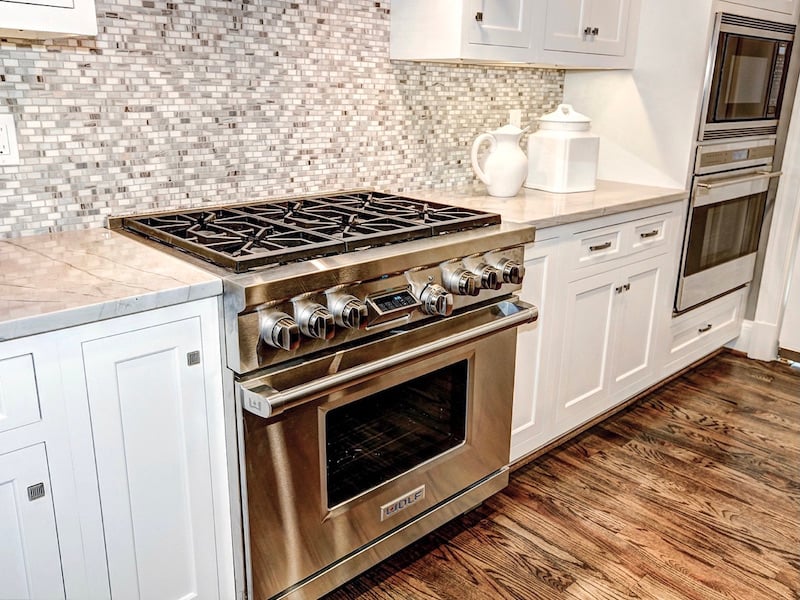 2. Gas Versus Electric
If you have an existing natural gas line to your home, you can purchase a gas cooktop or range. The pros: gas allows you to have instant control over the heat on the cooking surface, you can use various types of cookware, and gas is often cheaper in the long-run than electricity. The cons: gas appliances can be expensive to install, and they have the potential for a gas leak.
Electric cooktops or ranges are more energy efficient to operate than gas models and they can be plugged into a regular electrical outlet. Electric cooktops can be installed into a cut-out in a countertop for a sleek, modern look. Smoothtop surfaces are simple to keep clean because they don't have nooks and crannies like gas burners do. The drawbacks are that electric cooktops or ranges take longer to heat up and it's not as easy to fine-tune the temperature when you're cooking as you can with a gas model.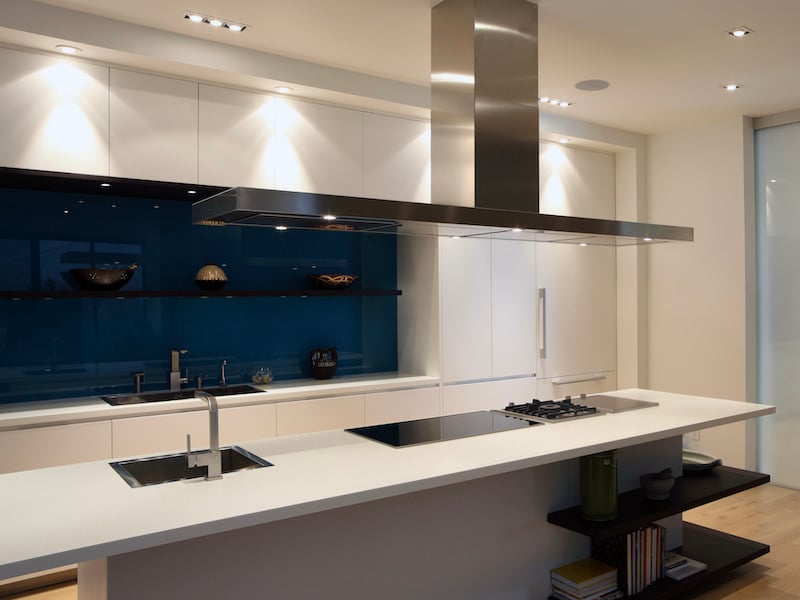 3. Burner Output
Check the heat output per burner before buying a cooktop or range. With greater heat output, cooking times will be quicker for you.
Electric burners have heat output that is measured in watts. Basic models offer 1,000 watts of heat output; higher-end ranges or cooktops can have up to 3,500 watts of heat output.
Heat output for gas burners is measured in BTUs. A standard gas cooktop or range can offer 9,000 BTUs per burner, and a commercial-style cooktop or range can provide over 20,000 BTUs per burner.
Cooktops and ranges come with a variety of burner configurations, so what you choose is dependent upon the space you have and your budget. Basic ranges or cooktops have 4 burners, while high-end models offer 6 or 8 burners, griddles, bridge inserts, and more.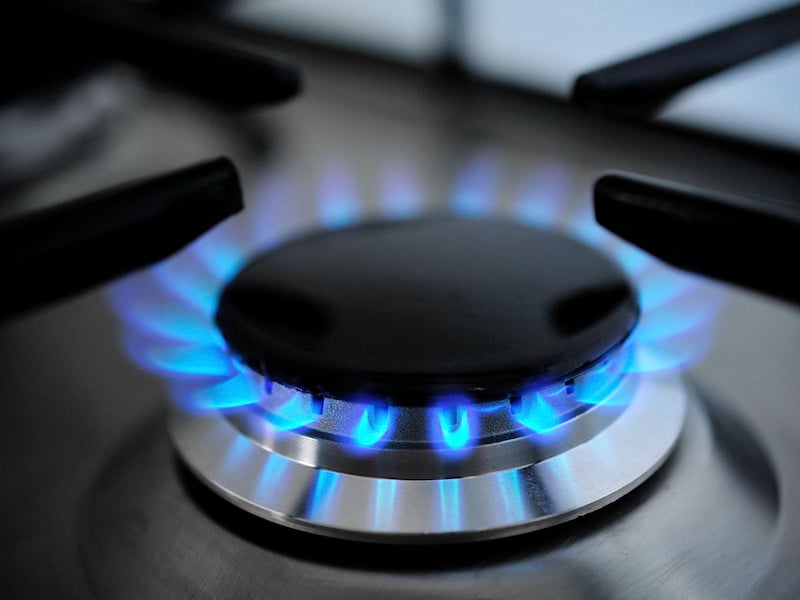 4. Ventilation
An updraft system has a hood over the cooking surface that pulls up steam and odors. A downdraft system pulls air down through a vent that is built directly into the cooktop. Have a professional homebuilder install a ducting system that vents the air to the outdoors, if possible, so that you won't have to purchase a ductless updraft or downdraft system that recirculates the air from your cooktop or range back into your kitchen.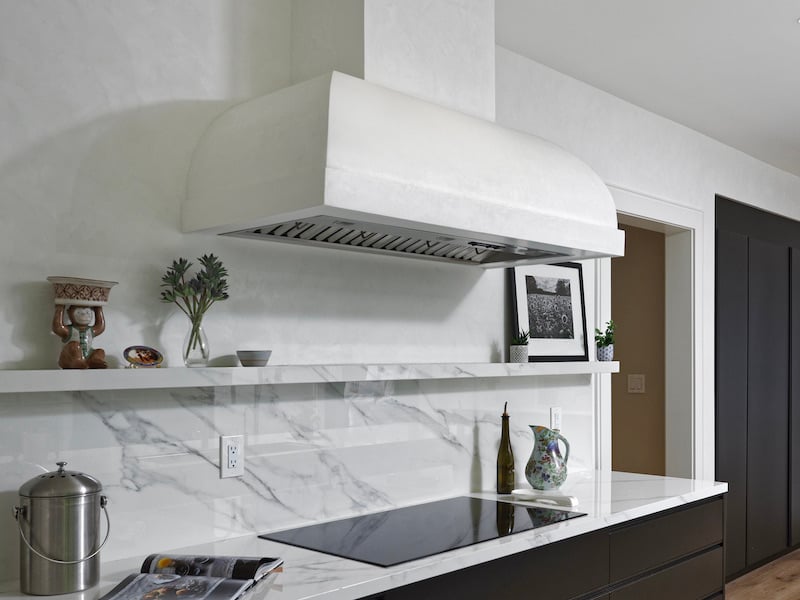 5. Types Of Cooktops
Having a cooktop/wall oven combination instead of a range has its advantages. You can have base cabinets underneath a cooktop where you can keep your pots and pans within easy reach. Cooktops come in a variety of styles to fit with any decor. The sleek, unobtrusive look of an electric smoothtop cooktop works well in a modern kitchen, whereas a gas cooktop is perfect for a more traditional or transitional style kitchen. Cooktops can be installed in a center island or along the perimeter of your kitchen, so you have more options when determining the layout that is best for you.
If you regularly have multiple cooks in your kitchen at one time, a cooktop can be installed in one area with wall ovens in another, so you can have separate working zones. Wall ovens can be installed at any height that is convenient for you, so you don't have to bend over to lift heavy items out of a hot oven. Or, you can install a wall oven in a base cabinet to save space if your kitchen is small.
The disadvantage of selecting a cooktop/wall oven combination is the price tag. Cooktops can cost anywhere from several hundred dollars to several thousand depending upon the type you choose, and you'll still have to budget for a wall oven or two.
Gas Cooktop
Gas cooktops allow you to easily control the temperature while you are cooking by making slight adjustments to the flame, but they are harder to clean than the smooth surface of an electric or induction cooktop. Opt for sealed burners that have protective caps and metal drip pans around each base which makes them easier to clean than open gas burners. The heat from a gas cooktop can be dangerous, so make sure that your contractor knows to follow the technical specifications that this type of cooktop will require. If you have small children, be aware that the controls on a gas cooktop are easy to access because they are typically on the front of the unit.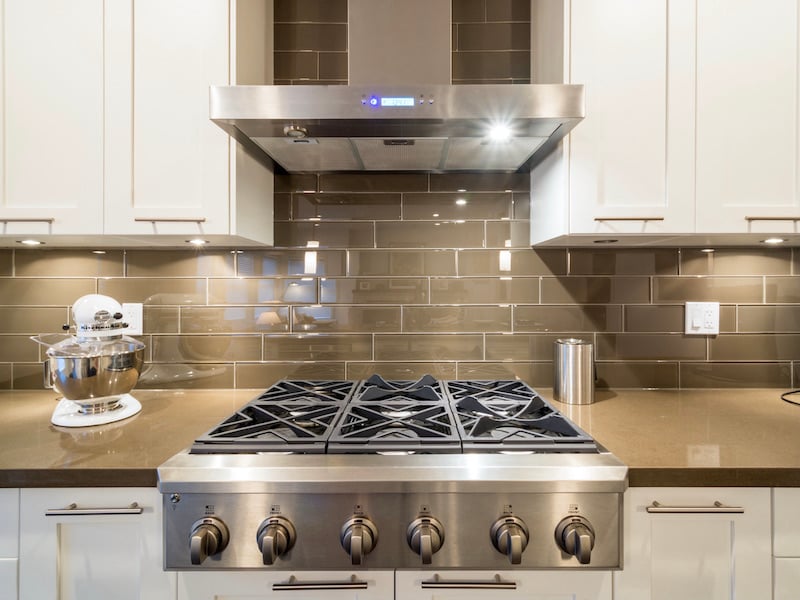 Electric Smoothtop Cooktop
Electric smoothtop cooktops are sleek and modern looking. They have a glass-like surface that is easy to clean because they do not have grates or burner wells. Electric cooktops offer a consistent heating surface, but they can scratch easily and are generally more vulnerable to cosmetic damage. The controls are usually on the surface of the cooktop instead of on the front for added safety.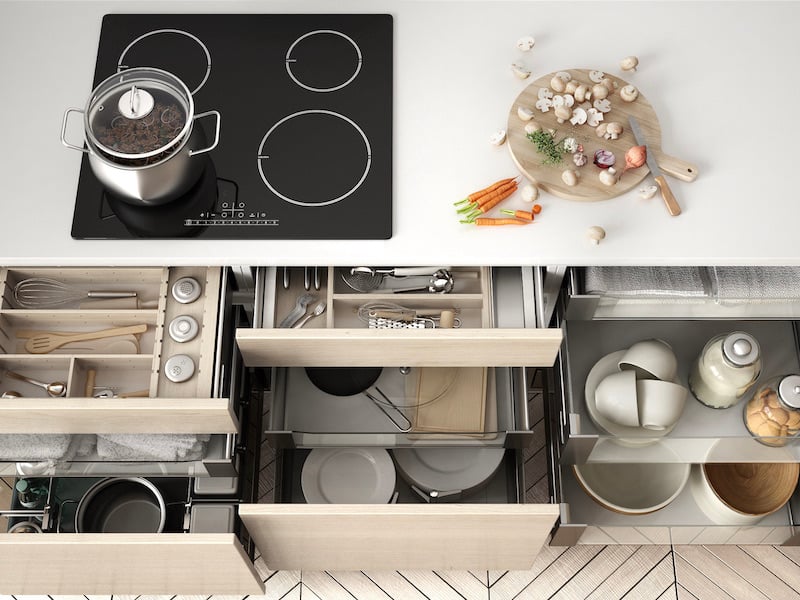 Electric Induction Cooktop
Electric induction cooktops heat up much more quickly than traditional electric or gas cooktops. They tend to be very pricy but offer even distribution of heat for faster cooking and the surface will not burn your fingers. That is because an induction cooktop uses a magnetic field, much like a microwave oven, which means that you will have to buy new magnetic cookware, too.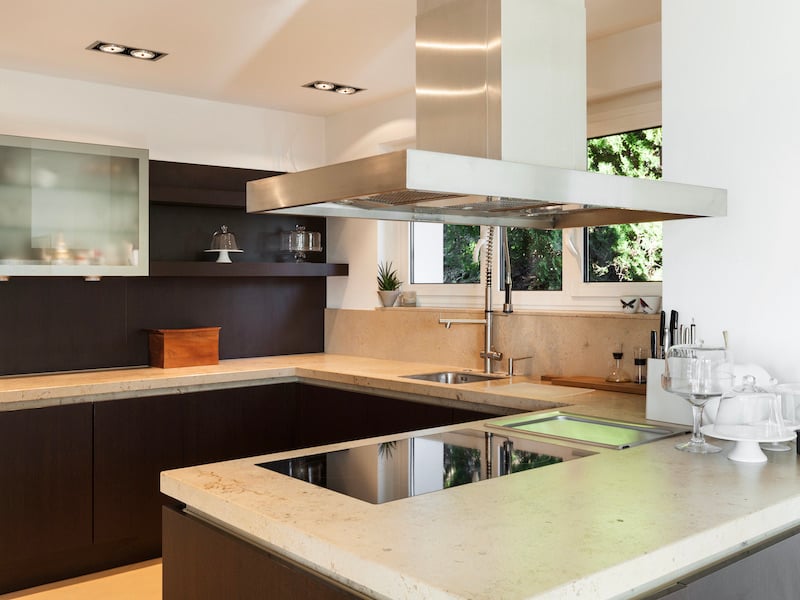 Electric Coil Burner Cooktop
Electric coil burner cooktops cost less than other types of cooktops. They have exposed burners that can be a safety hazard, but the coils warm up quickly and they maintain an even heating surface. The coil burners have crevices where food gets trapped, and that can make clean-up challenging, but some models offer coil covers.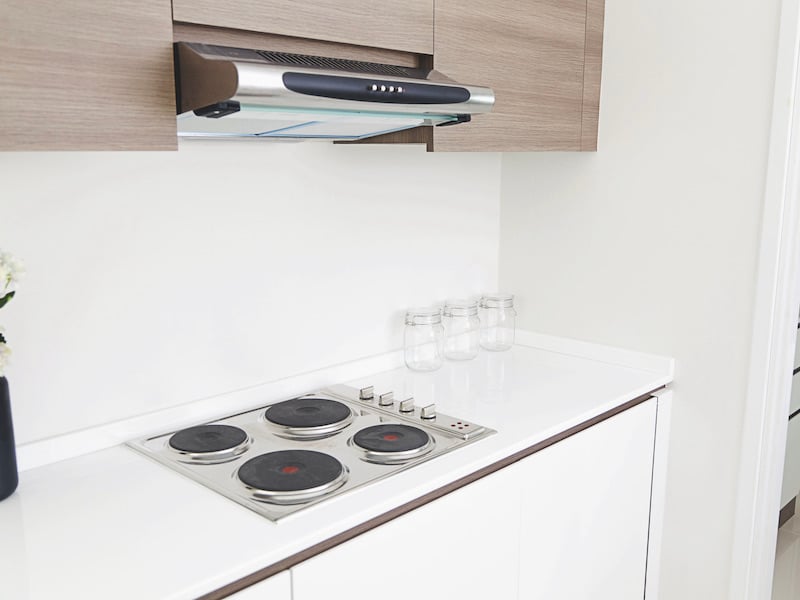 Tips For Designing A Highly Functional Kitchen
6. Types Of Ranges
Ranges fit in any size kitchen; standard models are 30 inches wide, while commercial styles can be up to 48 inches or more in width. So if you don't have a large kitchen, choose a space-saving standard model. But if you have plenty of room, you can choose an oversized, commercial-style stainless steel range to be the focal point of your kitchen.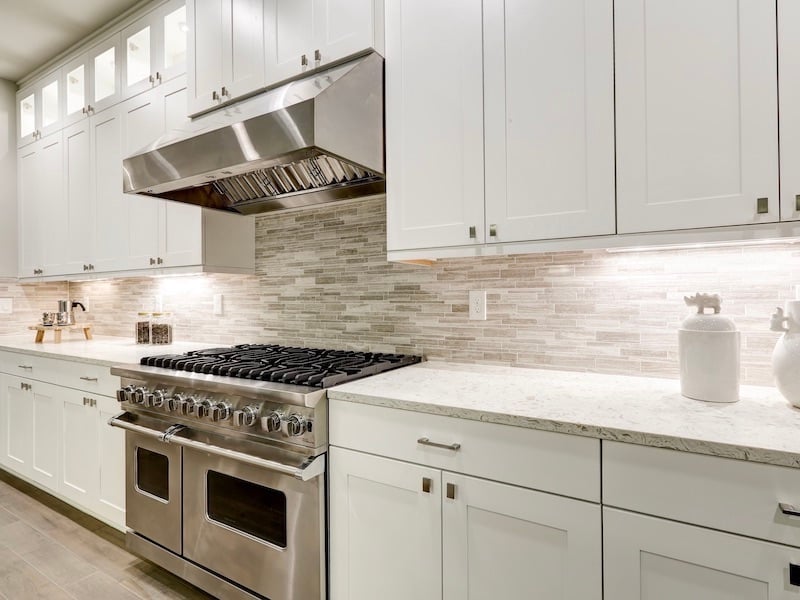 Gas Range
Ranges are available in gas or electric models, so you will need to know if you have access to a natural gas line before choosing a range. Gas ranges usually have knobs that are on the front of the appliance. Dual-fuel ranges have a gas cooktop that offers optimal heat control, and an electric oven that offers heating consistency. Some manufacturers offer specialty modules such as a steam unit, griddle, wok or deep-fryer that allow you to fully customize your cooking appliance.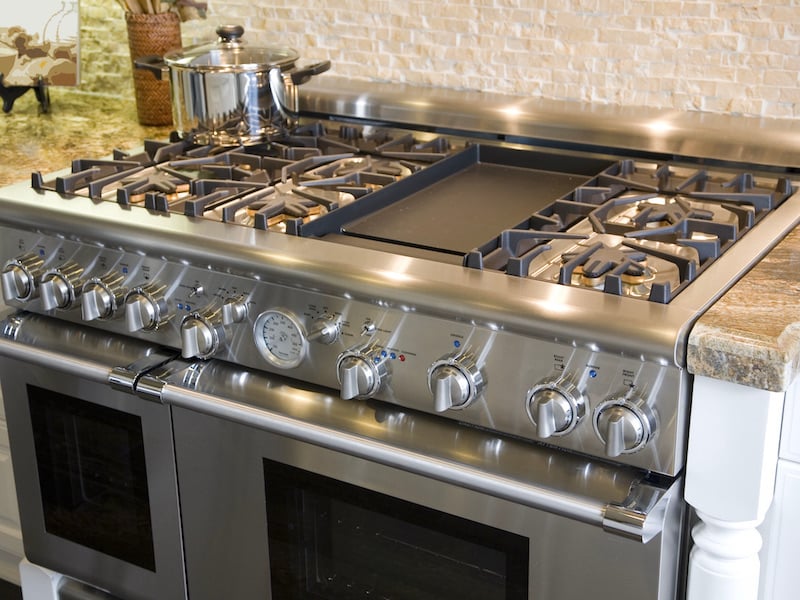 Electric Smoothtop Range
Electric ranges are very popular, since not all homes in the US have natural gas service. Manufacturers have worked to maximize the output of electric smoothtop burners in recent years, so boiling a pot of water is much quicker than it used to be. And, electric ovens maintain an even temperature to make baking easier.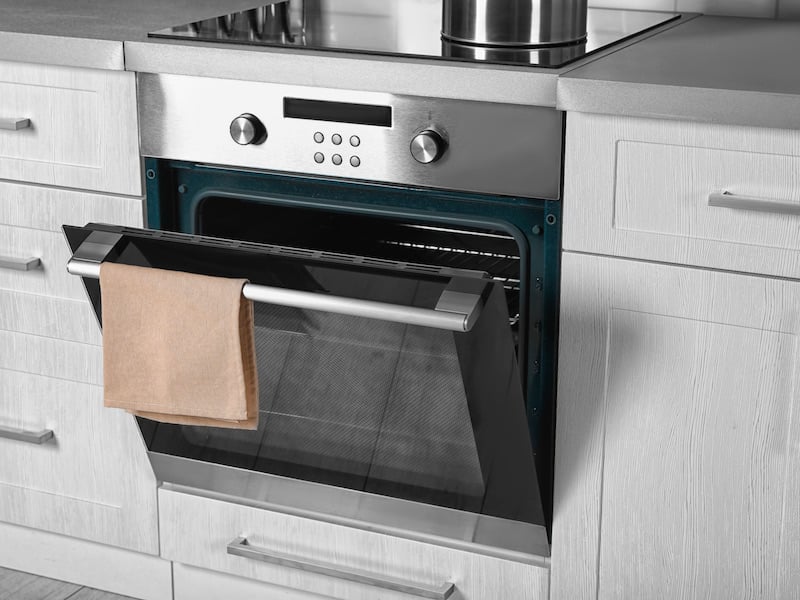 Making Your New Kitchen Fit Your Personal Style
Electric Induction Range
With a traditional range, electricity heats the element on the stovetop, which in turn heats the pot or pan. With induction cooking, magnetic coils heat the cookware, not the element, so the surface of the stove remains cool to the touch. Induction ranges are energy efficient and easy to clean, but do require the use of special magnetic cookware and they can be expensive.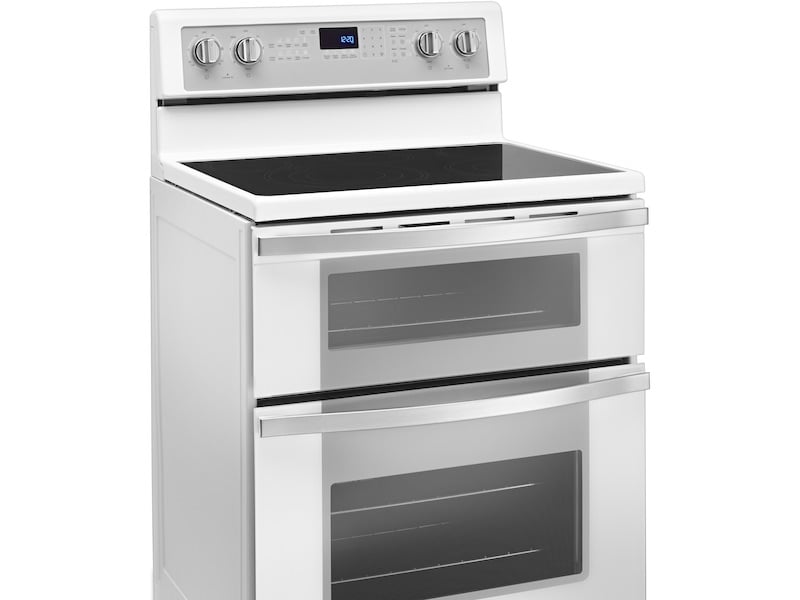 Electric Coil Burner Range
The least expensive ranges on the market are models with coil burners. Be aware that the exposed burners can be a safety hazard, they are difficult to keep clean and they aren't very attractive. So, opting for a smoothtop range may be a better way to go.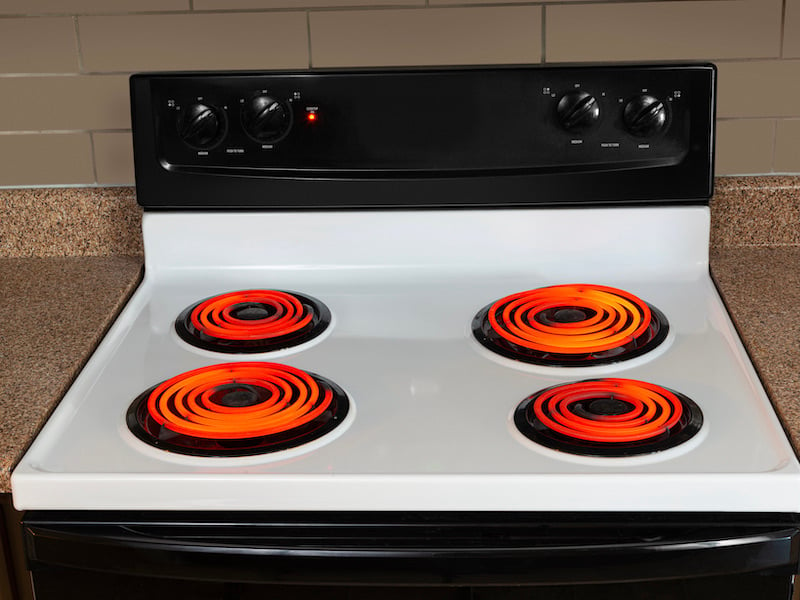 At Meridian Homes, we specialize in luxury renovations and custom home building in the Washington, DC area. Our mission is to create exceptional residences that exceed expectations. Our highly personalized design process and careful management of every project have earned us a reputation over many years for outstanding client service and solid, beautiful craftsmanship. Contact us today to begin your custom home or remodeling project.