How To Pick The Finishing Touches For Your Kitchen
It's easy to get caught up in selecting the larger items, such as cabinetry, countertops or flooring for your new kitchen when building a custom home or renovating your existing home. However, a project isn't truly complete until you've selected hardware for your kitchen cabinetry that strikes the perfect balance between form and function. This final decorative touch will pull the whole project together and imbue it with a flair that reflects your personality.
Decorative hardware for kitchen cabinetry comes in a variety of types, sizes, styles, materials and finishes. Read our overview below so you can decide what is right for your home.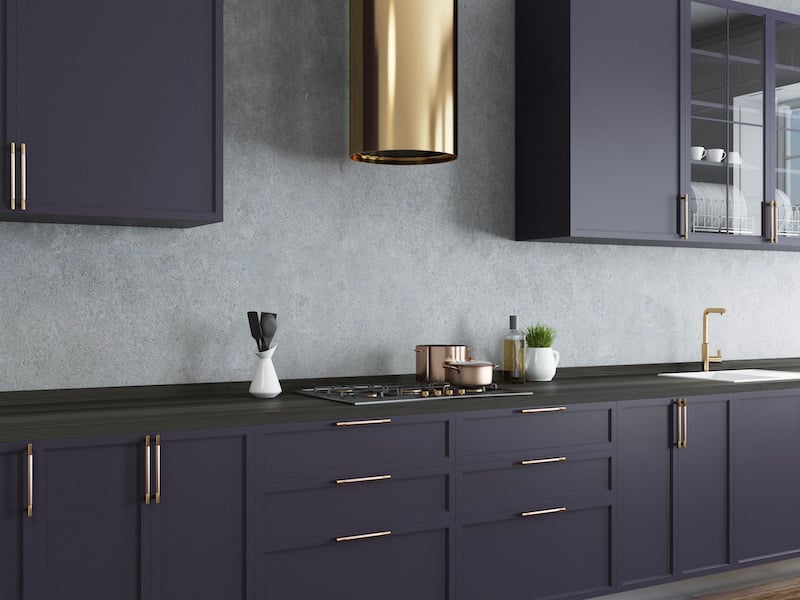 1. Types of Decorative Hardware
Your hardware should be in keeping with the style of your kitchen but it must be comfortable to use, too. So, personal preference is very important when deciding whether you want a knob or pull. Try to get a sample of the knobs or pulls you are thinking of buying. Place them against a cabinet drawer or door to see how they fit in your hand. Are they the right size and shape for you?
You can mix knobs and pulls in a kitchen to create visual interest. Use pulls on the drawers and knobs on the doors, or vice versa. Just make sure you choose one pull style and one complementary knob style, and stick with the same finish throughout the kitchen. Or, you can use one type of hardware throughout the kitchen for a clean look.
Make sure you inquire about the length of time it will take to receive the hardware that you pick. Some vendors turn around orders within a week, while others can take upwards of 12 weeks.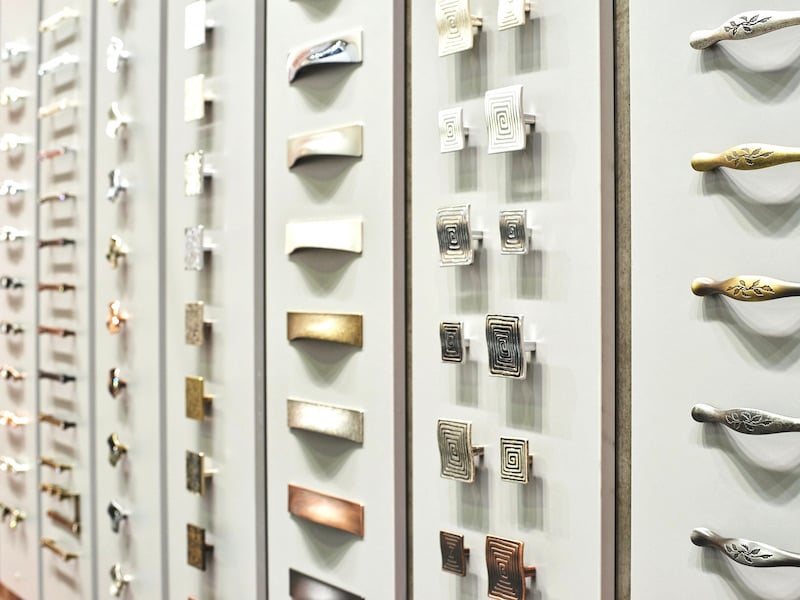 2. Size and Positioning of Handles
Consider proportion, balance, aesthetics and function when deciding upon the size of a knob or pull for your kitchen cabinetry. An oversized cabinet door or drawer needs a large piece of hardware for proper functionality. A smaller sized knob or pull is appropriate for a smaller door or drawer. A good rule of thumb for traditional or transitional style pulls is that they should be about one-third of the length of the cabinet drawer. Drawers larger than eighteen inches wide may require more than one pull or knob. More contemporary designs call for long pulls that are at least two-thirds of the length of the drawer or cabinet door.
Typically, pulls are positioned horizontally on drawers and vertically on doors. In contemporary kitchens, you can consider placing the pulls on the doors horizontally for a sleek look. No matter the style of your kitchen, think about how you want the knobs and pulls to be positioned before they are permanently attached to the cabinetry.
Knobs are installed with a single screw through one focused entry point on a door or drawer. Pulls are installed with two screws through two points of contact on a door or drawer. Before any holes are drilled, make sure you give detailed instructions to your homebuilder or remodeling professional so that they know the correct type of handle to install on each cabinet door or drawer. You will also need to specify the position of the knob or pull so that they are installed in a consistent manner throughout the kitchen.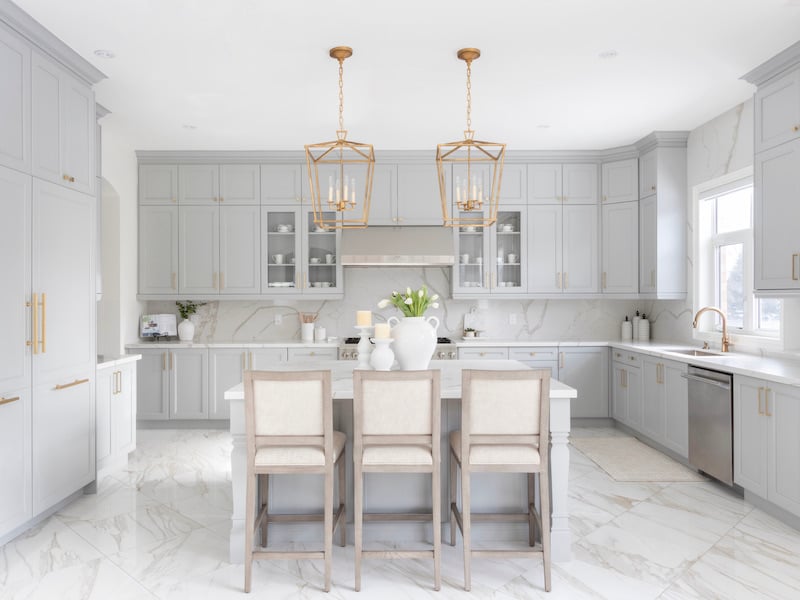 3. Style of Hardware
The hardware you select for your cabinetry should reflect the overall design of your kitchen. There are five main categories of kitchen cabinet hardware: contemporary, transitional, traditional, rustic and eclectic.
Contemporary
A contemporary kitchen has sleek lines, very little ornamentation and a neutral color palette. In keeping with this style of design, it is wise to choose hardware that is simple and streamlined. Linear bar handles or curved barrel handles are the perfect choice. For a cohesive look, select handles for your cabinetry in a similar style and finish as the handles on your stainless steel appliances.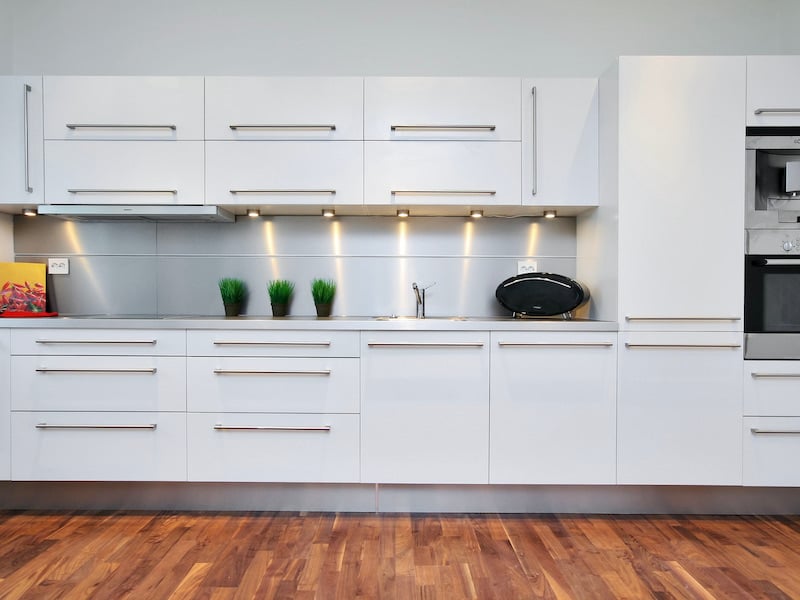 Transitional
A transitional style allows you to blend elements that are contemporary and traditional. For example, you can combine the clean look of inset-door cabinetry with hardware that is not hard-edged and contemporary, yet not too ornate, like a cup handle with a matching knob.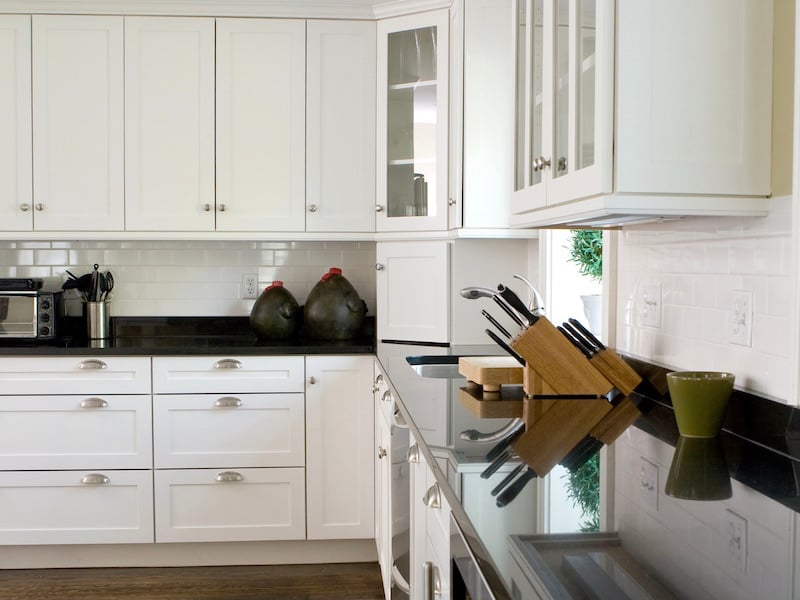 Traditional
The hallmarks of a traditional kitchen are elaborate detailing, embellishments and moldings. Often, interior designers choose ornate drop-handles or fancy knobs for furniture-style cabinetry in a traditional kitchen.
Like a vintage look? Try a knob or pull with a porcelain overlay.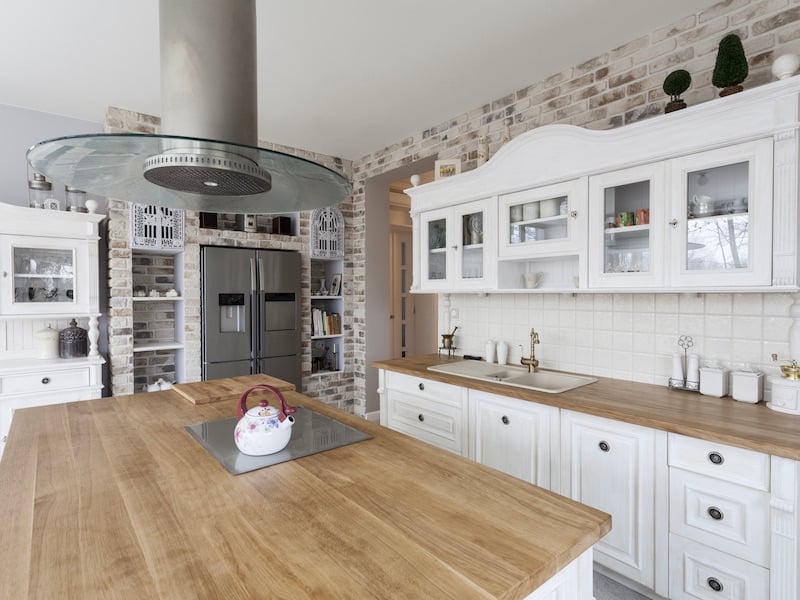 Rustic
Farmhouse or rustic style kitchens are designed to be warm and inviting so your hardware should convey that feeling. Choose a simple knob or pull in an oil-rubbed bronze, copper or black finish. These finishes tend to develop a patina over time which is perfect for a rustic, homey-looking kitchen.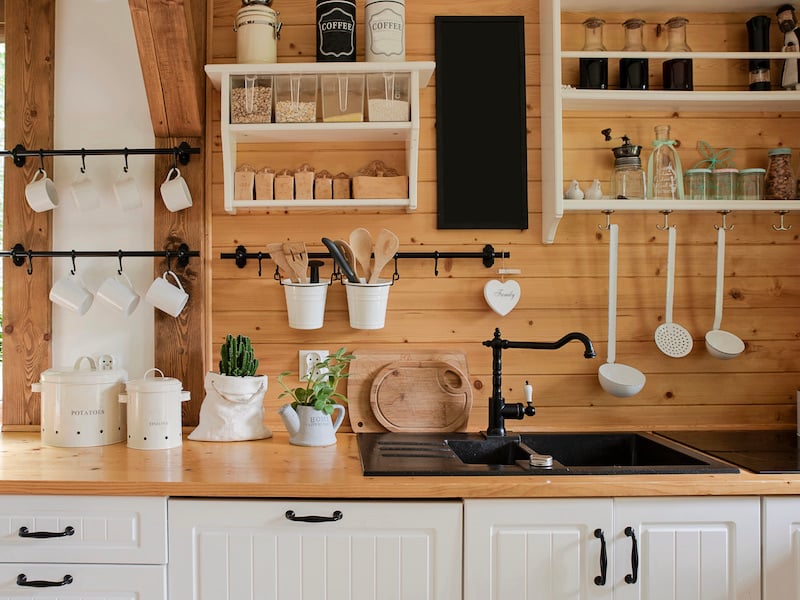 Eclectic
Want your personality to shine through? Consider unique hardware to spice up your cabinetry. Choose handles that look like seashells for your beach house. Or, pick pretty painted knobs for your informal, relaxed-style kitchen.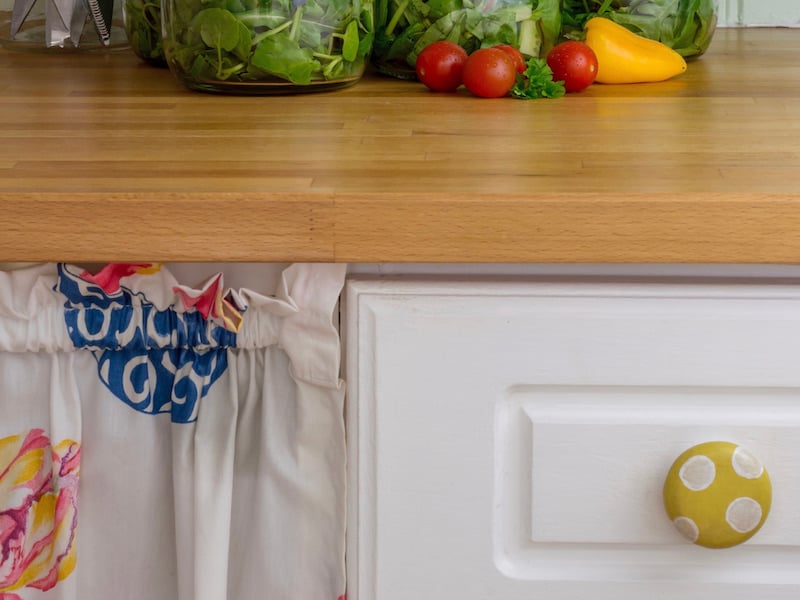 4. Materials
Kitchen cabinet hardware is available in a wide variety of materials -- most of which are metal alloys. Brass hardware typically has a lacquer or plating applied to its surface that makes it very durable in a kitchen. It is antimicrobial and helps to reduce the spread of germs. Bronze hardware is also antimicrobial, offers a substantial look and feel, and works well for cabinets made of thicker woods. Stainless steel is another option because it is so durable and easy to keep clean. Pewter and nickel are popular choices, too. Or, you can choose glass, crystal, or ceramic knobs for a vintage look.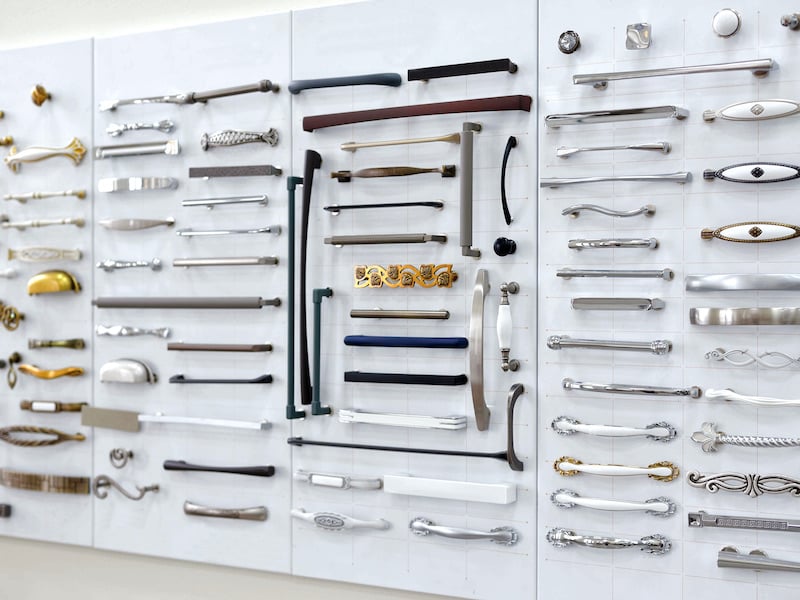 5. Finishes
Once you choose the type, size, style and material that you want for your kitchen cabinet hardware, it becomes easier to choose the right finish. There are many finishes to choose from: polished, brushed, satin, matte, burnished, oil-rubbed, antique, weathered or painted -- just to name a few.
Stainless steel handles in a highly polished or brushed finish look great in a contemporary kitchen. Pewter and brass look more at home in a traditional setting. Bronze will patina over time, mature in appearance, and will make a bold statement in a rustic kitchen. A black finish is dramatic on a light colored cabinet in a transitional style kitchen. Whatever you choose, just make sure the finish on your cabinet hardware complements the overall decor of your kitchen.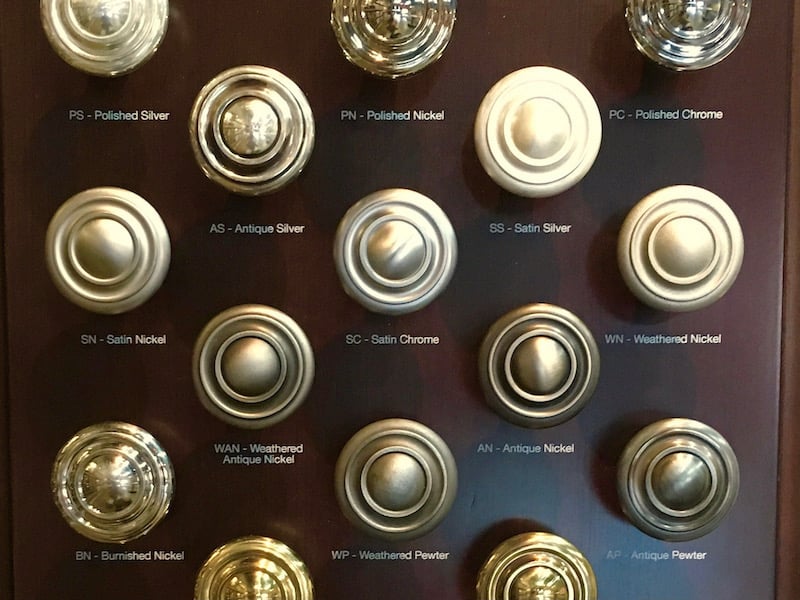 At Meridian Homes, we specialize in luxury renovations and custom home building in the Washington, DC area. Our mission is to create exceptional residences that exceed expectations. Our highly personalized design process and careful management of every project have earned us a reputation over many years for outstanding client service and solid, beautiful craftsmanship. Contact us today to begin your custom home or remodeling project.