Making Your Sink A Focal Point In Your Kitchen Design
As you plan for your new kitchen, whether you are remodeling or building a custom home, weigh how each selection you make will fit within your overall design and your budget. Your kitchen sink should be a key element in your design, so it shouldn't be boring and simply utilitarian. Of course, your sink must be durable enough to withstand daily wear-and-tear, but it also needs to be visually appealing so that it serves as a focal point in your new kitchen. Not sure what is right for you? Read our guide to learn about the pros and cons of the 8 most popular materials for kitchen sinks.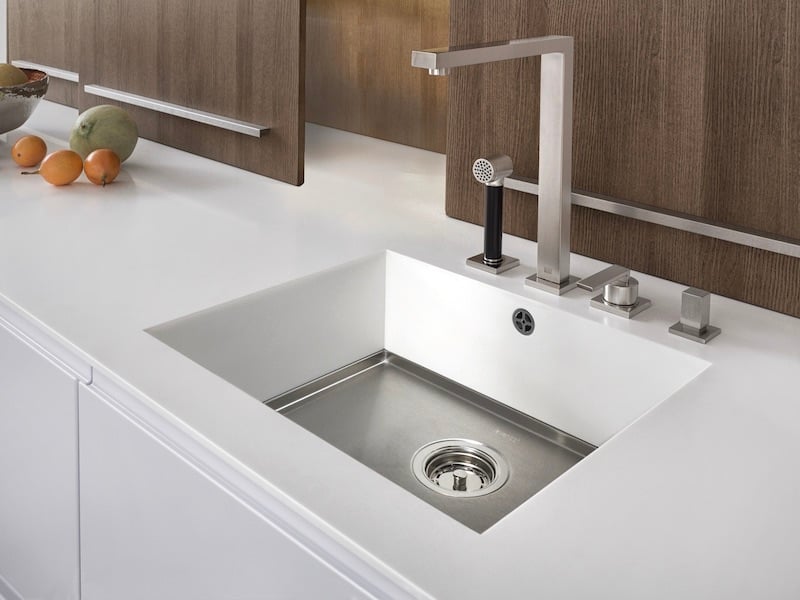 1. Stainless Steel
By far, stainless steel is the most popular material for kitchen sinks. Stainless steel sinks are heat and stain resistant, which makes them very durable. They also offer a cohesive look if you choose stainless steel appliances for your kitchen. However, stainless steel sinks can scratch and show water marks, but these imperfections are less noticeable if you choose a brushed or satin finish, rather than a mirror finish.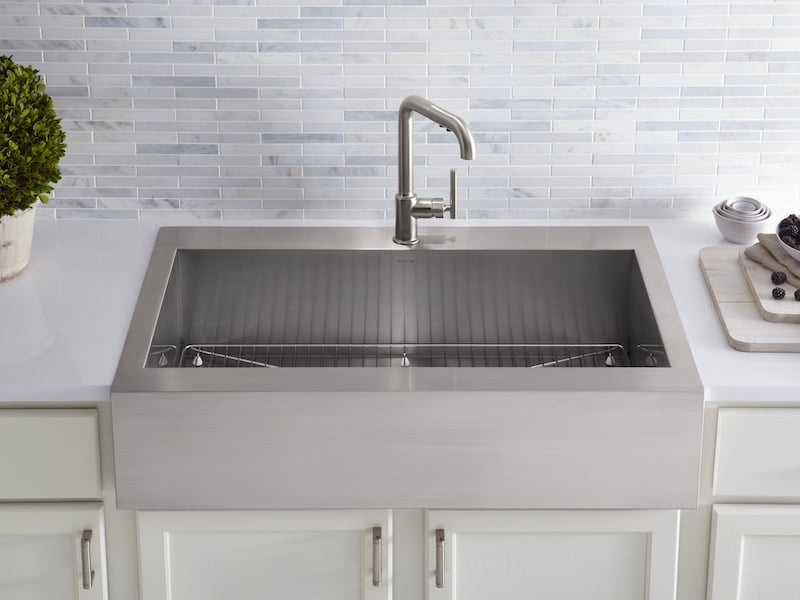 Image courtesy of Kohler, available at Ferguson Bath, Kitchen & Lighting Gallery
2. Natural Stone
If you are looking for something extra-special, choose a natural stone sink. Sinks made from natural stone such as marble, granite, or soapstone are quite beautiful, but they are very heavy and require substantial support, so plan accordingly. With its unique look, a natural stone sink can be a focal point in your kitchen, but it will come with a hefty price tag.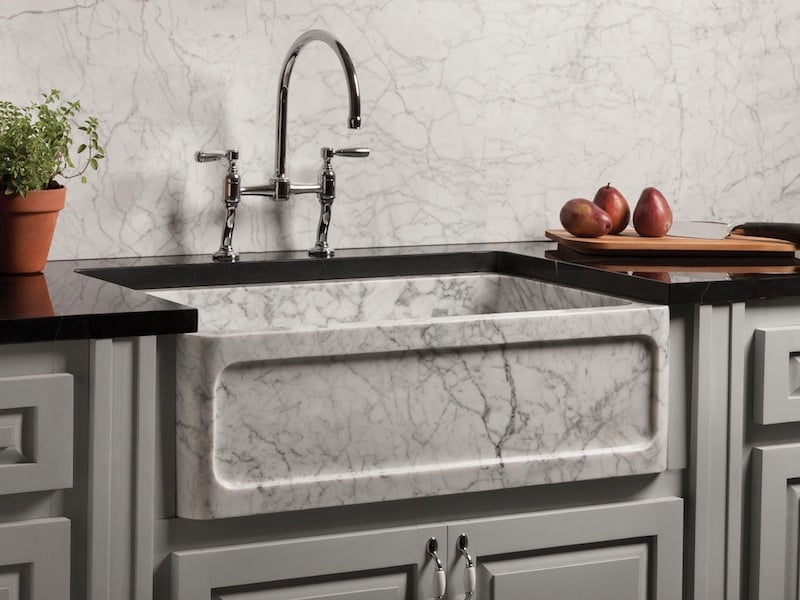 Image courtesy of Stone Forest, available at Ferguson Bath, Kitchen & Lighting Gallery
3. Cast Iron
Cast iron is extremely durable and is finished with porcelain enamel that gives it a sheen. A cast iron sink is typically at home in a more traditional kitchen and is available in a variety of colors. Be aware that the porcelain can chip over time, and these sinks are also weighty and require extra support during installation.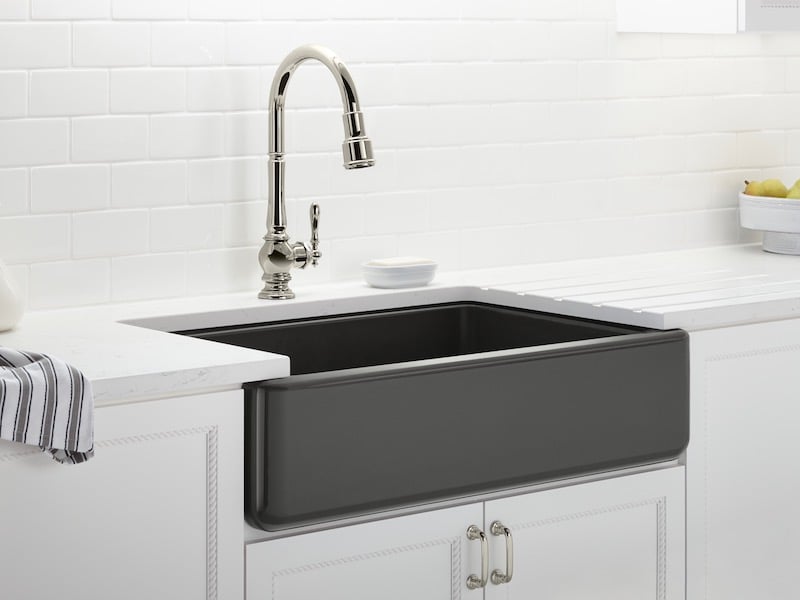 Image courtesy of Kohler, available at Ferguson Bath, Kitchen & Lighting Gallery
4. Fireclay
Fireclay sinks are made from ceramic and are typically white or off-white. They are durable and come in either a glossy or matte finish, and the surface doesn't usually chip over time like a cast iron sink can.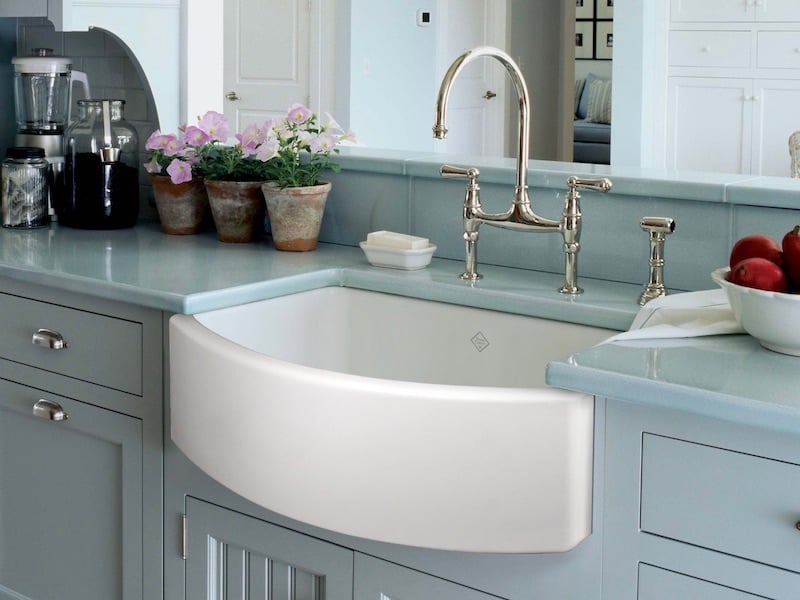 Image courtesy of Rohl, available at Ferguson Bath, Kitchen & Lighting Gallery
5. Copper or Bronze
6. Composite Material
7. Solid Surface
8. Concrete
At Meridian Homes, we specialize in luxury renovations and custom home building in the Washington, DC area. Our mission is to create exceptional residences that exceed expectations. Our highly personalized design process and careful management of every project have earned us a reputation over many years for outstanding client service and solid, beautiful craftsmanship. Contact us today to begin your custom home or remodeling project.