Understanding The Many Factors That Affect The Cost Of A Bathroom Remodel
Remodeling a bathroom is a big undertaking, so before you begin it is important to understand some of the factors that can dramatically impact the cost of your project. Whether you need a complete overhaul of your bathroom or just a simple update, variables such as the age of your home, the materials you select and even where you live can affect the final price tag.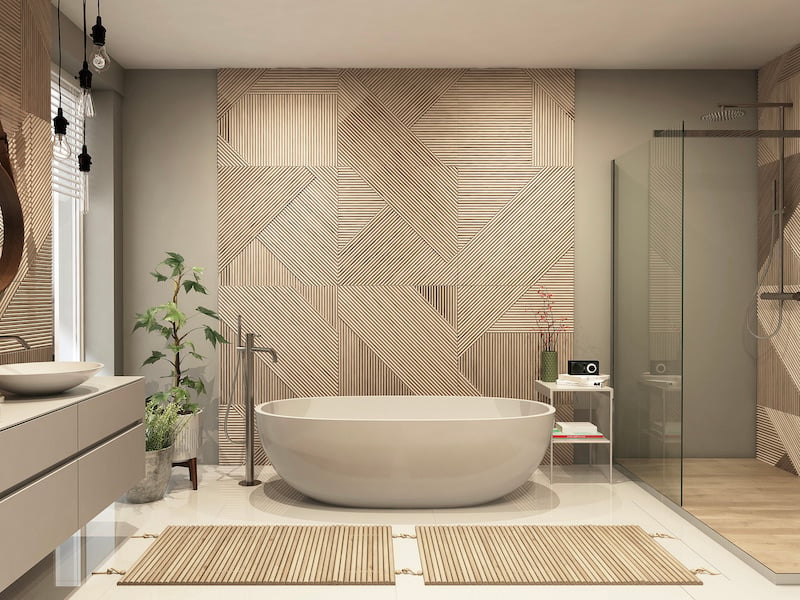 Learn About Budgeting For Your Home Remodeling Project
1. Location of Your Home
Where you live does play a role in what it will cost to remodel a bathroom in your home. In the Washington, DC metro area, costs are above the national average but about the same as in other major cities. As you go further out into the suburbs, prices may be slightly lower than in neighborhoods that are closer to DC.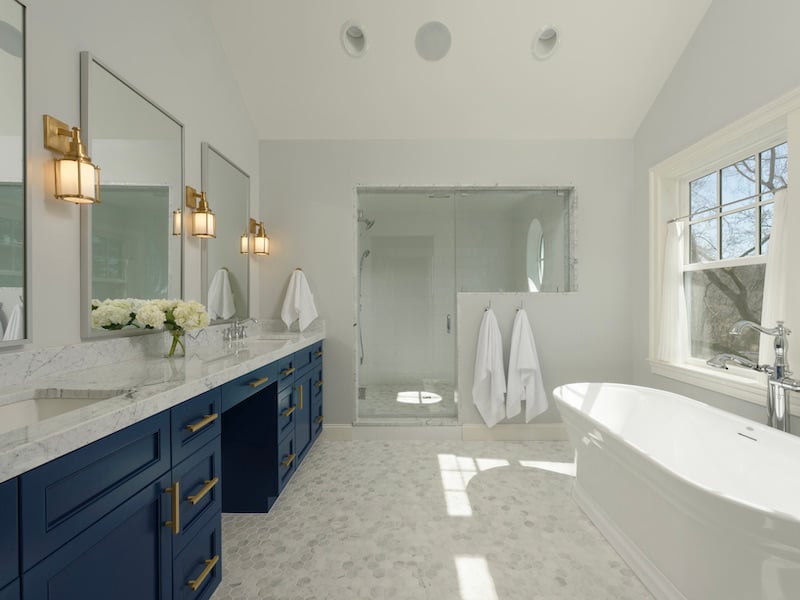 2. Age of Your Home
The age of your home will also impact the cost of remodeling your bathroom. If your home is older, there is a much greater chance that unanticipated problems will be discovered during the renovation process. And inevitably, measures will need to be taken to make sure your space is compliant with the current code. For instance, the plumbing and electricity may need to be completely overhauled in a bathroom that was built in the 1920's to satisfy current regulations, whereas a bathroom that was built in the 1980's may only need small modifications to these systems. When budgeting for your project, make sure you include some funds to cover unexpected snags that may occur along the way.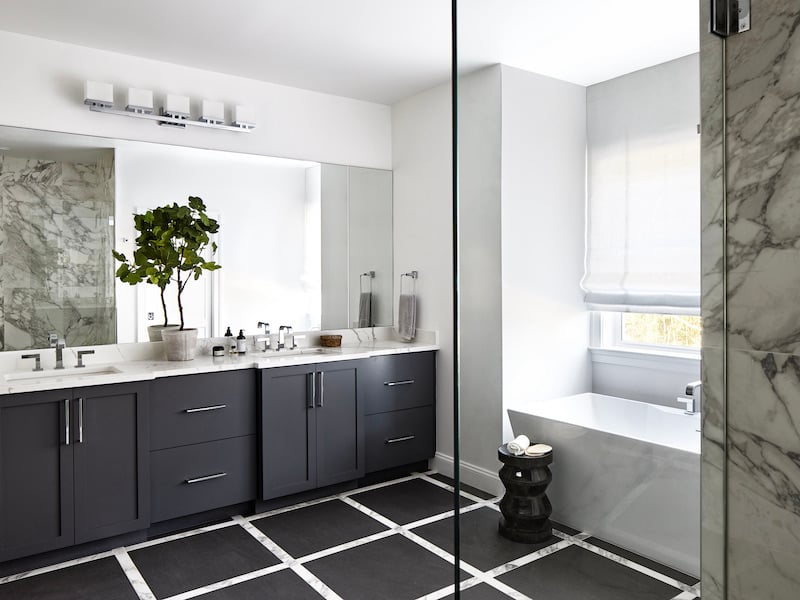 6 Important Tips When Choosing A Homebuilder
3. Size of Bathroom
Another factor that will affect your budget is the size of your bathroom. Are you planning a simple update to a small powder room, an overhaul to your hall bath or a large-scale renovation of your master bathroom? There are several reasons why larger bathrooms are more expensive to remodel. First, more design and construction time will be required for a bigger bathroom, especially if the space is to be reconfigured. Second, greater square-footage means you will need to purchase more construction materials. Finally the cost of labor will be higher since it will take additional time for the work to be completed.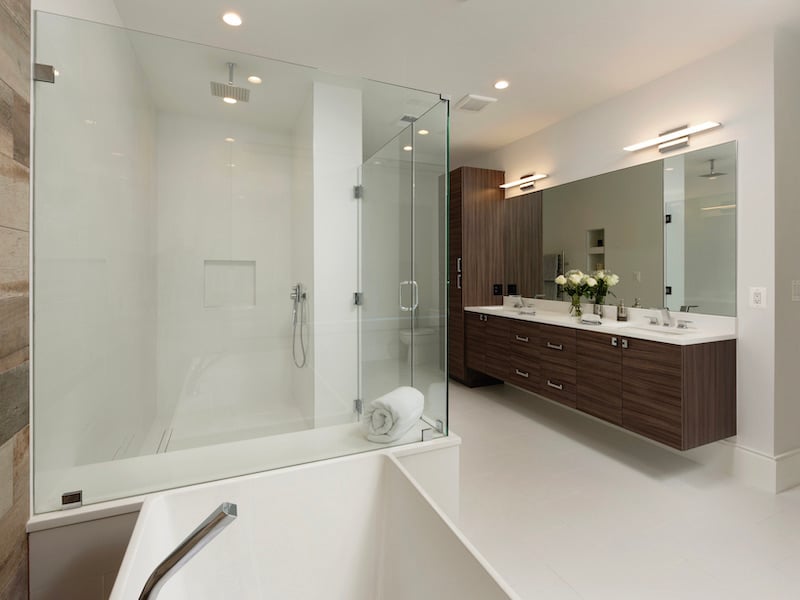 4. Fixtures and Finishes
Your homebuilder or interior designer should help you select bathroom fixtures and finishes that will keep you within your budgetary parameters while achieving the look that you desire. Plumbing fixtures include faucets, showerheads, sinks, bathtubs and toilets. Electrical fixtures include recessed lighting or wall-mounted and mirror-mounted fixtures. Bathroom finishes include cabinetry, tile, shower doors, countertops, flooring, wall coverings, mirrors and accessories such as towel bars, hooks and toilet paper holders. All fixtures and finishes come in a wide range of quality, pricing and styles. It can take some time to make your selections, but if you are patient, you can find what you want and stay within your budget.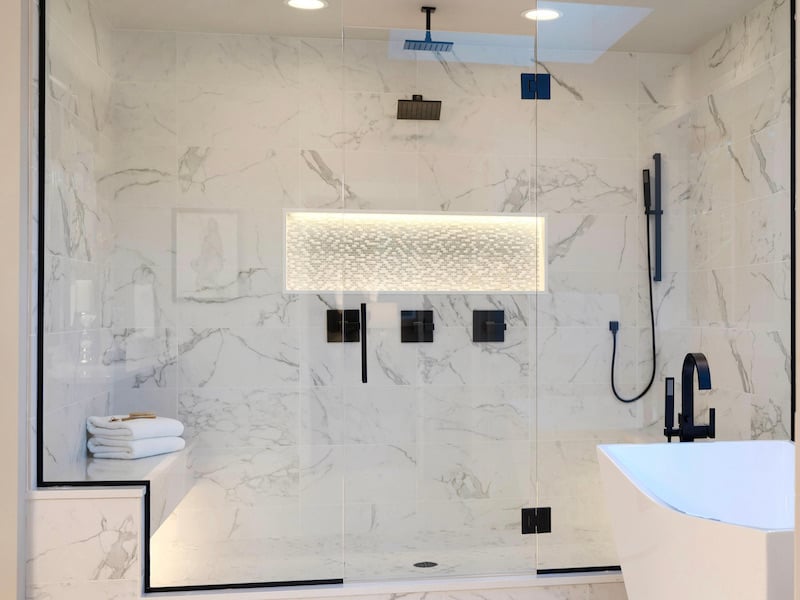 5. Universal Design and Aging In Place
If you're planning to remain in your home as you age, choose fixtures and finishes that comply with Universal Design concepts. For instance, having a curbless edge for your stand-alone shower will allow you to walk in easily with no tripping hazard. A free-standing tub that has a step-through, watertight door is much safer than climbing into a standard tub. Sitting and standing is simpler with a wall-hung or comfort-height toilet that is higher than a normal model. Tile can be slippery, especially when it's wet, so consider adding an anti-slip coating to the floor tile that you select. Click here for more tips about home remodeling design for aging in place.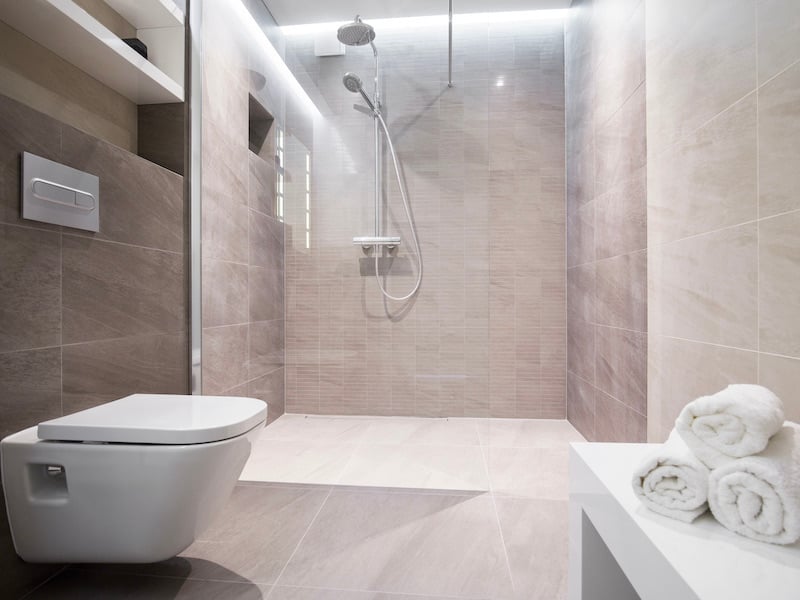 6. Project Details
At Meridian Homes, we have many years of experience remodeling homes of every size. Our goal is to manage all aspects of a project from start to finish, provide transparent cost estimates and exceed our clients' expectations with unparalleled quality construction. Our philosophy of Concierge Level Service For Every Client applies to each project we undertake, no matter how big or small.
The information below will provide you with a scope of work for the average types of bathroom renovations that we have done for our clients in Bethesda, Chevy Chase, Cabin John, Potomac, Arlington, McLean, Great Falls and Northwest Washington, DC. To make things simple, here are 3 categories of bathroom remodeling projects with details of what is included.
Bathroom Update
A Bathroom Update is the most affordable type of renovation because it means that you are simply sprucing up the space you have without changing the size or layout. Replacing your old fixtures can give your bathroom a much-needed face-lift. Choosing new tile and countertops in neutral colors can lighten and brighten a small space. Picking modern-looking lighting fixtures will help to update your bathroom, too.
For us, a Bathroom Update typically refers to remodeling a bedroom-level bath of approximately 40 square feet, with one vanity, and no change in the layout of the room.
Scope Of Work Included In The Cost Estimate:
- You get to choose: tile for floor and tub surround, vanity, countertop, sink, toilet, sink faucet, tub faucet, showerhead, vanity light, towel bar, toilet paper holder and decorative hanging mirror. Of course, we'll guide you through the selection process so that you don't feel overwhelmed and stay within your budget.
- We take care of getting all of the required permits and inspections to ensure your project is up to code.
- We'll safely demolish your bathroom, and then recycle and dispose of the existing fixtures, tile and flooring.
- After the construction is done, we'll add the finishing touches by painting your new bathroom and installing the new accessories you chose.
- We'll wrap up the project by doing a detailed walk-through with you to make sure your new bathroom is exactly the way you want it.
- Update Your Bathroom With A Makeover: From $45,000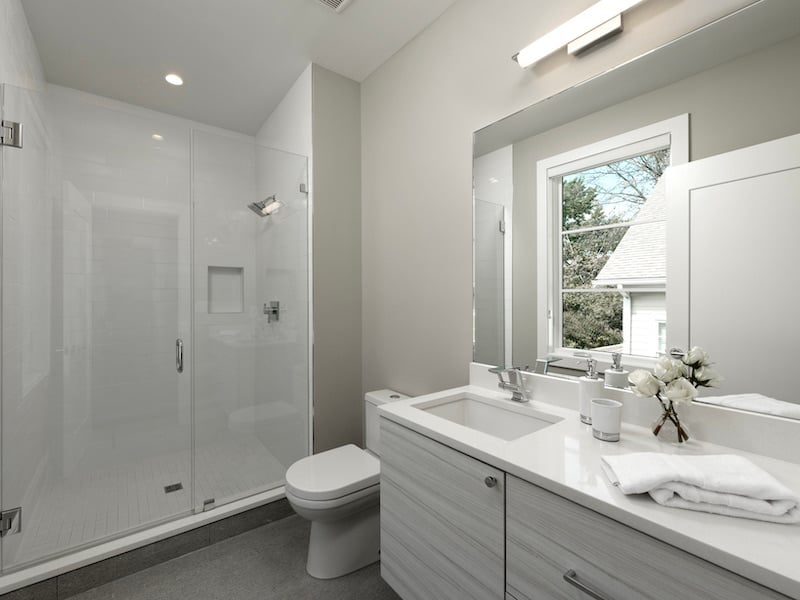 Mid-Range Remodel
A Mid-Range Remodel refers to renovating a larger sized bathroom that is typically on the bedroom-level. With a Mid-Range Remodel, you will be limited to the footprint of your current space, but you will be able to make some minor alterations to the bathroom's current floor plan. Within certain parameters, you can also make some adjustments to the electrical system, and to the plumbing system if you want to convert a tub-and-shower combination to a freestanding shower.
For us, a Mid-Range Remodel typically refers to remodeling a hallway bath of approximately 60 square feet, with a vanity that has two sinks, and a bathtub that is converted to a glass-framed shower.
Scope Of Work Included In The Cost Estimate:
- We include all of the items listed under the Bathroom Update scope of work, and;
- We can make some minor alterations to the current floor plan, within certain parameters.
- We can convert a tub-and-shower combination to a freestanding shower with a framed glass shower door.
- Transform Your Bathroom With A Mid-Range Remodel: From $60,000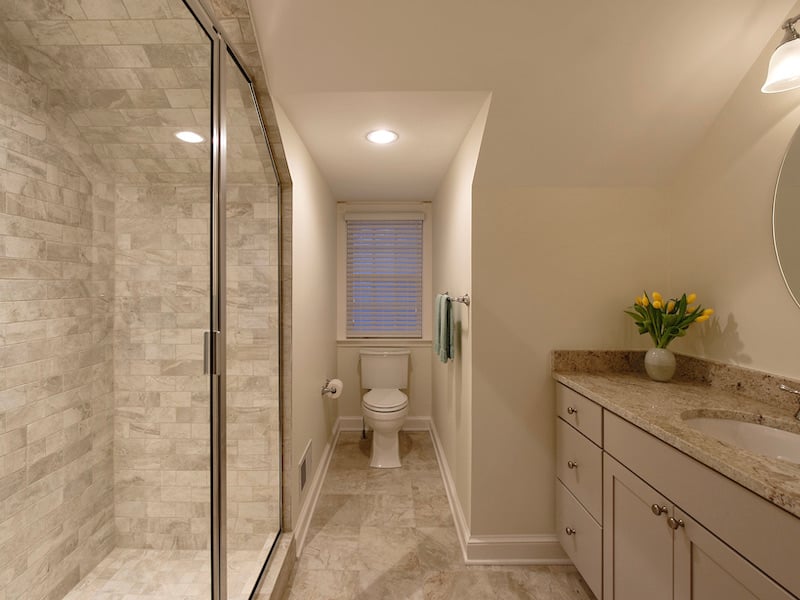 Custom Bathroom Remodel
For the purpose of this scope of work, a Custom Bathroom Remodel refers to renovating a master bathroom of approximately 110 - 170 square feet. The Custom Bathroom Remodel includes all of the items listed in the two categories shown above, but the fixtures and finishes are typically higher-end, and a tub-and-shower combination can be converted to a freestanding soaking tub and a separate shower.
Scope Of Work Included In The Cost Estimate:
- We include all of the items listed under the Bathroom Update and Mid-Range Remodel scopes of work, and;
- We can relocate some of the plumbing and/or electrical systems to accommodate converting a tub-and-shower combination to a separate freestanding soaking tub and separate shower, space permitting.
- A frameless glass shower door can be added to the new freestanding shower for a custom look.
- We can redesign the bathroom to have two separate vanities and extra cabinetry, space permitting.
- Redesign Your Master Bath With A Custom Bathroom Remodel: From $100,000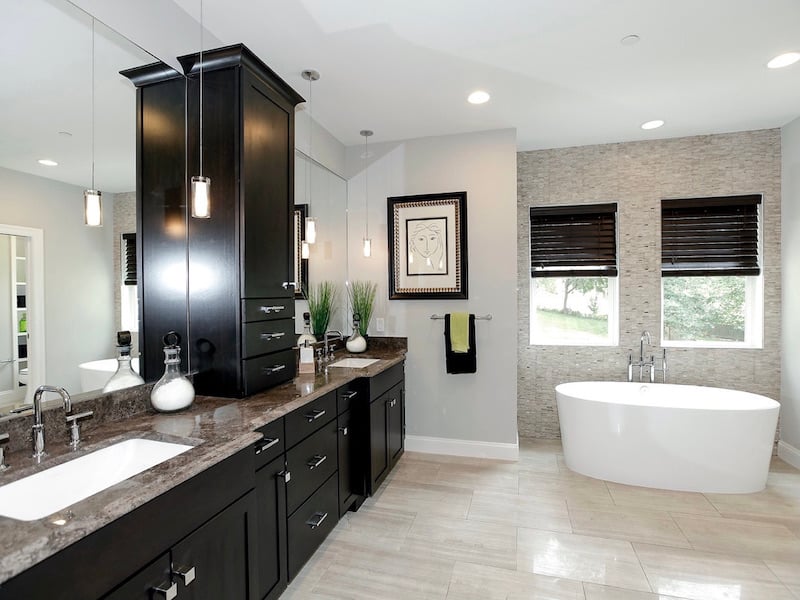 If your home's current floor plan allows, and you have the budget, you can enlarge your existing master bathroom by taking over an adjacent space. Or, you can add more square-footage to your home to create a new bathroom of your dreams that will accommodate everything you envision. The floor plan can be completely changed and you can add spa-like features such as radiant floor heating, a Whirlpool air tub, a steam shower unit, heated towel bars or floor-to-ceiling cabinetry. Don't forget decorative accents such as framed mirrors, unique cabinetry hardware and detailed molding and trim work for a truly custom look in your new bathroom. Of course, this type of expansion of a master bathroom would have a higher price tag than simply renovating your existing space.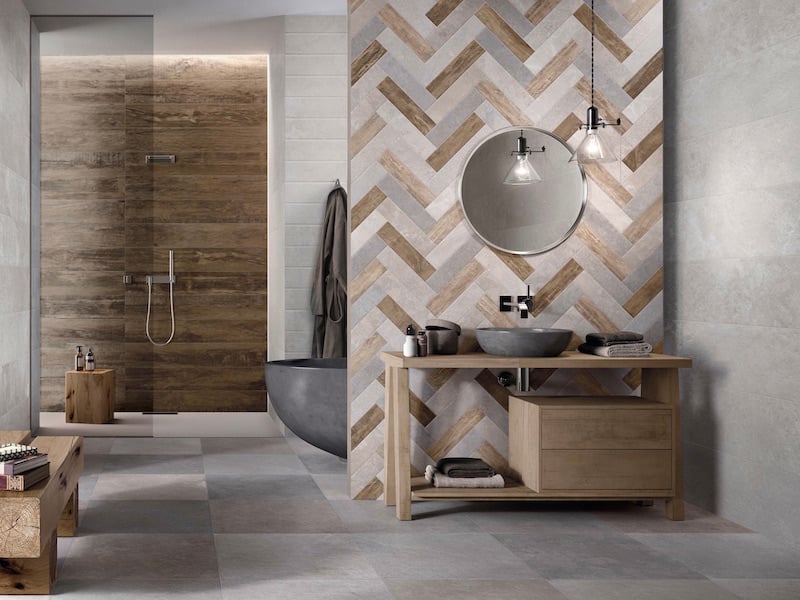 To see our entire portfolio of bathrooms, click here.