14 Home Bar Design Ideas
If you love entertaining in your home, a bar can be a fun and functional place for your friends and family to gather. A bar should be located where you will host your guests most of the time. That means your bar could be next to your kitchen, in your living room, in your great room, in your basement recreation room, or even adjacent to your outdoor living area. Need some inspiration as you begin to plan for your new bar? Here are 14 home bar design ideas to get you started!
1. Wine Lover's Bar
This expansive wet bar is situated right outside a custom wine cellar. The elegant space is the perfect place to host wine tastings or even an intimate dinner party.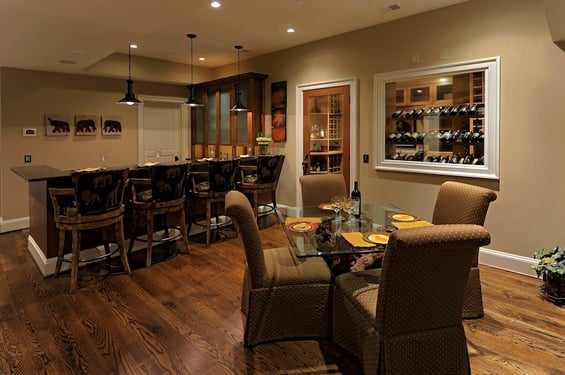 2. Cool Poolside Bar
Slide open the doors, and this indoor entertaining space is instantly connected to the outdoor living area. The curved, contemporary blue bar is designed to draw the eye directly to the pool of the same color.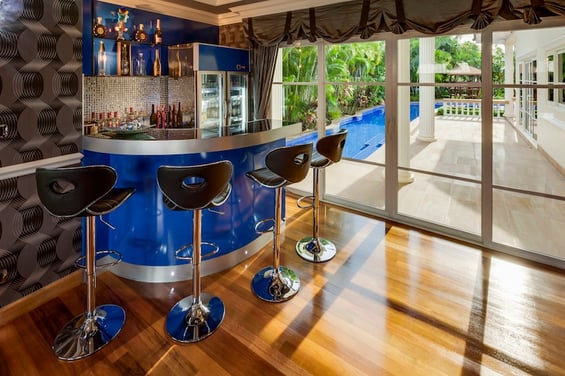 3. Open Space
This wet bar blends into the overall design of the kitchen. The backsplash, cabinetry and hardware are the same in the kitchen and bar area, which creates a continuity of style from one space to the next.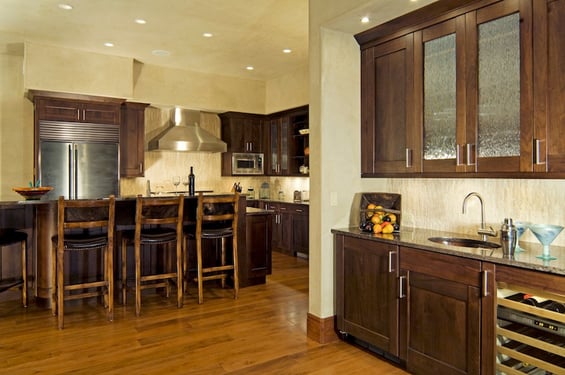 4. Man Cave
The curved purple bar mimics the color of the ceiling lighting. Open shelving is the perfect place to display interesting bottles and keeps everything easily accessible.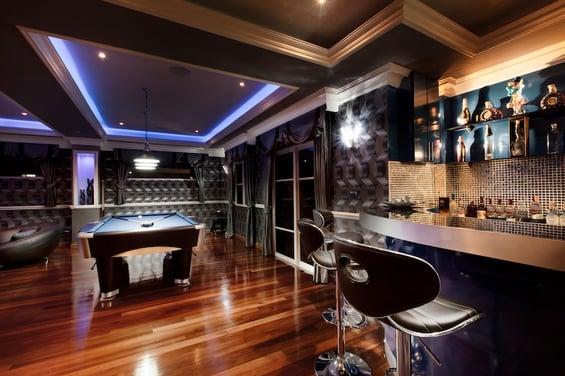 5. Wild, Wild West
Wooden shelves, swinging doors and a wagon wheel all conjure images of a saloon once found in the Wild West. Simple stools complete the old-time look.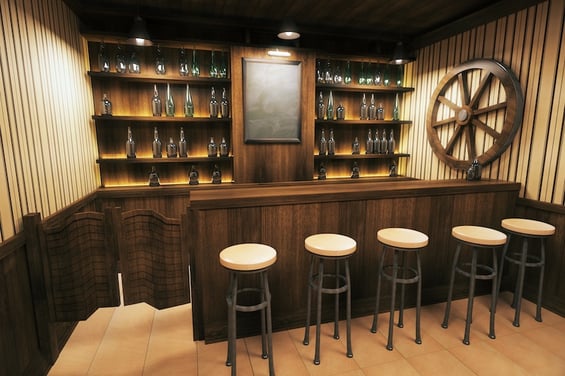 6. The Corner Bar
Have a corner of your family room that is wasted space? Turn it into a wet bar, complete with cabinetry that displays your wine collection.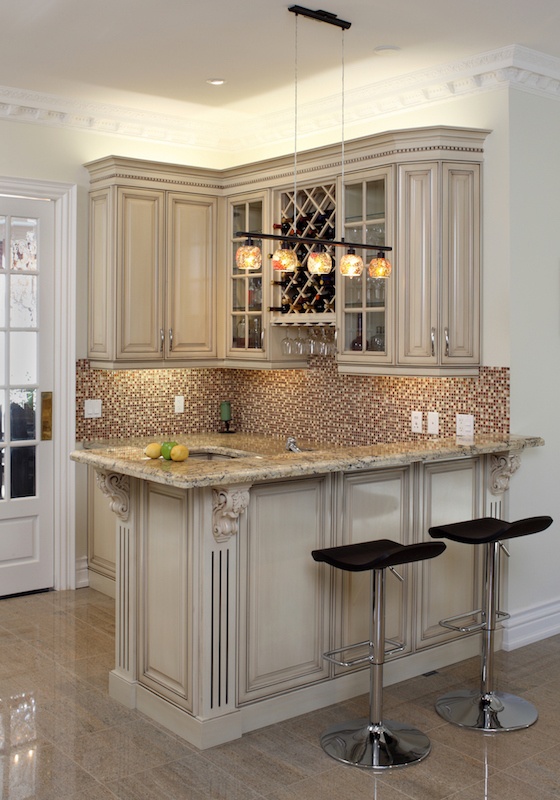 7. A Mod Look
This bright green bar area adds a pop of color in a contemporary home. The waterfall-style bar, floating cabinetry and open shelving are so groovy!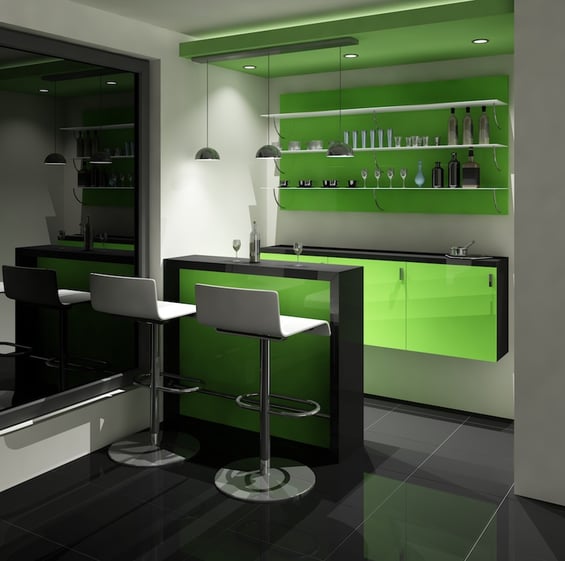 8. Classic Elegance
The traditional style of the dark wood bar complements the overall design of this living room. Arched molding over the open shelving mimics the arched entryway, and pillars on either side of the bar complete the elegant look.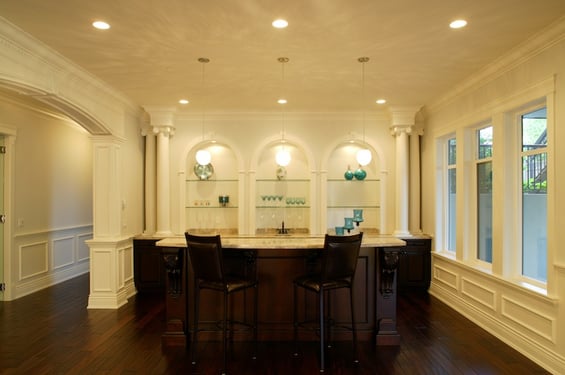 9. Bridging Two Rooms
This wet bar is situated between the kitchen and formal dining room. Hosting dinner parties is made easier by having stemware and drinks in a central location.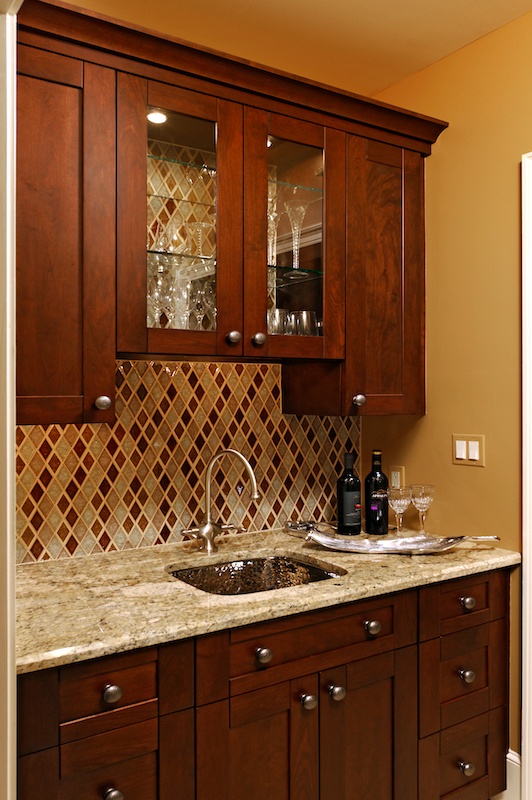 10. Contemporary Butler's Pantry
Tucked away in a butler's pantry, this wet bar is compact and contemporary. Sleek, highly lacquered cabinetry works perfectly with durable quartz countertops and a multi-colored, yet neutral backsplash.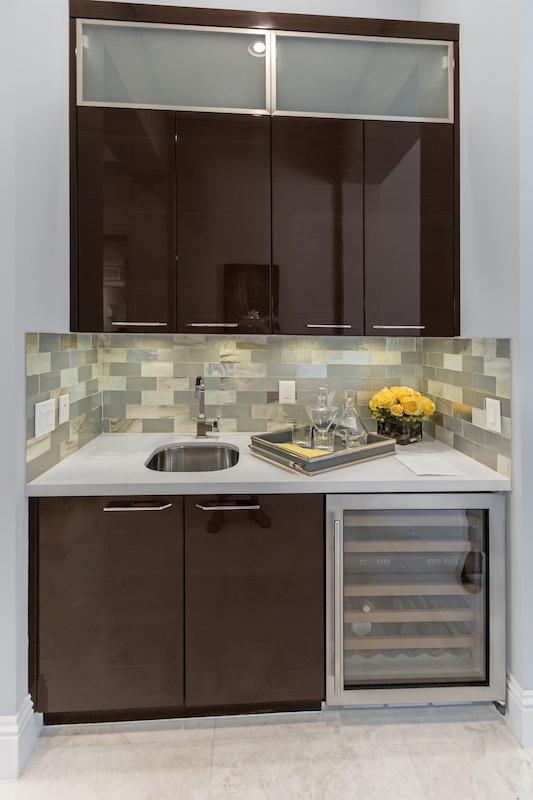 11. Casual and Sophisticated
This gorgeous room is the perfect place for just hanging out. A generously sized bar conceals small appliances that make entertaining easy, and custom cabinetry holds glassware and bottles.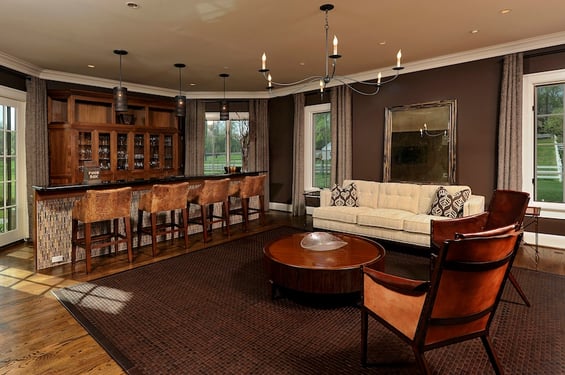 12. Tucked Away
This lovely bar is tucked underneath the staircase that leads to the basement. What was once wasted space is now the perfect spot for spending time with friends.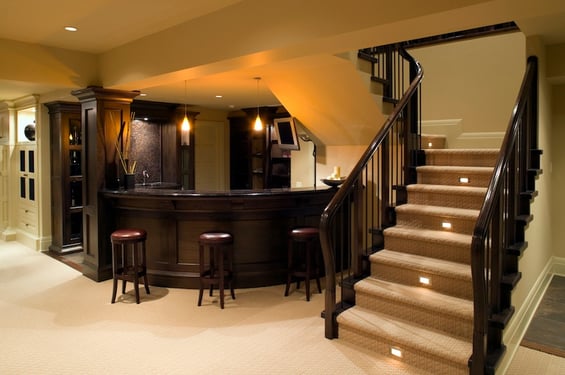 13. A Cheerful Spot
This casual bar invites you to pull up a chair and relax. The wide granite countertops and limestone backsplash lighten and brighten the space.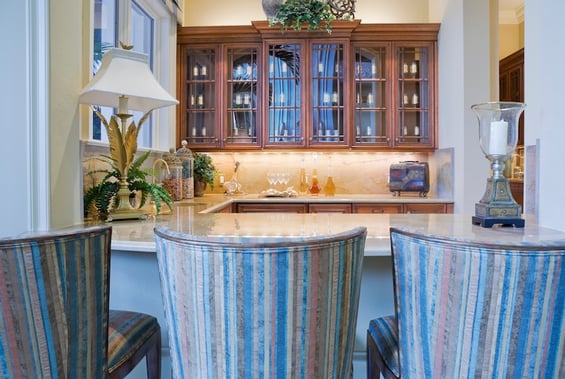 14. Family Hangout
This bar, located in the basement rec room, is fully stocked with a microwave, sink, under-counter refrigerator and small dishwasher. Your entire family can hang out and spend quality time together here!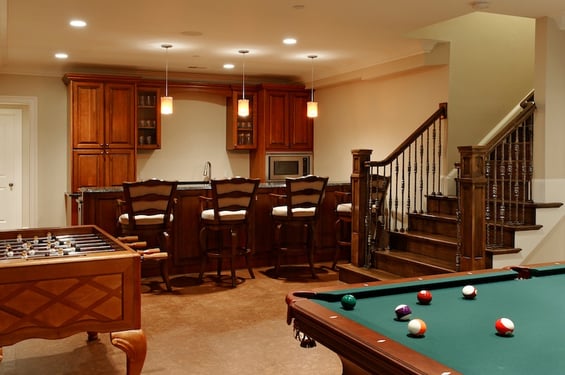 6 Tips For Basement Remodeling
Budgeting For Your Home Remodeling Project