What To Consider When Planning For Your New Kitchen
The kitchen is the heart of every home- especially these days. It's not only a place for cooking and eating; it's a space for daily living and maybe even running your own home school.
If you've outgrown your kitchen or the space no longer suits your needs, it may be time to renovate. Or, you might be thinking about building a new custom home that is specifically tailored to fit your family's lifestyle. Either way, designing a new kitchen takes careful planning so that the space not only looks the way you want it to look, but it functions the way you need it to function.
Start by taking stock of what you currently have in your kitchen. Decide which items you really use on a regular basis and purge the rest. As you develop your new kitchen design, integrate specialized storage systems into the plans to ensure that your most important items can be tucked away, yet accessed easily, leaving your countertops clean and tidy.
Check out our 12 ways to design an organized and decluttered kitchen for inspiration.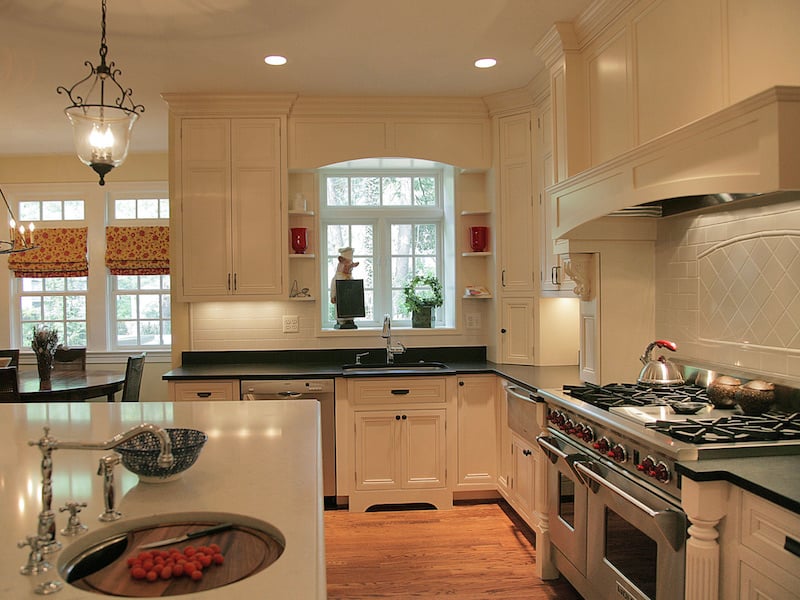 Kitchen cabinets are, of course, made for storage. But, how do you use the space inside the cabinets efficiently to keep yourself highly organized?
1. Pull-Out Shelves
Most kitchens have base cabinets with doors and stationary shelves inside. Instead, install shelves that pull out to make it easy to see what is way in the back - no more rooting around trying to find a lid or other small item.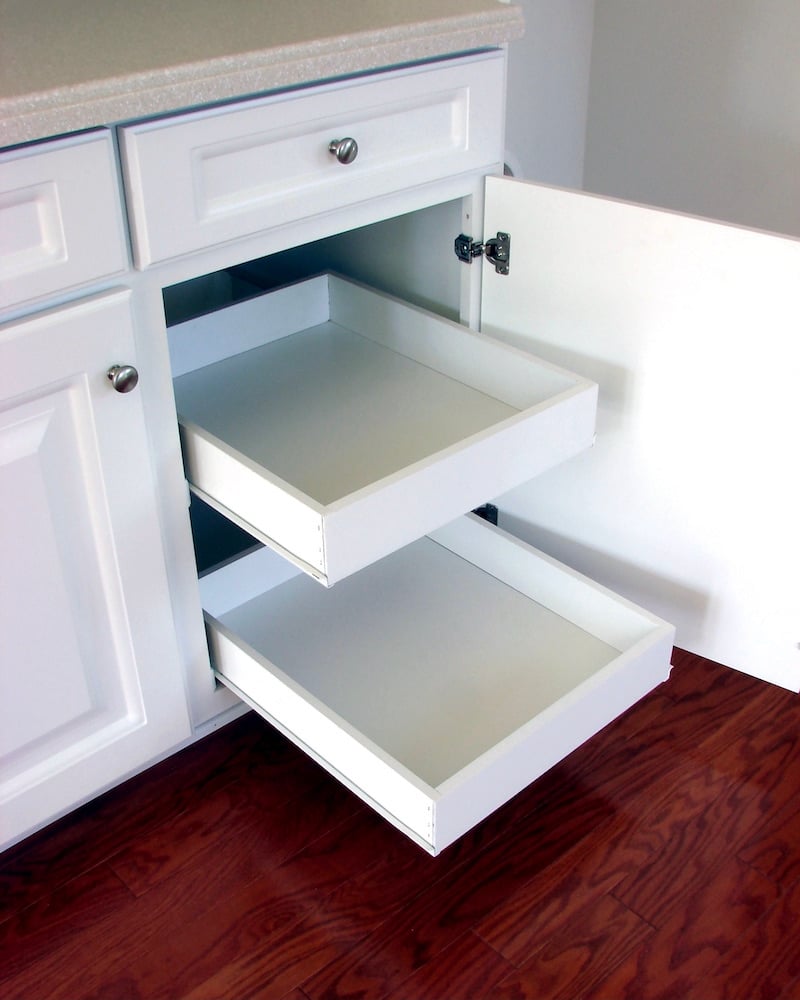 2. Drawers, Not Just Doors
Dishes, pots, pans and other large items can be stacked inside deep drawers for maximum efficiency of space. Customized, adjustable dividers can keep everything neatly in place.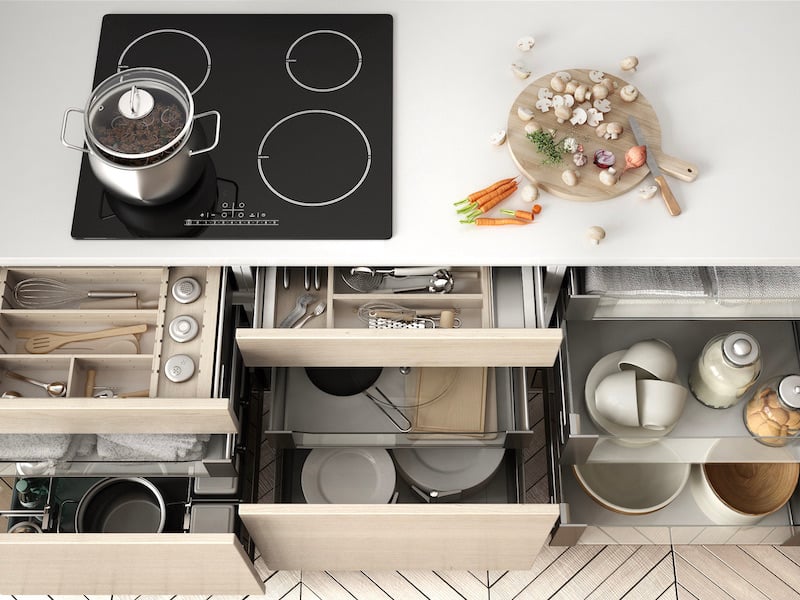 3. Lazy Susan
A corner cabinet can often be wasted space. You can't really reach to the back corner, so only the front of the cabinet is utilized for storage. Installing a Lazy Susan will solve that problem. The rotating shelves make the entire cabinet functional and will keep pots and pans, small appliances or canned food items perfectly organized.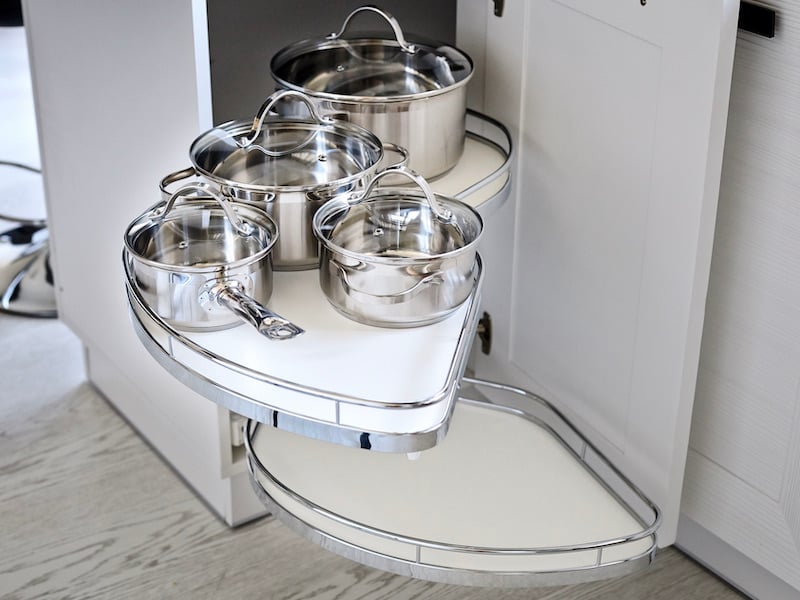 4. Spice Cabinet Pull-Out
All of those small spice bottles can become a cluttered mess when they are on your kitchen counter or stuffed into a large cabinet. In your new kitchen design, plan for a special pull-out spice rack right next to your cooktop. All of your spices will be organized and right at your fingertips, but tucked out of sight when you aren't using them.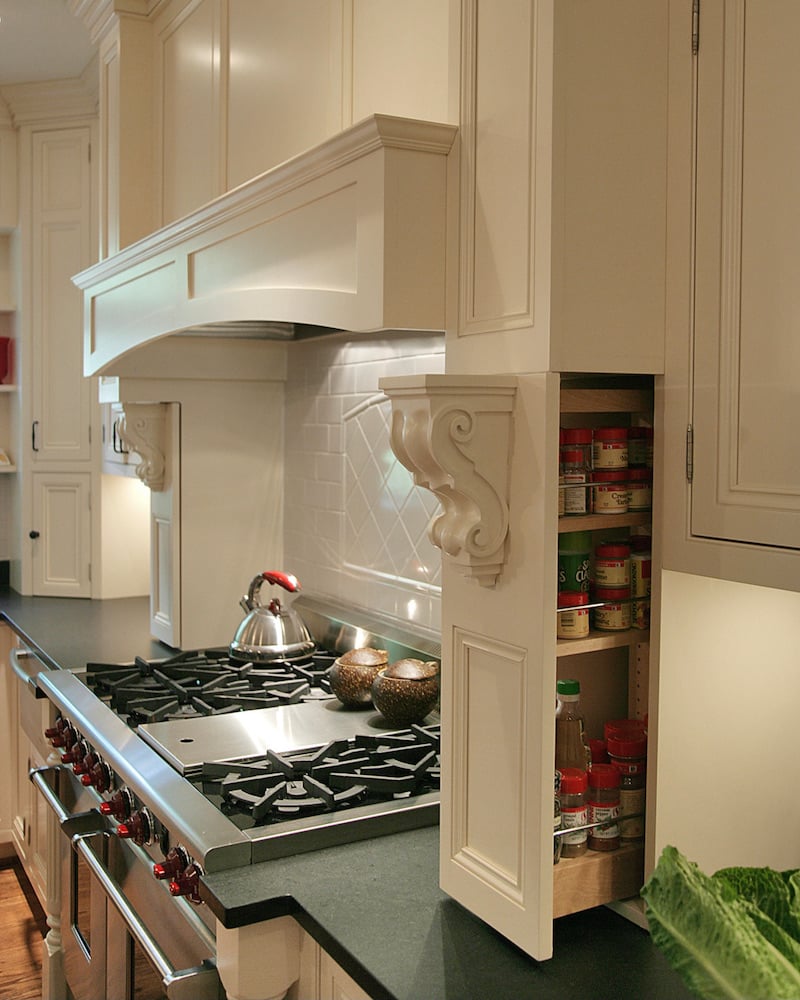 5. Flatware and Utensil Built-In Dividers
Add built-in dividers within your drawers to keep your flatware and other utensils neatly in place. Vary the size of each space so larger items will fit in nicely, too.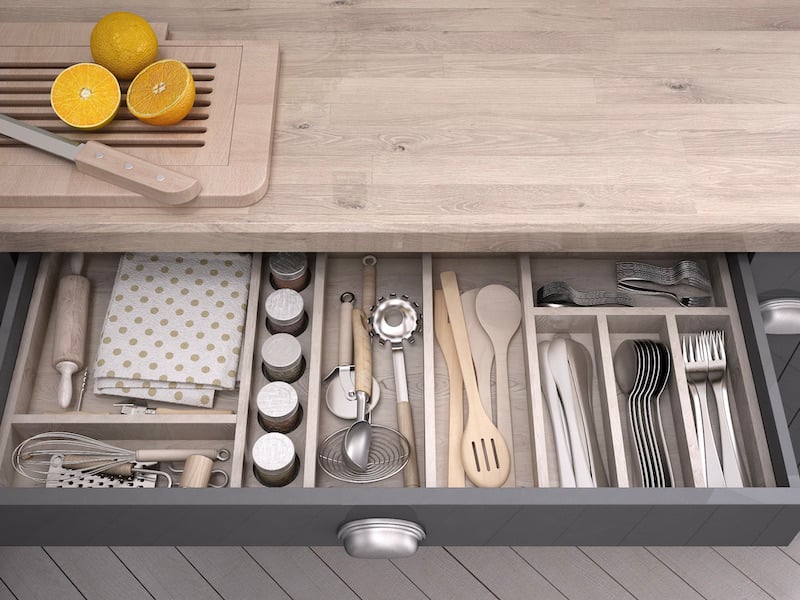 6. Lift-To-Open Upper Cabinet Doors
Doors that lift-to-open on upper cabinets, instead of those that swing out, can save space if you have a tight spot in your kitchen. You can also see what's stored in the top of the cabinet more easily. This cabinet style looks great in modern and transitional style kitchens.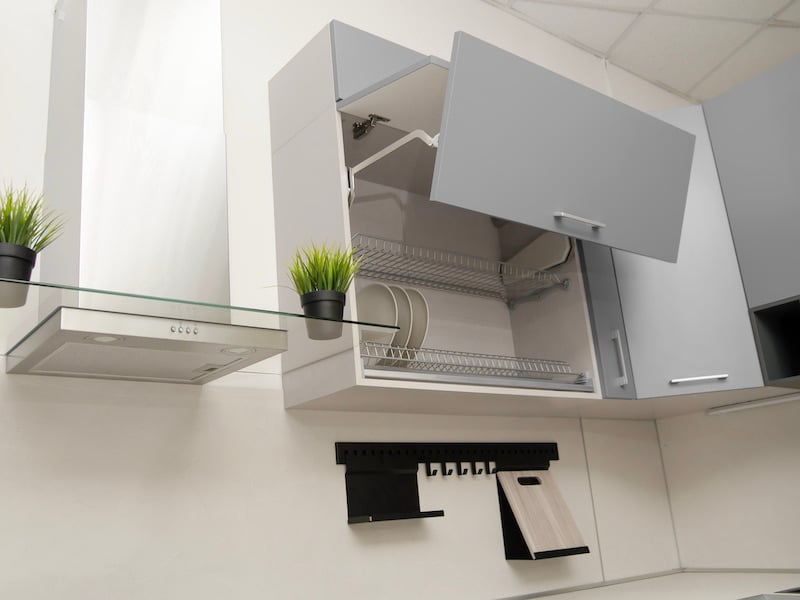 7. Trash and Recycling Center
A trash and recycling center in a base cabinet that is next to or under your sink will keep unattractive bins out of sight. It will also make separating your trash and recyclables simple and convenient.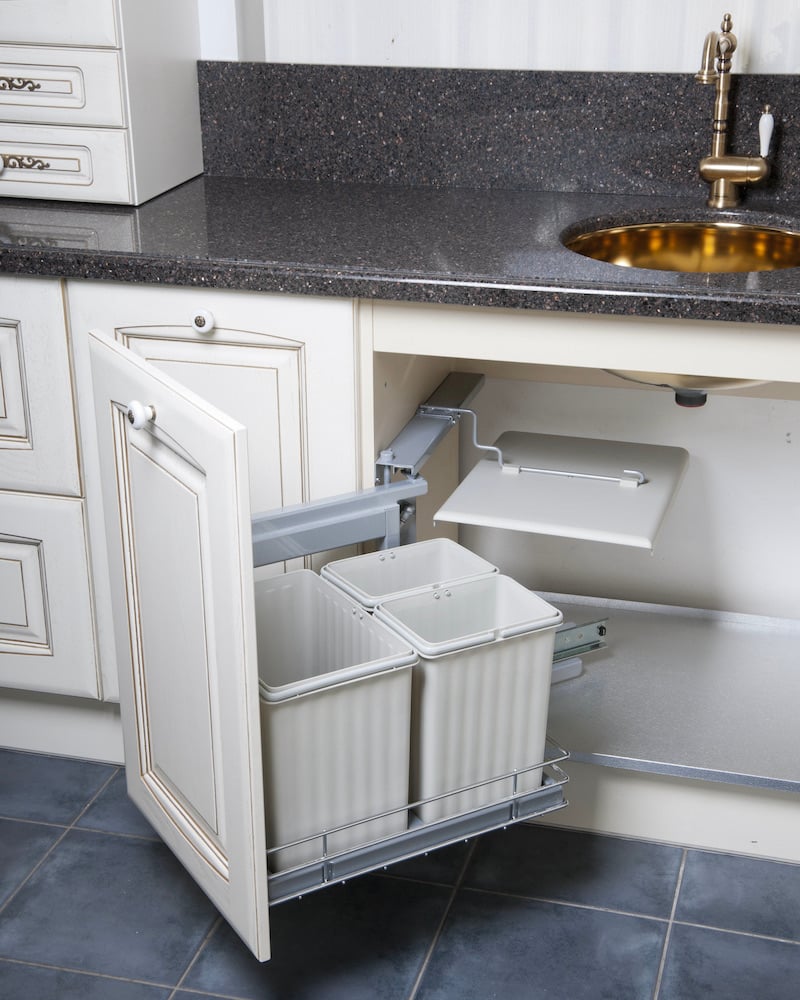 8. Cleaning Supplies
A built-in, sliding caddy or shelves near your sink can keep your cleaning supplies organized and at your fingertips. Having your cleaning supplies handy will help you to keep your new kitchen spotless!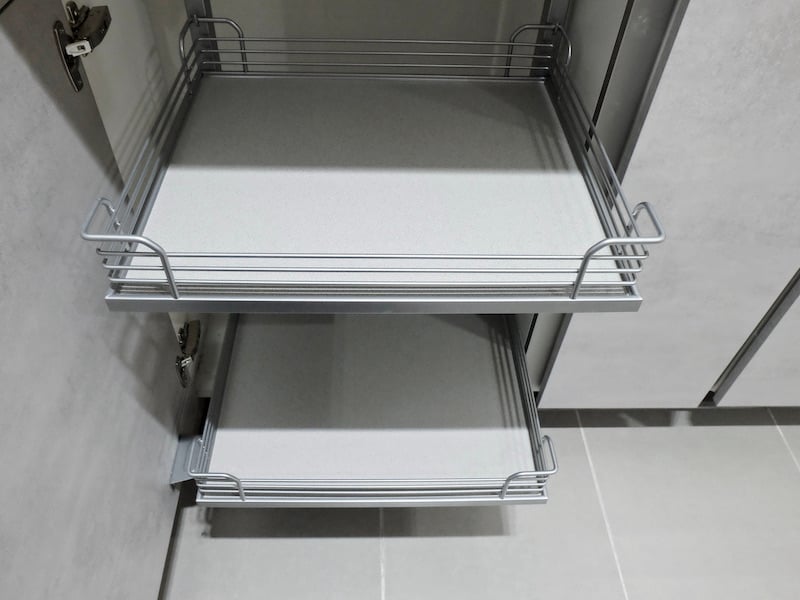 9. Pantry
A pantry in your kitchen is the ideal place to store all of your non-perishable food items or small appliances. Customized shelving and bins can be installed so that everything has a place, keeping your pantry organized. Adding electrical outlets inside your pantry will enable you to plug in a rechargeable vacuum or your kids' computers at night.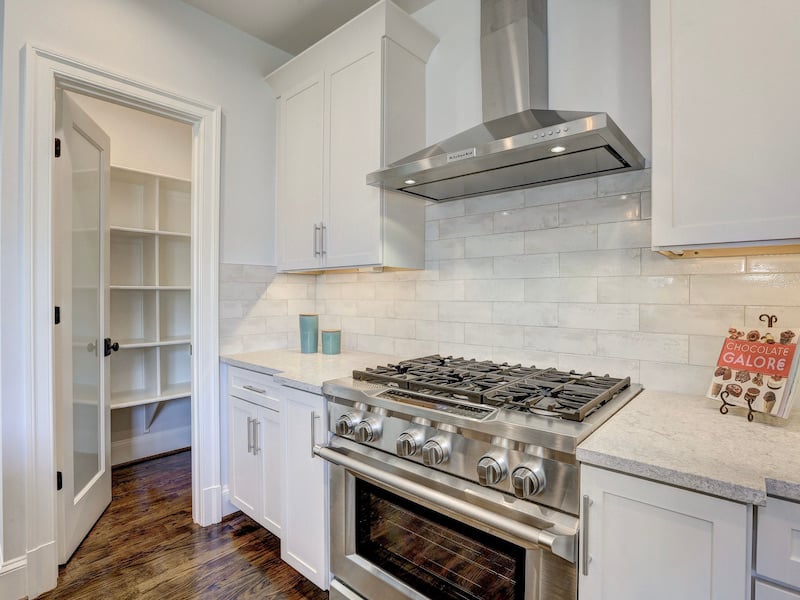 10. Built-In Furniture With Storage
A customized, built-in unit designed to look like a beautiful piece of furniture can offer additional storage space. A lovely hutch or bookcase can be a striking focal point in your new kitchen and a place to display special items.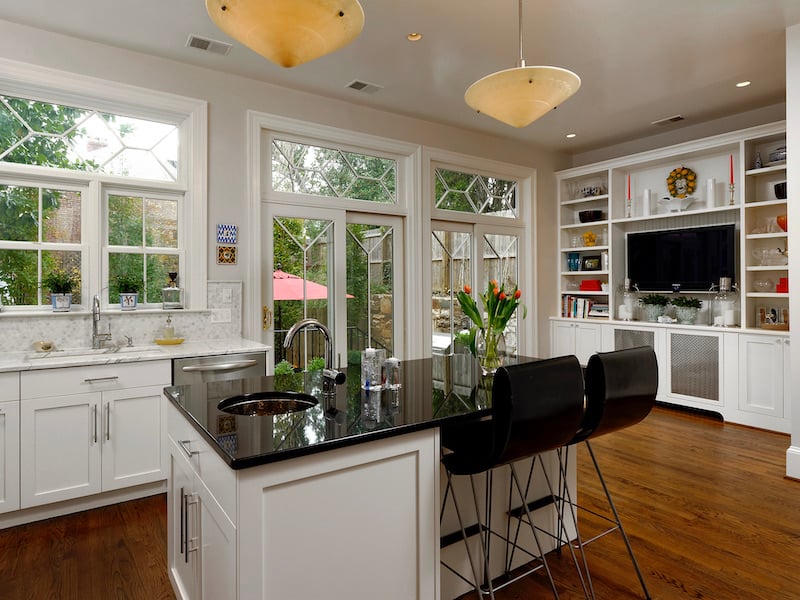 11. Kitchen Office
Since the kitchen is the hub of all activity in your home, carving out a centralized place to keep your family's daily life organized is important. Having a small desk, compartmentalized drawers for filing paperwork, a spot for a calendar or note board, and a charging station for your computer and phones will keep your kitchen, and your life, orderly and neat.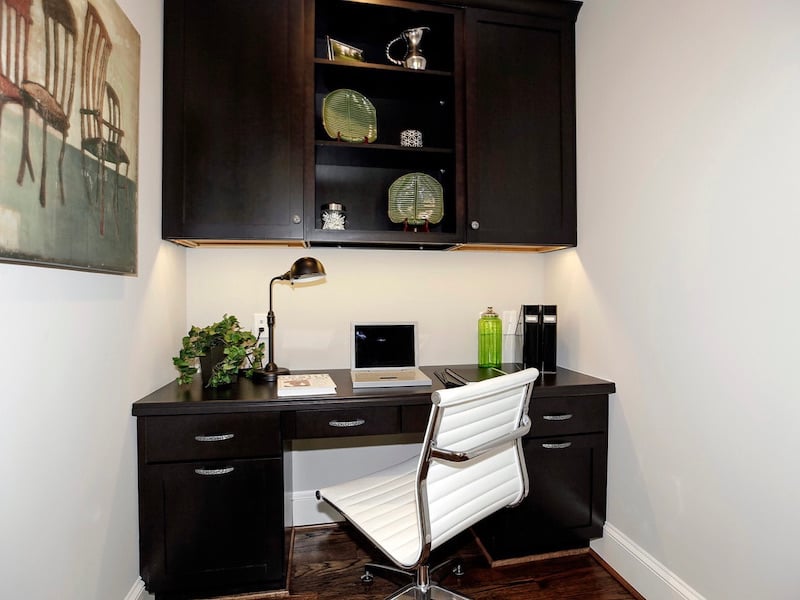 12. Go High-Tech
These days, most people use the Internet to find recipes and cooking tips, so declutter by getting rid of piles of cookbooks that take up so much space. Ask your homebuilder to install a charging station for your devices inside of a kitchen cabinet or in your pantry to keep your tablet or laptop handy.
Also, consider buying a smart refrigerator to keep you organized. They come with built-in electronic grocery list applications so you will know what you need before heading out to the store or placing a delivery order.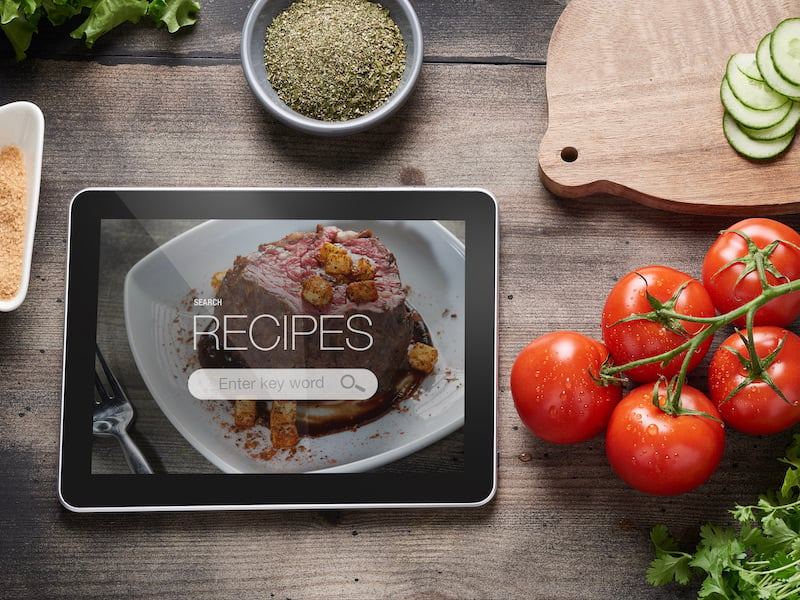 A professional homebuilder or kitchen designer can work with you to create your ideal kitchen. Share your goals and objectives from the start. Be clear that you want organizational systems as part of your kitchen design. Ask about the best and most creative ways to organize your space so that it is functional and clutter-free. Collaboration with experts is the surest path to loving your new kitchen!
At Meridian Homes, we specialize in luxury renovations and custom home building in the Washington, DC area. Our mission is to create exceptional residences that exceed expectations. Our highly personalized design process and careful management of every project have earned us a reputation over many years for outstanding client service and solid, beautiful craftsmanship. Contact us today to begin your custom home or remodeling project.