How To Make Your Shower The Focal Point In Your Bathroom
Bathrooms used to be utilitarian spaces in a home that offered little comfort or style, but all of that has changed. Today's bathrooms are luxurious sanctuaries for wellness and relaxation. Whether you are building a custom home or remodeling, you can design a bathroom that combines beauty and function no matter if your space is large or small.
Rather than having many elements competing for attention, make your shower the focal point in your new bathroom. Draw the eye to a certain feature in the shower by designing an accent wall or a bench that makes a statement. Liven up a neutral palette with patterned, textured, or geometric tile. Choose bold, saturated colors to create a look that is a show-stopper. Your options are limitless! The following new trends in shower design will give you some inspiration as you plan for your new bathroom.

1. Curbless Entry Shower
A curbless shower has no raised threshold or lip between the shower floor and the rest of the bathroom. Since the entry is completely level, it allows for easy access to the shower for people of any age and physical ability. The floor in a curbless shower must be slightly sloped from the entry point to the opposite wall so the water can be directed toward a linear drain and not back up into the bathroom. For added safety, you can install grab bars in the shower.
Curbless showers have a modern, spacious aesthetic. For a seamless look, use the same tile in the shower that you have in the rest of the bathroom and have no enclosure around the shower at all. If you are concerned about water splashing into the bathroom, or you want to keep the heat inside the shower, consider a partial partition or a full-glass enclosure.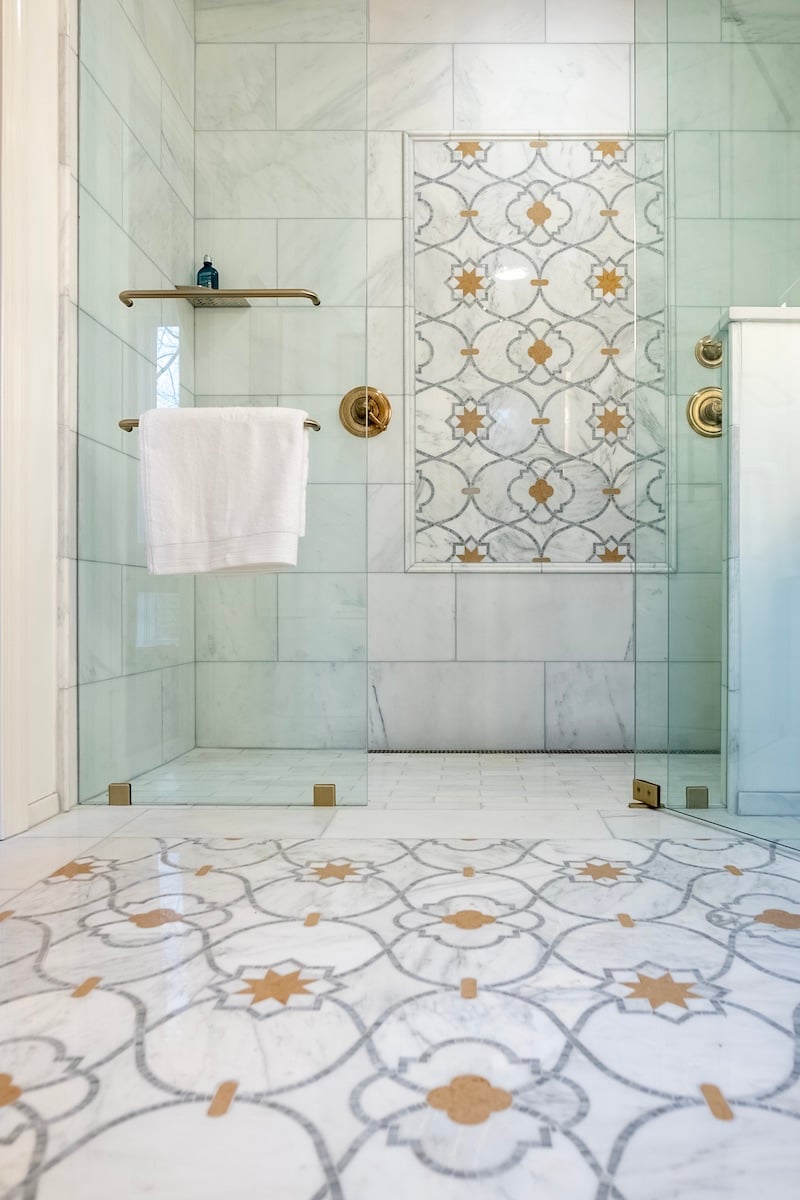 2. Pebble Tile
Incorporating pebble tile is a great way to add texture and style to a shower, whether your overall design is modern, transitional, or traditional. With its organic, spa-like look, pebble tile is the perfect choice for an accent wall or niche in a shower. It has a soothing feel underfoot which makes it ideal to use as a flooring material, too. Since pebble tile is available in stone or glass, and in many shapes and sizes, it is a very flexible design element. Pebble tile also comes in colors as varied as ocean blue to earthy beige.
10 New Trends In Bathroom Tile Design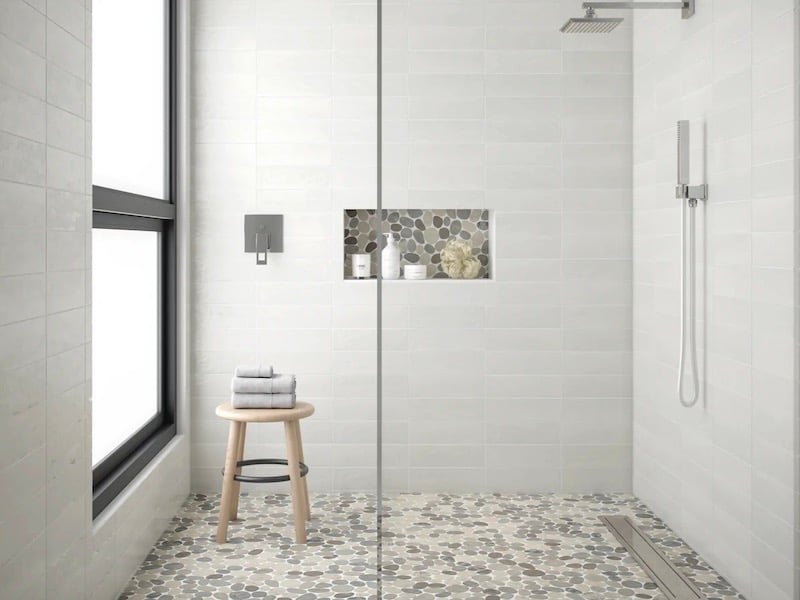 3. Matching Shower Bench and Accent Wall
A shower bench is the perfect place to sit and relax, and it can double as a spot where you can store your toiletries. Typically, an integrated bench is a solid block made of tile that spans the length of one wall, but if your shower is small, opt for an angled corner bench that will take up less space.
These days, benches don't have to be bulky or traditional looking. A new trend is to design an accent wall in the shower using a unique-looking tile and matching it to a "floating" bench. This type of custom-made bench can be any shape and is supported by wood or metal brackets that are attached to a wall, opening up the space underneath.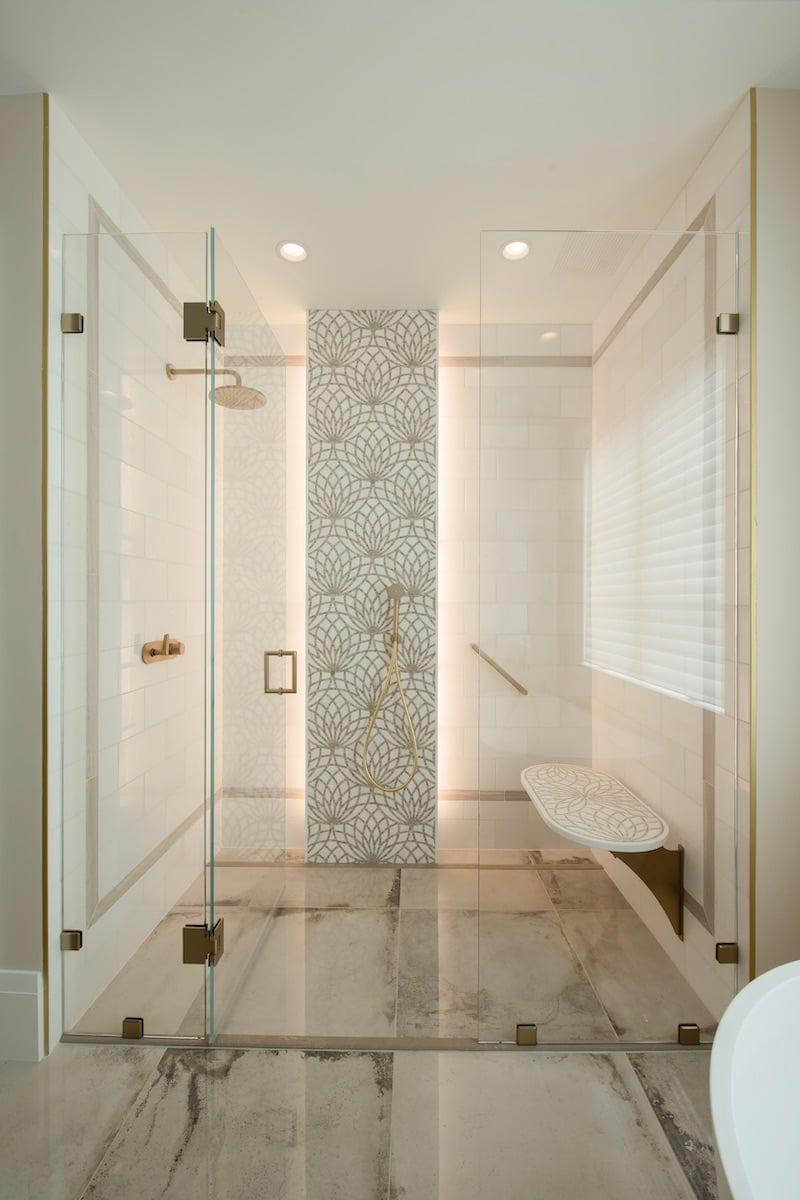 4. Bringing elements Of The Outdoors Inside
To create a calming environment in your bathroom, bring some of the outdoors inside. Use natural looking materials that have texture, graining, and movement in your bathroom design. Start with tile that looks like granite, marble, river rock, pebbles, or stone in earthy colors and add touches of wood for warmth. Open up your bathroom to the outdoors by adding a wall of windows or a skylight. Flowers or greenery in planters made of stone will bring a touch of nature indoors, too.
Demystifying The Process Of Remodeling Your Bathroom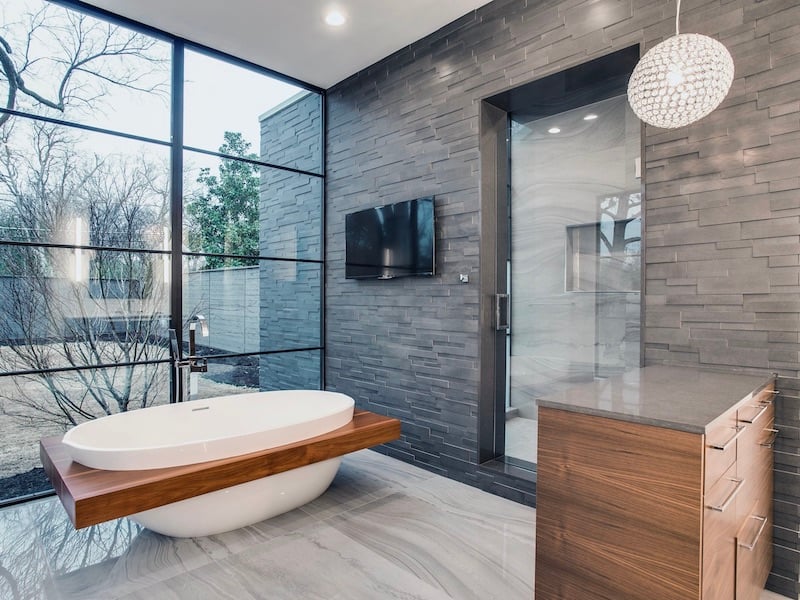 5. Color Drenching
A new trend in home decor is called color drenching. It is the use of a single, strong, saturated color to energize a space and lift the spirits. Whether you gravitate toward shades of green, blue, yellow, pink, orange, red, charcoal, or black, using a bold color in the shower can add a jolt of personality to your bathroom and make your decor more memorable. To truly color drench, choose the same saturated color to paint the walls as you use for the shower tiles.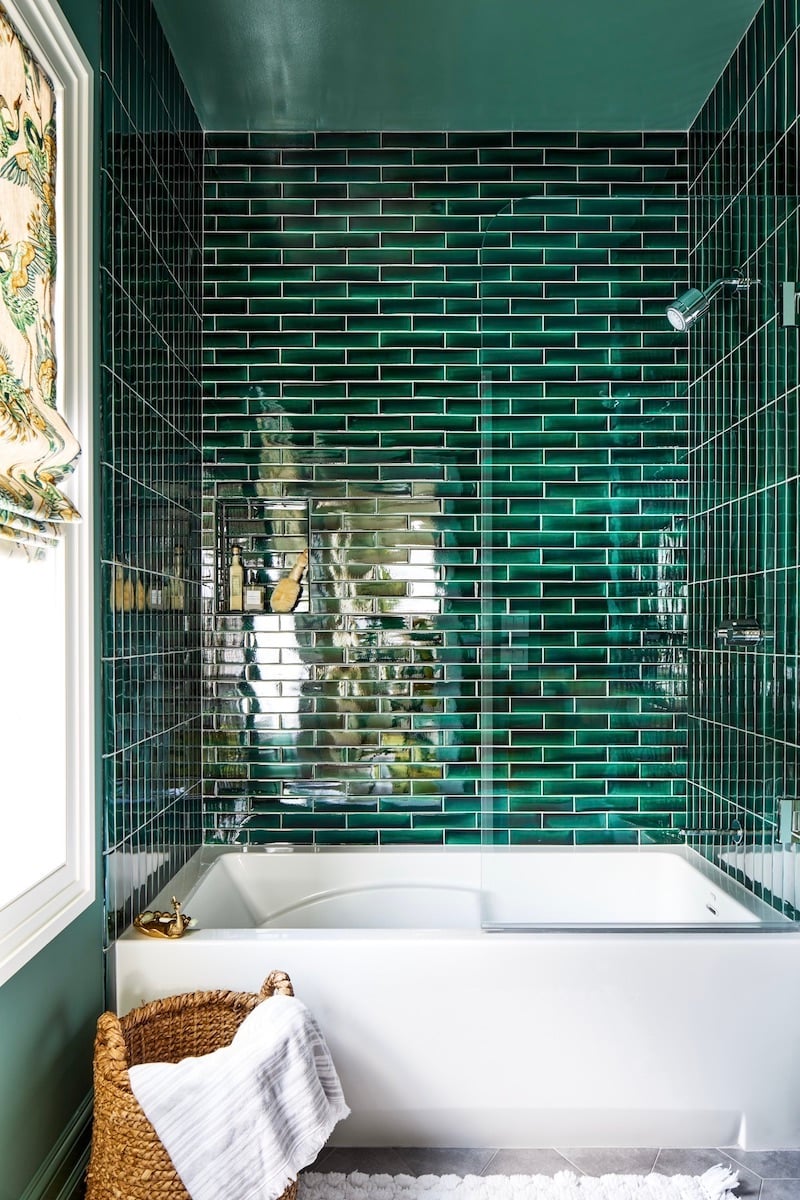 6. Black and White Tile
You can never go wrong with black and white. This color combination is perpetually on-trend and can be traditional in tone or very modern. Make a statement with white tile and contrasting black grout lines in the shower; as an added benefit, the darker grout is easy to keep clean. For a moody, dramatic look, use large format black tile on the shower walls. To add some charm, choose small tiles or mosaics to make the pattern of your choice on the floor or in shower niches. If you want your bathroom to have an open, spacious feel, opt for a black steel frame with large panes of clear glass as a shower enclosure. With black and white, the options are endless.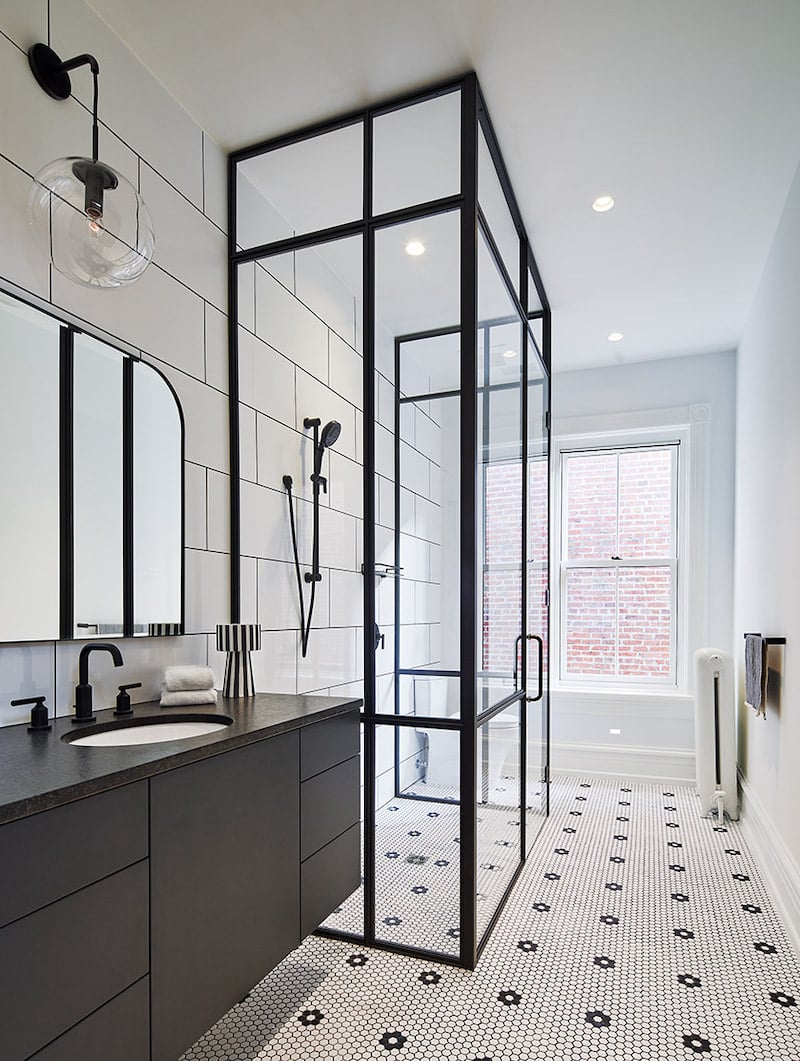 7. Porcelain Slabs
Porcelain is a highly durable material that is nearly impervious to water and is resistant to scratches, chips, and stains. This makes porcelain easy to maintain and to keep clean. Porcelain tiles have been around for many years, but the use of porcelain slabs in bathrooms is increasing in popularity. These extra-large slabs require very few grout lines, allowing for a sleek look. Available in a variety of neutral colors in matte or polished finishes, these slabs are manufactured to look like natural stone, marble, or granite. For a seamless, high-end look, install porcelain slabs throughout the entire bathroom - on the walls, floor, and in the shower.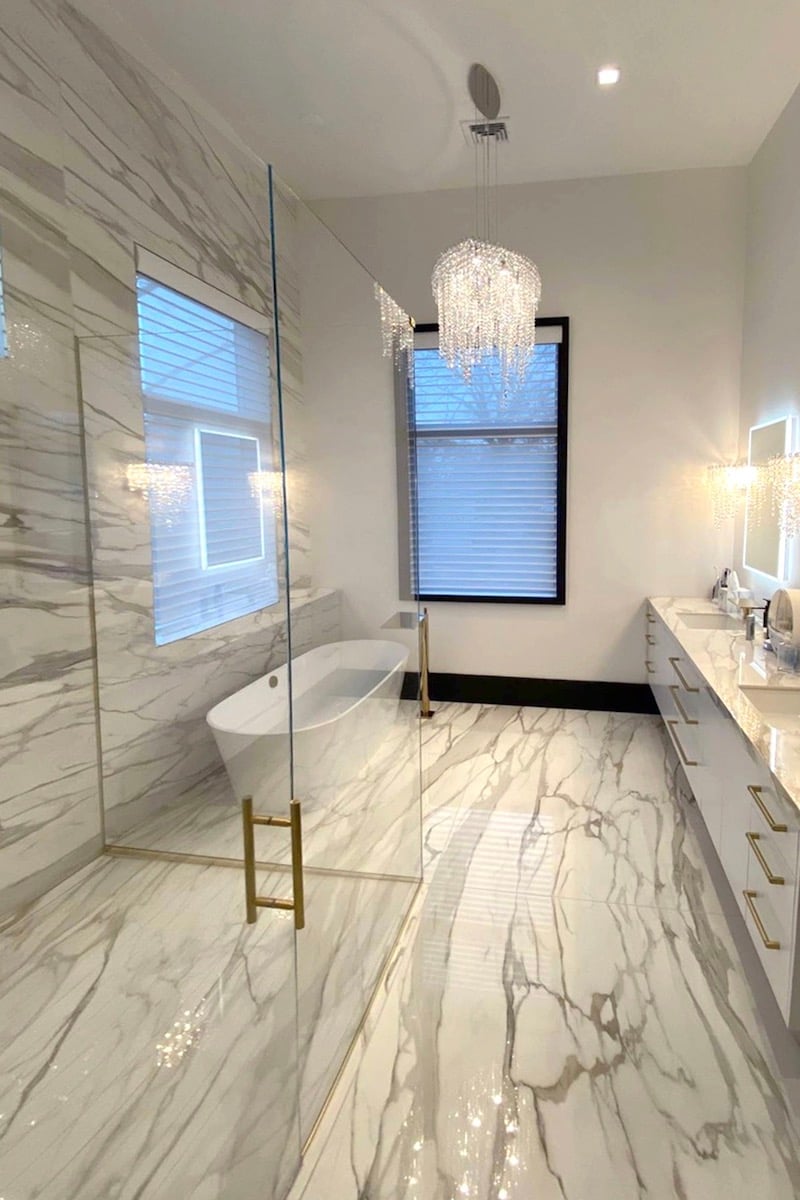 8. Custom, Ornate Mosaic Tile
Mosaic tiles have long been a staple in bathroom design. They are available in a wide variety of shapes, colors, finishes, and sizes and can be used in many different applications. The newest trend is to fashion ornate artwork out of mosaics to create a visually impactful accent wall in a shower. Customize your shower with mosaic tiles depicting anything from abstract art, to lovely cherry blossoms, to landscapes, to a character from your favorite novel.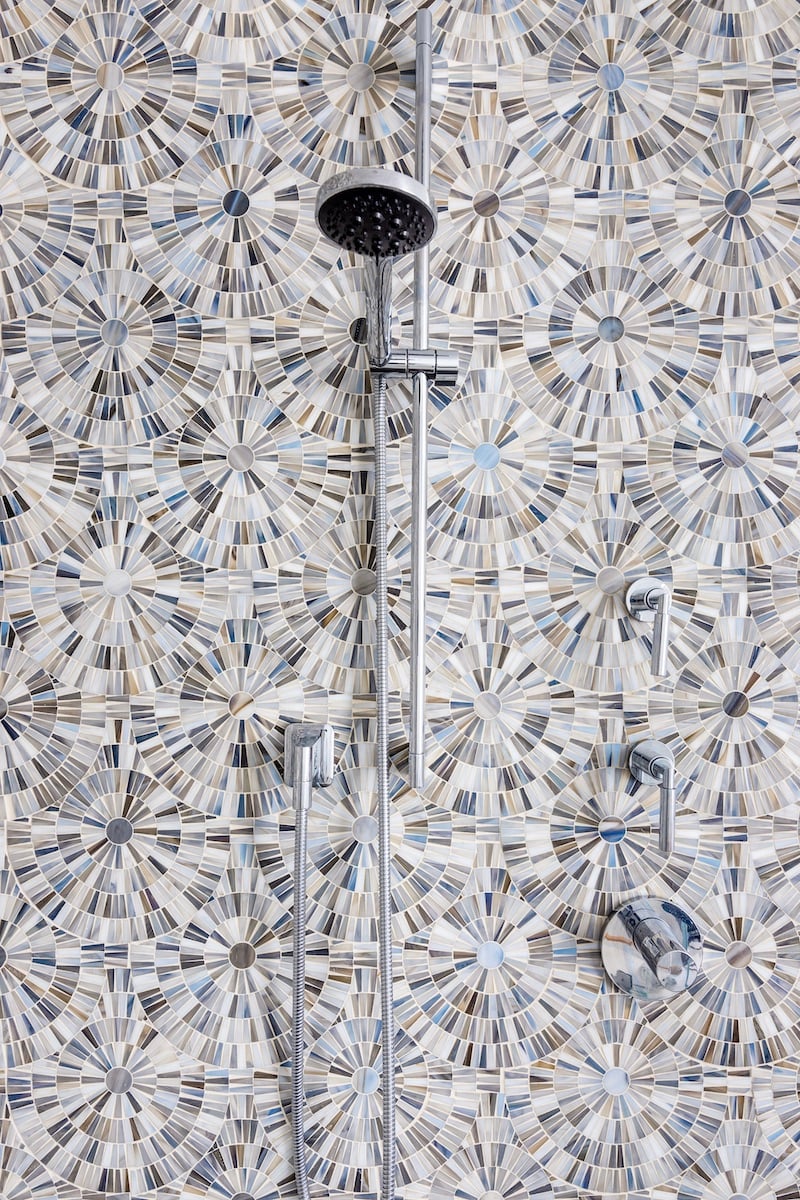 9. Feature Niches
A niche is a recessed shelf built into the shower wall. It provides a convenient place to store your shampoo, soap, and other shower necessities. Choose visually-impactful tiles to draw attention to the niche, making it a striking feature in your shower. In the niche, you can use the same tile that is on the shower floor, or choose tiles that are totally different to make the niche pop. Niches can be designed to fit your needs: if you have a small shower, one rectangular or square niche can suffice. If you have more room, you may choose to make a series of niches that line up vertically, or create a horizontal niche that spans the length of one shower wall.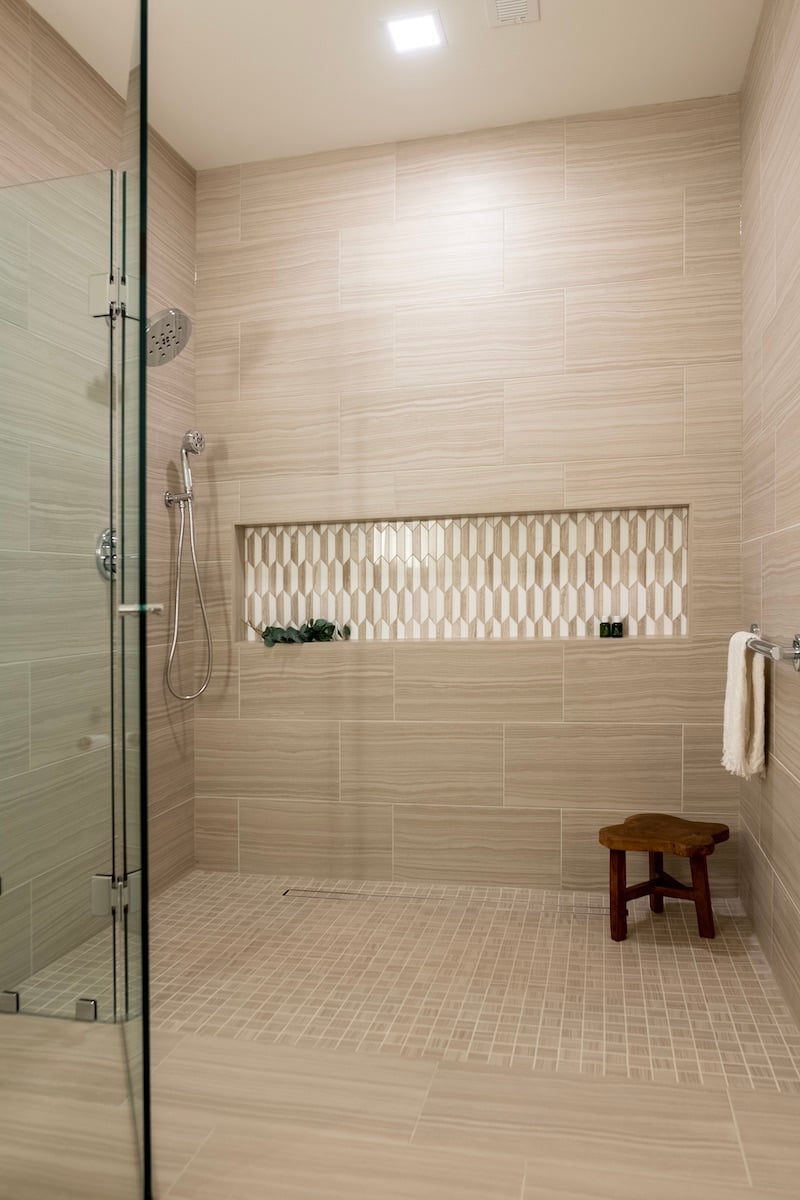 10. Vertical Subway Tile
Subway tile has a clean, minimalistic look and is extremely versatile because it comes in a wide range of colors and finishes to complement any decorating style. It has been used in horizontal applications for years, but for a more modern look you can flip the tiles upright. Vertical subway tile draws the eye upward, making the walls seem taller and the ceiling higher. Subway tiles can be stacked in tidy rows or in an offset pattern, depending upon the look you want. To make pattern stand out, use grout that contrasts with the color of the tile.
At Meridian Homes, we specialize in luxury remodeling and custom home building in the Washington, DC area. Our mission is to create exceptional residences that exceed expectations. Our highly personalized design process and careful management of every project have earned us a reputation over many years for outstanding client service and solid, beautiful craftsmanship. Contact us today to begin your custom home or remodeling project.