How To Choose A Fireplace That Fits Your Decor And Your Lifestyle
A beautiful fireplace can be a striking architectural feature and focal point in a room. During the chilly fall and winter months, a roaring fire warms your home and provides an inviting, cozy gathering place for your family and friends. Incorporating a fireplace into the design of your new custom home or your newly remodeled home can increase its value. Choose the type and style of fireplace that will fit your budget, work with your home's structural considerations, and meet your personal preferences. Our guide offers detailed information and tips that can help you decide what is right for you.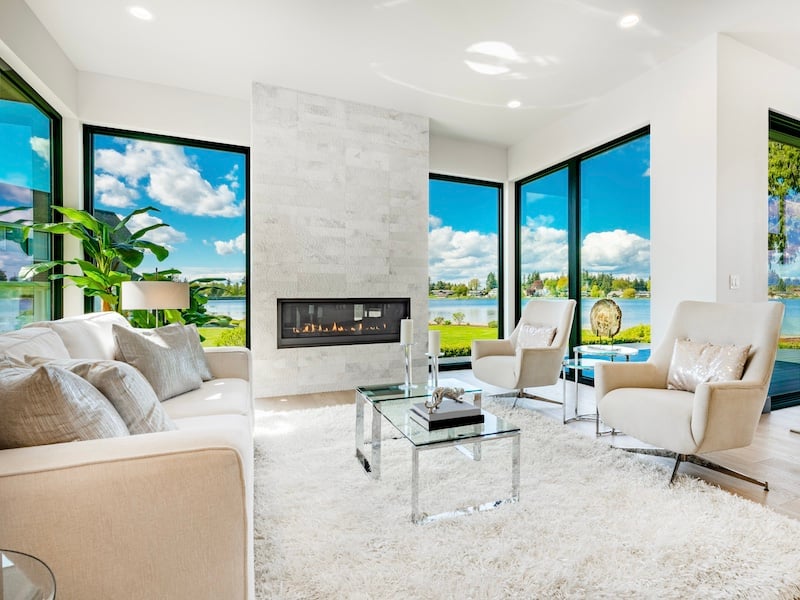 Types Of Fireplaces
Wood-Burning
Wood-burning fireplaces have been the standard in homes for centuries. There is nothing like curling up in front of a wood-burning fireplace; the crackle and smell of the wood is impossible to replicate with alternative systems. However, a wood-burning fireplace requires a masonry or metal chimney for ventilation and regular inspection and cleaning for safety.
1. Open Masonry Fireplace
Masonry is defined as a technique that involves stacking brick, stone, or concrete to build a structure. Mortar is used to fill gaps and bind the materials together. A traditional masonry fireplace is custom-crafted on-site when a new home is constructed or as part of a major remodeling project. This type of fireplace is comprised of an open firebox, a chimney, a hearth, a damper, and other components that make it expensive to build. The open design does not offer an efficient heating source for your home, but it is attractive. A fire should never be left unattended in an open masonry fireplace since sparks can fly and ignite materials inside your home.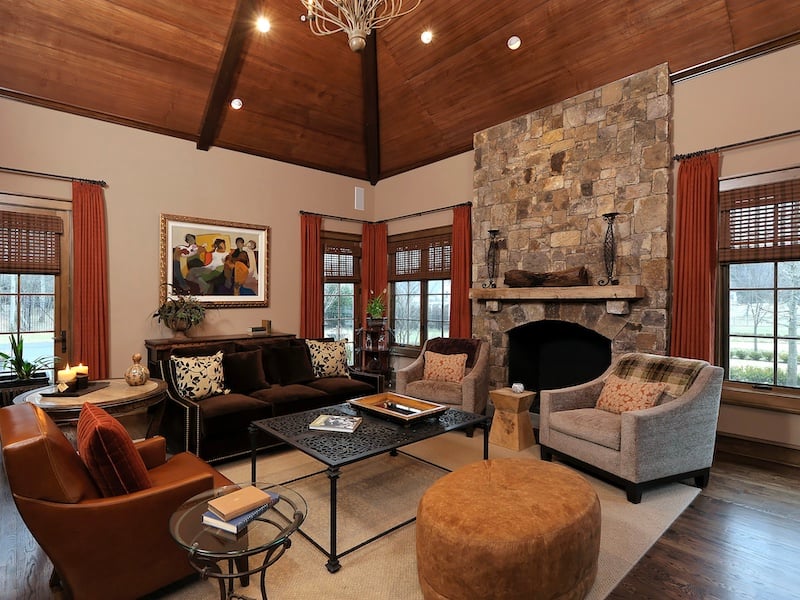 2. Fireplace Inserts
If your masonry fireplace needs a facelift, consider a wood-burning insert. A sealed firebox is placed inside your masonry fireplace and is vented through the existing chimney framework. A wood-burning fireplace insert not only transforms the look of your fireplace, it will generate plenty of heat because it has a blower that pushes the hot air into the surrounding area, which raises the temperature. As with a traditional masonry fireplace, the burning wood should always be monitored, and the firebox and chimney must be cleaned out periodically.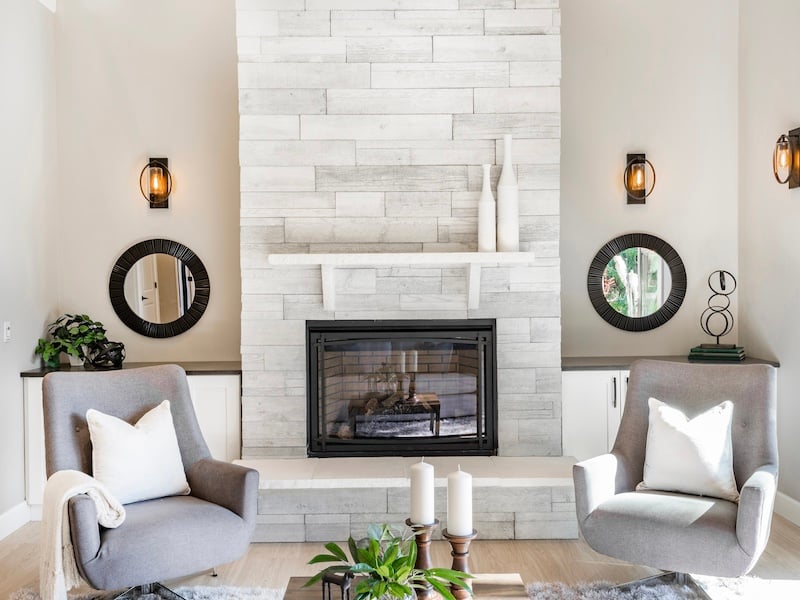 3. Prefabricated Fireplace
Manufactured in an off-site factory, this type of wood-burning fireplace is an alternative to a masonry fireplace and chimney. Prefabricated fireplaces are constructed of metal sheets that are often made to mimic the look of brick or stone. These fireplaces come with metal chimneys that extend through the roof and are typically enclosed with siding or a faux brick housing. Prefab units are designed with heating efficiency in mind as they are equipped with blowers that transfer heat into the immediate area inside a home. To meet with building and safety codes, a prefabricated fireplace and chimney should be installed by a qualified contractor.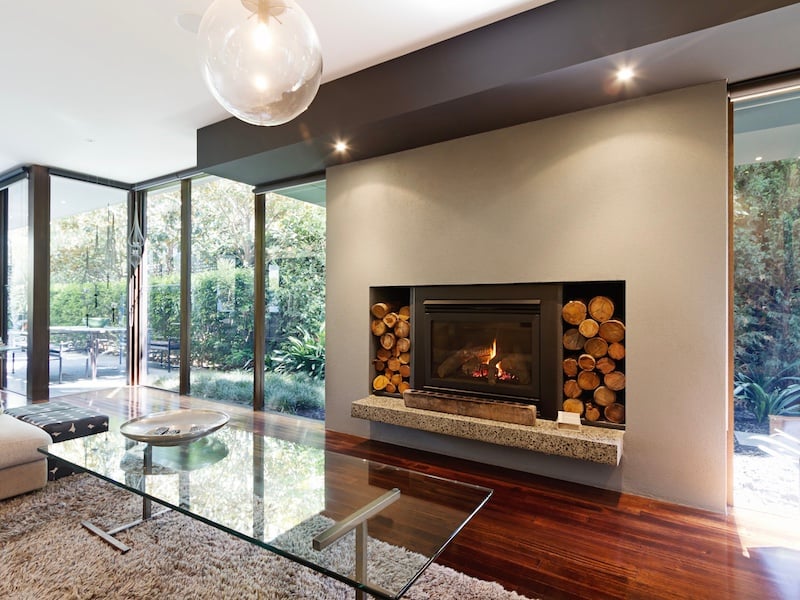 Natural Gas
Gas fireplaces provide an energy-efficient heat source at the touch of a button. They may lack the romantic appeal of a wood-burning fireplace, but with a fireplace that is connected to a natural gas line, there is no need to split and haul wood, and the flame and heat levels can easily be adjusted for comfort. In addition, natural gas burns without smoke, does not create embers, and produces flames that are more realistic looking than those from electric fireplaces. Some traditional wood-burning fireplaces can be converted to gas. Keep in mind, while rare, gas leaks in a home can be exceptionally dangerous, so be sure that your new fireplace is installed by a qualified professional. There are two primary types of gas fireplaces - direct vent and ventless - so you will need to determine which best suits your home before making a purchase.
1. Direct Vent
A direct vent fireplace can be set up with or without a traditional chimney. This type of fireplace uses a sealed vent system that simultaneously pulls in cold, fresh air from the outdoors for combustion and pushes the exhaust gases safely outside the home, either through a chimney or a metal pipe. The fire heats the room from behind tempered glass for safety. Since direct vent fireplaces release all emissions outside, they promote a healthy air quality inside the home.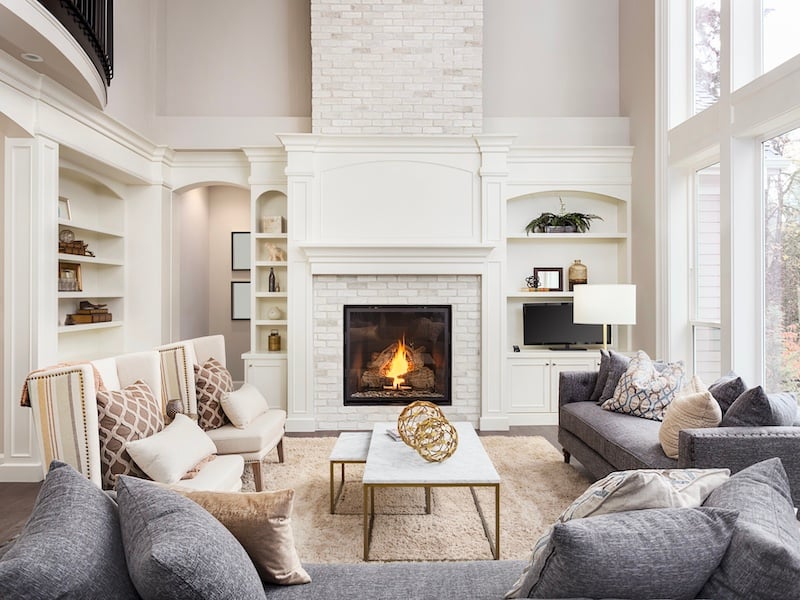 2. Ventless
A ventless gas fireplace is ideal for a home without a chimney because venting to the outdoors is not required. Ventless gas fireplaces can be placed in a wide range of locations throughout a home, from family rooms to bathrooms. They are highly energy efficient and cost less to purchase and install than a fireplace that needs venting. However, there are drawbacks with ventless gas fireplaces. For instance, they emit pollutants into the home, potentially causing health issues. They generate condensation that can build up on certain surfaces and that can create a moist environment where mold can grow. Finally, ventless gas fireplaces can produce odors that some homeowners may find unpleasant.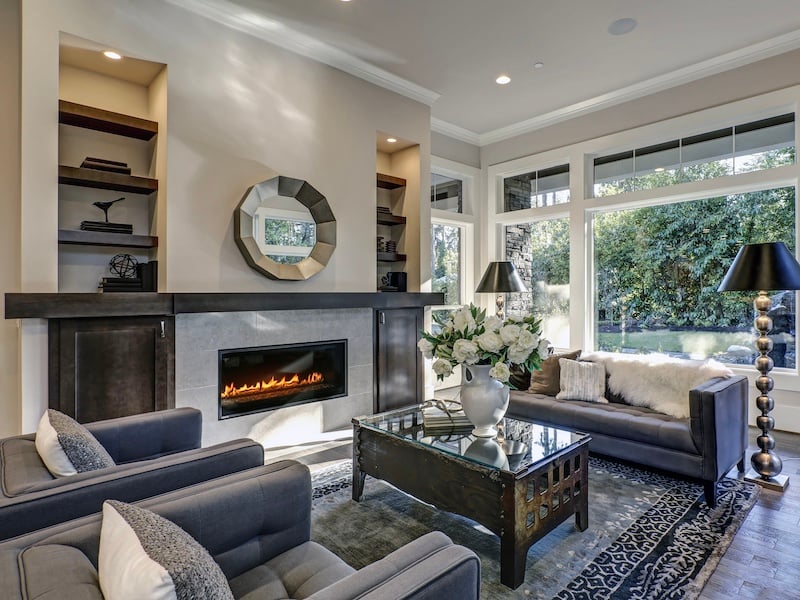 Electric
Electric fireplaces are essentially heaters that are designed to mimic the look of a conventional fireplace. They are ideal for condos or other residences where chimneys and vents are impossible to install. They are inexpensive, simple to plug in and keep clean, but if the power goes out, so does your heat source. The flames generated by electric fireplaces do not look real because they are created by projecting LED lights onto a screen or mirror in a randomized pattern. Electric fireplaces do not produce the same level of heat as gas or wood-burning fireplaces.
1. Mantel Fireplace
Electric fireplace mantels house a firebox and can sit flush against a wall, or they can be placed in a corner. Most units will require assembly of the mantel surround. Upon completion, the electric fireplace insert slides inside the opening. The entire unit can then be plugged into the wall.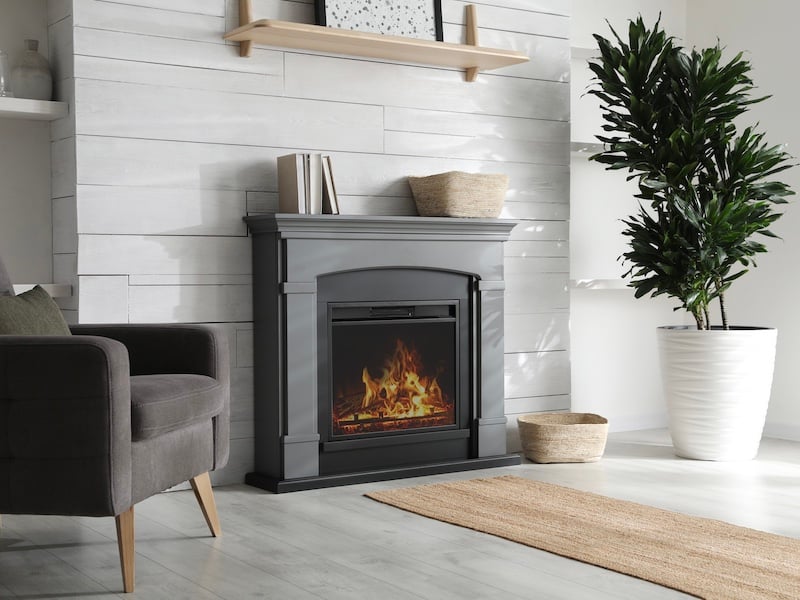 2. TV Stand Fireplace
These freestanding units feature a centrally located electric fireplace insert, a place for a TV on top, and storage on either side. Perfect for small spaces, these units range in style from contemporary to rustic.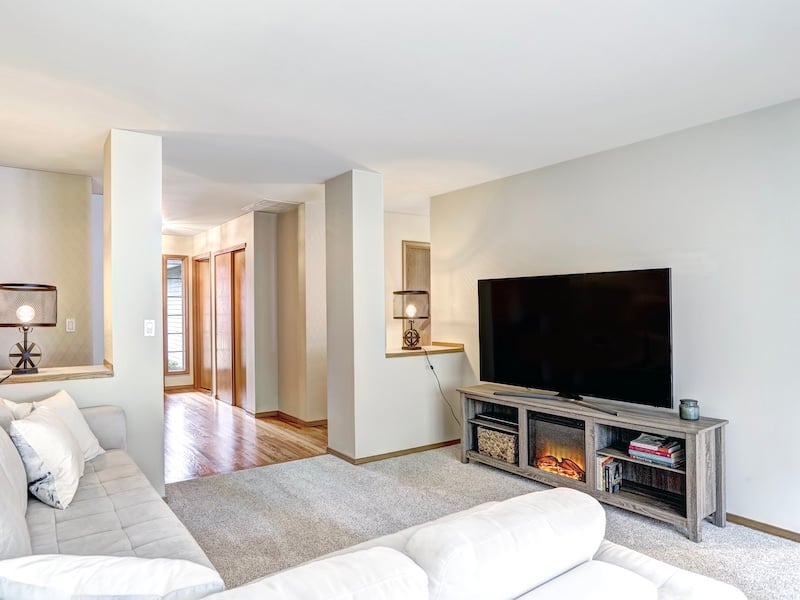 3. Wall-Mounted Fireplace
Wall-mounted electric fireplaces are designed to be recessed into drywall and require professional installation to be in accordance with building codes. Typically, these fireplaces are linear and contemporary. Some models offer multi-sided views so you can enjoy your fireplace from different angles.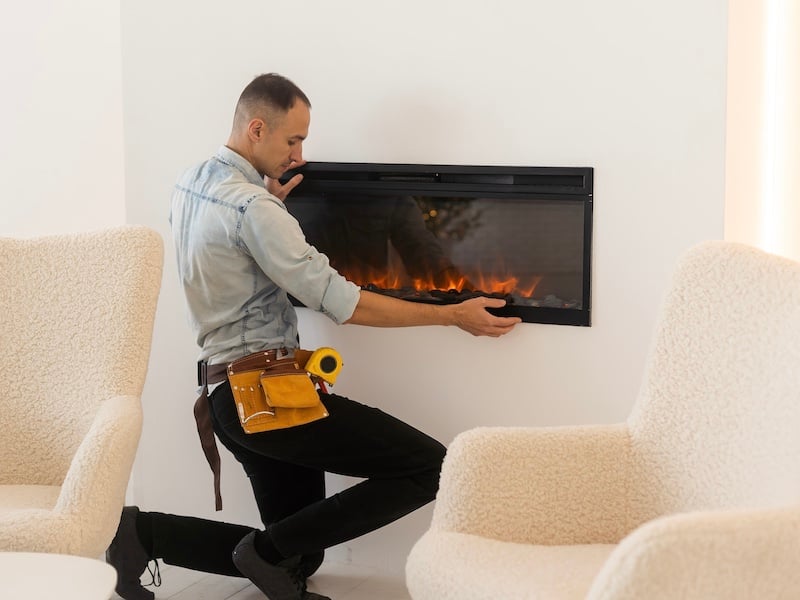 Styles Of Fireplaces
Floor-To Ceiling Surround
A floor-to-ceiling fireplace surround makes a statement, draws the eye upward and transforms a space. Choose from a wide variety of materials such as marble, limestone, stacked stone, concrete, or wood and create a look that works with your overall decor.
1. Marble Slabs
A marble fireplace surround fits in seamlessly with a modern, minimalist style. Slabs of gray marble softly contrast with white walls, while a black firebox adds depth and contrast for a sleek look.
2. Random-Sized Stone with a Wood Mantle
Floor to ceiling stone is an impressive design feature. This random-sized stone combined with a reclaimed wood mantelpiece create a rustic, yet updated, look in this family room.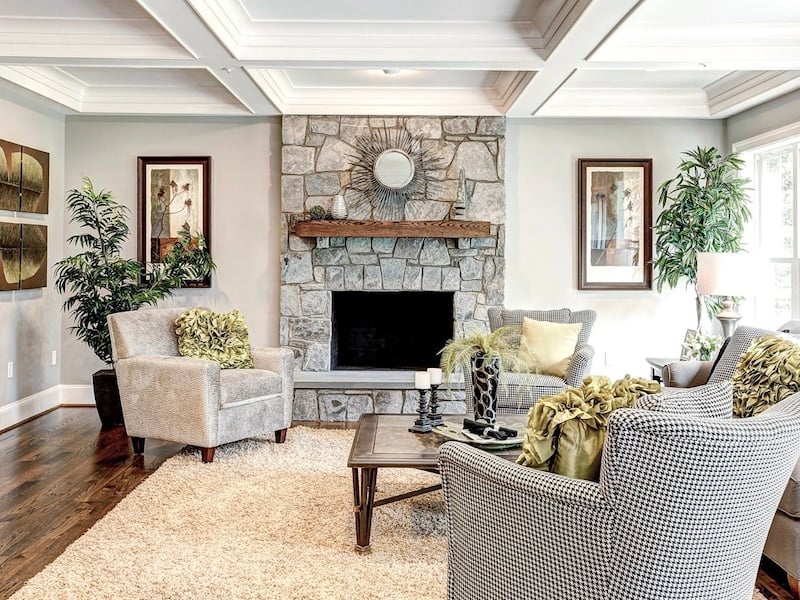 3. Limestone Bricks
Limestone bricks make up this floor-to-ceiling fireplace surround which is the focal point of this lovely farmhouse-style living room.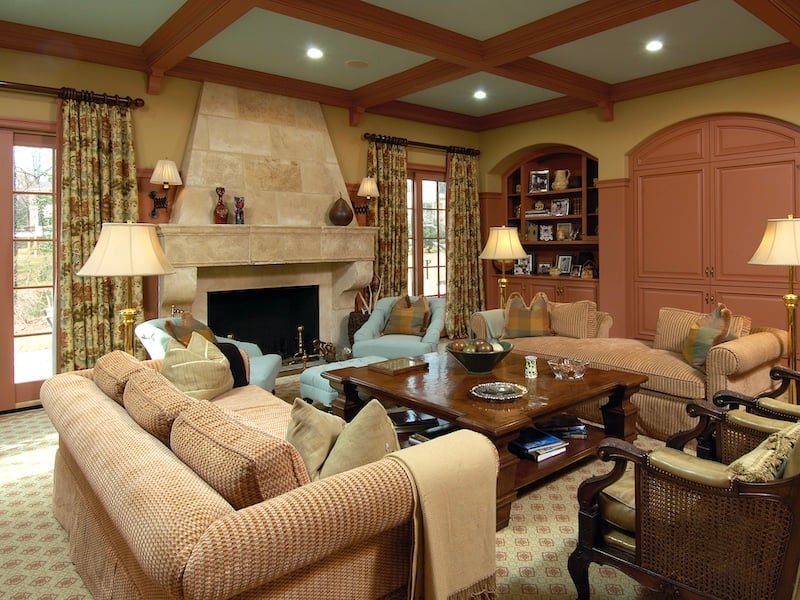 4. STACKED STONE WALL
This breakfast-sitting room combination boasts a floor-to-ceiling stacked stone wall with a gas fireplace and TV built right in. Custom cabinetry on either side of the fireplace has room for storage and shelving to display cherished items.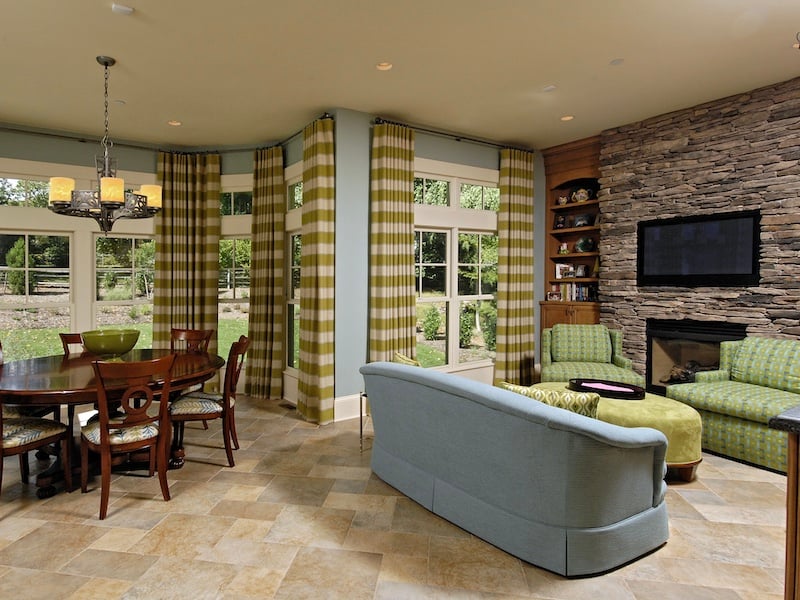 5. Painted Wood Mantelpiece with Limestone Surround
The floor-to-ceiling wood around the fireplace and built-in cabinetry are painted in a warm cream tone to lighten and brighten this gorgeous room. The limestone surround and hearth add texture and warmth to the overall look of this modern-style fireplace.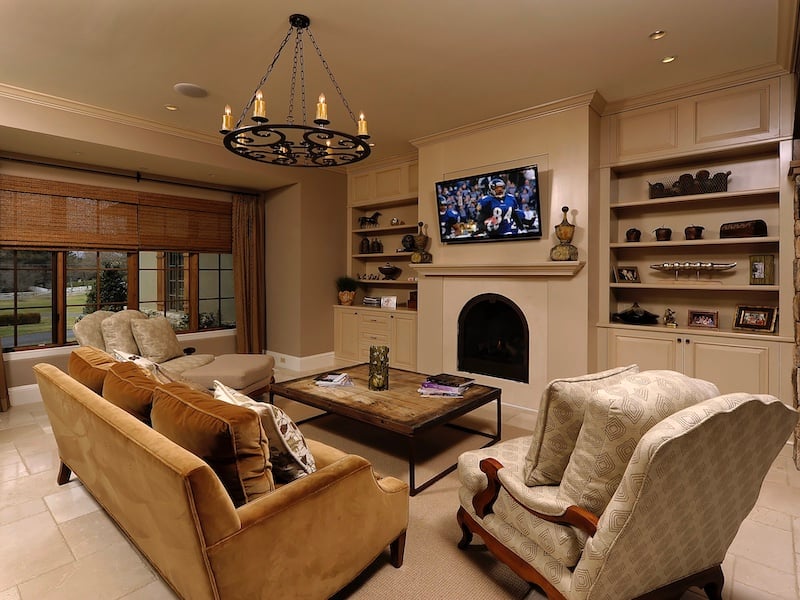 6. Painted Wood Panels
This floor-to-ceiling painted wood fireplace is designed in a transitional style, meaning not traditional and not contemporary, but somewhere in between. The inset-panel woodwork is striking, yet not overbearing, in the space. On a cold winter day, this gas fireplace warms the family room and the adjacent kitchen, too.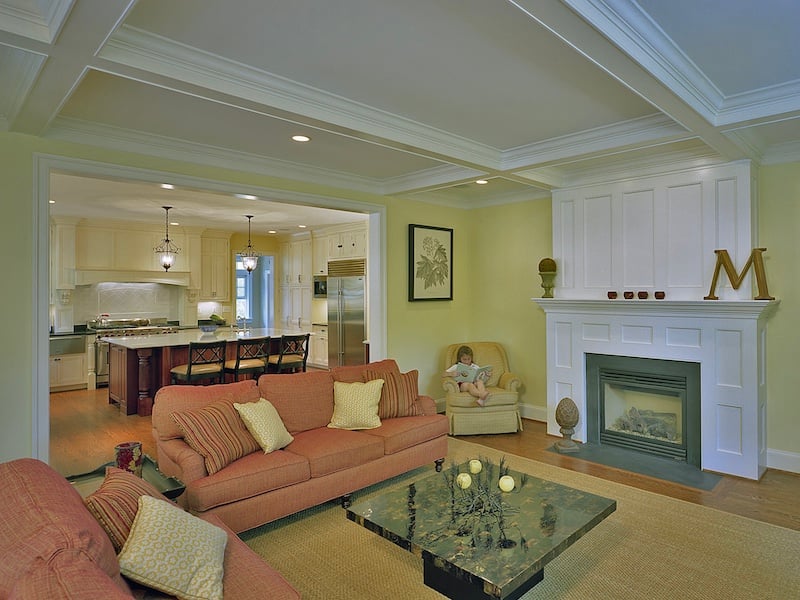 7. Limestone Slabs
Imagine relaxing in bed on a cold morning with a fire blazing in this beautiful fireplace! In keeping with the bright and airy design of the bedroom, light-colored limestone slabs are used for the fireplace surround and raised hearth.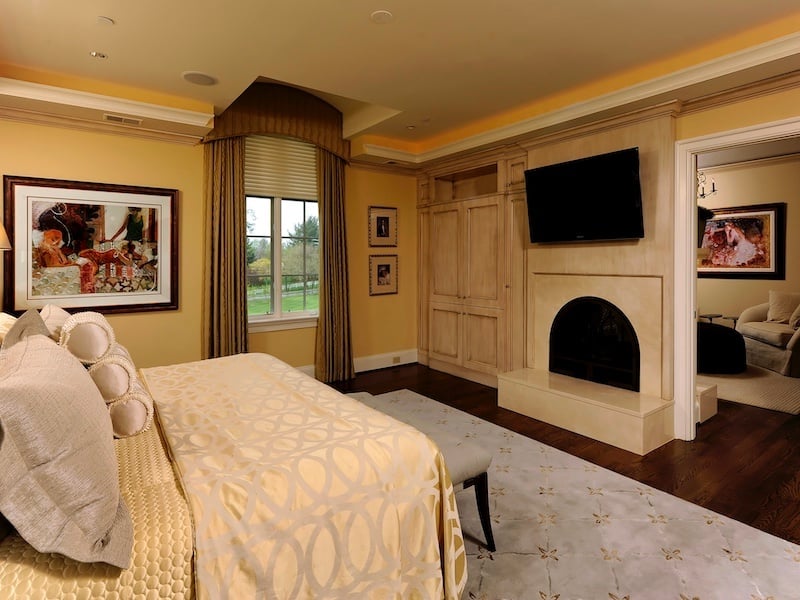 Linear Style
A linear fireplace is rectangular in shape and suitable for modern or contemporary spaces. This style of gas fireplace is usually installed in a wall with an oversized surround made of stone, wood, or concrete. Some linear fireplaces can be placed in an freestanding block that can be viewed from two sides, or they can wrap around a corner of a wall.
1. Decorative Front Screen
This linear fireplace has a decorative front screen for a personalized, unique look. The natural wood, floor-to-ceiling surround is perfect for a beach home or in a room with Scandinavian-style decor.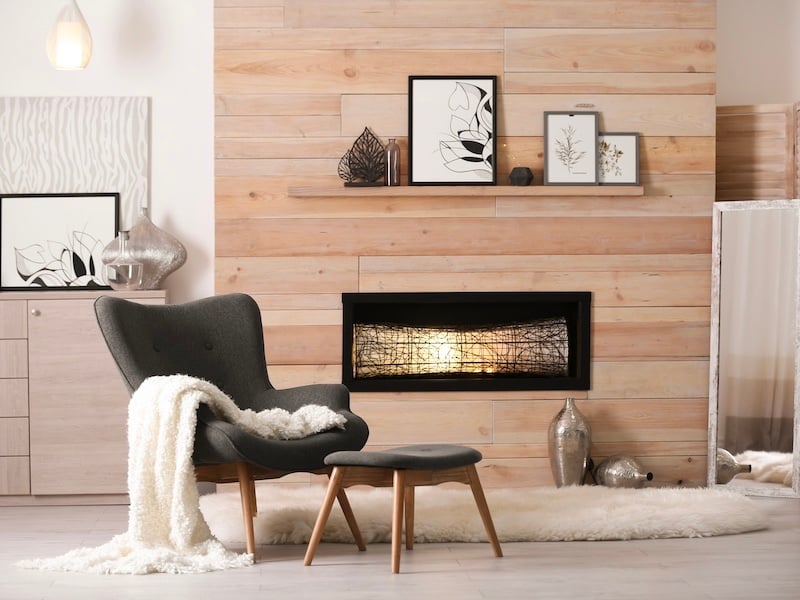 2. Recessed In Natural Stone Surround
A floor-to-ceiling light-colored, limestone fireplace surround is the focal point of this family room. The linear fireplace is recessed into the wall for a clean, modern look.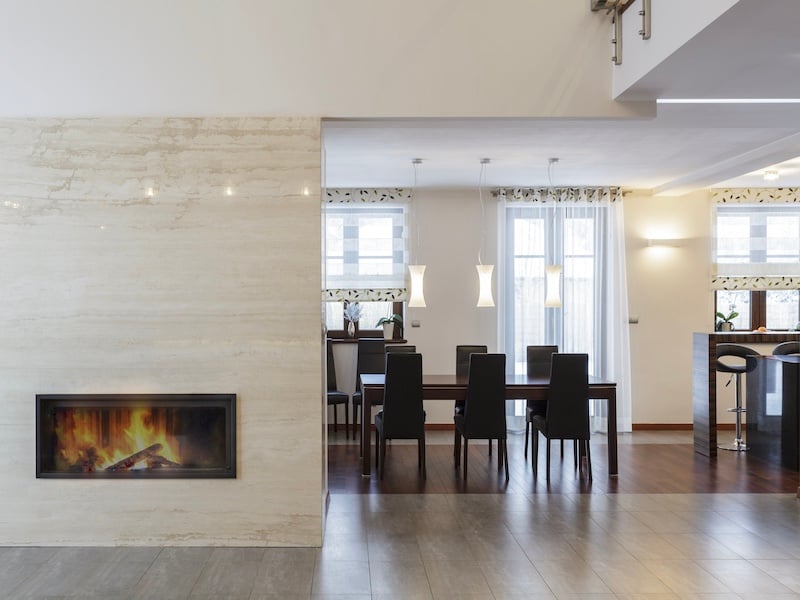 3. Wrap-Around Style
Linear fireplaces are available in models that wrap-around the corner of a wall for a truly custom look. Other models can be installed in a freestanding block so the fireplace can be seen from two different rooms.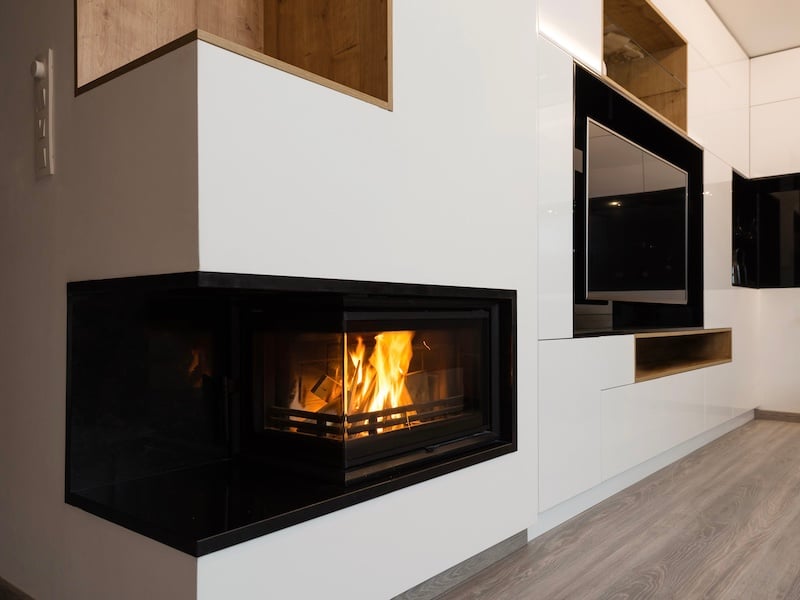 4. Tiled Wall Surround
The black firebox of this long, narrow linear unit pops against the white tile that runs from floor-to-ceiling. The light-wood floors and neutral colors in this room work perfectly with the contemporary style of the fireplace.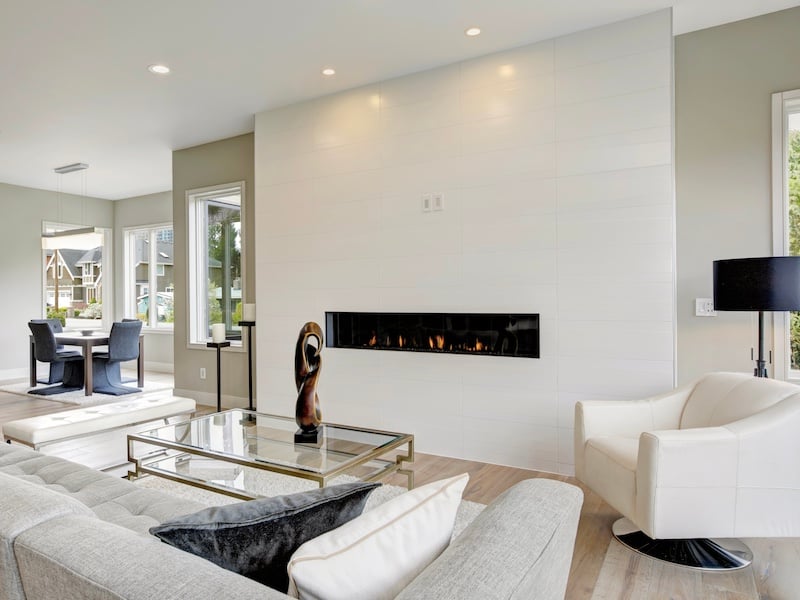 Mantel Surround
A mantel surround is the architectural detail that frames a fireplace opening. Fireplace mantel surrounds are available in a wide array of styles from contemporary to classic, and in different materials from concrete to wood. They protect the walls around the firebox from flames and smoke, and provide a place to showcase artwork and collectibles.
1. Cast Concrete
Few materials can compete with cast concrete when it comes to versatility. Cast concrete mantel surrounds can be custom made in any shape or style, allowing you to choose the height, design, and color that will complement your home's decor.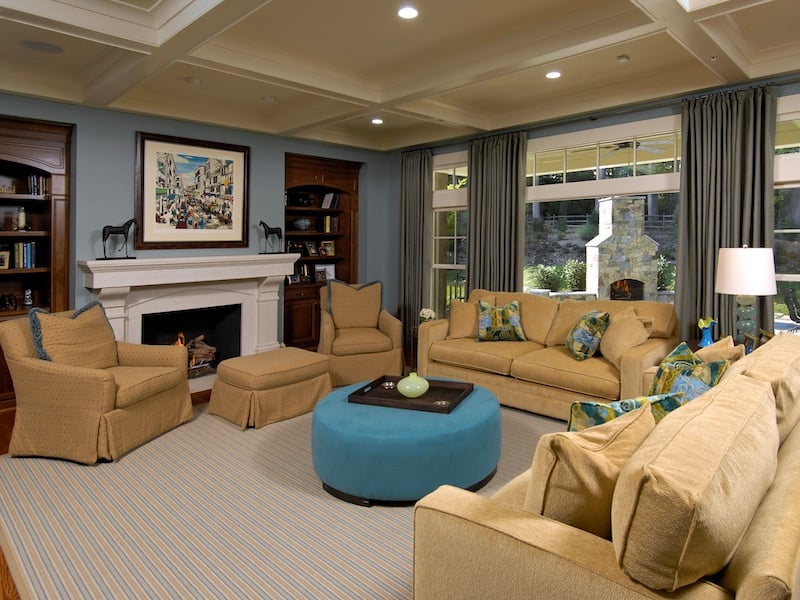 2. Freestanding, Double-Sided Mantel Surround
If your style is modern, this freestanding mantel surround may be right for you. The double-sided design allows you to enjoy the fireplace from the kitchen or the family room.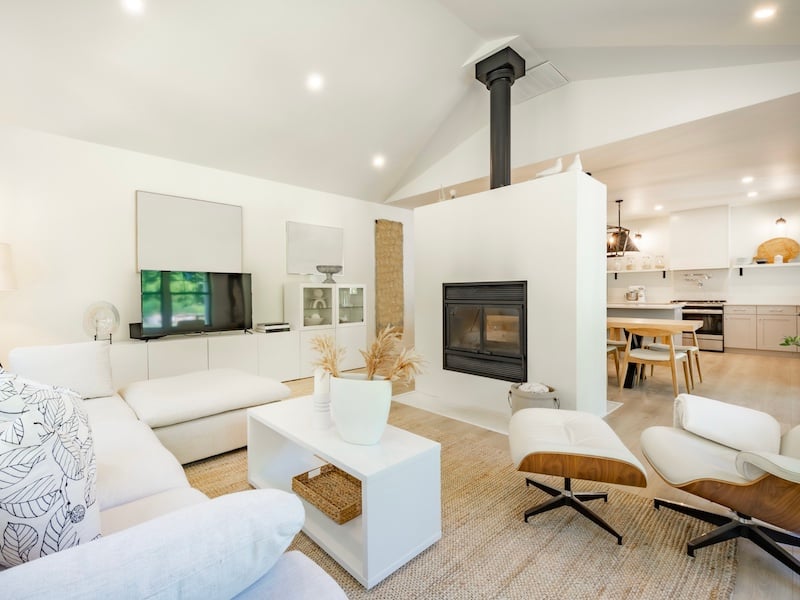 3. Ornate Mantle Surround with Flush Hearth
This traditional-style fireplace features a painted wood mantel surround with ornate detailing. The dark marble hearth is set to be flush with the hardwood floor for a clean look.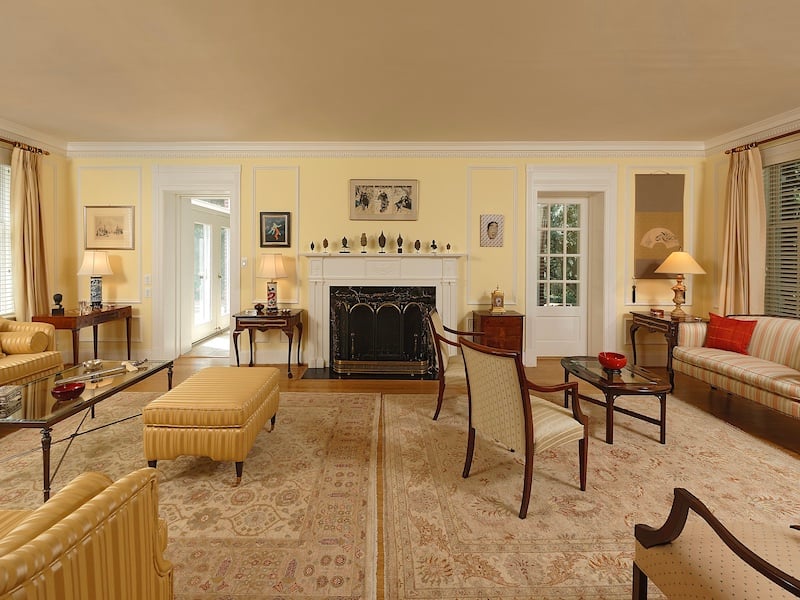 4. Dark Wood and Marble Mantel Surround
This dark wood mantelpiece is traditional in style, but the chocolate marble surround gives the fireplace an updated feel. The smaller scale of this fireplace is perfect for a modestly sized family room.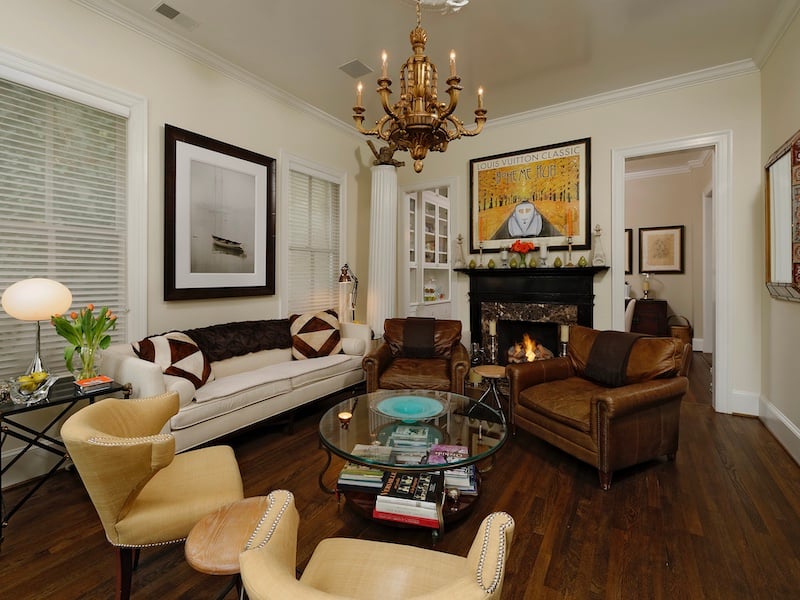 5. Stained Wood and Marble Mantel Surround
The ultimate in pampering: soaking in the bathtub while a cozy fire warms the room! The wood mantelpiece matches the vanity and tub paneling, and the white marble used for the floors is repeated in the fireplace surround to create a cohesive look in this gorgeous bathroom.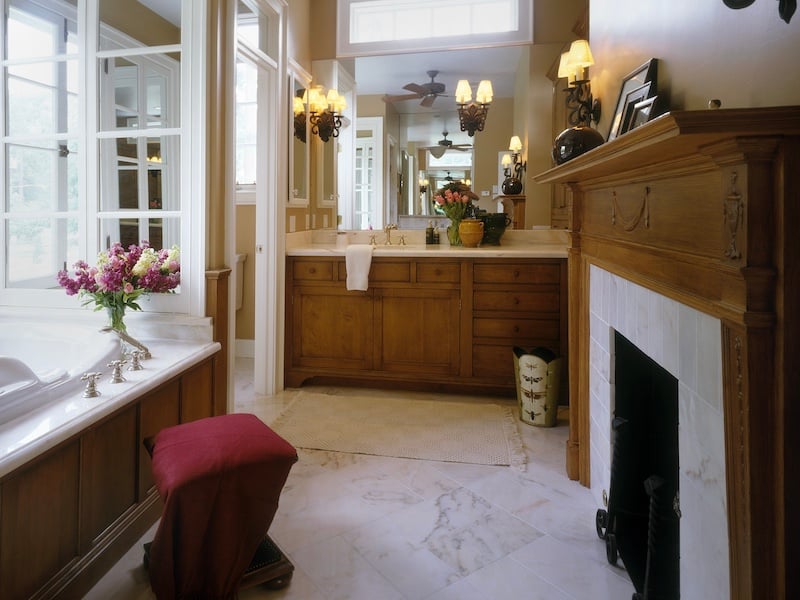 At Meridian Homes, we specialize in luxury remodeling and custom home building in the Washington, DC area. Our mission is to create exceptional residences that exceed expectations. Our highly personalized design process and careful management of every project have earned us a reputation over many years for outstanding client service and solid, beautiful craftsmanship. Contact us today to begin your custom home or remodeling project.