Arts and Crafts Architecture and Home Design
The Arts and Crafts movement began in Europe in the late 1800's and gained popularity in the United States at the turn of the 20th century. The term 'Arts and Crafts' refers not to one particular style, but rather a specific approach to design. It is based on the idea of high-quality craftsmanship that is coupled with an informal and less ornate type of architecture than was fashionable during the Victorian era.
Today's Arts and Crafts style homes tend to have a blend of traditional elements of the movement, while embracing more modern, spacious floor plans and updated color palettes. For instance, great rooms that open to large kitchens are now the norm, and lighter-colored painted wood is replacing darker stained wood. The melding of simple, clean lines with up-to-date design allows for many interpretations of the Arts and Crafts aesthetic. To see a video that shows the exterior and interior of a modern Arts and Crafts style home, click here.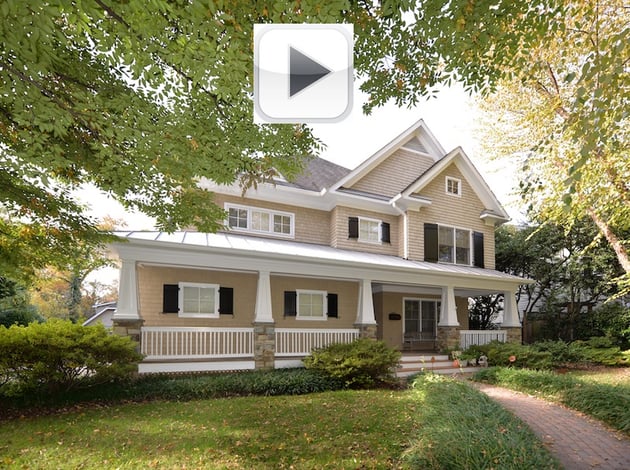 Identifying Features of Arts and Crafts Architecture and Home Design
1. Exterior
Some overarching identifying hallmarks of the exterior of an Arts and Crafts style home are:
Low-pitched front or side gabled roof
Exposed roof rafters with large brackets
Generous front porch with thick square or round columns and wide stone or wood piers
Wood, stone or concrete siding with a natural appearance
Windows with multi-paned top sashes and single-paned bottom sashes
2. Interior
Characteristics of the interior of an Arts and Crafts style home typically include:
Open free-flowing floor plan
Natural materials used throughout such as wood and stone
Wide door and window trim
Stone fireplace
Built-in cabinetry
Warm, natural color palette for decor
Types of Arts and Crafts Architecture
There are several types of architecture that are aligned with the Arts and Crafts movement.
1. The American Foursquare
A Foursquare home has a boxy shape and a hipped roofline, with all sides sloping downward to meet the walls with no gables. A wide porch with box-style posts and dormer windows are also trademarks of a Foursquare style home.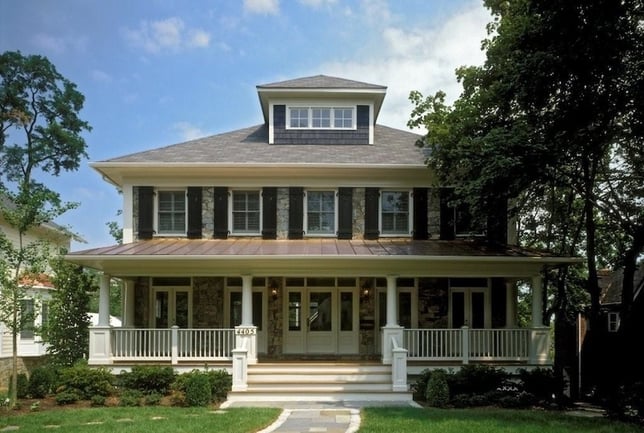 2. The Craftsman-Style Bungalow
Craftsman-style bungalows were originally designed to be modest in size, and with only 1 to 2 stories, they were very low to the ground. They became popular in the United States in the early 1900's because of their simplicity and affordability. The bungalow style has evolved over time and has been adapted for a modern aesthetic. Bungalows with 3 stories and more expansive floor plans appeal to homeowners who need more space but still want a Craftsman-style residence.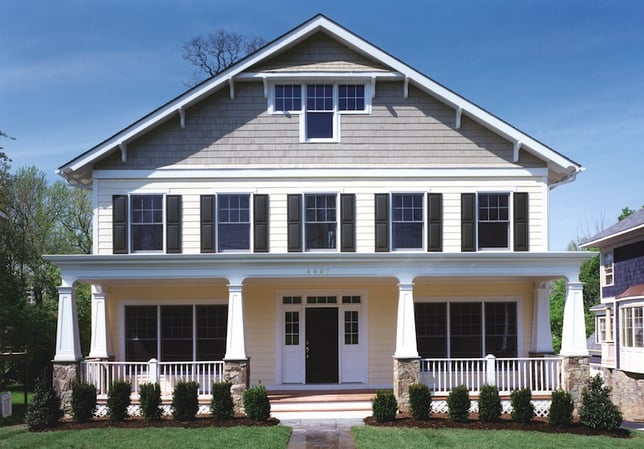 3. The Prairie-Style Home
Frank Lloyd Wright made the Prairie-style home famous. The intent was to design homes that harmonized with the horizontal landscape of the American Midwest. Therefore, Prairie homes are low-slung and have low-pitched rooflines with overhanging eaves. This type of home is known for free-flowing, open interior space, rows of small, square windows that allow in a lot of natural light and the use of natural materials inside and out.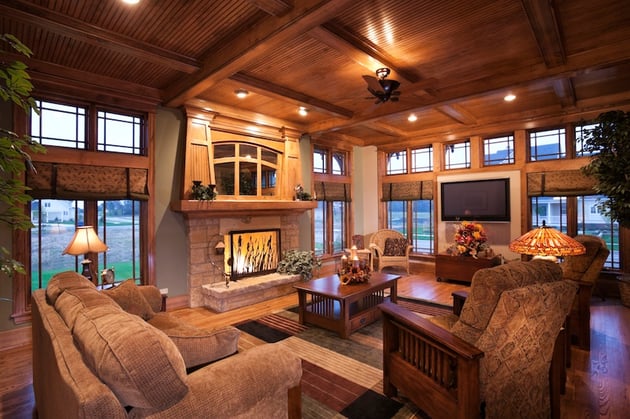 8 New Trends In Custom Home Design
Tile and Natural Materials For Kitchens