Learn About The Pros And Cons For Each Option
There are so many materials available for countertops these days - from natural stone to engineered products - it's hard to know what to choose for your kitchen. Whether you are remodeling your kitchen or building a new custom home, your countertops need to complement your decor, work with your lifestyle, fit your budget and be functional. Need some guidance? Here are the pros and cons for 15 of the most popular kitchen countertop materials.

1. Quartz
Quartz countertops are made from an engineered composite of ground quartz, resin and pigment. The result is an extremely durable material that is non-porous, generally stain resistant and scratch resistant. Quartz countertops do not have to be sealed and are virtually maintenance free. Depending upon the look you choose, quartz countertops can be at home in traditional or modern kitchens since they are available in a wide range of colors, in almost any pattern you can imagine and in matte or glossy finishes.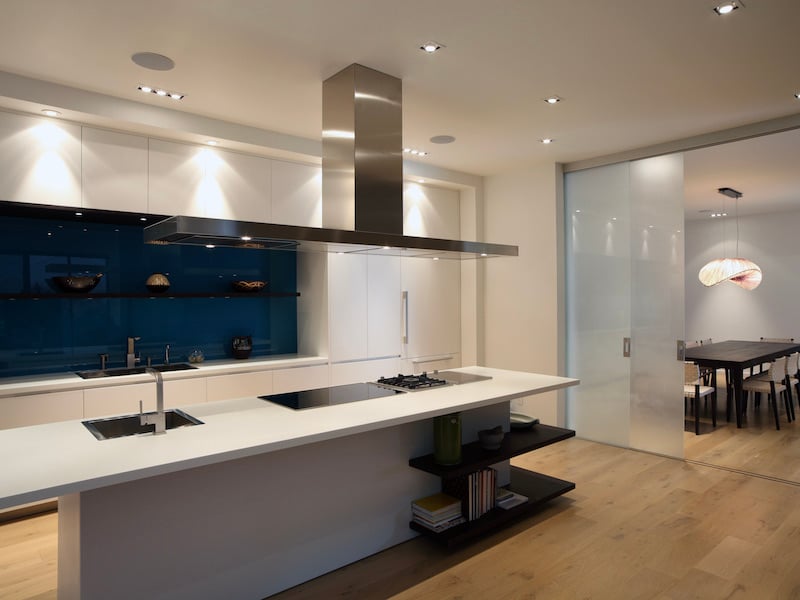 2. Polished Granite
Polished granite countertops are a popular choice for their durability, glossy look and high-end appearance. Since granite is a natural stone, each slab is unique. Variation from slab to slab in color, veining, pattern, hue and price is to be expected. Once you narrow down the type of granite that you like, make sure you visit a supplier to choose the actual slabs that you want. Then ask the countertop fabricator to lay-out a template of your new countertop on the granite slab so that you can see where the various cutouts for your sink and appliances will be to ensure that your favorite part of the stone will be visible and not discarded. Also, request that all joints are constructed with minimal disruption of the pattern in the granite. To keep your countertops looking good, a sealant should be applied yearly.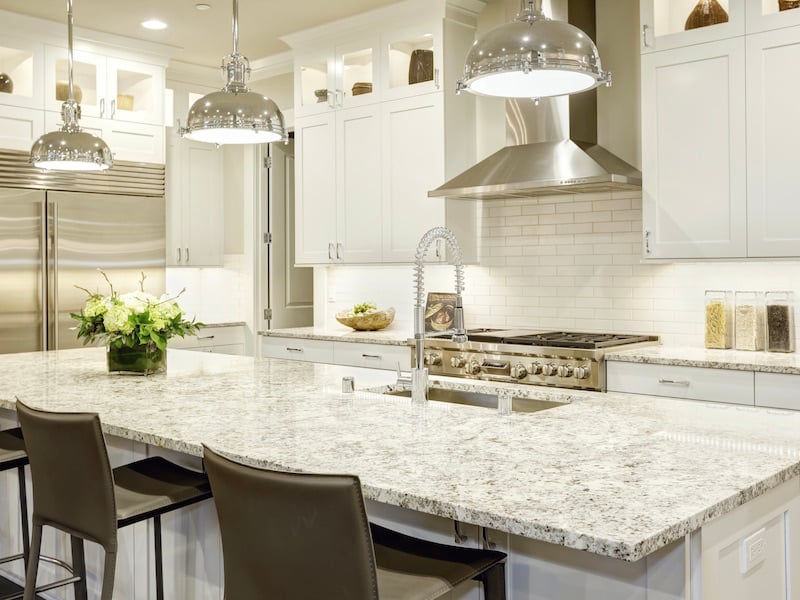 3. Honed Granite
If you prefer a soft, matte finish instead of a glossy look, then honed granite may be the right choice for you. Just like its polished counterpart, honed granite is durable and generally resistant to scratching, chipping and heat. Applying a sealant annually will keep this natural stone looking great.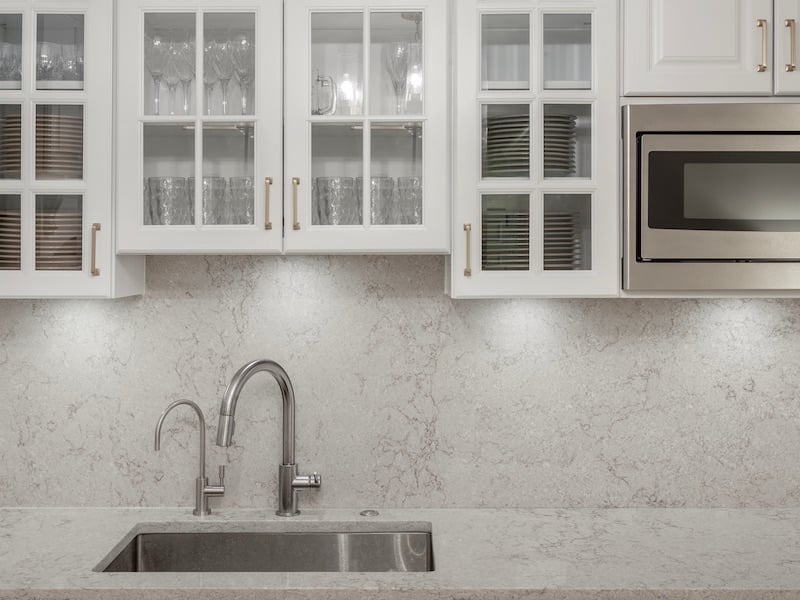 4. Marble
Marble adds elegance to a kitchen. It is a natural stone and is available in a wide range of colors. Countertops are made from slabs of marble, and the variations in veining give each piece a distinct appearance. The cool temperature of marble often makes it the first choice for avid bakers. However, this material is very porous and soft, which leaves it prone to staining and scratching. Marble countertops need to be cleaned with mild detergents and sealed regularly.
Custom Home Design and Construction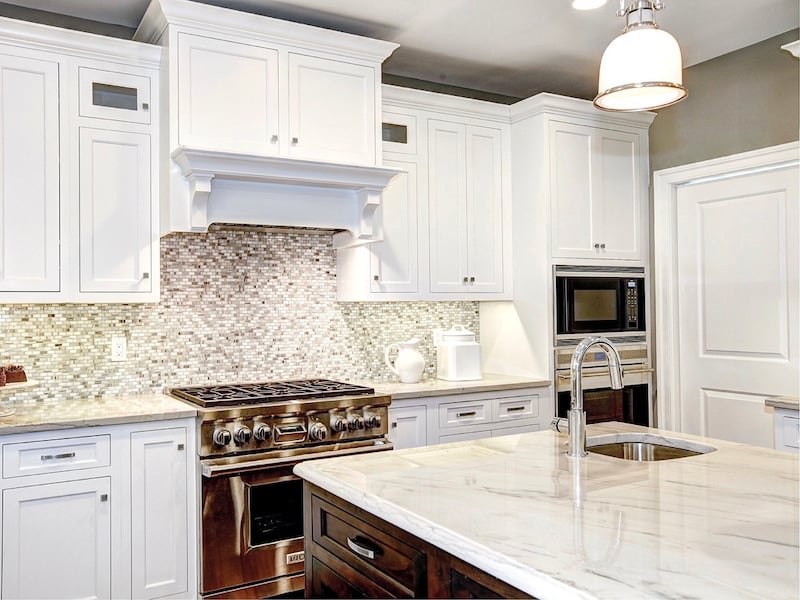 5. Soapstone
Soapstone is a natural material composed mostly of mineral talc. It is non-porous and largely impervious to stains, heat and bacteria which makes it well-suited for use in a kitchen. Soapstone has visible veining yet is smooth to the touch. It is softer than some other types of natural stone, so expect some nicks and scratches. Regular application of mineral oil will help to minimize the appearance of wear and tear. Slabs that are green in tone tend to be the softest, so choose an architectural-grade slab that is grayer in tone. Over time, soapstone will deepen to a charcoal color.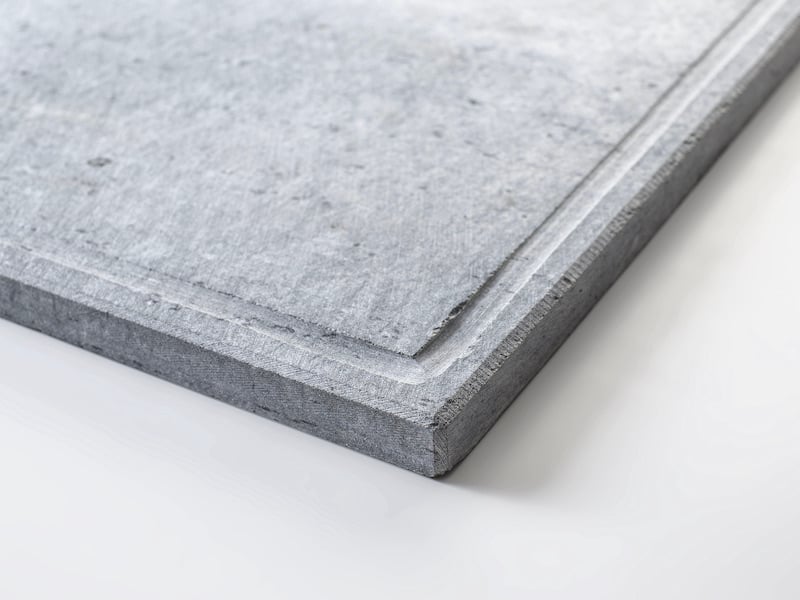 6. Solid Surface
Solid surface countertops are manufactured into slabs using a blend of acrylic, resin, fillers and pigments. This product is highly durable, non-porous, stain resistant, bacteria resistant and is available in a variety of colors and patterns. Since this material is engineered as one piece with no joints, solid surface countertops can provide a seamless appearance, especially when the countertop and sink are integrated. Thermosculpting is used to mold the material during the manufacturing process, so creating almost any custom shape for an island countertop is possible. However, solid surface countertops are not indestructible and are susceptible to damage from cutting implements and heat.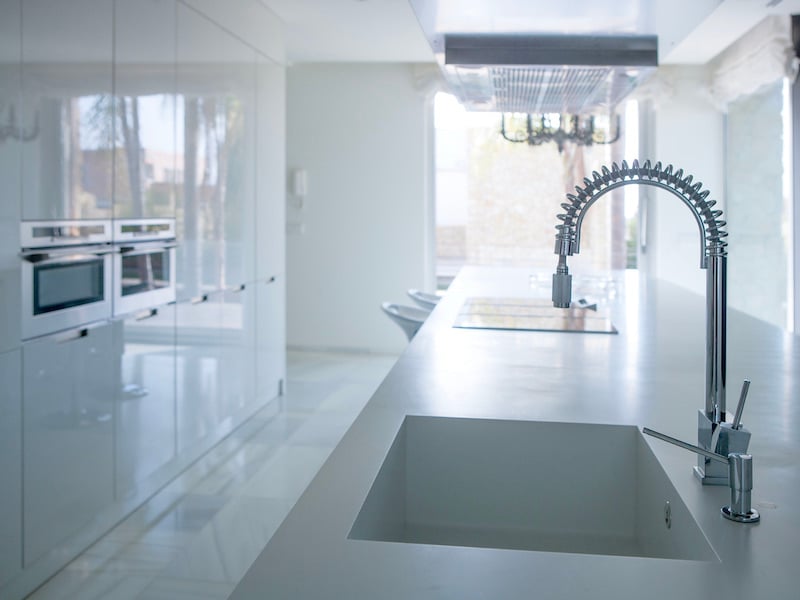 7. Concrete
Concrete is a highly customizable and very durable material to use for kitchen countertops. Concrete countertops are either pre-cast or cast-in-place and can be designed in almost any shape or size. Pigments can be mixed with the wet concrete to color the full depth of the slab. Aggregates can be added to create a texturized appearance to the concrete. Or, a wide variety of tints, dyes, and coatings can be applied to the dried concrete allowing for total customization and a completely unique-looking countertop. This material does need to be properly sealed to help prevent against stains and bacterial build-up, and harsh cleansers should never be used. Sometimes, hairline cracks can appear as a result of curing and settling, especially when the countertops are cast-in-place.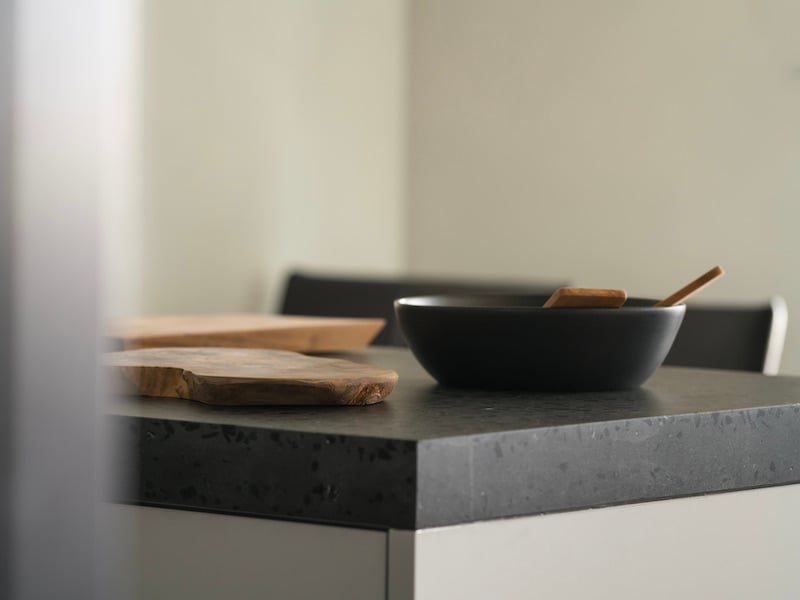 8. Stainless Steel
Stainless steel countertops have an industrial, modern look and can be ideal in a contemporary kitchen. This type of countertop can be custom-made in almost any shape or size. Stainless steel is heat and stain resistant, and since it is impervious to bacteria, it's easy to keep clean and hygienic. Be aware that stainless steel will show scratches, dents and fingerprints, so be careful about using it as a cutting surface.
Home Remodeling Design and Construction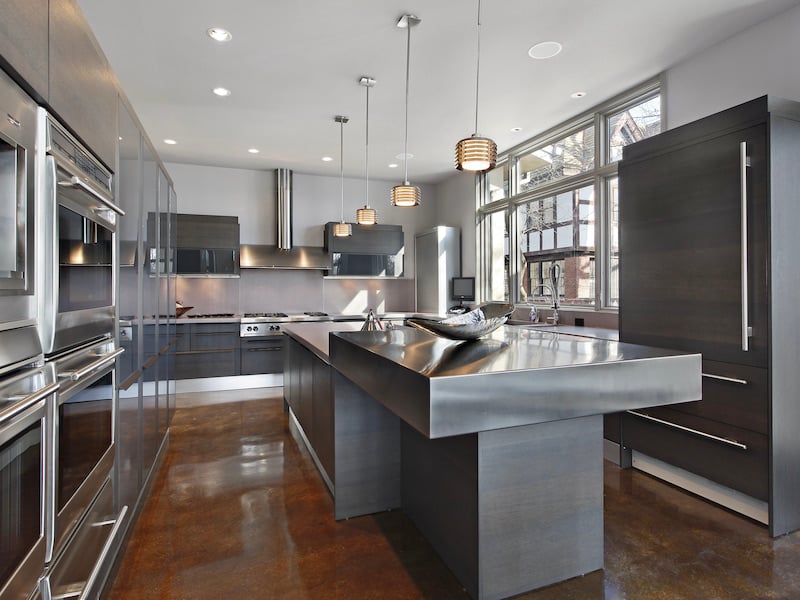 9. Glass
Glass is another highly customizable material for countertops, as it can be cut into almost any shape, comes in many textures and is available in a variety of colors. Glass countertops may be a great choice for a contemporary kitchen. Glass is stain resistant and easy to clean, but it can be expensive. To ensure optimal durability, choose tempered glass that is at least 1 inch thick.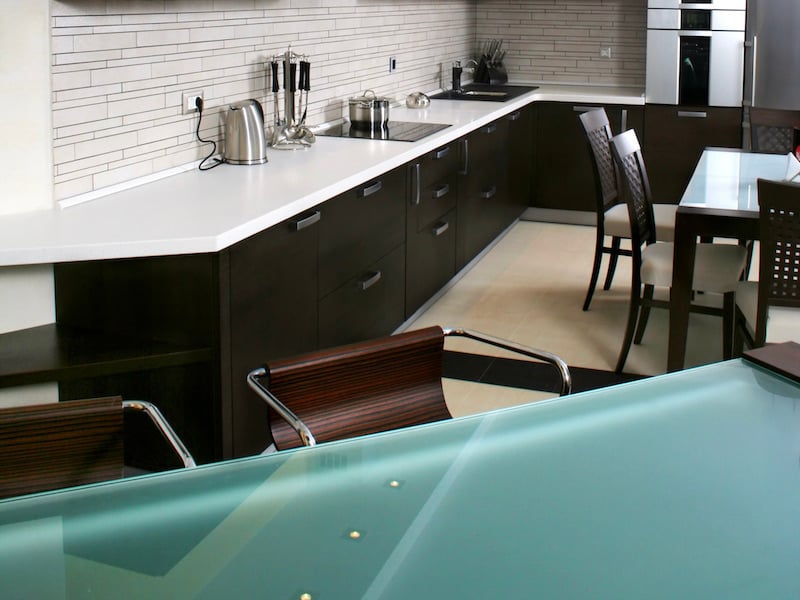 10. Wood
Want a warm, homey look in your kitchen? Then a wood countertop may be the right choice for you. If it is properly and regularly maintained, a high-quality wood surface can be functional as well as visually appealing. Often, designers choose a wood surface for the top of an island and a different material for the other countertops in the kitchen for a truly custom look.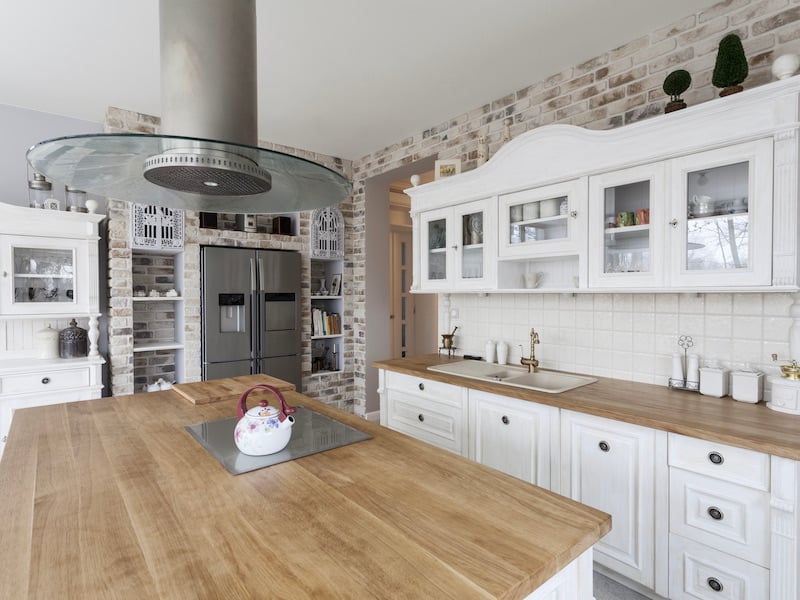 11. Tile
Tile, available in either stone or ceramic, is one of the least expensive materials for kitchen counters. Stone tiles will need a sealant, whereas glazed ceramic tile is non-porous and does not need to be sealed. Grout is used between the tiles, and it can be a challenge to keep clean. Minimize the space between the tiles so that grout lines are thin. Most grout needs to be sealed regularly to prevent staining and bacterial build-up.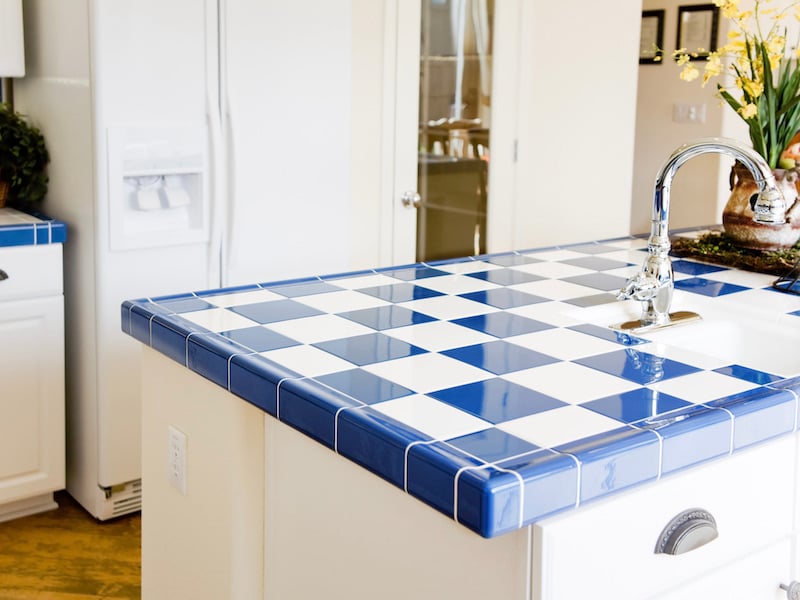 12. Copper
A copper countertop is unique for the character that it adds to a kitchen. Copper can be used in a wide variety of applications, from modern to traditional. The appearance of copper, including its patina and shine, changes over time, but that is part of its appeal. Oxidation and tarnishing will occur if the surface is not properly, and regularly, sealed. Copper is a soft metal that is easily scratched and dinged from daily wear and tear: a distressed finish will show these imperfections less than a shiny finish. Some copper is antimicrobial which makes it resistant to bacteria and it is easily cleaned with soap and water.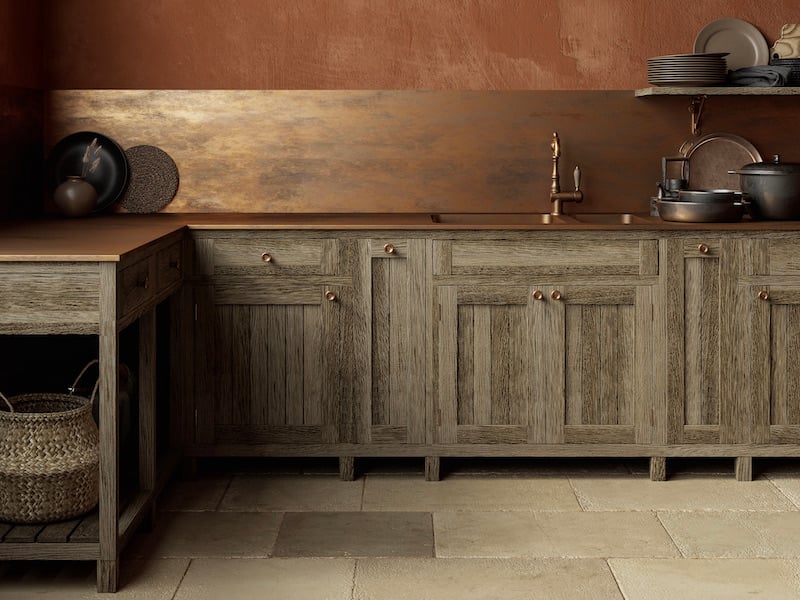 13. Laminate
Laminate is the most affordable material that you can choose for your kitchen countertops. A thin veneer is bonded to plywood or particleboard to create the countertop. Today's laminate countertops are manufactured with various edge profiles, from bullnose to bevel, and you can choose from a variety of colors, patterns and finishes. Laminate countertops are not very durable, so heat or cutting implements can damage them. No sealants or special cleansers are required for this man-made product.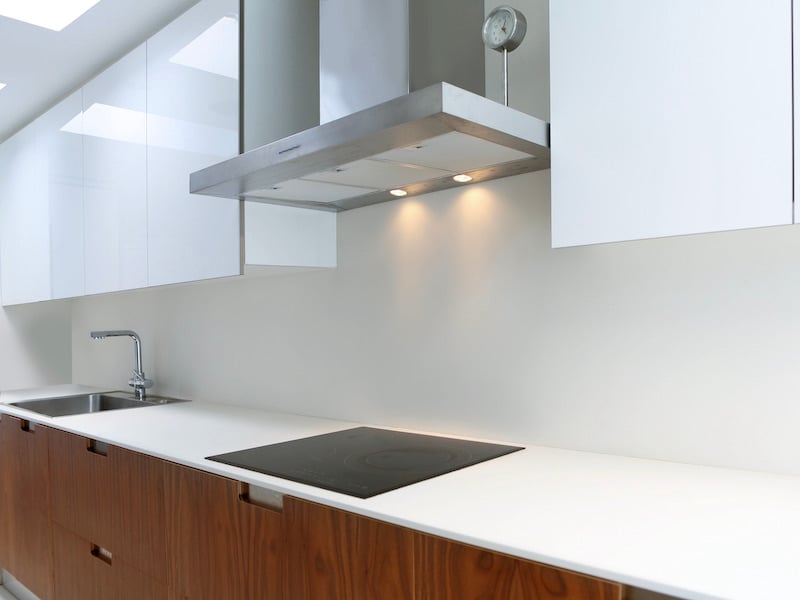 14. Eco-Friendly
These days, there are several types of materials for countertops that are eco-friendly and look great. Eco-friendly means using recycled or sustainable materials such as bamboo, reclaimed wood or recycled composite paper. In addition, the manufacturing process should be "green" and low in toxic emissions. To ensure eco-friendly compliance, look for certifications from independent organizations such as the Forest Stewardship Council that ensures responsibly harvested wood or GreenGuard that certifies building products for low chemical emissions.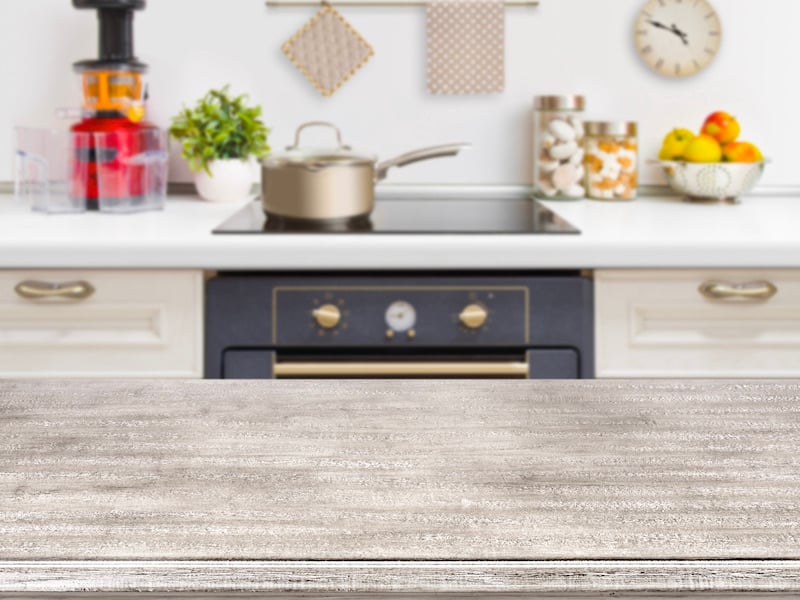 15. Recycled Glass and Concrete
For a truly unique look, mix recycled glass with cement and resin, and then add some pigment. The result is a countertop that resembles terrazzo tile and is very eco-friendly, highly durable and requires little maintenance. The unique look will be visually impactful and the focal point in any kitchen.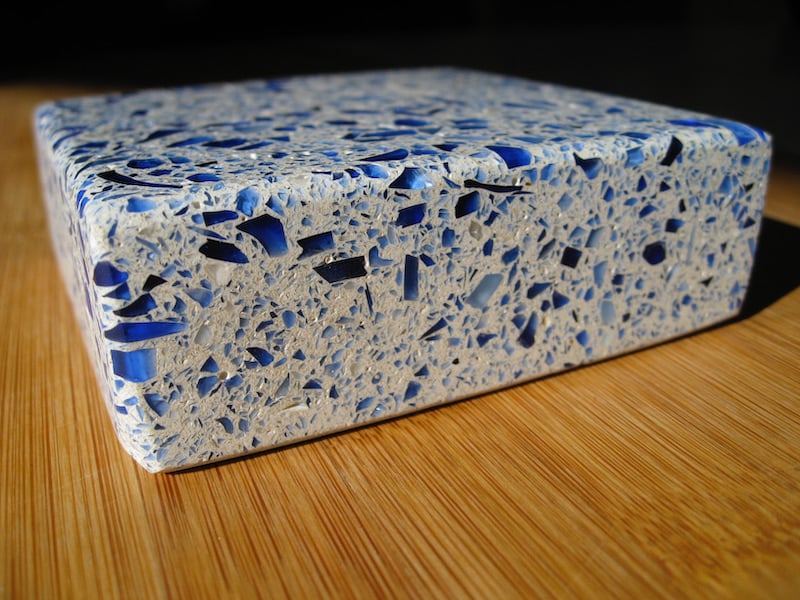 At Meridian Homes, we specialize in luxury renovations and custom home building in the Washington, DC area. Our mission is to create exceptional residences that exceed expectations. Our highly personalized design process and careful management of every project have earned us a reputation over many years for outstanding client service and solid, beautiful craftsmanship. Contact us today to begin your custom home or remodeling project.