Here's Where Fashion Meets Function
Bathrooms are designed to be more spa-like, luxurious and less utilitarian than ever before. If you are planning for a new custom home or renovation, take note of these 10 new bathroom design ideas that will inspire you.
1. Floating Vanities
One trend in bathroom design is toward a sleek, modern look with clean lines. In this bathroom, dark wood floating cabinetry contrasts with white flooring and walls to create a contemporary feel. Heated floors and towel racks are luxurious additions this light and airy space.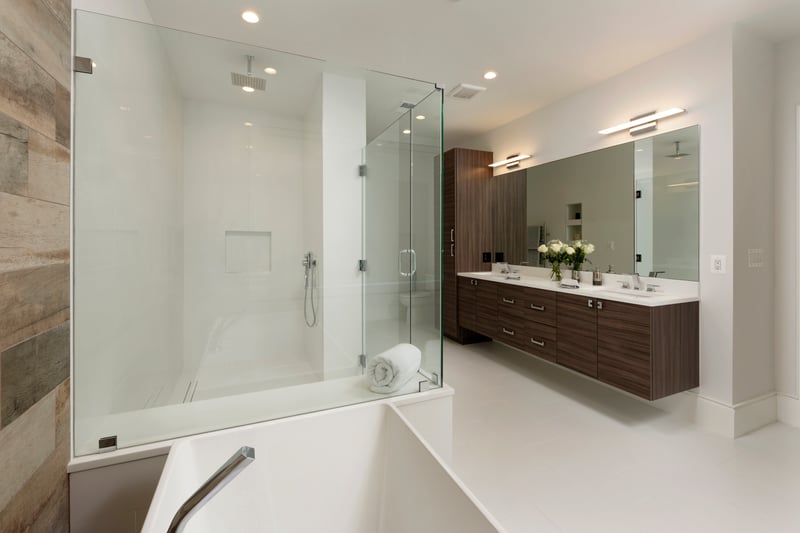 2. Painted Cabinetry With Brass Accents
Painted cabinetry pops against a neutral background. Pairing navy blue with brass accents adds a quality of classic elegance to this lovely master bathroom.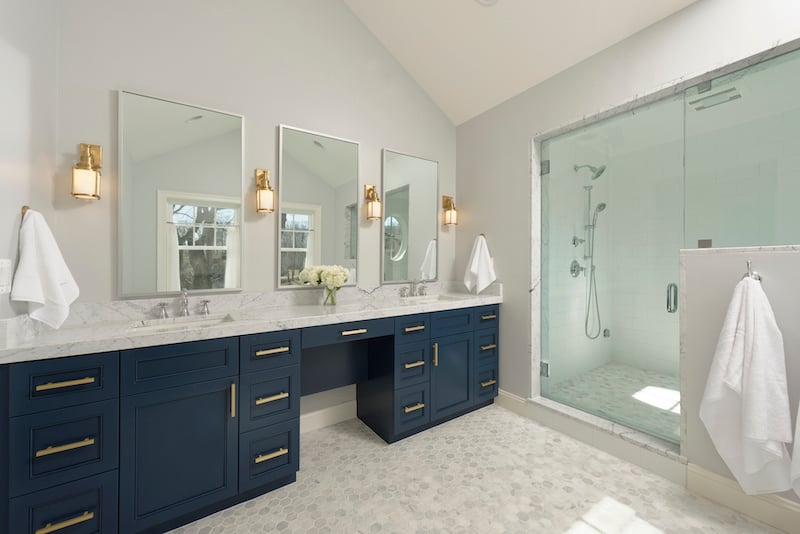 3. Sculptural Freestanding Or Soaking Tubs
A sculptural freestanding or soaking tub can be a striking focal point in a bathroom, as well as a peaceful place to relax.While planning for your renovation or new custom home, think about making your master bathroom a luxurious retreat where you can escape the pressures of the day in a zen-like space.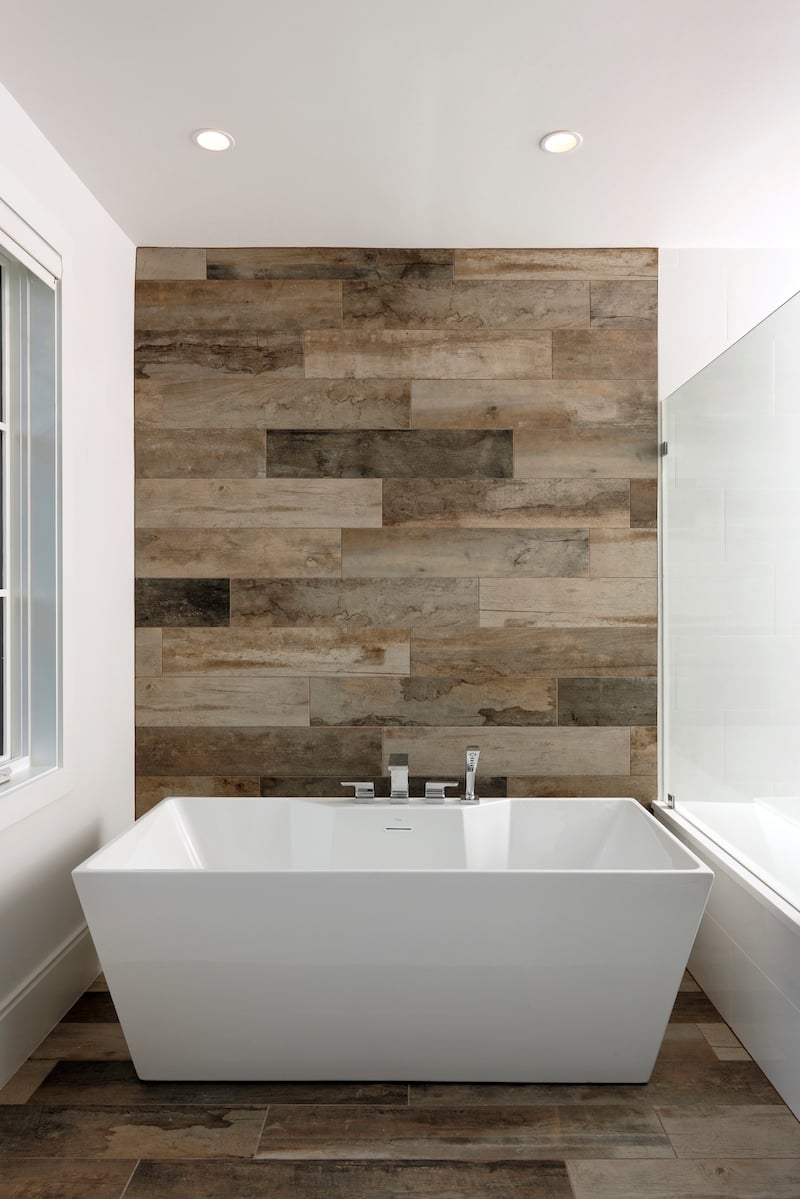 4. Frameless Glass Shower Enclosures
Frameless glass shower enclosures offer a clean, modern look. Since there is no visual obstruction, frameless enclosures can also showcase an accent wall inside the shower made of interesting tile, stone or other materials.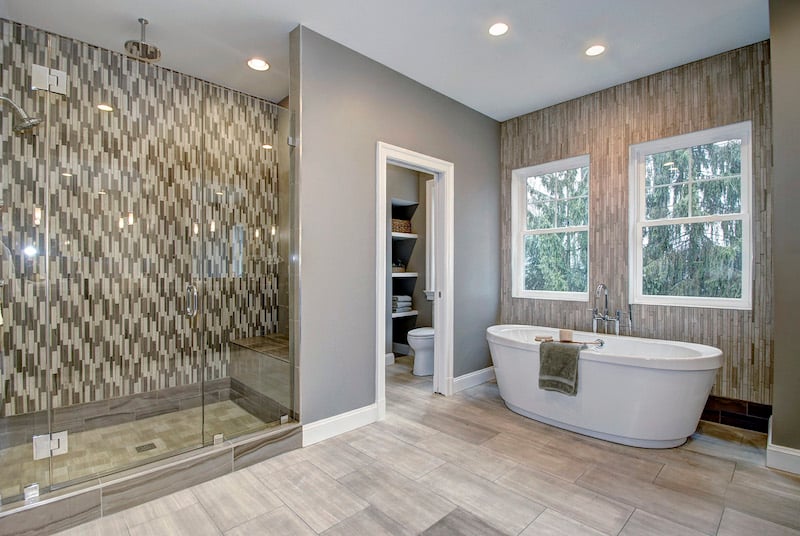 5. Mix In Neutral Colors
Stark white bathrooms are out. Mix in other neutrals, such as gray, to provide a depth of color that is not overpowering in a small room.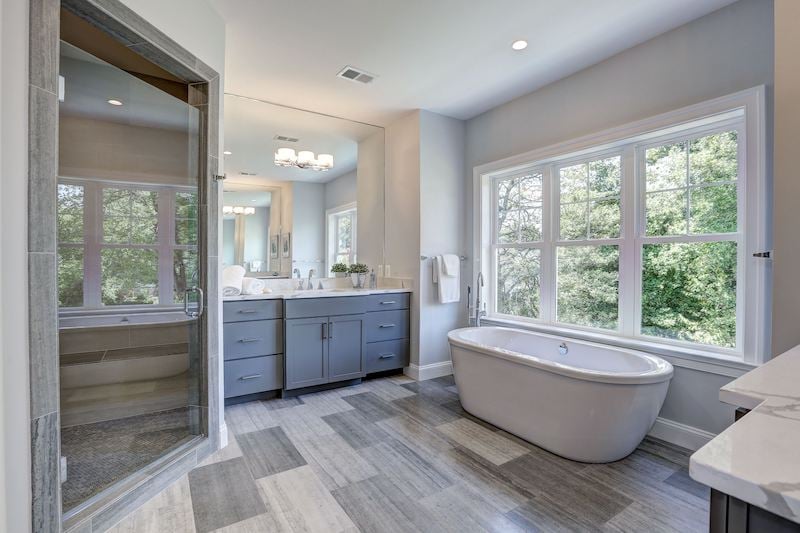 6. Statement Tile
Bold, geometric tiles add visual interest to a bathroom and can make a statement. Just be sure to limit the use of patterned tile to a small area so the look is not overwhelming.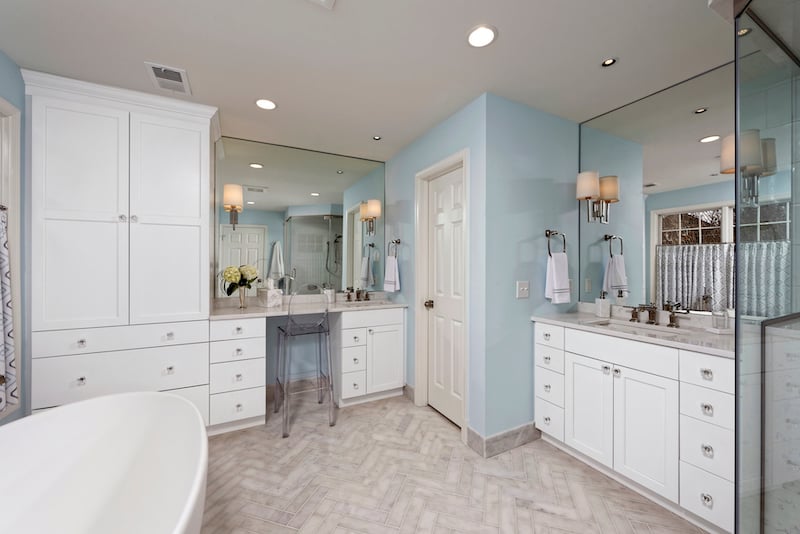 7. Bring The Outdoors In
Want a calming, natural quality to your space? Use wood-look materials in your bathroom. This design trend can bring the outdoors in, while still maintaining an updated aesthetic.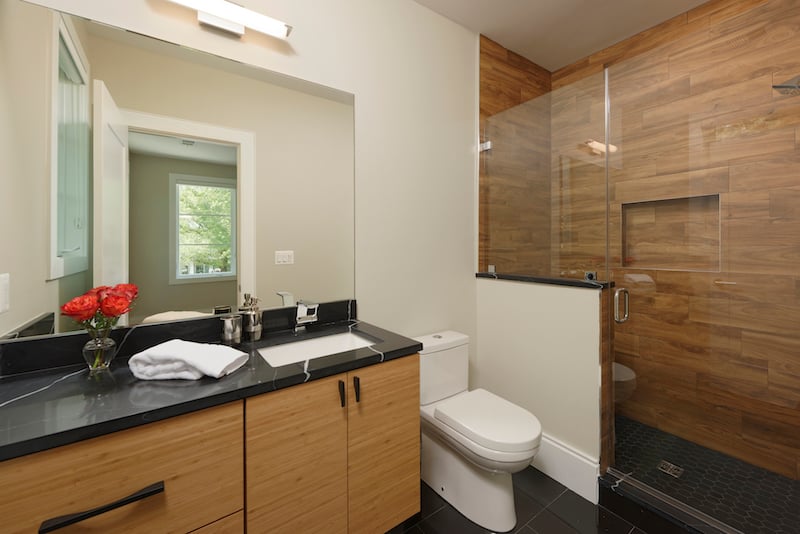 8. Colorful Accent Tile
Colorful accent tile against a neutral background can liven up a small bathroom. Choose a tone that boosts your mood and gives you a feeling of well-being.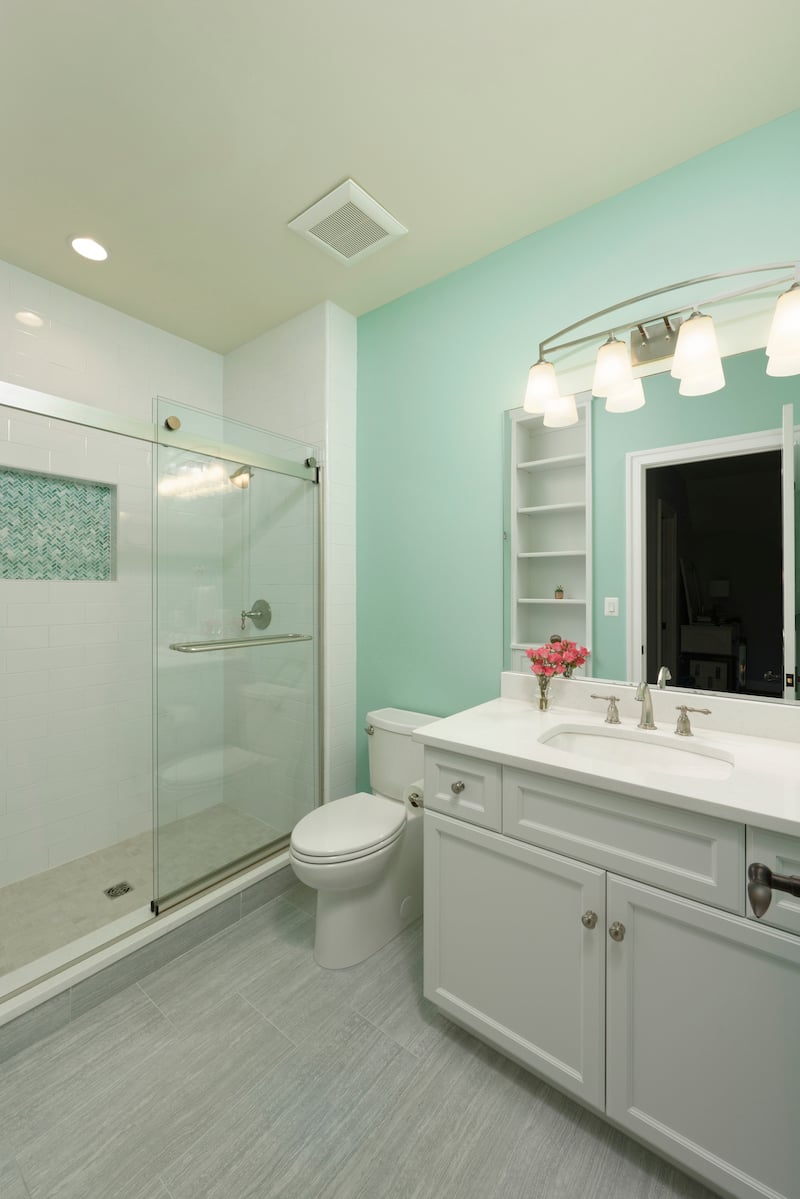 9. Add Some Height
A high ceiling can make a space appear larger than it really is. This coffered ceiling not only adds height, but also sophistication to this master bathroom.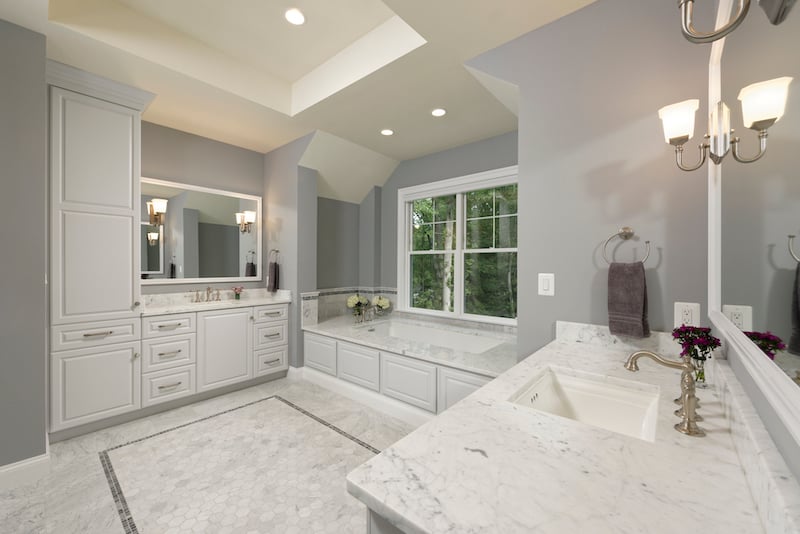 10. Linear Shower Drains
Linear shower drains are more attractive than their metal and grated counterparts, and are easier to clean because they typically have a debris basket that can be removed, rinsed out and replaced. If you are planning to integrate this type of drain into your new shower design, remember that the floor must slope slightly toward the drain so that there is no standing water.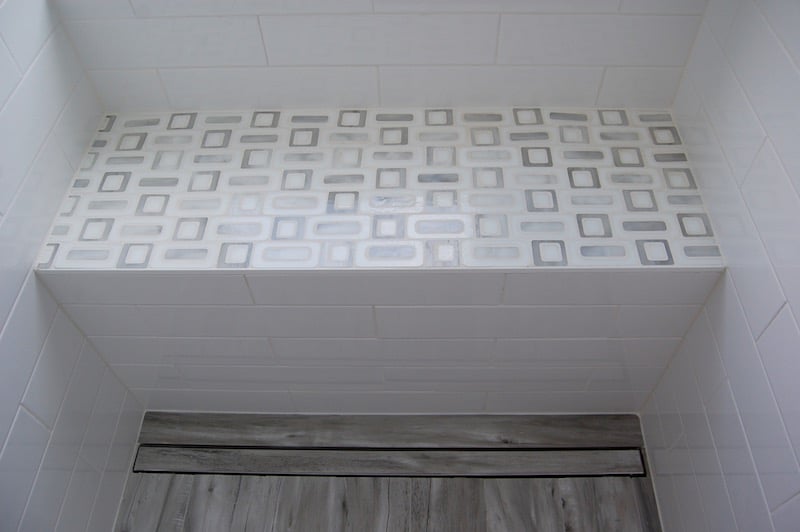 Are you wondering how much it typically costs to renovate a bathroom in the Washington, DC area? Click here to read about all of the factors that go into developing a budget and a plan for your renovation. And, download our Home Remodeling Guide for even more tips and information.
At Meridian Homes, we specialize in luxury renovations and custom home building in the Washington, DC area. Our mission is to create exceptional residences that exceed expectations. Our highly personalized design process and careful management of every project have earned us a reputation over many years for outstanding client service and solid, beautiful craftsmanship. Contact us today to begin your custom home or remodeling project.