Tips For Selecting The Right Hardware For Your Interior Doors
Are you building a new custom home or remodeling? Or, do you simply want to redecorate? An important but often overlooked step in achieving the look you want for your home is selecting the right interior door hardware. There is door hardware available to complement any decor: traditional, transitional, contemporary or eclectic. Our first tip is that the style, type and finish of your interior door hardware should coordinate throughout your home. So, how do you know what to pick? Here are more tips for selecting the right hardware for your interior doors.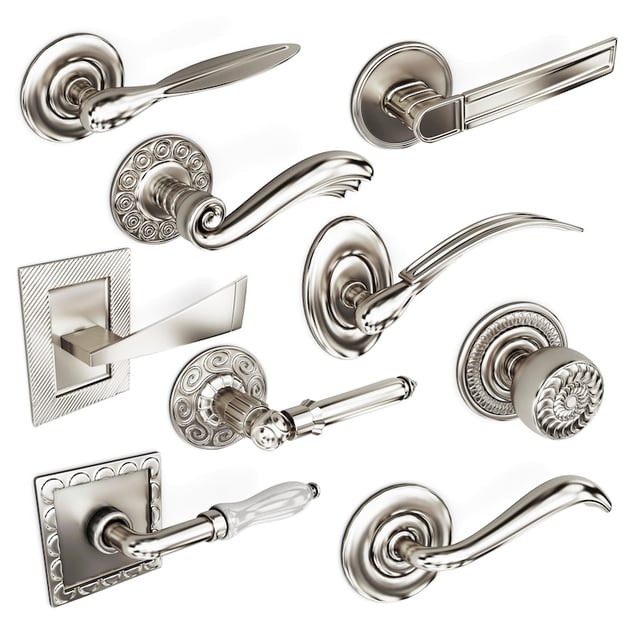 1. Types of Interior Door Handles
There are two types of handles for interior doors: knobs and levers. There are pros and cons to both, so before making a purchase, visit a showroom or get samples of the handles that you are considering. Make sure the knob or lever fits well in your hand and feels comfortable. Then consider the following:
Knobs
- Knobs are available in several shapes: round, oval or egg-shaped.
- Round knobs work well with traditional decor.
- Oval or egg-shaped knobs are suited for homes with transitional or traditional decor.
- Knobs can be difficult to open for young children, elderly adults or those with disabilities.
- Safety covers are readily available for knobs if you have young kids and do not want them to be able to open certain doors.
- Knobs can be used on either right-opening or left-opening doors.

Levers
- Levers have a more modern look and are well suited for contemporary or transitional decor.
- Levers are difficult to childproof if you want to prevent young kids from opening doors in your home.
- Levers are easier than knobs to open for elderly adults and those with disabilities.
- If you have a door that opens to the right, then you will need a right-hand lever. If the door opens to the left, get a left-hand lever. Make sure you consider both sides of each door when counting how many of each type of lever you will need.

2. Types of Interior Door Handle Sets
There are 4 types of handle sets for interior doors. Select the type that is most functional for each door in your home.
Passage
- A passage knob or handle turns but does not have a lock, and is typically used for hallway access doors or on closet doors.
Privacy
- A privacy knob locks with a button on one side of the door and does not require a traditional key. A pin key can is used to unlock a privacy knob through a small hole in the rosette when necessary. This type of knob is usually installed on bedroom and bathroom doors.
Dummy
- Dummy knobs or handles do not turn and are used on closets or other interior doors where no latch or lock is necessary.
Keyed Entry
- A keyed entry set can be locked from both sides. Install this type of knob or handle on an interior door that you do not want to be accessed freely.
3. Additional Interior Door Hardware
The finish on the additional interior door hardware components listed below should always match the finish of the knob or lever you have selected.
Rosette or Backplate
- A rosette or backplate is the decorative trim plate that goes between the knob/lever and the door. A rosette can be embellished or plain, but should match the finish of the door knob or lever. There is wide variety of rosettes to choose from: rectangular, square, round, oval and more.
Hinge
- The hinge holds the door to the doorjamb. Make sure the hinges match the finish of the door handle and rosette.
Strike Plate
- A strike plate is installed on the doorjamb and receives the latch bolt when the door is closed. The finish of the strike plate should match the finish of the rosette, hinges and door handle.
4. Finishes for Interior Door Hardware
All interior doors that are in view of each other should have hardware of the same style and finish. The finish you choose should reflect the decor and design of your home. There are many finishes to choose from and here are some examples:
Brass
- Bright brass is found in traditional homes but tends to look dated. However, there are satin and antique brass finishes that are also suited to traditional decor and have a more up-to-date appeal.

Chrome
- Bright chrome has a highly polished, mirror-like finish and works well with modern or retro decor. Satin chrome is suitable for contemporary or transitional decor.

Nickel
- Polished nickel and satin nickel finishes both blend with a variety of styles and can vary in appearance depending upon the lighting in a room. Distressed nickel has an antique, rustic look.

Bronze
- Bronze door hardware is available in a variety of finishes and therefore can work with almost any home decor. You can choose from oil-rubbed, distressed or satin bronze finishes, but be aware that the patina and look of the finish can change with use and over time.

Black
- Black finishes are very popular and can work with transitional or contemporary decor.

Copper
- Copper is a unique finish that can work with any decor, from rustic to contemporary, depending upon the style of the knob or lever.

Crystal
- Crystal knobs add pizazz to a room and are available in clear or a variety of colors.

Hand-painted
- Hand-painted knobs have a vintage, homey look. They are well suited for a home with an eclectic style.

5 Things To Consider When Selecting An Entry Set For Your Front Door
How Do You Choose The Right Front Door For Your Home?