You are excitedly working on plans for a new custom home or the renovation of your existing home. You have young children and you are dreaming of having a bathroom that is perfect for their current age, size and needs. Before you go down that path, stop and think. Not only will your children grow and change quickly, having a bathroom with kid-sized fixtures and child-like tile or countertops will make it tough if you try to sell your home at some point in the future. Here are 5 ways to deal with the challenge of designing a bathroom that will work for your children now... and when they grow up.
5 Tips On How To Design The Perfect Kid's Bathroom
1. Choosing The Vanity
The traditional "standard" height vanity is 30 inches high. These days, most people opt for the "adult" height vanity that is 34-1/2 inches tall. When your children become tweens and teens, they will prefer the higher vanity. So for now, buy a cute stool with a sturdy base that won't tip over so your child can reach the sink. Or, consider a vanity that is designed with a built-in platform stool that can be easily rolled out when needed and is discretely tucked away under the cabinetry when it's not.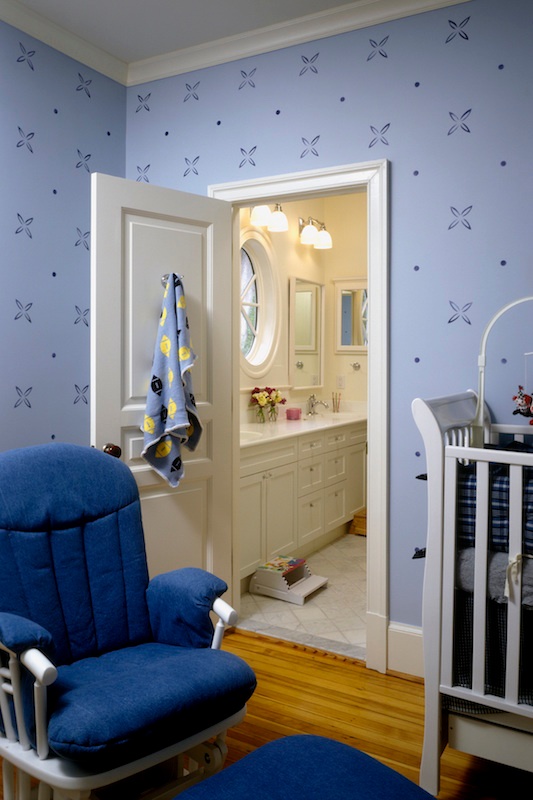 2. Selecting The Toilet
If you install a child-sized toilet now, it will be an expensive proposition to replace the kiddie toilet with a regular one in a couple of years. Selecting an adult or comfort-height toilet, which is 17 to 19 inches from the floor, is the best way to go. Buy a sturdy stool with handles to make it easier for your child to access the toilet. It is also wise to install a toilet lock when your child is very young so that they cannot flush toys and other objects down when you are not looking. A soft-closing toilet seat will prevent kids from slamming down the lid of the toilet, too.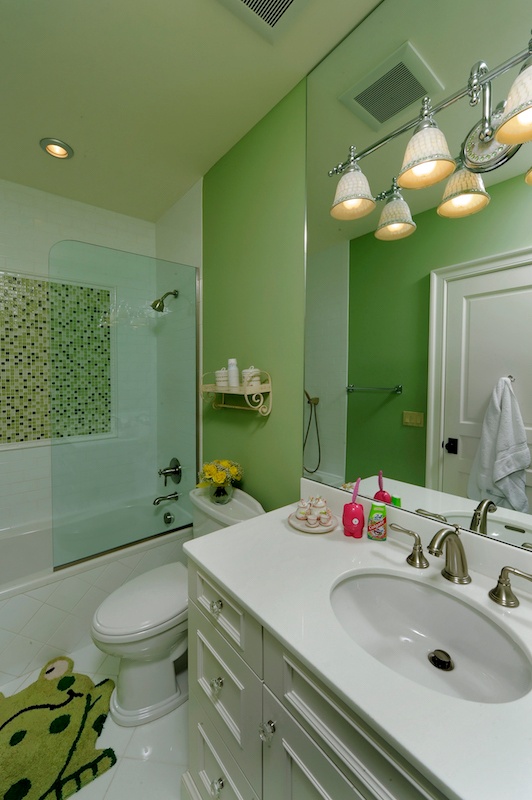 3. Making The Shower Safe And Easy To Use
A shower-tub combination with a glass enclosure is best for a child's bathroom. The enclosure will keep water from getting all over the floor during a splash-filled bath time, and that can help to prevent slipping after the fun is over. A hand-held showerhead makes it easy to wash young children, and can also make cleaning the tub and shower a breeze. It's a good idea to install an anti-scald device so that water that is too hot does not burn your child. And, installing a grab-bar or handle will make it safe and easy for your child to get in and out of the tub.

4. Picking Tile and Countertops
It's important to pick tile and countertops that your child will not outgrow too quickly because they are expensive to rip out and replace. Choose neutral colors for the tile and countertops; paint and accessories can be bright, fun and child-like and can be easily and inexpensively changed as your child grows-up. If you have two children sharing a Jack-and-Jill bathroom, choose a gender-neutral palette that you can enhance with accessories in different colors for each child. Make sure you select a material for the countertop that is kid-friendly. For example, granite, manufactured quartz and solid-surface materials are scratch and stain-resistant, yet they look modern and luxurious.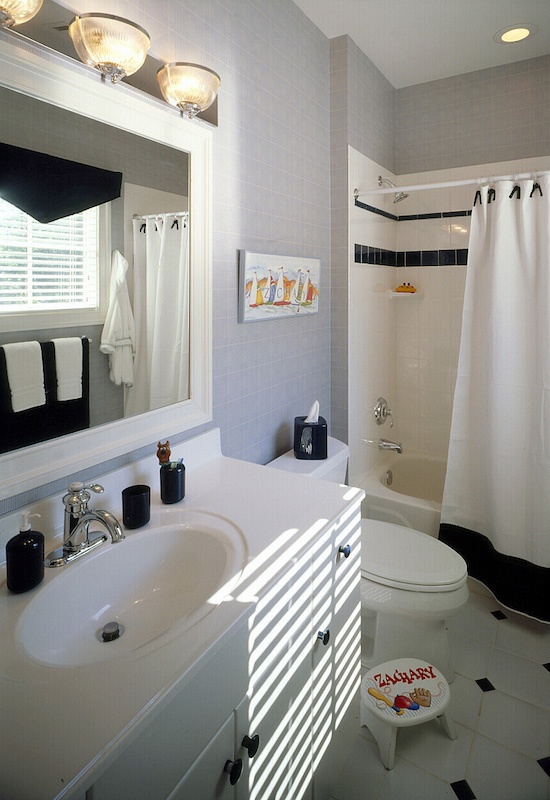 5. Planning For Storage
To keep the bathroom neat, install open shelving for storage. Then, put cute baskets or storage bins on each shelf, and label them with words and pictures so that your child knows where everything should go. Space-saving hooks will help to ensure that wet towels do not end up on the floor, and they are easier for kids to use than towel bars. Pick up a mesh bag that can hang by suction cups on the tile wall in the shower/tub combination, or a mesh caddy that can hang over the tub spout, to hold all of the bath toys. The mesh will allow the wet toys to dry, and that prevents mold from forming. Remember to install a safety lock on bathroom cabinetry where you have stored cleaning supplies or other items that are not child-safe.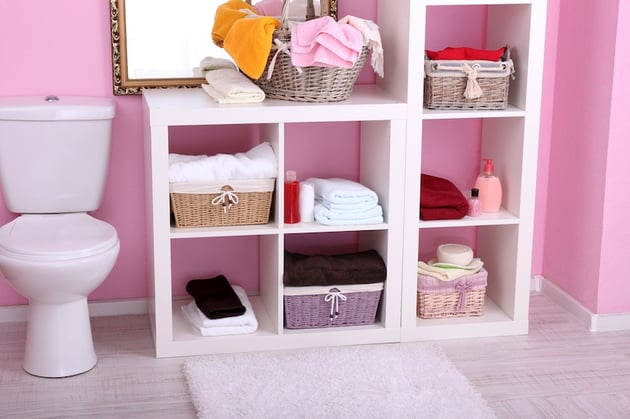 When designing your child's new bathroom, think about the long-term. Plan the space and choose fixtures that will accommodate your children into young adulthood. Use paint and accessories to easily transform the bathroom to reflect their personalities as they grow and change. Follow these tips and you will have a bathroom that fits your needs now and for a long time to come.