Expand Your Living Area By Taking Advantage Of Wasted Space
If you are in need of some more room in your home, the attic may be a prime place for expansion. Remodeling your attic can unlock some extra square footage and enhance the functionality of your home without the huge expense of a major addition. Your currently unused attic can become a new guest suite, family room, playroom, bedroom, bathroom, or home office that your family can utilize and enjoy every day.
Attic Conversion Codes and Regulations
Consult with an architect and homebuilder to be sure that the goals you have for your project are feasible, because there are a host of regulations and building codes that can impact your attic remodeling plans. For example, many jurisdictions require a minimum of 70 square-feet of floor space and a ceiling height of 7-1/2 feet in at least half of the attic. In addition, to convert your attic to living space, you must have code-compliant access, meaning that a ladder will not suffice. A new staircase must be installed that provides a minimum of 6'-8 inches for headroom and be at least 36 inches wide. Most jurisdictions also require a second point of egress in case of fire.
Budgeting For Your Attic Remodel
As you craft your budget, keep some basics in mind. The floor of the attic will most likely need to be reinforced and walls will be added to create your new living space. Electricity must be installed, plumbing may need to be extended to the attic, and you may want to incorporate some windows into your plans for natural light. Don't forget to consider temperature and climate control, so that your new space is comfortable and energy efficient. Review your budget with your architect and homebuilder to be sure that it is reasonable for the scope of work that you desire, and as with any remodeling project, include some cushion in your budget in case some unexpected issues arise once construction has begun.
Attic Remodeling Ideas
Take a look at these 10 ingenious remodeling ideas for some inspiration as you consider ways to transform your attic into a new space that suits your needs and fits your lifestyle.
1. Family or TV Room
Need some extra space for hanging out and relaxing? Your attic can be the perfect place for a cozy family room. Invest in a new TV, a comfy couch, and include extra wiring in your plans to support a sound system and enhanced WiFi.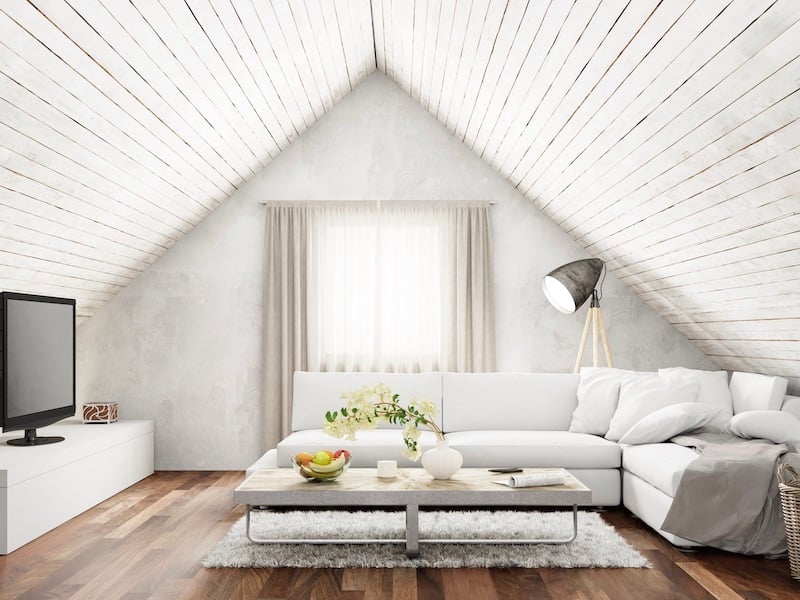 2. Playroom
Tired of stepping on toys in your main living space? Convert your attic to a charming playroom for your kids. Install durable flooring materials, built-in cabinetry for storage, and a colorful mural to make the space fun and functional.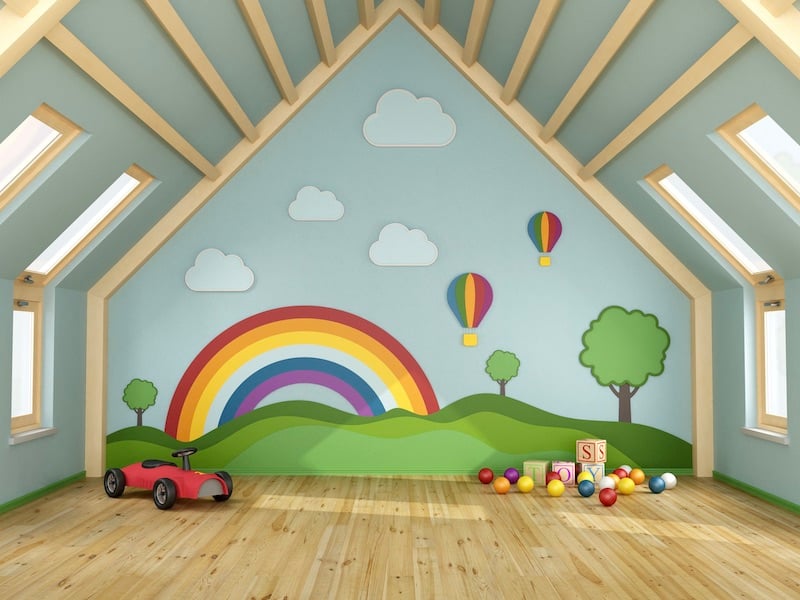 3. Home Office
Finding a quiet spot to work from home can be challenging. With the right sound-dampening materials, proper lighting, and adequate temperature control, a dedicated office space in the attic will allow you to be focused and productive because it is removed from the busy, main living area downstairs.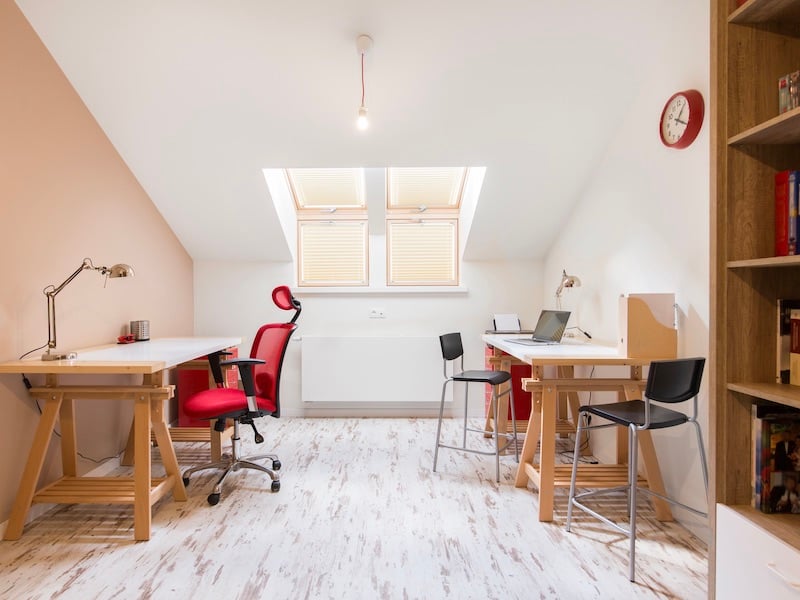 4. Reading Nook
If you like to get away from it all and dive into a good book, add a reading nook to your attic remodeling plans. Include windows for natural light, a cushioned bench, and some built-in shelves, and you have the ideal place to read and store your collection of books.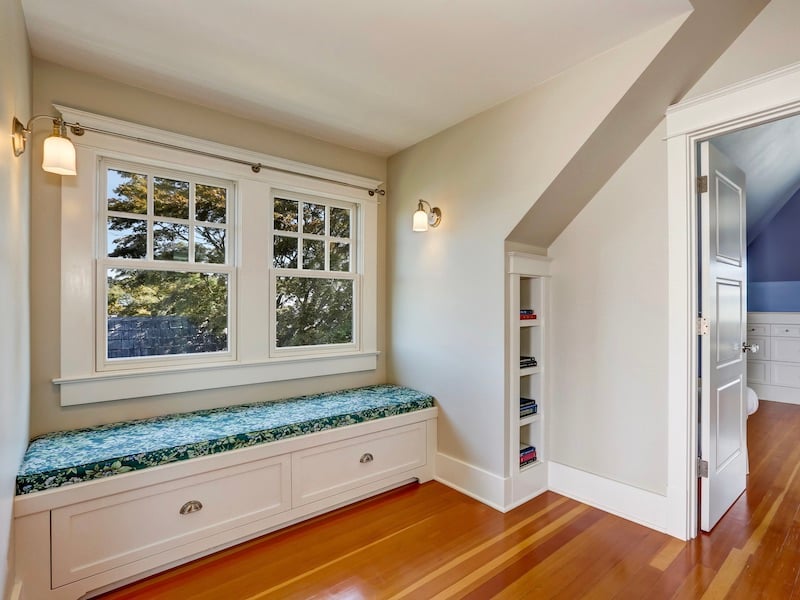 5. Primary Suite
Studies show that a large primary suite can increase the value of a home at the time of resale. With careful planning and thoughtful design, you can turn your unused attic into a spectacular primary suite that includes a luxurious, spa-like bathroom, lots of storage space, and plenty of natural light.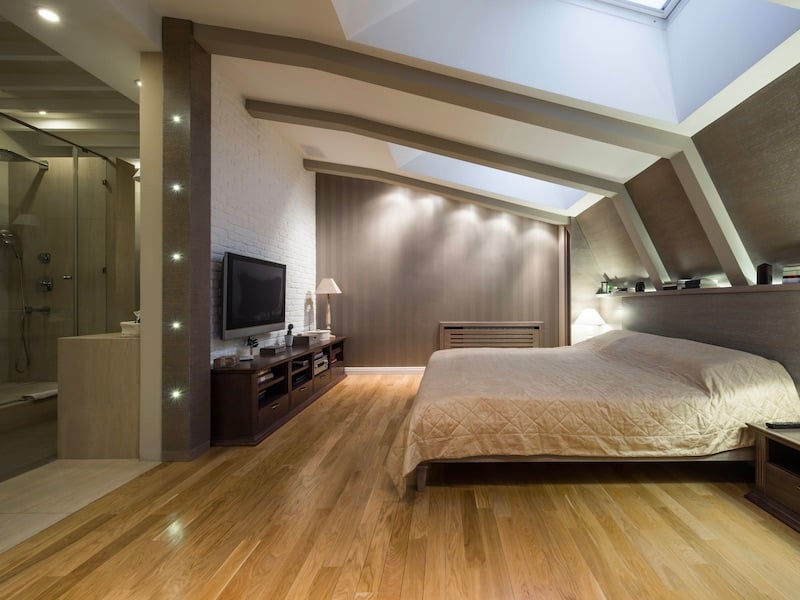 6. Kids' Bedroom
Sloping ceilings and quirky nooks are the perfect backdrop for creativity in an attic bedroom designed especially for kids. You can set up different zones for play and sleep, and be sure to plan for plenty of storage for toys and clothing.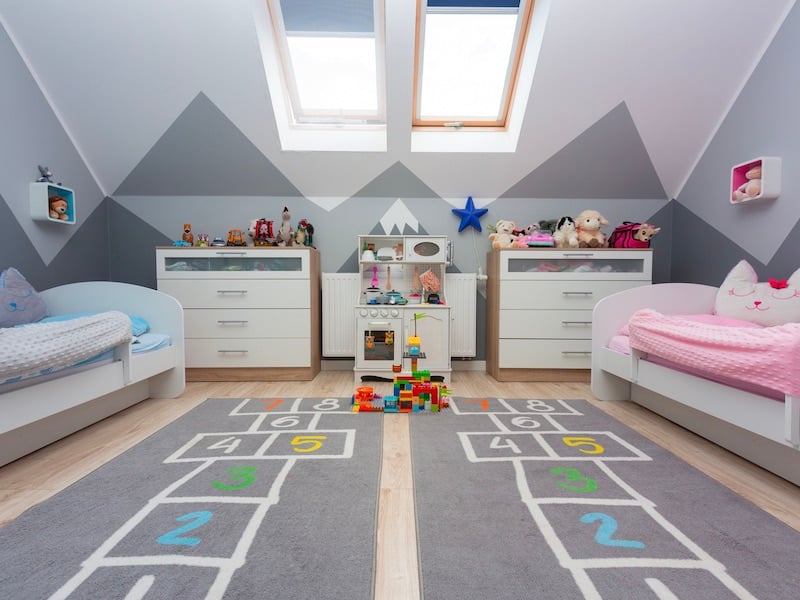 7. Teenager's Bedroom
Are your teenage kids outgrowing a shared bedroom? Then maybe it's time to remodel your attic to make some additional space. Designing a teenager's new attic bedroom should be a collaborative effort. That way, your teen's personality can shine through and the decor will reflect his or her specific taste.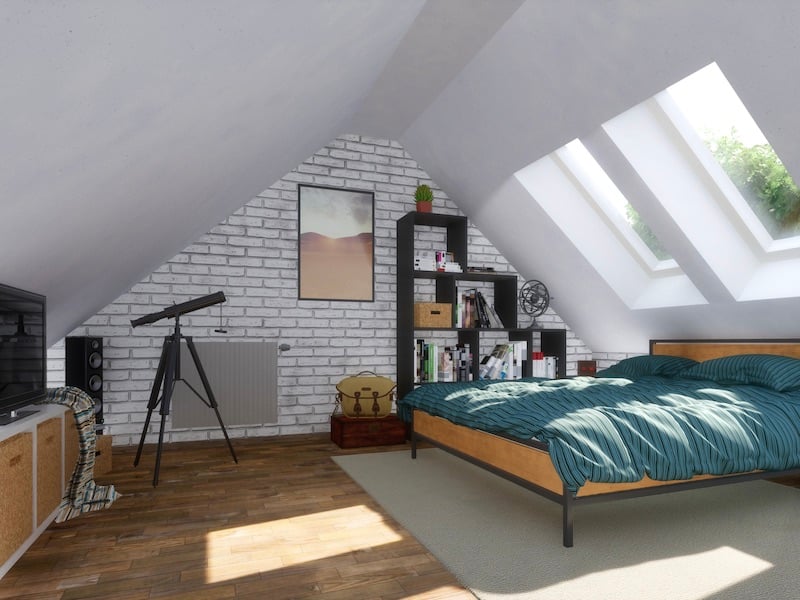 8. Guest Bedroom
If you frequently have out-of-town visitors, you may want to consider remodeling your attic to make it a guest bedroom. To get the most use out of the space, purchase furniture that converts from a sofa to a bed and add a desk so that you can use the room as a home office when you don't have guests.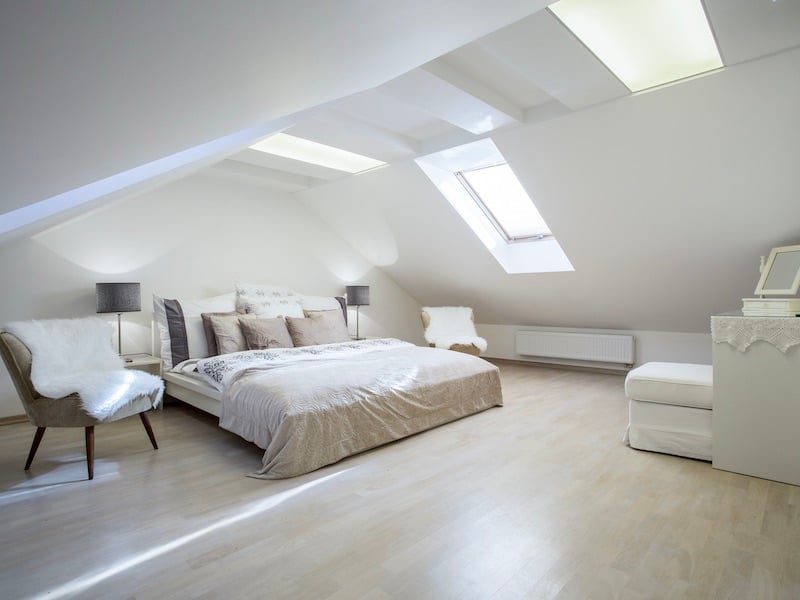 9. Extra Bathroom
Fighting over who gets the bathroom next when you're living in a full house can become a daily struggle. Building an extra bathroom in your attic can be expensive, but it can also improve your quality of life and increases the value of your home. If you're already considering remodeling your attic to include a bedroom, family room, or office, adding a bathroom will make the space more functional and comfortable.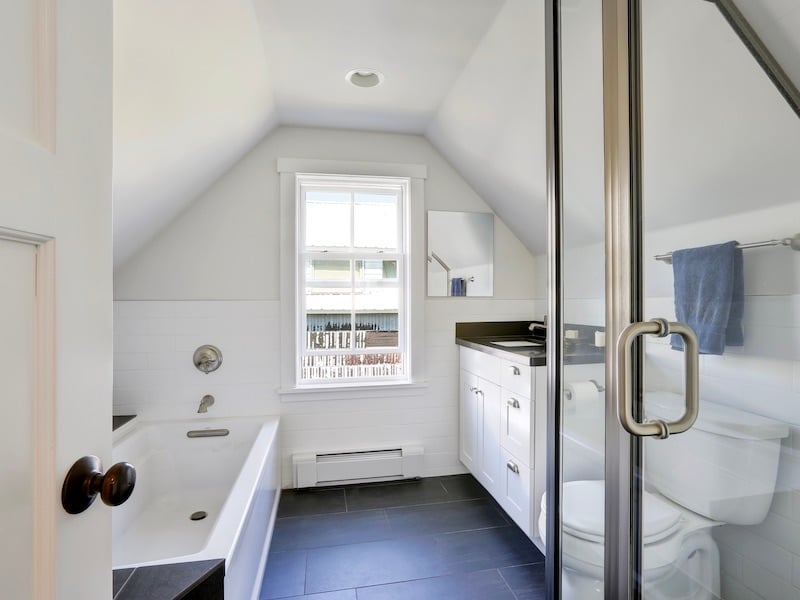 10. Attic Apartment
Multi-generational living is a growing trend. It is defined by two or more adult generations living together, often with related children. When many family members are cohabitating, an attic apartment can provide the extra room that you need and the privacy that you desire. If space allows, your remodeled attic can have a kitchen, bathroom, bedroom, and a small living room, all tucked away from the rest of the home. An attic apartment does not allow for a separate entry from outside the home, but it does offer the occupants independent living, to a fair degree, and can add to the value of your property.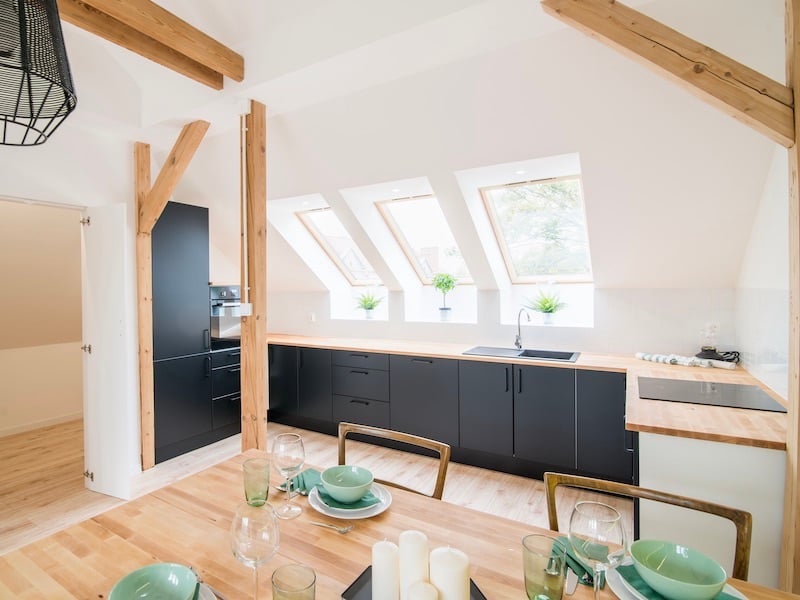 At Meridian Homes, we specialize in luxury remodeling and custom home building in the Washington, DC area. Our mission is to create exceptional residences that exceed expectations. Our highly personalized design process and careful management of every project have earned us a reputation over many years for outstanding client service and solid, beautiful craftsmanship. Contact us today to begin your custom home or remodeling project.