14 Easy Ways To Make Your Home Summer Ready
The long winter months are over and summer is here. The inside and the outside of your home need freshening up for the new season. Here are 14 easy ways to make your home summer ready.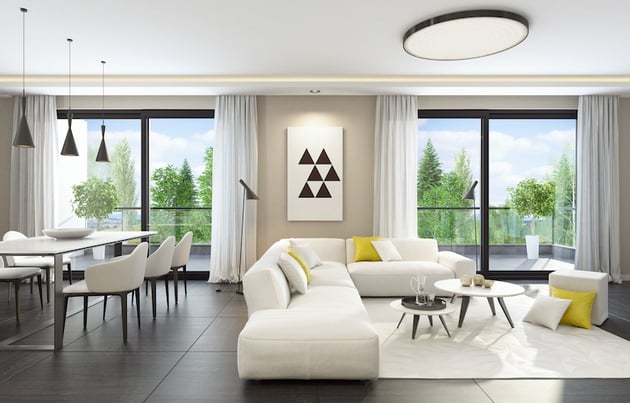 1. Make A Good First Impression
Stand on the street and check out the front of your home to see what needs your attention. Do the same at the back of your home and on both sides, too. Make a list and get to work!
Remove all branches and twigs that might have fallen.
Get rid of any remaining debris on the ground.
Clean out the gutters.
Fix up your landscaping. Trim the bushes and replace any that did not make it through the colder months.
Plant some flowers in your yard and place some in pretty containers on either side of your front door. Add some window boxes if you can.
2. Spruce Up The Front Door
Give your front door a new coat of paint and sealer. Remember, your front door should convey the impression that your home is well maintained.
Replace the doorknocker if it looks shabby and worn.
See that your doorbell is in working order.
3. Give The Exterior A Facelift
Make sure that any holes are patched, fix any loose siding or shingles and replace missing trim.
Paint the exterior of your home so that it looks well cared for.
Don't forget to paint the shutters!


4. Clean Out The Garage
Get rid of old items that you don't use or need.
Add hooks to hang bikes and other large items on the wall to free up floor space.
Install shelving to store smaller items.
Repaint or reseal the garage floor.
5. Light It Up
Install strategic lighting to create a lovely ambiance for the outside of your home.
Replace any burned-out light bulbs outdoors for safety.
6. Create A New Outdoor Living Space
Connect the inside of your home to the outdoors with a porch, deck, patio or pergola.
Create an outdoor entertaining space by installing a kitchen, fireplace or lounging area.
Install a pool or sport court to keep your family in shape and having fun all summer long.


7. Bring The Garden Indoors
Cut colorful flowers and put them in vases around your home to make it cheery and bright.
Add some natural aesthetic by placing potted plants in beautiful containers in your living space.
8. Freshen Up Your Walls
9. Brighten and Lighten
Switch out your throw pillows and slipcovers with lighter colored fabrics in your living and family rooms for the summer.
Add colorful accessories to your entry console or coffee table for an easy seasonal update.
Buy a new comforter or duvet cover to change the look of your bedroom in the warmer months.
Transform your dining table with bright, fun plates, cups and serving dishes. Don't forget the freshly cut flowers!


10. Let The Sun Shine In
Clean the windows - inside and out.
Take down your heavy drapes and replace them with window coverings in lighter weight and brighter colored fabrics.
11. Change Up Your Art
Update your walls with inexpensive art that evokes a summer feeling.
12. De-clutter and Reorganize
Empty your kitchen cabinets and get rid of any items or small appliances that you just don't use or need. De-cluttering your home will give you a sense of well-being and order.
Go through your closets and purge any items that you don't need and donate them.
Reorganize your dresser drawers by removing unused items and neatly folding what you want to keep.
Store your winter clothing and move your summer weight items into your newly cleaned closets and drawers.
13. Ensure Your Family's Safety
Change the batteries in your smoke alarms and carbon monoxide detectors.
Make sure you have flashlights with new batteries in strategic places around your home in case of a power outage during a summer storm.
Swap out an old fire extinguisher in your kitchen with a new one.
Replace any burned-out light bulbs inside your home.
14. Be Energy Efficient
Clean or replace dirty air filters in your HVAC system.
Reverse the direction of your ceiling fan blades and clean them off.
Reseal your windows and doors to keep air conditioning from escaping your home throughout the summer.
Add insulation in the attic so that your home's "envelope" is working properly.